12 DECEMBER 2011
BTN DISTRIBUTION
BTN also goes out by email every Sunday night at midnight (UK time). To view this edition click here.
The Business Travel News
PO Box 758
Edgware HA8 4QF
United Kingdom
+44 (0)20 8952 8383
info@btnews.co.uk
© 2021 Business Travel News Ltd.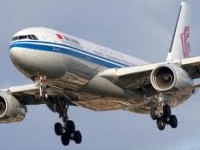 Gatwick has now confirmed a start date of 1 May for a four times weekly Air China service to Beijing. This is considered another coup for the South London airport now fast becoming a serious UK gateway for the Far East with Air Asia X transferring from Stansted in October, Vietnam Airways arriving last week (see below). Hong Kong Airlines and Korean Air will commence flights in 2012.
Air China is the only airline offering both major London airports to Beijing. It already serves Heathrow daily with Virgin Atlantic codesharing on the route. BA also flies to Beijing from Heathrow.
Departures from Beijing are on Monday, Wednesday, Friday and Sunday at 01:35, with the return leg from Gatwick leaving on the same day at 13:15. The 10-hour route will be operated by A330-200 aircraft in a two-class aircraft, similar to the Heathrow operation. www.airchina.com.cn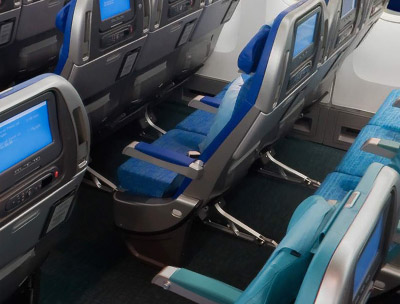 New Premium Economy Class seats will be progressively introduced by Cathay Pacific on its long haul flights from March 2012. At the same time the airline will upgrade a new Economy product, also beginning from March.
The new Premium Economy product will feature a quieter, more spacious cabin than the existing Economy Class with between 26 and 34 seats. The seat pitch will be 38 inches – six inches more than Economy Class – and the seat itself will be wider and have a bigger recline. It will have a large meal table, cocktail table, footrest, 10.6-inch personal television, in-seat power outlet, multi-port connector for personal devices, and extra personal stowage space.
On the ground, travellers will enjoy priority check-in at dedicated counters and priority boarding before Economy Class passengers. There will also be an increase in baggage allowance from 20kg to 25kg.
In the air, passengers will also receive an environmentally friendly amenity bag with dental kit, socks and eyeshade. Larger pillows and noise-cancelling headsets will be provided to enhance the onboard experience. Improved catering will be provided too, and drinks upon boarding. www.cathaypacific.com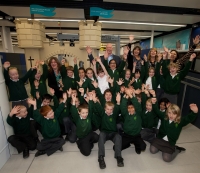 Going through airport security can be the least favourite part of flying for any passenger, but particularly for young children.
Gatwick has created an 'adventure walk' for children going through security in Gatwick's South Terminal. To enter security, children can now walk through their very own eight-foot high castle and join their parents at the other end. Pupils of Milton Mount Primary School in nearby Crawley have helped in the design and testing of the scheme.
Geoff Williams, Head of Security at Gatwick Airport, said: "The input from the school-children has been fantastic – making the security environment more welcoming and inviting for younger children. We have improved every aspect of security – from the preparation area right through to the moment passengers hit the lounge – and are confident that the changes we have made will make a huge difference to all those travelling through the airport."
The new impressive 19-lane South Terminal security area now has a separate entrance with two lanes dedicated to families with young children and passengers with reduced mobility. The 'Family and Assistance' lanes include a spacious preparation area with specially trained staff and customised facilities to provide a more tailored service for these passengers, including wider lanes and x-ray machines. www.gatwickairport.com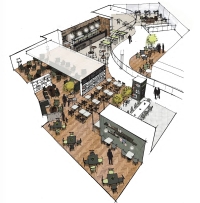 An £11m expansion of Leeds Bradford International Airport is now under way with planned completion by summer 2012. The impressive new facilities will significantly improve passenger experience.
John Parkin, Chief Executive, said: 'I am delighted to announce the next stage of our planned investment to transform the passenger terminal at Leeds Bradford Airport. It marks an important milestone in the development of Yorkshire's airport and our desire to provide the very best facilities for our rapidly growing numbers of customers and airlines."
"The broad economic conditions are challenging, but we are the UK's fastest growing regional airport and with the strong support of our shareholders, Bridgepoint, we are confident now is the time to invest in our future."
"The terminal development will provide a 65% increase in airside space over two floors, creating a new departure lounge, a new range of upgraded food and beverage offers, a major walk-through Tax and Duty Free store and additional retail units."
We will also be enlarging the security search zone, all of the boarding gate areas and building a covered walkway to aircraft from the terminal to deliver the very best in facilities and experience for our customers." www.leedsbradfordairport.co.uk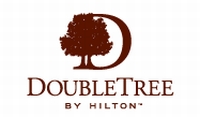 Hilton has opened its 10th DoubleTree property at Newcastle International Airport. The brand already has 25 European outlets which is expected to double in the short term.
Located just steps from the terminals and the express car park at the airport, the newly built 179-room hotel is situated just 15 minutes by road from the city centre, and much the same using the excellent Metro system.
The property's contemporary guest rooms feature complimentary wired or wireless high-speed internet access; soundproof windows; 37-inch, flat-panel televisions; spacious work desks; MP3-compatible clock radios; refreshing Crabtree & Evelyn Citron bath and body products; and in-room tea and coffee making service. Guests will also enjoy an array of hotel services, including a well-equipped fitness centre, inviting coffee lounge, valet and laundry services, and gift shop.
In addition to modern amenities and a convenient location, the DoubleTree by Hilton Newcastle International Airport has more than 2,200sq ft of flexible meeting room space and an attractive ballroom for events, meetings and functions of up to 100 guests. Support services include catering and banquet facilities, state-of-the-art audiovisual and connectivity solutions and a 24-hour business centre. www.newcastleinternationalairport.doubletreebyhilton.com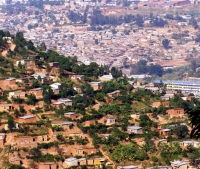 Rwanda and Burundi have been added to South African Airways (SAA) route network as part of the airline's growth plans.
Effective 17 January, SAA will commence operations from Johannesburg to Kigali (Rwanda) and onwards to Bujumbura (Burundi) using a two-class Airbus A319. The return flights will operate from Bujumbura to Kigali and onwards to Johannesburg's OR Tambo International airport.
"SAA is focused on strengthening its intra-Africa network in line with its Africa Expansion programme. Adding even more destinations to our already extensive Africa route network gives our customers more travel options to thriving destinations that were previously difficult to reach by air," says Gary Kershaw, Country Manager UK & Ireland.
In addition to being the capital city of Rwanda, Kigali is also its economic, cultural and tourist transit hub. Bujumbura is Burundi's capital and largest city and is close to the country's main port, shipping coffee as its primary export.
SAA's most recent addition to its African route network was the start of flights to Ndola (Zambia) on 2 October. The Ndola service is largely aligned to growth in demand from mining executives, especially those flying into South Africa from countries such as Australia. www.flysaa.com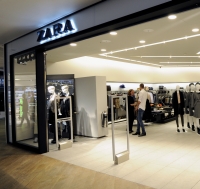 AERBT does not for the most part feature airport (or station) shops, but clearly our readers are interested. Something for the future perhaps?
With the holiday present buying period upon us we must mention that Zara has opened its first ever UK airport store at Heathrow Terminal 3. It is also one of the first in the UK to receive the retailer's new global design concept, recently unveiled in Westfield Stratford, and will offer lines from its premium women's collection, 'Zara Studio', as well as a wide-range of accessories such as bags and shoes.
Since Zara's first store in 1975 in Spain, it now has over 1,700 stores across the globe in 78 countries. With new garments landing in stores twice weekly, passengers passing through the terminal will have plenty to look forward to.
Muriel Zingraff-Shariff, Retail Concessions Director, at Heathrow, said: "We're thrilled to have Zara at Heathrow. It is such a popular retailer, not only in the UK but around the world, so we're confident it will be a welcome addition to the brands we already house at Terminal 3. These include Paul Smith, Miu Miu, Mulberry, Harrods, Ralph Lauren, Hermes and Kurt Geiger to name but a few." www.zara.com
ARCHIVE OF ISSUES - ROAD TESTS – CRUISE SHIP – ON TOUR and ON THE SOAPBOX
(for 2010 index follow the link)
ROAD TESTS
Alfa Romeo Giulietta 1.4 TB Lusso
Chrysler Delta 1.4 Multiair SE
Ford Focus Titanium 1.6 Eco
Infiniti FX30d Premium
Jaguar XF 2.2 Diesel Premium Luxury
Kia Sportage MY 10 1.7 CRDi
Mazda CX-7 2.2 D Sport
Mitsubishi i MiEV
Mitsubishi Outlander Juro 2.2 DI-D Automatic
Peugeot RCZ and VW Sharan
Renault Wind Roadster 1.6 Dynamique
VW Golf Estate SE Blue Motion
ON THE SOAPBOX
Sandra Bloodworth - Chair of BARUK
Mike Carrivick - Chief Executive of BAR UK
Conrad Clifford, Chief Executive, Monarch Group
Alex Cruz – Chief Executive Officer, Vueling Airlines
Richard Davey, Chief Executive Officer, Nyras
James Dillon-Godfray – Business Development Director, Oxford Airport
Peter Foster – President, Air Astana
Peter Hill CEO of Oman Air
Vernon Murphy, former Managing Director, BAA Scottish Airports
Laurie Price of Mott MacDonald
Antonio Vazquez, Chairman of the International Airlines Group
Stewart Wingate - Chief Executive, Gatwick Airport
"ON TOUR" DESTINATIONS 2011 (2010 2009)
Astana - Capital of Kazakhstan
Battle of Britain Exhibition at Brooklands Museum
Biggin Hill – The business airport for (South East) London
Brooklands makes a comeback
Christmas in Shakespeare Country
Edinburgh – Capital of Scotland
Editor Highjacked – Successful end to Lufthansa A380 crisis (Miami)
Egypt and the Jews – plus an update
Florence
Goodwood Revival 2011
HMS Belfast
Israel and the Galilee
Mallorca is a gastronomic heaven
New York - New York
Oahu - The main island of the Federal US State of Hawaii
The Children's Holocaust 'Paperclip' Memorial Museum (Atlanta plus Delta)
Toronto and Porter Airlines
Vigo – a town on the move
Where is La Rioja?
SPECIAL "ON TOUR" REPORTS (2010 2009)
"To Fly to Serve" A new spirit at British Airways
A long day's journey into night by Jo Bacon (People worse off than you)
Aircraft Interiors Expo Hamburg
Arik Air of Nigeria
Ash in Europe (David Learmount of Flight International discusses the problem)
BGAD raises the Games at Cambridge
Business Travel Market and World Travel Market (Excel London)
Collaboration, Co-operation and Competition (EIBTM Barcelona)
EBACE (Geneva)
Europe's regional airlines meet in Malta (ERA's local gathering)
Future of Business Jets
I know I am mad but I am harmless (around the World with Michael Bartlett)
IATA'S AGM at Singapore
ITB Berlin
London City Airport nearly 30 years on
London Prepares
Northolt revisted
Premium Economy A special report on Air New Zealand
The European regional's gather in Rome (ERA General Assembly)
The Future of the New York Region (A discussion on airport requirements)
The IT brains gather (SITA conference)
The past, the present and the future of Dubai Airshow
The World's Quirkiest Museums (By Virgin Atlantic)
Times Gone By – with Tony Hesketh-Gardener
Transport Times Conference
With Pegasus Airlines to Tehran
You can still fly across the water (Hovercraft)
CRUISE SHIP REVIEWS
Azura
Balmoral
Crystal Serenity
Diamond Princess
Discovery
Disney Dream
Glen Tarsan
Golden Princess
Grand Princess
Hebridean Princess
Independence of the Seas
Minerva
Murray Princess
MV Eric
NCL Jade
Portsmouth Port
Prinsendam
Queen Elizabeth
Queen Mary 2
Queen Victoria
Royal Princess
Seven Seas Navigator
Star Flyer
AND FINALLY (At least finally for 2012)
http://www.funstufftosee.com/goodbye.html A fine link for airliner and aircraft enthusiasts
Time to say goodbye – with sound.