Jane Stanbury reports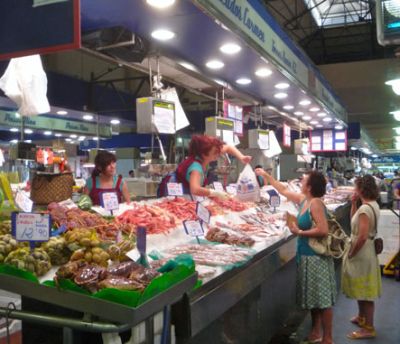 Mallorca's sun is famed more for bronzing bodies, than for the crucial role it plays in cultivating a myriad of produce. A trip to Palma's Mercat Olivar market demonstrates the variety of freshly grown ingredients including peppers, tomatoes of all varieties, artichokes, squashes, figs, apricots, almonds and so the list goes on.
Olives are one of the island's principal crops producing so much oil that much is exported to the mainland, and even Italy – next time you buy some Italian olive oil you may want to check its origin. The green gold comes mainly from the verdant olive trees perched on the terraces of the ragged Tramuntana mountains.
Some argue that the trees around the Caimari area have been there for thousands of years and looking at their gnarled, split, trunks this would seem perfectly credible. For olive oil aficionados the Mallorcan 'aceite' is undoubtedly some of the best in Europe. Like fine wines, the superior oils, normally first cold pressed oils are awarded the status of Denomination de Origen – Olis de Mallorca. This is the closest you can come to having a salad burst taste in your mouth and the marques of Son Catiu and Solivellas are some of the best. They are simply too good to cook with, and are best used in salad dressings or as the star ingredient of the hearty Mallorcan local fast food, pa amb oli.
Literally meaning bread and oil, this snack is such an important part of Mallorcan food heritage that Tomás Graves, son of I Claudius author Robert, devoted a whole book to the subject.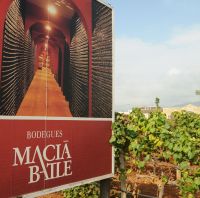 There are four basic ingredients. The Mallorcan ronda, a hefty salt free bread which is naturally dry in texture. The tomatiga de penjar, literally hanging tomatoes, which entwined together are air dried producing a thick skinned fruit, with a dense juice that is spread over the bread. Olive oil is then drizzled on top and then Flor de Sal, which is harvested from the salt flats to the south of the island, is sprinkled on top. Locals add any combination of other ingredients including botifara, a local black pudding type sausage, sobresada, a uniquely Mallorcan paprika and pork spread, or local meats and cheeses – a mixta with Jamon Serrano and Manchego cheese is just perfect. Much debate centres around whether the bread should be toasted, and in which order the ingredients are added. Villages have been known to feud for decades over this deeply emotive subject.
To enjoy an authentic version visit one of the growing number of tafonas, an olive oil press, that are open to visitors.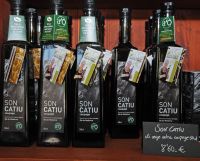 One of this writer's favourites is Son Catiu. Not a single part of the olive is wasted here, the oil is pressed in a modern version of the traditional matt pressing, the skins are fed to the lucky livestock on the estate, and the stones are used to feed a generator that grinds the juice out of the olives. It's the most truly sustainable business I've come across in years. Sebastian and his team encourage visitors to explore the production facilities, try a number of different types of oil pressed from a variety of Mallorcan olives including the local Picual and Arbequina, before settling to choose from a lengthy menu offering a pa amb boli selection any honest Mallorcan would be proud of.
Olive oil is also the essential ingredient of just about every Mallorcan dish whether it be suckling pig marinated in lemon juice, salt and oil, then slow roasted to produce moist meat surrounded by the crispiest of crackling; or classic frito Mallorquin, a blend of chopped vegetables, liver, and garlic, so tasty, even liver-loathers love it; or tumbet a baked layered vegetable dish featuring potatoes, aubergines, potatoes and onion.
Of course no lunch would be complete without wine.
Plinny once referred to the Malavasia sweet wine grown on the northern Tramuntana as some of the best in the world. However the wine blight phylloxera killed many of the indigenous varietals and from around the 17th century until just over a decade ago only sour Mallorcan table wine was available. However as Mallorca's tourists have become more discerning, and the type of traveller visiting the island has demanded more local produce the Mallorcan wine industry has experienced a magnificent resurgence.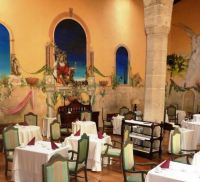 With total island production smaller than Rioja only about 5% of production ever leaves the island, so local restaurants now encourage diners to sample the local, rather than the more familiar Spanish wines.
There's huge choice from the family run Jaume Mesquida which makes bio-dynamic wines using moon cycles to gauge production, to Macia Batle utilising mainly indigenous Mallorcan grapes such as Callet and Prensal Blanc to tantalise the taste buds whilst high in the mountains, Cellar Mortitx belies cold winters to produce French influenced crisp rosés and whites. All welcome visitors and are thrilled to offer tastings. The landscape producing the wines is beautiful and worth the exploration. From the smallest producers such as Biniagrau to the larger vineyards such as Macia Batle there is something to suit everybody's taste buds. A number of restaurants now serve Mallorcan inspired wine and food dinners, try Bacchus at Reads hotel for a truly inspired blending of wine and food from distinguished Sommelier Sebastian.
Whilst Mallorcan dishes are traditionally rustic a number of innovative restaurants have taken conventional dishes and added a touch of creative magic.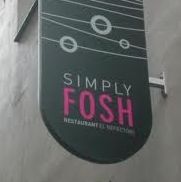 Simply Fosh typifies this new style serving menus de degustation enabling diners to sample local plates. Slow cooked pork belly with carrot and orange blossom puree, breast of guinea fowl with pumpkin and pearl barley or loin of rabbit with locally grown bomba rice risotto are just a few examples of Fosh's contemporary menu. This modernising of familiar dishes reflects Mallorca's current attitude to food and wine. Traditionally families would sit and sup on hearty stews and fare, but now Mallorcans are keen to share their new found culinary options and invite visitors and locals alike to sample the fabulous diversity of produce on offer.
If you're lucky enough to be visiting the island, then make the most of the amazing selection of gastronomic delights on offer.
www.majorca-mallorca.co.uk
http://palma-de-mallorca.costasur.com
www.anardetapes.cat
www.maciabatle.com
www.skybluemallorca.com
www.vinyesmortitx.com
www.readshotel.com
www.simplyfosh.com
Jane Stanbury
Emerald Media
www.emeraldmedia.co.uk www.balearicdiscovery.com
OUR READERS' FINEST WORDS (All times and dates are GMT)
All comments are filtered to exclude any excesses but the Editor does not have to agree with what is being said. 100 words maximum
---
No one has commented yet, why don't you start the ball rolling?
---