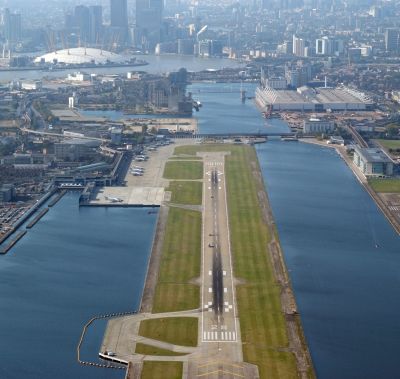 If you have not had reason to travel through London City Airport (LCY) in recent times the place in many ways is unrecognisable. A facelift is probably not a strong enough word to describe what Americans would call a remodelling. Since 2006, when Global Infrastructure Partners (GIP) purchased the airport, some £65m has been spent on infrastructure. GIP is also the majority owner of Gatwick Airport and in 2008 was joined at LCY by Highstar Capital with a 25% interest.
Over the last six months the airport has undergone a dramatic update. Out is the oversized two-storey reception replaced by vastly enlarged user-friendly airside lounge areas on the upper floor. With new lighting and a completely refreshed entrance lobby area the absence of the vast old atrium is not noticed. Decking over was clearly the answer.
Following the largely justified complaints by both airline operators and passengers on poor/slow security, LCY now has probably the fastest and most modern x-ray search facilities in the country. To underline the importance of getting this aspect of the operation right the airports very successful and profitable landside restaurant was ripped out to provide the capability.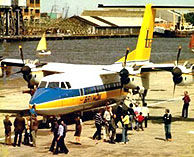 On Sunday 27 June 1982 Captain Harry Gee of Brymon Airways landed a de Havilland Canada four-engined 50-seat Dash 7 turboprop on Heron Quays in the middle of a redundant wasteland that once had been London's prosperous West India and Millwall Docks. The event was featured on ITV's News at Ten that evening.
Move on nearly 30 years and today Heron Quays is but a station on the Dockland Light Railway (DLR), towards Woolwich following on from Canary Wharf (complete with commemorative plaque). It is right in the centre of a rejuvenated area that some call City East. Five miles down river the thriving airport is the incarnation of that symbolic proving flight, and just like City East itself, the outcome of one man's vision, a quiet civil servant, the late Reg Ward, Chief Executive of the London Dockland Development Corporation.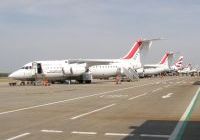 Last year 2.8m passengers passed through the airport and a realistic estimate of 3m for 2011 should be achieved. The ratio of passengers is 64% business and 36% leisure, although this year indications are that British Airways growth of summer routes, mainly to the Mediterranean, might tip the balance in favour of the holiday traffic. London City's seasonal ski services are proving popular too. Interestingly research indicates that two-thirds of passengers originate from London. At Heathrow the balance is inbound suggesting that more work is required in educating continentals of the virtues of London City. At nearby Excel the annual Business Travel Market works towards the same goal.
Getting to these impressive passenger figures has not been easy. HM The Queen officially opened the airport (named after the City of London School for Girls – not the famous square mile) on 5 November 1987. Whilst the 750m runway length was fine for the Dash 7 that aircraft was clearly not economically viable for a high frequency operation. A scheme stretching the strip to 1199m was finally approved in 1991 allowing in such aircraft as the BAe/AVRO 146, Embraer E series, and even the Airbus A318. The target norm was 100 seats per aircraft. By 2002 improvements had included an aircraft westerly holding point at the start of the runway enabling movements to be pushed up to 30 per hour if needed.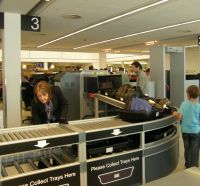 From the early days the local road infrastructure has improved immensely but perhaps most important of all enhancements was the arrival in 2005 of the Dockland Light Railway (DLR), with services to The Bank and also under the Thames to North Kent. A link to Stratford International and the Queen Elizabeth Olympic Park will be opened later this year. The DLR is now used by 50% of passengers.
A recent appointment at the airport, and the first in this capacity, is that of Matthew Hall, as Chief Commercial Officer. He is responsible for airline development, together with the revenue generators, typically the various food outlets within the complex, plus the duty free, and also the car park operations. Matthew has a diversified background in aviation with extensive experience in sales and marketing. He held the position of Vice President, Airline & Supplier Business Development, for Travelport and was previously Managing Director, Sales and Marketing EMEA, for American Airlines.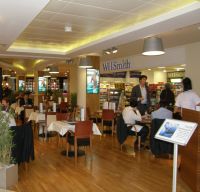 One of his first tasks was to bring in SSP, catering experts, to rejuvenate completely the existing food operations. Based at Weybridge, Surrey, SSP are active in 30 countries and operate in 140 airports. SSP will be launching two new cafes, due to begin trading by the summer, and refurbishing three existing outlets over the summer. Service innovation and technology is at the core of SSP's new offer. Passengers will be able to order food and pre-book dining prior to departure from staff equipped with hand-held terminals located throughout the terminal speeding up delivery. This is already in evidence.
Free wi-fi is provided throughout the terminal, a useful convenience.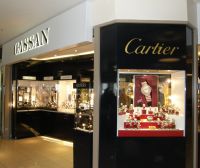 Zurich remains as London City's busiest route with 404,000 passengers last year, a rise of 7.4%, followed by Amsterdam with 367,000, a 6% rise. Edinburgh is the domestic winner with 335,000 passengers and up to 14 frequencies a day.
For some years Managing Director Richard Gooding had a 'wish list' of target airports to pair with.
With now 30 plus destinations most have been achieved but you still cannot fly to Moscow or St Petersburg on a scheduled service, probably too far for the current generation of jets, or Brussels, Lisbon and Rome. LCY is served by 12 airlines, the latest being Blue Islands from Jersey and SkyWork from Bern. British Airways and CityJet both claim to be the largest operator at the airport for different reasons. BA flies twice daily to New York. By 2014 the Bombardier C series could open up further long range possibilities. For the rest of 2011 and into 2012 it looks like growth will come from upping the load factors and increasing frequencies. Slots do not appear to be a problem outside the peak periods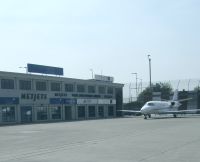 By way of closing a mention must be made of London City Airport's impressive jet centre. Business jets and turboprops now make up 10% of the airport's movements, the facilities themselves top notch and very private. The approach is straight off the main airport roundabout and passengers can easily be at Canary Wharf within 15 minutes of actually landing.
2012 is expected to be a memorable year for London City. It is the nearest airport to the Olympic Stadium, less than five miles away by the shortest (torturous) route. The DLR will go direct. Whether you are a private passenger or an executive jet operator you need to get your bookings in early. Everything will be at a premium.
Malcolm Ginsberg
Member of the International Society of Olympic Historians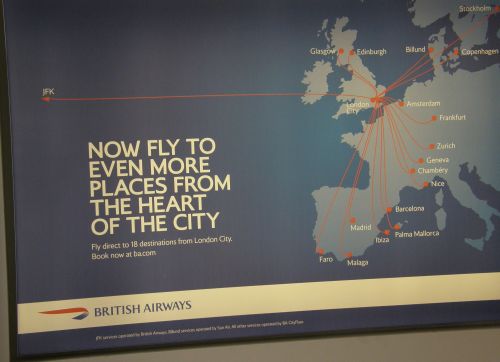 OUR READERS' FINEST WORDS (All times and dates are GMT)
All comments are filtered to exclude any excesses but the Editor does not have to agree with what is being said. 100 words maximum
---
No one has commented yet, why don't you start the ball rolling?
---