Cunard's Queen Victoria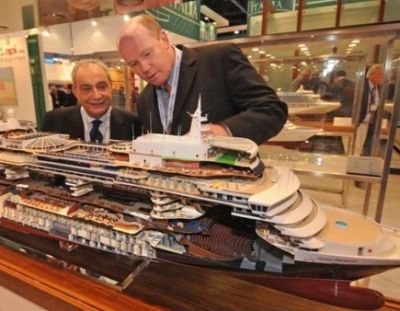 CUNARD has to be the big news this month with the eagerly expected Queen Elizabeth getting ready for sea trials in Italy and expected to make her maiden voyage out of Southampton on 12 October.
AERBT clearly cannot bring to you an impression of the third incarnation of the QE series but we can offer the next best thing, a review of Queen Victoria, her sister ship, who made her first voyage with fare paying passengers on 11 December 2007.
Readers in New York, or visiting New York on 13 January, are in for a treat. You can watch three Cunard liners coming under the Verrazano-Narrows Bridge and crossing New York's Upper Bay for the first time ever. Perhaps January in New York would not be the first choice for the Carnival management (Cunard is part of Carnival Plc which also owns, amongst others, Princess and P&O), but the sight of the three great ships saluting the Statue of Liberty will warm up the heart of anyone interested in the sea.
OUR TEN STORY NEWS ROUND-UP
Please note that we are selective with our cruise stories. Not for AERBT is the normal diet of discount pieces. These you can find in any of the Nationals every weekend. We continue in our policy of keeping readers informed on cruises with a difference, or stories that really tell a tale.
AMAwaterways, which used to be known as Amadeus, has launched its seventh and most innovative ship, the 162-passenger MS Amabella, as part of an ongoing multi-million pound investment in its 12-vessel fleet. She will be hosting itineraries on the Danube, Main, Mosel and Rhine for the rest of 2010 and 2011.
River cruising is getting more and more sophisticated with the new ship offering a small heated swimming pool on the top deck and not less than seven dining experiences. There is the ship's main restaurant called Verde; Bella Cucina offers classic Italian fare at dinner. At Erlebnis Chef's Table passengers can watch as a private chef prepares a special tasting menu in this unique and exclusive 24-seat venue. Additionally, passengers can enjoy casual light lunch menus in the main lounge, as well as private dining in the Wine Room, a dining area seating up to six guests that is perfect for celebrating a special occasion.
On select days, enjoy a lunch outdoors on the Sun Deck and room service dining for breakfast and dinner is also available in the suite categories. www.amawaterways.com

Carnival Corporation has ordered another ship for its AIDA Cruises brand, which caters exclusively to the German-speaking market. The 71,300-tonne newbuild vessel is the seventh ordered by AIDA in the past six years. The 2,192-passenger ship, which will be built at Germany's Meyer Werft, is scheduled to enter service in spring 2013.
In addition to AIDA, Carnival Corporation & plc owns the Carnival Cruise Lines, Holland America Line, Princess Cruises, The Yachts of Seabourn, Costa Cruises, Cunard Line, Ibero Cruises, Ocean Village, P&O Cruises and P&O Cruises Australia brands. Together, the brands operate 97 ships totalling more than 189,000 berths with a further ten new vessels scheduled to be delivered between now and May 2014. www.aida.de/english

Disney Cruise Line continues to trickle out details on its under-construction Disney Dream, which will launch in January 2011 as the first new Disney ship in more than a decade. The 128,000-ton, 2,500-passenger Disney Dream will feature the Chill Spa, an area inside the ship's Senses Spa & Salon that will offer spa services to teens between the ages of 13 and 17. American children grow up very early.
The area has two designated treatment rooms, and parents will be able to send their kids off for teen-friendly facials, massages, body treatments, manicures, pedicures and more while they get their own more grown-up treatments in the main spa.
AERBT has already mentioned other innovations including virtual portholes in all inside cabins. It will be interesting to try them out. http://disneycruise.disney.go.com

Formula 1 fans might like to consider a unique way of watching next year's Monaco Grand Prix. The four-masted, fully-crewed, 170-passenger tall ship, Star Flyer, will be anchored off Monte Carlo until midnight on Sunday, 29 May, the day of the race, so guests can go ashore to watch the action and soak up the Grand Prix atmosphere.
The cruise departs Cannes on 28 May. In addition to the day in Monaco, ports of call include L'Ile Rousse and Bastia in Corsica; the inlet of Portofino; Hyeres island; Sanary-sur-Mer; and St Tropez, with calls at the town and the beach. AERBT tries to steer away from showing prices as they are apt to change but the Grand Prix trip starts at just £1,245 per person, based on two sharing, plus port taxes of £135 per person. Flights and Grand Prix tickets are extra but you can watch from offshore and catch the details on TV. www.starclippers.com

Hapag-Lloyd Cruises, by reputation a truly five-star operation, is changing to an all-inclusive package for 2011 for the MS Columbus, said to be the most informal of the Hapag Lloyd fleet.
Extras on board will become a thing of the past. The ship lists 81 drinks on the beverages list from soft drinks to exotic cocktails. Tipping is also dropped and included are up to four shore excursions depending on the particular cruise.
Passengers can still book 'cruise only' if that is what they prefer.
Columbus is essentially a German-speaking ship, but like most international cruise operations English will get you by. In 2011 it will virtually circumnavigate the world twice starting at Buenos Aires, visiting amongst other places Sydney, The Suez Canal, the Mediterranean and Chicago. At 15,000 tonnes it is one of a few genuine cruise ships that can get that far up the Great Lakes. It is then down the eastern seaboard of the America's, Cape Horn again and on to Auckland. www.hl-cruises.com

National Cruise Week which runs between 19-26 September, will highlight the huge variety and the excellent value offered by a cruise holiday. Travel agents the length and breadth of the UK who are accredited to the Association of Cruise Experts (ACE) will be hosting events and featuring special offers. Your Editor is doing his bit, somewhat in advance, giving a talk this week to a North London group "Cruising is a complex business". Choosing a cruise holiday is not like booking a flight. To get the most out of it you need to be very selective.
Cruising is now one of the most popular holiday choices and National Cruise Week, with 2,000 travel agents taking part, highlights the huge variety and the excellent value offered by a cruise holiday. Travel agents the length and breadth of the UK who are accredited to ACE will be hosting events and featuring special offers. www.discovercruises.co.uk

Swan Hellenic has just announced that the ever popular Minerva is off to India and the Far East for the winter 2010/11 season after travelling around the Antarctic earlier this year. The selection of new itineraries includes visits to Cambodia, India, Malaysia, Oman, the Philippines, Sri Lanka, Thailand and Vietnam, and takes advantage of Minerva's small size, visiting 'off the beaten track' destinations and ports beyond the reach of larger ships. Highlights include sailing in the backwaters of Kerala, Cochin, cruising in Halong Bay, visiting the silk town of Hoi An in Vietnam and spending Christmas and New Year's Eve cruising off the coast of India. www.swanhellenic.com
The sinking of the Titanic was a sea disaster that had much the same impact around the world as 9/11 due to the number of casualties involved. It has become arguably the greatest commercial waterborne epic of all time. The ethics are for discussing elsewhere.
Sailing from Southampton 8 April, exactly 100 years after the ship's fateful maiden voyage, Fred Olsen's Balmoral will replicate the dramatic voyage concluding with a memorial service over the ship's grave on 15 April 1912. A line up of ten specialist lecturers are now booked for the voyage, including author Arthur Cropley, the great-nephew of Charles Herber Lightoller, the Second Officer of the Titanic and Senan Molony, Political Editor of the Irish Daily Mail and author of several respected books about the disaster.
Organisers of the cruise are ensuring that the food on board will be based on the dishes served in April 1912 and the music and entertainment will reflect the era.
Relatives of those who lost their lives on the great ship, authors, historians and people who are just fascinated by the Titanic story have already booked their place in history. The ship will sail with 1,309 paying passengers, exactly the same number that sailed on the Titanic. https://titanicmemorialcruise.iehost.net

Voyages to Antiquity have three autumn offers for sailings in September and October on board Aegean Odyssey in the Mediterranean.
The new cruise line, which specialises in the history and culture of the Mediterranean, has been sailing for just five months. Operating 15-day cruises, guests visit the popular sites such as Pompeii and Herculaneum as well as less well known sites across the region. All shore excursions, gratuities, wine with dinner and scheduled flights on British Airways are included in the fully bonded price. On offer are some single cabins at the same rate as a double and Concierge Class clients also get a free upgrade to BA Club Europe on their flights www.voyagestoantiquity.com

Wildlife fans looking for something not too arduous and short might be interested in a mini-cruise from Harwich to the beautiful Danish island of Fanø on DFDS this autumn. Sailing from Harwich to Esbjerg in Denmark it is a fine inexpensive opportunity to take in the marine wildlife and learn from the experts.
Once onboard, step out on deck in search of seals, porpoises and birds with the expert wildlife spotters. Then relax and enjoy the interactive wildlife presentations.
Arriving in Esbjerg you head to the nearby island of Fanø, an internationally important breeding ground for migrating birds, as well as having beautiful beaches and dunes. Here you discover why birds share our passion for travel, and watch thousands of birds in action as they make their fuel stops en-route between their wintering and breeding grounds.
You can take a three-night inclusive package with or without meals and there are departures on the 19 September and 10 October 2010. www.dfds.co.uk/miracle
A SHIP REVIEW: Queen Victoria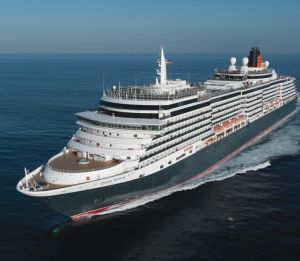 The story goes back to 1933 when, so we are told, the then Chairman of Cunard, Sir Percy Bates, sought an audience with King George V and asked approval for the new superliner being built on the Clyde to be named after Britain's greatest Queen. "Yes", said the King. "My wife (Queen Mary) would be delighted".
Fast forward to 2004 and Cunard were again building a Queen Victoria. With Queen Mary 2 recently in service the company was learning what the credentials were for a 21st century cruise liner with a transatlantic pedigree. These were slightly different to the Carnival Group's (Cunard's owner) normal requirements. There was a change of plans. The Italian shipbuilder Fincantieri's hull No 6078 (Victoria) became Arcadia of sister company P&O. And then they started again.
The Queen Victoria came into service in December 2007, with the Duchess of Cornwall as Godmother. With her large single red funnel she is in fact a very pretty ship, photographs not doing her justice. In October she will be joined by Queen Elizabeth, externally a copy except for the new ship's vertical stern.
Cunard have managed to squeeze another 32 cabins into Queen Elizabeth, which will be very much an art deco ship in terms of its internal décor, unlike Queen Victoria which features artwork and memorabilia from the era in which its namesake reigned. QE, due on-line in October (2010) will also feature a Britannia Club section of the main restaurant, which is a feature popular on the Queen Mary 2, but not available on Queen Victoria. This service will allow passengers in the Britannia staterooms to have flexible single seating dining arrangements without having to upgrade to the more expensive Grills classes.
QV and QE are the maximum size for traversing the Panama Canal. Queen Mary 2 definitely cannot.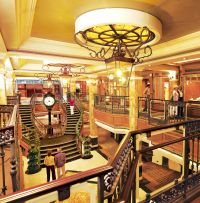 In General: Queen Victoria can be best described as a very understated ship. Unlike some of her rivals there is nothing flash about the QV (as the staff describe her – not for them the pub in east London that features on BBC TV).
Guests enter via the ship's three-storey Grand Lobby, which sets the tone for the whole vessel. Naturally there is a painting of the Imperial monarch who reigned from 1837 until 1901, latterly the Empress of India at a time when red dominated maps of the world. It is a stunning vista with sweeping staircases, the centre of the ship's public areas.
At the lowest level of the lobby atrium, and in keeping with what is a technological wonder, many square feet is given over to the world of computers, with a very well equipped Internet café plus "Connections" a computer learning centre with complimentary classes throughout the cruise, and more advanced help if you want it. There is an overflow on the next deck up (but in any event the whole ship is wi-fi).
One deck up is the Todd English restaurant (more anon), plus an entrance to what is the only library at sea on two levels (also with internet screens plus 6,000 books), Café Carinthia (open till late), the Champagne Bar, and the quiet Chart Room with its nostalgia from an earlier age. Cunard is keen on its heritage and everywhere are pictures of the great and the good who crossed the Atlantic on its predecessors in the era just before the jet aircraft arrived. Model ships too.
On Deck 3 there are more lounges and bars and it is an easy walk forward to the Queens Room balcony, from where you can view the Grand Ballroom inspired by Osborne House, Queen Victoria's home on the Isle of Wight. It is difficult to believe you are on board a ship. This two-deck high room is designed for dancing, cocktail parties and, in the afternoon, English tea, very popular, accompanied by a harpist or string quartet. Set in the background is a range of shops offering the essentials, and also very high quality gifts for that special occasion. It is called the Royal Arcade.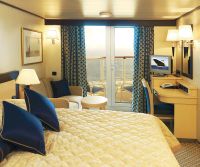 Accommodation: There are five accommodation decks and the ship is in some respects QV is a three-class operation.
Firstly there is the Penthouse and Queens Suites, with their separate restaurant (Queens Grill) and butler service. The cabins are utterly sumptuous, with a tub (Cunard is very big in North America) and private dining area. The Princess Suites class (Princess Grill, and from the same kitchen as the Queens Grill) has a concierge service, and here the staterooms are not as big as on QM2, essentially stretched standard cabins with a divider. But you do get a bath (and plenty of exclusive privileges).
Queens and Princess Class clients share a common alfresco dining area in a quiet private courtyard on deck 11, as well as a nearby lounge with splendid views over the main pool area. For sun worshippers there is The Grills Terrace on the highest point of the ship.
The standard balcony cabins, nearly 600 of them, are generous in size (200 sq ft average) but they only have showers with curtains (which is a criticism – competitors offer much better looking plastic glass).
All passengers are offered fresh fruit in their cabins, plus a daily newspaper. Even the lowest grade cabins receive a bottle of wine. It's Champagne if you are Grill class.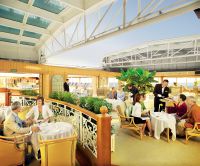 Dining: If you are in one of the Grills you can dine from 18:30 until 21:00 (or in your suite) but with the main Britannia restaurant it is the traditional seaborne early or late sitting. Spread over two decks the dining areas are linked by spiral staircases. North Americans like the first sitting (and have been known to queue for their normal guaranteed table – very odd) whilst the British for the most part prefer the later offering.
Italians and other mainland Europeans who prefer to eat even later can go for the casual dining offered by Lido buffet and the Pizzeria where the dress code is not so strict. Here a number of areas are very cleverly sub-divided in the evenings to offer Prime (seafood and steak), Bamboo (pan Asian) and Coriander (Indian) cuisine, complete with waiter service and tablecloths. There is an extra charge.
For alternative dining Todd English, one of America's leading chefs, who successfully supervised a named restaurant on QM2 has replicated it on QV. It offers innovative Mediterranean cuisine in a modern setting including Waterford crystal, Wedgwood china, Gainsborough silverware and Hepp cutlery add the finishing touches to what will be one of the ship's most sought-after fine dining experiences. Guests need to make reservations and additional charges apply US$20 for lunch and $US30 for dinner, per person.
There is also a 24-hour cabin service for everyone. No extra charge. And snacks and sandwiches are available at a number of venues until very late.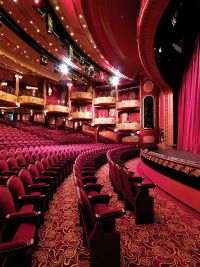 Entertainment: Cunard is rightly very proud of its entertainment package which runs from the crack of dawn (or at least pretty early) until either the passengers or activity staff are completely worn out. Experience has shown that the ships' crew usually last longer, and are somehow up in the morning putting on a brave face.
Pride of place has to go to the 830 Royal Court Theatre, offering the grandeur of London's West End in the style of the famous theatre designer Frank Matcham. Unique at sea (that is until the QE comes along) are 16 private boxes furnished with a pair of armchairs and cocktail tables. A 'Theatre Experience' can be pre-reserved before a show including Veuve Clicquot Champagne along with hors d'oeuvres or petit fours served by white-gloved theatre ushers in your box. Following the performance, guests have an opportunity to meet the cast backstage. The charge here is US$25 per person.
The Royal Court Theatre is the setting for a whole series of spectacular stage shows including 'Victoriana', which speaks for itself. Stars of stage, screen and TV are on board for their speciality acts and it also doubles up for various lectures and an afternoon film series of the latest releases.
Throughout the ship every evening (and daytime on deck) the various bars and social areas hum with the sound of music and entertainment (even the Golden Lion Pub). Quite the best from a relaxing viewpoint (literally) is the Commodore Club and bar, which sits above the bridge. If you ever have the opportunity to transit the Panama Canal (recommended) this must be the place to be.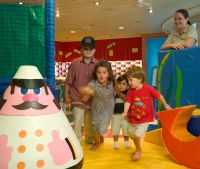 Children: Around 2,000 passengers is the normal maximum number, except during school holidays when the store-away bunk beds fitted in some cabins come very much into play, adding 300+ young clients. More qualified nannies and youth councillors are added to the dedicated youngsters' areas at this time with the rear Lido swimming pool dedicated to family use only. Little ones are supposed to keep out of the main Pavilion pool.
Cunard offer a children's programme from those aged one to 17. It is on a complimentary basis and operates from 09:00 until 24:00 with the exception of lunchtime, 12:00 to 14:00.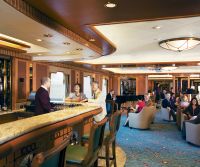 On board service: If you are energetic you can easily keep yourself entertained for every waking hour on board. In alphabetical order there are art classes, ballroom dancing, board games, bowls, bridge, the casino, computer classes, concerts and recitals, croquet, dance instruction, deck games, fencing, karaoke, golf driving, the ever popular crossword puzzles and paddle tennis.
The Winter Garden has a sliding roof and is used for occasional al fresco dining. Most of the time it is just a very nice lounge area amidships.
Whilst based at Southampton for nearly nine months of the year Victoria is a US Dollar-based ship, which also means 15% tipping rather than the British 10%. There is a US$13 per day service charge for Grill class passengers and US$11 those in the Britannia restaurant.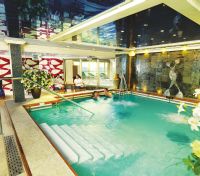 What Else: At this point we must mention the spa and gym area spread over two decks overlooking the bow. It features the latest spa and beauty treatments for both men and women, as well as a thermal suite and large hydro pool. It is impressive.
Forward of the spa itself is an expansive gymnasium and aerobics area with state-of-the-art cardiovascular fitness equipment including inclining treadmills and bikes complete with their own personal LCD television screens. The fitness centre/gymnasium is where the "secrets of a flatter stomach" demonstration and talks are given, plus the early morning keep-fit gatherings. On any cruise these will defeat your Editor.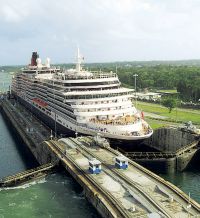 In Conclusion: Cunard makes much of the décor and ambience of the ship. Two million pounds has been spent on paintings and other artefacts. It is noticably different from anything else afloat, even the very much larger Queen Mary 2 and competes for the British market with P&O, under the same ownership.
For the balance of 2010 QV will be based at its home port of Southampton (where the Ocean Terminal is fully covered when you drive up) offering Mediterranean cruises (and one short English Channel trip pre-Christmas). It then departs 5 January jointly with Queen Elizabeth to meet up with Queen Mary 2 in New York on 13 January. The gathering of the three ships will be the first time that a trio of the world's great liners have rendezvoused in such a way since the 1960s, and then they were very much in competition. Not so in 2011 but you can expect enthusiastic crews to try and upstage each other.
Queen Victoria will spend the British winter operating various itineraries out of the USA including two return trips from Los Angeles to Hawaii. She then departs Ft Lauderdale 29 March and crosses the Atlantic via the Azores before embarking on a traditional European season out of Southampton including Northern Europe and the Mediterranean.
Since the withdrawal of the QE2, Queen Victoria has attracted the regulars from that very popular ship. It will be interesting to see how many will stay with their new joy or return back to their old love. Cunard is adding nearly 45% to its capacity. Will they struggle marketing-wise to fill the three super liners? Not if forward bookings are anything to go by! Cunard seem to have got it right. www.cunard.co.uk

Malcolm Ginsberg
OUR READERS' FINEST WORDS (All times and dates are GMT)
All comments are filtered to exclude any excesses but the Editor does not have to agree with what is being said. 100 words maximum
---