20 SEPTEMBER 2010
BTN DISTRIBUTION
BTN also goes out by email every Sunday night at midnight (UK time). To view this edition click here.
The Business Travel News
PO Box 758
Edgware HA8 4QF
United Kingdom
+44 (0)20 8952 8383
info@btnews.co.uk
© 2021 Business Travel News Ltd.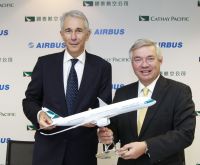 CATHAY PACIFIC AIRWAYS has concluded the purchase agreement with Airbus for the delivery of 30 A350-900 aircraft, representing the carrier's largest ever single aircraft purchase. Deliveries will begin in 2016 and are scheduled to stretch over a three-year period. The all-new A350-900 XWB ('Extra Wide Body') will serve principally long haul destinations in Europe. The aircraft is Rolls-Royce Trent powered and is expected to deliver improved payload range capability at competitive costs, at the same time providing high standards of passenger comfort and safety. Cathay Pacific currently operates a fleet of 128 wide body aircraft and with the Airbus A350 now has a total of 60 aircraft on firm order. Last month the airline also expressed its intention to exercise existing purchase rights for six more Boeing 777-300ER ultra long haul aircraft, which would take its total order for the type to 36. www.cathaypacific.com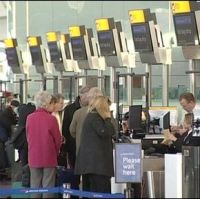 BRITISH AIRWAYS has at least settled one of its disputes regarding pay and staffing levels. The GMB union says that 97% of its more than 1,000 members working as ground staff have accepted the outcome of 12 months of quiet negotiations between the union and the airline. "This vote is a ringing endorsement of all the hard work done by GMB workplace representatives at BA over 12 months to achieve a negotiated settlement to secure a future for the airline," Mick Rix, GMB National Officer for Civil Aviation, said in a statement. It is understood that the deal includes a one-year pay freeze, as well as agreements on new employment and staffing levels. A total of 500 jobs will be lost, all through voluntary redundancies, and the agreement also sets in place procedures to deal with any future changes. www.ba.com www.gmb.org.uk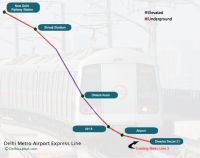 COMMONWEALTH GAMES visitors might be able to hop on the new Delhi Airport Metro Express after all, with trial running beginning last weekend. The Games themselves commence on 3 October. If all goes well commercial operations will begin by the end of September. The Metro link starts from New Delhi Railway Station (NDRS) stopping at four stations — Shivaji Terminus, Dhaula Kuan, Delhi Aerocity and Indira Gandhi International Airport (IGI) — before reaching its destination at Dwarka sector 21. For air travellers heading to IGI, airline and baggage check-in counters are being provided at the NDRS, Shivaji Terminus and Dhaula Kuan stations. The fare has been kept at a maximum of Rs150 (€2.5) till IGI airport and an additional Rs30 (€0.5) to Dwarka, with a provision for monthly passes for airline staff and frequent fliers. www.delhiairport.com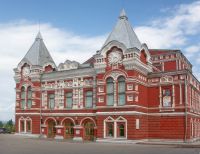 SAMARA (Russia) is the latest destination of flydubai, an announcement last week stated 76that a twice weekly service, Wednesdays and Saturdays will start from 20 October. Flight time is around four hours and the service will be operated by a Boeing 737-800NG. On Saturday 16 October services begin to Yekaterinburg also twice weekly. The airline flies from the modernized and enhanced Terminal 2 on the north side of Dubai International Airport. Situated where the Volga and Samara rivers meet, Samara is an important regional centre, as the largest Russian car manufacturing plant is located in neighbouring Tolyati. Shostakovich lived in the city during World War II and it is also the birthplace of Tolstoy. www.flydubai.com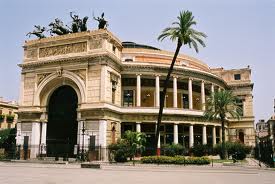 EASYJET'S summer only Gatwick service to Palermo, Sicily, is to be upgraded to an all year around operation from the start of the winter season. Flights will take place on Tuesday, Thursday and Saturday. It is the only operation to Palermo from the UK, but does compete with the British Airways service from Heathrow to Catania, which is also three times weekly 52 weeks of the year. The capital of Sicily, Palermo is the home of the Palazzo dei Normanni and also Italy's largest indoor theatre, the Teatro Massimo. www.easyJet.com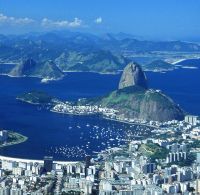 AMERICAN AIRLINES is to introduce what it calls a "seasonal service" between its Dallas/Fort Worth (DFW) hub and Rio de Janeiro (Brazil) (GIG) starting 16 December this year. Operating three days per week it stops on 4 April 2011, and then resumes for the summer season between 9 June and 22 August 2011, starting once again on 22 November. The flights will be operated by a Boeing 767-300 aircraft that offer two-class service with 28 Business Class and 191 Economy Class seats. Unusually for a US airline American's announcement highlights the 2014 Soccer World Cup. American also flies to Rio from JFK and Miami. www.aa.com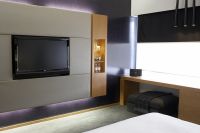 HÔTEL LE GERMAIN MAPLE LEAF SQUARE is a new 5-star property about to open in Toronto. In what is essentially the entertainment part of the city it is close by the Air Canada centre and Billy Bishop Airport. Le Germain is an expanding quality Canadian boutique hotel group now established in all the major cities. This latest investment offers 167 guest rooms including a duplex apartment suite. The hotel has a library and a seasonal roof garden and offers free internet. The conference facilities are top grade offering a total of up to 4,600 sq ft (427m2) and ideal for quiet and discreet city centre gatherings. A state-of-the-art 24-hour fitness facility is available. www.germainmapleleafsquare.com
A couple of guys were deep in an African forest.
A lion jumped out in front of them and started snarling.
Said one "What should we do?"
The other responded.
"I'm gonna run for it."
"Rubbish," said the first guy. "You can't outrun a mountain lion!"
The retort was to the point.
"I don't have to outrun HIM – I only have to outrun YOU!"