The final phase of short haul aviation in Europe - Now at an airport near you!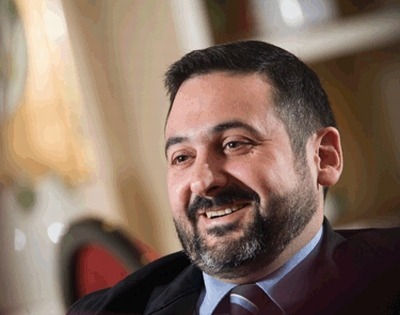 Alex Cruz (45) is a multi-lingual Spanish national raised in the United
States. A Masters graduate of Ohio State University he founded Clickair in 2006, which merged with Vueling in 2009. Prior to Clickair he had spent 10 years with American Airlines before moving to London working for management consultants Accenture, where his clients included British Airways, Continental, Delta, Lufthansa and Virgin Atlantic, amongst others.

One more year, one more WTM, and many market uncertainties are still there. But one thing is certain: low-cost/low-fare, short haul aviation has become a global phenomenon. Europe, however, continues to be the breeding ground for the latest manifestations of the category, a result of three distinct phases of evolution over nearly four decades. We are currently in the initial stages of a fourth stage of development, an accelerated substitution process that by 2020 will see practically all short haul traffic offered today by legacy carriers taken over by low-cost specialists.
But let us start at the beginning. That was back in the 1970s and the State was ever-present. We've had a collection of state-owned airlines and a handful of private leisure companies operating mostly in mono- or duopolies across main markets. Most of them wished to privatise and eventually, the respective governments initiated that process. During this phase, the short haul product remained expensive, exclusive and scarce. "Consumers" (although nobody really thought of them as such back then) had to adapt to the product offered by those airlines. Their only choice was take it ("pay it") or leave it.
Then came the 80s and Reaganomics happened. The now privatised airlines had to learn – often the hard way – how to become profitable and well managed enterprises, answering not to politically driven masters but to the financial logic of boards. The goal was to secure a piece of the action in the up-coming European Union "open skies" liberalization scheduled for 1992. In the sidelines, a new breed of carriers was starting to take shape, the prime examples of which were Ryanair and easyJet.
When a fad became the paradigm
Enter Phase III, which started somewhere in the mid 90s. These pioneer low-cost carriers began to offer a very basic but significantly discounted product loosely following the model coined by Southwest Airlines in the US. In a typical example of history repeating itself, the incumbent traditional airlines at best perceived the newcomers as a temporary anomaly and, at worst, ignored them... at their own peril. When the model started to be replicated regionally by other similar start-ups, what had so nonchalantly been written off as a fad began to look like a structural change, forcing traditional airlines to slim down their own products and services in order to cut fares in an attempt to remain competitive.
Fifteen years later, low-fare airlines account for more than 700 aircraft flying every day over European airspace. This segment of the industry is the prime driver behind meteoric demand stimulation in hardly served regions, and the many fold increase in overall passenger figures over the last 10 years, despite the recent years of economic distress. They are a key element in the sustainability of tourism and in keeping the cost of doing business in check, especially for small and medium sized companies, the backbone of Europe's real economy.
This brings us to the last and final phase. Traditional carriers in Europe have at last admitted that they cannot cope with high operating costs in their short haul operations. Of course this is something they knew for some time, but the situation finally has become untenable owing to the effect of sustained high fuel prices and the added threat posed by the entry of new competitors in the only profitable area of the traditional carrier's business: the long haul business passenger.
2020: Low(er)-cost is all for short haul
Therefore, my prediction is that in the next five to eight years we will witness a quasi-complete substitution effect. Lower cost operators will replace nearly all the existing short and medium haul operations offered by legacy carriers who, in turn, will concentrate their efforts in the medium-long and long haul routes operated with bigger, more efficient aircraft and a product tailored to differentiated consumer segments.
Is re-engineering the existing companies possible? On paper, yes; at least in some cases. But in reality, the task is fraught with complexity. It entails addressing long-standing labour agreements, striking new agreements with pilots, controlling high costs, simplifying convoluted and uncompetitive management structures and processes, dealing with sub-optimal productivity and tackling many other operational and structural issues. Combined, these factors make the challenge of turning a traditional carrier into one that can deliver a cost base comparable to a purpose built low-cost carrier next to impossible (and congratulations, by the way, to Aer Lingus for nearly getting there after more than 12 years of hard work).
What will the landscape look like in 2020? We are likely to see some major trunk and business routes between financial centres or main hubs in Europe still connected by a dual class product offered by the experienced airlines, but this will be a very small percentage compared with the remaining short haul capacity. That hub-feeding and point-to-point traffic is likely to be exclusively operated by lower cost spinoffs and already existing low-cost carriers.
"easyConnect", " Ryanair Biz"... Coming soon
In this process, we can expect two significant developments. First, the existing low-cost operators will undoubtedly improve their product and "move up the ladder" in the business travel market. Yes, easyJet will connect and feed other airlines, and yes, they will have a proper loyalty programme. And yes, Ryanair will soon pursue business travellers at more relevant airports. And no, I'm not on drugs when saying this. If no more significant capacity is added by these carriers over the coming years, they will begin chasing yields.
The second effect is a pure necessity: legacy carriers will need to be successful, finally, in the creation of lower cost spin offs –not re-engineered versions of themselves, but new companies. The first wave attempting to do this failed: Snowflake (SAS), Buzz (KLM), Germanwings (LH), bmibaby (BD), CentralWings (LO), Go (BA), Transavia (KL), amongst others, have either closed or been sold altogether, or they have been reduced by their parents to a specific niche role, with no growth or profits.
By now, this article begs the question of why I have failed to mention clickair (IB), an airline which does not exist today, and which, yes, I originally started. This is because I believe that clickair's creation was the only successful such venture in Europe in view of the end results. Today, after destabilising and eventually forcing a merger with the "original" Vueling, the new integrated company that emerged is the only successful airline partly owned by a legacy carrier, Iberia. Five years after clickair's inception, Barcelona has a cheaper product in a profitable platform (2nd in Europe in terms of EBIT margin in 2009 and 2010, with 5-10% annual growth).
Furthermore, at the new Vueling not only have we achieved a very low cost structure (€4 ex-fuel CASK); we have done so while offering a product that is, observers have told me, "just a curtain away" from a traditional carrier. This includes all the hitherto no-nos in the LCC bible: connecting traffic, premium product, code-sharing, seat assignment, FFP, full GDS distribution, etc. Basically, with the right support, and a strong team, it can be done.
After "the plug", perhaps a conclusion is in order. As consumers, we should be prepared to have a better service for about the same, low, prices forever (index and fuel cost-adjusted, of course) – which for WTM participants, it basically means, more travel and more sales. As industry players, we are likely to see the traditionally delivered short haul product progressively disappear from our main airports in favour of a similar product which will get even better with time – as it will be easier to compete from a lower cost platform.
And this time, we will not need to wait 30 years... this phase is now well underway.
ALEX CRUZ
This month's SOAPBOX was written prior to the takeover announcement of bmi by British Airways. Iberia is a 45% shareholder in Vueling.
OUR READERS' FINEST WORDS (All times and dates are GMT)
All comments are filtered to exclude any excesses but the Editor does not have to agree with what is being said. 100 words maximum
---