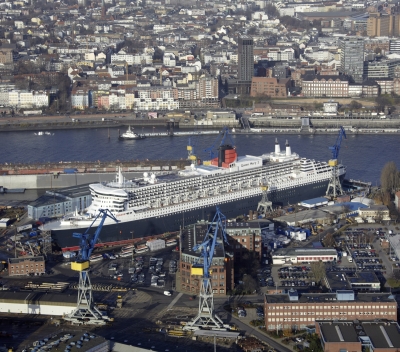 Queen Mary 2 (QM2) has graced the seven seas since 2004. Your Editor was privileged to travel on her from New York to Southampton when she was new, and was last week most fortunate to take her first passage in the opposite direction following a 14-day multi-million pound remodelling in Hamburg.

This report comes to you as we approach New York, docking this morning (19 December). Such is internet technology.

QM2 is unique. It is a true ocean liner, probably the last of the breed. But they said that of QE2 too.

Her so-called rivals may now be bigger (she was the world's largest passenger ship when constructed) but these are purpose-built cruise ships, effectively floating mobile hotels, slower, more ponderous, and whilst perfectly able to cross the Atlantic, not designed for regular appearances on that sometimes most challenging of passages, as was the last seven days.

QM2 is a multi-purpose ship, designed that way, spending perhaps one-third of her life on the North Atlantic, one-third cruising in Europe and the Caribbean, and one-third on what is now the traditional World Cruise.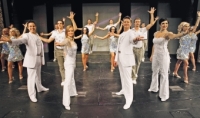 According to Commodore Christopher Rynd, Cunard's senior Captain and in charge of QM2 in its maiden crossing after the re-fit, no other passenger ship could have contended with last week's gruesome weather. "She (QM2) has performed exactly as she was designed to do. No other ship could deal with the conditions experienced in such a way. We've kept up a steady 21 knots but even we have had to steer a course to mitigate the circumstances." The bridge reported winds up to 70 knots at gale force 11.

Damage on board seems to have been minimal and holidaymakers for the most part took it all in their stride. Some are reported to even be enjoying the experience. New York historian, Ted Scull, on board to lecture passengers on the city that never sleeps said: "I just love this weather. That is what the North Atlantic in December is all about."

Which way – East or West?

Let us begin by answering a simple question. If you are not going to take QM2 both ways should one go westbound or eastbound.

Out of Southampton, if you are flying back, it is cheaper in that you don't have to pay the enormous British government airport departure tax, you gain an extra hour per day as you put the clocks back, and the entry to New York, even although it is now Brooklyn and not the Hudson, is magnificent.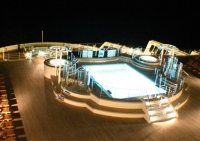 In the other direction the prevailing sea should make for a smoother crossing and arriving at Southampton, refreshed from seven days at sea, and with your journey home organised makes for a restful end of a lovely holiday.

Either way Cunard still have on offer the fully inclusive (except for tips) ship's travel and return flight from less than £1,000 in 2012. Terrific value. For the cost of a Business Class return fare London – New York, you can travel Princess Grill one way and fly back. If you need to go the United States make the time to have a holiday one way or the other. It is a real experience. You can have a leisurely crossing, or cram into every moment of the day some activity. Or use each day to suit your own agenda.

To put things in perspective the old Queen Mary was capable of crossing the Atlantic in less than four days. Today her splendid successor currently takes seven nights. When introduced the journey time was six nights but Cunard have now discovered that their passengers prefer more time on board, not less. The longer passage sells better for much the same money, costs less in fuel, but is more expensive operationally.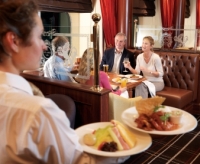 Let us put one misinterpretation to bed. QM2 is not a three-class ship. Yes there are separate resturants for Grill Class passengers, but you get what you pay for. Queens Grill clients benefit from the use of butlers, and can lead very private exclusive lives in their magnificent suites if that is what is wanted, whilst those in Princess Grill have slightly lesser staterooms. For boarding there is priority, a private lounge and hostess, but for the most part all mix throughout the ship. It is a very seamless society. Grill Class clients also have what the Americans call tubs. For the rest it is a (large) shower.

Refurbishment

RMS Queen Mary 2 made her first transatlantic crossing in January 2004. She comes in at 151,000 gross registered tonnes. She can carry up to a maximum of 2,600 passengers serviced by around 1,250 crew. On this crossing she was full, plus five dogs in luxurious kennels.

The 14-day refit required a team of thousands of craftsmen working around the clock replacing the equivalent of almost ten football fields of carpet and turning about 18 miles of fabric into over 6,000 individual items.

Peter Shanks, Cunard President and Managing Director, summed it up:


"Queen Mary 2 is an iconic leader in the world of luxury ocean travel and continues to receive high ratings by guests and the cruise industry. A ship that still turns heads everywhere she goes, she is unquestionably the pride of our fleet. We are committed to maintaining that impeccable reputation, and this significant refurbishment is an important investment on behalf of our guests."

One simple innovation worthy of mention is the installation of eight photo image readers in a gallery filled with the work of the on board photography team. Just insert your cabin card and very quickly all their efforts with your stateroom number attached come up. It saves looking through literally thousands of prints. Cunard might well scrap the gallery at some future point in time and no doubt others will copy.

Also, gone are the art auctions, replaced by interesting lectures (and your editor was honoured in being able to give a 45 minute discourse on the Olympics, which went down well) . The Rolf Harris story was standing room only. An amazing multi talented man. The ship is now entirely wi-fi which works well.

Looking in more detail all 1,310 staterooms received a fresh look with new carpeting, curtains, bedspreads and some gained new furniture. Flat screen TVs are now standard. On board is some of the finest accommodation at sea, including four outstanding duplex suites which look out over the stern pools, but the standard cabin, with or without balcony, is more than adequate, a pullout bed/settee available if needed. No tea or coffee making facilities are provided but a complimentary 24hr cabin service includes soups, pastas and a whole range of sandwiches. You can dine in your stateroom during restaurant hours.

QM2 regulars will straight away notice changes in the popular Golden Lion pub offering traditional lunch menus, live sporting events on TV, regular quizzes and nightly music. The new design retains the British pub atmosphere and also evokes, according to Cunard, an American country club feel similar to the warm colours and plush seating in the same venues aboard sister ships Queen Victoria and Queen Elizabeth.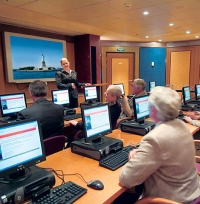 An extensive refurbishment of the Canyon Ranch SpaClub includes the teak surrounds of the hydrotherapy pool and adjacent wet areas and a general upgrade of all the facilities. Most impressive is the new touch screen TV exercise machines in the fitness centre, which also offer computer games to take your mind off the agony you are putting yourself through.

Both the Queens Grill and Princess Grill Restaurants feature new, lighter carpet designs but if you have not travelled on QM2 before, or in recent times, the Club Britannia dining area is well worth a consideration. It is available for those booking what is really the standard balcony cabin, but on deck 12, with quick access to the Pavilion Pool, with its sliding roof. Club Britannia is the seagoing version of Premium Economy, the same extensive menu as the main (Britannia) restaurant but is more exclusive and a quieter area. The service is personal and you can eat at a time to suit rather than the two sittings of the main dining area.

With the Princess Grill the menu is extensive but mainly European. King's Court offers a variety of self-service meals and both Italian and Lotus silver service dining, for which there is a supplement. Often considered the finest fare at sea New York restaurateur Todd English offers his award winning cuisine, also mainly European, in a fine intimate facility. It is popular for private celebrations. There is a charge al la carte but vastly less than one on dry land. Such is its success it has been replicated on Queen Victoria and Queen Elizabeth.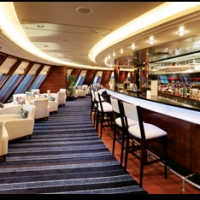 Other alterations and improvements include an upgrading to the Commodore Club overlooking the bow with a new carpet design and additions to the white leather furnishings of chairs, sofas and bar stools. Remodelled also is the Veuve Clicquot Champagne Bar with a new carpet and soft furnishing. Sir Samuel's, the busy social venue, which features speciality coffees during the day and an impressive menu of wines at night, has also received new carpeting and furniture coverings.

The Play Zone / Kids' Zone, of which Cunard is justifiably proud, has undergone a complete refurbishment, including new soft play areas, plus upgrades to the very latest in electronic gaming technology and entertainment.

Queen Mary 2 was recently named the world's Top Large Resort Ship in the new Berlitz Complete Guide to Cruising & Cruise Ships. By continuing to invest in both her technical and hotel areas and retaining her grand status with the largest ballroom and the only planetarium at sea, plus the largest library, Cunard is ensuring that its 170 years of tradition are being kept. 137 tableaux spread around the ship describe the line's fascinating history of the line. It is also an account of the social scene over one and a half centuries.

In many ways QM2 is a throwback of the liners of the 1930s, art deco throughout, with a great deal of walnut panelling. It is a very quiet ship. No sales pitches and bingo announcements for Cunard customers. Art auctions have been eliminated but the gallery has been retained and Clarendon Fine Art are on hand to discuss your requirements.

A tuxedo is obligatory on certain nights in the resturants main dining areas. However the alternative eating areas will make you very welcome if your dress code wish is more relaxed.

With a seven-night crossing, and no interruptions regarding shore excursions travellers can take in some of the offerings on board. The word is "some". Frankly it is impossible to visit all that is available in that short time. Even a return trip would be pushing it. Two large theatres. Entertainment and films galore and a variety of sporting activity. The Mayfair shopping arcade should be mentioned too, also upgraded during the dry dock period. It is easy to bypass if not for you, but many spent much of their trip deciding what to buy, tax free. Try and catch a bargain day.

In 2,000 words it is impossible to fully describe QM2. If your business trip takes you across the Atlantic towards the front end of the aircraft, for no more money, treat yourself to an week's holiday on board this magnificent liner. You will enjoy it.


PROGRAMME

From New York QM2 takes a 15-night holiday trip through the Caribbean before returning to Brooklyn and thence another transatlantic crossing to Southampton. On board are 728 clients for the whole trip. On 10 January she commences the 108 days 2012 World Cruise, but it is not a global circumnavigation. That she does of Australia taking the southerly route. From Sydney, for the second time, it is up to Tokyo and South East Asia. Singapore to Mumbai follows and then Dubai, the Suez Canal, Mediterranean and home. A great variety of sectors and combinations are available. To date only 280 passengers have booked the whole voyage but that is more than made up by those who want to go all around Oz, a very rare offering.

Next summer QM2 is back on her regular sailings across the Atlantic, the only ship to do so, and capable of doing so. In between there are voyages from New York up the St Lawrence, and Southampton to both Northern Europe and the Canaries. The short sample cruises, two to five days out of Southampton, are very limited in 2012. Cunard clearly feels that the cruising world knows all about QM2. The vast majority of passengers are regulars. That speaks for itself. www.cunard.com

Malcolm Ginsberg

OUR READERS' FINEST WORDS (All times and dates are GMT)
All comments are filtered to exclude any excesses but the Editor does not have to agree with what is being said. 100 words maximum
---
No one has commented yet, why don't you start the ball rolling?
---