31 OCTOBER 2011
BTN DISTRIBUTION
BTN also goes out by email every Sunday night at midnight (UK time). To view this edition click here.
The Business Travel News
PO Box 758
Edgware HA8 4QF
United Kingdom
+44 (0)20 8952 8383
info@btnews.co.uk
© 2021 Business Travel News Ltd.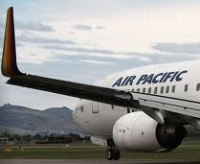 With an appearance at World Travel Market in London next week Air Pacific, the airline of Fiji, has announced the arrival of its fourth Boeing 737-800 in the Fiji capital of Nadi. The aircraft replaces the carrier's single Boeing 767-300. Air Pacific is owned by the Fijian government (51%), Qantas (46.32%). Air New Zealand and the governments of Kiribati, Tonga, Nauru and Samoa each hold minor stakes.
The aircraft will be used mainly for the second daily service between Nadi and Sydney (except Sundays) from mid-January 2012 as well as other local routes.
The 767 will be replaced on the Hong Kong route by one of two Singapore Airlines leased Boeing 747s operated by the airline. With the much larger 747 the frequency will change from three times to twice a week. From 2013 the venerable Boeings will be replaced with three Airbus A330-200s.
Air Pacific will be with Tourism Fiji on stand AS445 in the Asia Pacific area at World Travel Market. www.airpacific.com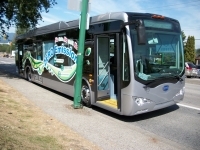 Hertz has announced the use of Chinese automotive company BYD's eBus-12 at Los Angeles International Airport (LAX), claiming it as a first by a rental car company.
The BYD bus is able to run 150 miles on a single charge in urban conditions, more than enough for Hertz's use at its airport locations, and its energy consumption is less than 100 kWh per 10kms. At Los Angeles the bus shuttles car hire customers between the terminals and the company's rental facility. It saves on average US$76 per day, per bus in fuel costs!
"Hertz is aggressively moving forward with its global EV (electric vehicle) programme, introducing electric vehicles into its worldwide fleet and testing other electric vehicles as they become available," says Mark P. Frissora, Hertz Chairman and CEO. "Hertz's mission is to provide the most technologically advanced mobility solutions to our customers, including the buses we use as part of our everyday operations at airports." In its first year, the Hertz Global EV initiative has grown from a vision to a market presence in cities around the world including New York, Washington DC, San Francisco, London and Shenzhen. www.hertz.com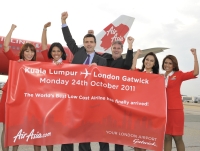 AirAsia X has successfully transferred from Stansted to Gatwick. The airline will be flying five times a week to Kuala Lumpur, moving to six flights a week by mid-December.
Commercial Director Guy Stephenson said: "Gatwick offers an attractive proposition to airlines and their customers. We are within an hour's drive for around 15m people and we have fast and excellent rail connections to central London. The combination of these factors means that AirAsia X are in a better position to increase traffic between the UK and Malaysia now that they have moved their London 'home' from Stansted to Gatwick." Vietnam Airways has also chosen Gatwick (see this issue).
The Gatwick – Kuala Lumpur route will be serviced by AirAsia X's Airbus A340-300, which has 327 seats including 18 Premium Fly Flat bed seats amidships. AirAsia X's Premium Fly Flat beds are standard Business Class specifications of 20" width, 60" pitch and stretches out to 77" in full recline position. The seats feature universal power sockets, adjustable headrests and built-in personal utilities such as tray table, drink holder, reading light and privacy screen. Premium seat guests gain the same meals but these are complimentary. www.airasia.com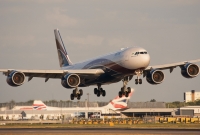 Arik Air, Nigeria's largest commercial airline, has formally been announced as the International Air Transport Association's (IATA) newest member five years to the day after it made its maiden flight. The IATA membership follows one year after Arik satisfied the requirements to be registered on the IATA Operational Safety Audit's (IOSA) register. Arik is now also a member of the IATA Billing & Settlement Plan (BSP).
Dr Michael Arumemi-Ikhide, Group CEO and President, Arik Air, commented: "Joining IATA is a huge achievement for any airline so needless to say we are very proud of the endeavour it has taken and success we have achieved in reaching this landmark at only five years of age
"The membership provides us the ability with which to link our markets, products and services to the rest of the world via partnerships and associations and we are keen to do so."
The airline currently serves 21 destinations across Nigeria as well as Accra (Ghana), Banjul (Gambia), Dakar (Senegal), Freetown (Sierra Leone), Monrovia (Liberia), Heathrow (UK), Johannesburg (South Africa) and New York JFK (USA) where it is particularly successful. The carrier now only serves Lagos from Heathrow having dropped the Abuja route. www.arikair.com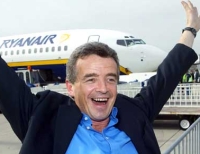 Speaking to the Financial Times new aerospace correspondent Andrew Parker, Ryanair boss Michael O'Leary has outlined the airline's plans for the future
"I would like to grow to 120m, 130m passengers," said Mr O'Leary. In 2010-11, 72.1m passengers flew with Ryanair. Mr O'Leary insisted he would only buy aircraft at "cheap prices", but with full order books neither Airbus nor Boeing are likely to be in the mood for a discount deal and would also have delivery problems. Most industry experts believe that ordering the new Chinese C919 'paper aircraft' very risky.
Ryanair has an all-Boeing fleet, and Mr O'Leary acknowledged it faced increased operating costs if it bought aircraft from a different manufacturer.
Ryanair's expansion in recent years has focused on Italy and Spain, and Mr O'Leary said the airline now had big growth opportunities in Scandinavia and eastern Europe.
Ryanair paid a maiden dividend worth €500m last year, and is considering a similar payment to shareholders in 2012-13. A third special dividend might be possible in 2014-15 according to O'Leary if Ryanair had not finalised an aircraft order by then, but he ruled out the company making an annual pay-out to shareholders. www.ryanair.com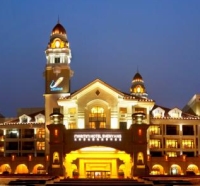 Maritim Hotels, Germany's largest privately owned operator of conference facilities, has opened a new hotel in the Yuhong district of Shenyang (China), a city not far from the North Korea border. Built to international 5-star standards, the property features 631 state-of-the-art bedrooms and suites. It boasts a modern swimming pool and wellness area, as well as sophisticated German and Chinese speciality restaurants and an all-day dining restaurant. It also has extensive event and conference facilities, with space for up to 1,400 people in the grand ballroom and a further 15 conference and meeting spaces.
Shenyang is considered to be the cultural and industrial centre of Northeast China and describes itself as "a city full of vitality".
The opening comes after the success of Maritim Hotels' first property in China, an elegant venetian-style property in Sanshan, inland from Shanghai, called Maritim Hotel Wuhu. With expansion in mind the luxury hotel chain will open a further two Chinese hotels in the coming months, in Anting, and Changzhou.
In addition to 37 hotels in Germany, the company has 15 hotels around the world in locations as diverse as China, Egypt, Latvia, Malta, Mauritius, Spain and Turkey. www.maritim.com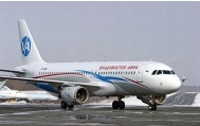 Singapore Changi Airport has welcomed the arrival of Russian carrier Vladivostok Air. One of Russia's most established airlines, it will operate twice-weekly services between Singapore and Vladivostok via Hong Kong. Vladivostok Air will use an Airbus A320 aircraft in a two-class configuration on the route.
The new service gives an alternative routing from Europe to the Russian Far East.
Vladivostok Air goes back to the 1930s and became an airline with its own title (rather than Aeroflot) in 1994. In 2004 it passed the IATA Operational Safety Audit, becoming a full member of IATA. www.vladivostokavia.ru/en/passengers
We never gained a response to the question whether it is true that Ryanair are taking out a loo, but travellers with a delicate bladder should not be unduly worried. The number of seats on a Boeing 737-800 is fixed by safety rules and not the whim of a managing director. The maximum number allowed is 189 and that is it. Just like the idea of standing up throughout a flight. It's illegal. But that too did get media coverage.