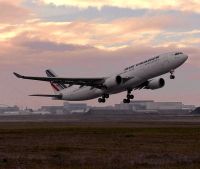 FRANCE has officially announced that attempts to salvage the flight recorder from the AF Airbus A330 which disappeared in the South Atlantic on 1 June have not succeeded. However the French safety authorities have not lost all hope of retrieving the so-called black boxes and are seeking help from other experts. Whilst the cause of the accident can only be a case of conjecture it is known that a violent storm was taking place in the flight path. Speculation is that the speed sensors on the aircraft could have provided incorrect readings to the flight deck crew due to icing, thus provoking a sudden stall. The Captain's body has been recovered indicating that he might have been undertaking a rest period at the time. www.airbus.com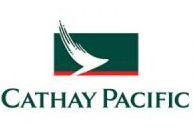 AIR CHINA, the government-owned flag carrier of the world's largest country, has agreed to pay HK$6.3bn (US$813m) to increase its stake in Cathay Pacific, only three years after first securing a holding in the Hong Kong airline. Under the arrangement Air China's stake in Cathay will grow from 17.5% to 29.99% – just below the takeover threshold. Cathay Pacific's controlling investor, the Swire Group based in London, says it intends to remain the airline's major shareholder and has added a further 2%, the maximum allowed bringing its shareholding to 42%. Christopher Pratt, Chairman of both Swire and Cathay, said: "It remains the firm intention of Swire Pacific to remain the single largest shareholder in Cathay, as indeed we have been for the past 60 years." www.cathaypacific.com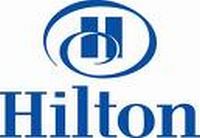 HILTON HOTELS has launched a mobile service for the UK, allowing travellers to book hotel stays via their mobile phones. The facility is accessed by visiting hilton.co.uk on mobile devices and launched in conjunction with Dublin-based specialist Mobile Travel Technologies (MTT). The resource allows users to access and change existing bookings and view hotel pictures and information, such as facilities and directions to a property. Hilton Mobile is integrated with Hilton's loyalty scheme, which is an additional bonus. There is a Web App version for iPhone users, and with the GPS capability of the iPhone, the service will also show a list of nearby Hilton hotels and the distance from the user's current location. www.hilton.co.uk www.mttnow.com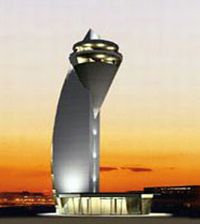 GULF AIR is to open next Monday (31 August) what it claims is by far the quickest connecting flight between London and Iraq. Gulf Air Chief Commercial Officer Mr Willy Boulter says: "There are currently no direct services from the UK to Baghdad and so we have ensured that our service provides excellent connectivity for our customers flying from London Heathrow via our hub in Bahrain. We believe there will be significant demand for our services to Iraq from the UK and Europe and we strongly believe we have an opportunity to become the market leader in our operations there". Mr Boulter confirmed that the airline plans to add Najaf and Erbil to the network at the end of September and is looking at other Iraqi destinations. www.gulfair.com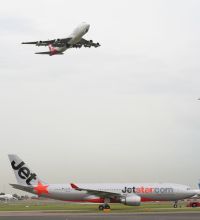 QANTAS has quickly taken steps to deal with the problems associated by the delays with the Boeing 787 programme, arguably before lease prices on wide-bodied aircraft harden. The Qantas Group has announced it will take four additional wide-body A330 aircraft, on six-year leases, to allow for its Jetstar low cost subsidiary to take on its planned growth in the international market. Qantas Chief Executive Officer, Alan Joyce, said that the first A330-200 aircraft would be delivered in November 2010. "A key component of the Group's growth strategy is its significant fleet renewal programme," he noted. "We currently have more than 160 aircraft on order over the next ten years, including 50 Boeing 787s for operation by both Jetstar and Qantas. B787 programme delays mean we have had to consider medium term options to support new long haul market opportunities for Jetstar." Jetstar currently flies to points in South East Asia and to Hawaii. www.jetstar.com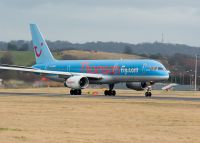 THOMSON AIRWAYS, the British holiday airline, is removing all charges for supplementary therapeutic oxygen and relaxing its policy on customers bringing their own supplementary oxygen onboard its flights. The airline says it has listened to feedback from customers and disability groups who felt that these charges were unfair on those that required supplementary oxygen treatment to travel by air. Thomson customers requiring supplementary oxygen can now either pre-book the use of a nasal cannula therapeutic oxygen supply onboard all flights free of charge; bring their own oxygen supplies for use during the flight, subject to meeting certain conditions and gaining prior approval; or supply their own portable oxygen concentrators, provided it meets certain safety requirements. http://flights.thomson.co.uk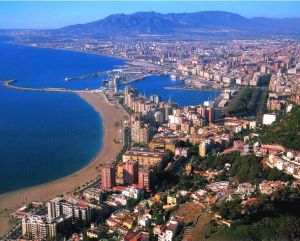 The Brits have been going through Malaga for the last 40 years since the introduction of the airborne package holiday. Normally it is no more than a very quick passing visit on the way to the Costa del Sol or perhaps Marbella. Cruise ships find it a regular stop, the call also very fleeting. The main parts are walkable from the regular docking position.

Next time when flying in think about staying in Malaga for a couple of nights. Or longer if you want to make it a base for forays into Andalusia one of the most interesting parts of Spain including Granada and the Alhambra Palace

As for Malaga there is abundance of hotels at all price ranges offering good value but nothing of five-star class. It is very much a working town. You can hire a car, take a tour bus, or, for the brave, use local transport.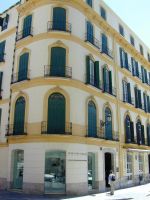 If paella is to your taste, in Malaga you will be really satisfied with hundreds of small restaurants and bistro style cafes. Eating outdoors is the norm even in what we would term "the winter". Fish and seafood is available in abundance. Even the local bread is different but possibly an acquired taste.

Malaga Airport is about five miles west of the city with both taxis and public transport. Generally costs are dramatically cheaper than Barcelona, although as docks they really don't compete serving completely parts of Spain.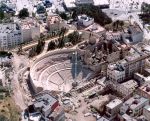 Malaga is typical of Mediterranean ports in that at the beginning of recorded history it was part of the Roman Empire, lost its way towards the end of the first millennium and became Muslim for 700 years until 1492. For the next 500 years it was often fought over and finally in 1936 fell to Franco's Nationalist troops. The city today has a population of half a million and is a major industrial and commercial centre. Agriculture is still important.

Malaga is typical of most tourist-minded Mediterranean cities in that it has a excellent open hop on hop off bus tour with 12 stops and a multi-lingual commentary through headphones. You really do see the sights while hearing Malaga's history – The tour takes around an hour and a half and the price is €15 for adults and €7 for children from 4-14 years. The ticket also allows you to take another bus from the Main Bus Station and gain free entrance to the stunning Botanical Gardens Finca la Concepcion on the north side of the city. They were originally created 150 years ago by an English lady.

The most interesting parts of the city are contained in a relatively small area by the old port, all very easily walkable. There is a fine tourist information unit just outside the dock gates and also a lovely strolling area named Paseo del Parque. Here the gardens contain rare, exotic and tropical plants. The whole area suffers for the present with a major waterfront development.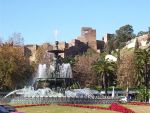 For a tour, start at the Gibralfaro Castle the highest point of the town. The hop on hop off tour bus or a taxi can drop you off.

Everything is then downhill. The early structure is Phoenician, but was the Moors who turned the whole area into a fortress. Today it is a very pretty area affording fine views. There is an interpretation centre. In 1936 it was the last place of resistance in the Spanish Civil War. It was the Royal Navy that rescued Europeans, Colonials and Americans at that time.

Beneath the Gibralfaro is the Alcazaba Fortress, the home of the Arab Emirs. The whole area was surrounded by walls during the Muslim times. Today it is the site of an archaeological museum with stucco work and 12/13th century pottery.

Next down is the Roman Amphitheatre. It is amazing to think that it lay undiscovered until 1951. Now it also serves a duel purpose as a concert bowl and acting forum. Nearby is the bullring, one of the largest in Spain. Traditional events take place on a regular basis and there is also a museum. Not to everyone's taste.

Only one person of real stature has emerged from Malaga and even he is claimed by a number of municipalities. Pablo Picasso, who took his mother's maiden name after falling out with his father, was born in Malaga in 1881. His talent was obvious from an early age and the family relocated to Barcelona when he was 14. Subsequently he moved to Paris and later on in life settled in the South of France where he eventually died in 1973 leaving a confused heritage. Picasso was probably the greatest painter of the 20th century, certainly as an impressionist.

The house of Picasso has restricted access but was the family home and has been recently restored. Nearby is the Picasso Museum housed in a lovely 16th century building with themed exhibitions from time to time. Over 200 works were donated by his daughter-in-law. Other painters from the region are also on display including Julio González and Henri Matisse.

Nearby is the Malaga Cathedral, built on the site of a mosque it is considered one of the finest examples of Spanish Renaissance architecture and the interior includes a beautiful wooden choir stall from the early 17th century.

For those more interested in shopping and eating the Alemeda Principal is a wide thoroughfare dating from the late 18th century which borders the Mercado Central, a shopping area for locals.

www.malagainformation.com