NOTHING CHEAP AT PEGASUS EXCEPT THE PRICE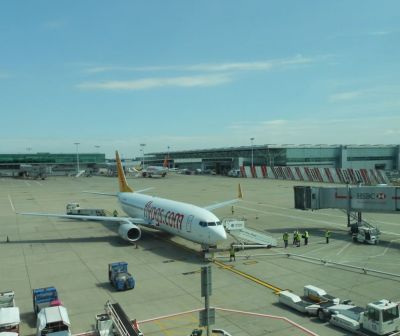 Michael Bartlett, that Brother of the Anglican Order, 'Oratory of the Good Shepherd', whose enthusiasm for air travel must be the bane of many airlines and travel agents, last week enjoyed 24 hours flying aboard two Boeing 737-800s of the Turkish carrier Pegasus. His purpose was to experience a little 'Turkish Delight' (of a slightly more exciting flavour than that found in the sweet shop), in celebration of achieving travel with 250 of the world's international and domestic airlines.
Michael for years has held a longing to set foot upon Iranian soil, So when he read in AERBT of Pegasus Airline's intention to operate a scheduled service from Istanbul's very modern Sabiha Gokcen Airport on the Asian side of the Bosphorus (SAW) he jumped at the chance to add yet another airline, country and two more airports to his lengthy lists.
Having chosen a date for travel to and from Tehran's Imam Khomeine International Airport (IKA), without stopover, the difficulty was not making a reservation but in discovering whether or not he would be in need of a transit visa.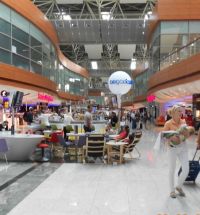 The Gospel according to "OAG", on their website under the Passport and Visa Information section states clearly: General Transit Information: "Required by all except those noted above and 1) Persons continuing their journey within 12 hours provided holding confirmed tickets and documents for their onward travel". Michael contacted the Iranian Embassy and Consulate in London and received no reply. Travel agents, tour operators and visa companies suggested application (£80) but informed the would-be-traveller that it can take up to 12 weeks to obtain the necessary documentation.
Michael did not have 12 weeks and decided to travel with the Christian virtues of faith, hope and charity; his 'faith' of experience, joined with the 'hope' that there would be help and assistance when necessary and the expectancy of 'charity' on behalf of officials at Tehran's Airport!
Stansted Airport was heaving with families struggling to get away for their summer escape to 'not-so-far-away' destinations.
Michael, with his small 3kg bag holding no more than a book to read, a spare shirt and trousers, toothbrush and paste and the medicines prescribed by his GP was horrified by the size of the baggage being taken by so many. He wondered if some were moving house. Remembering his flights with Ryanair his question to Pegasus (Servisair) ground staff when waiting at the bottom of the front steps was: "Why does it take so long to board?". The reply? "Sir, look at the hand luggage. Some passengers are carrying two bags and many too large. It takes time to get them in the rack". Notwithstanding that, PC 502 took off from London 23 minutes late but made up 10 minutes en route.
A number of the families referred to earlier were aboard "Hande" (the name of the aircraft) judging by the screams and tears at various stages of the flight. All passengers appeared to be travelling for leisure. Most were in T-shirts and shorts or jeans. Michael searched without success for any other passenger wearing a tie. His tie attracted the interest of many, the picture being of an aircraft on the map of the world. The plane was continuing on to Northern Cyprus. Of those leaving at Istanbul there were but a few joining Michael at the transfer desk where he began to make enquiries of his turnaround at Tehran.
He was informed that they could not issue a boarding card at Istanbul for the return flight from Tehran.
Nor was anyone able to provide information about the Station Manager at IKA. It was suggested that Michael go "on-line" and check in before leaving for Tehran. (72 hours before travel Michael tried to check in on-line. This was not possible for travel beginning at Stansted. A friendly computer wizard, highly experienced in programming and the internet, tried for him without success).
So Michael searched the bright clean terminal building for internet facilities. There were none. The "Priority Pass" Club Lounge and the hotel were closed. Michael asked "Wings Lounge" and all the stores, restaurants and faces if they had internet in their offices. All said "No". He was stuck.
Before taking his seat aboard Flight PC 512 Michael asked the cabin crew what might be the situation at Tehran. One member had lived there for five years and said that security being so great, in her opinion it would be unlikely for him to get clearance to return on the same aircraft. She considered it unwise for him to travel. He asked if he might meet the captain to request permission to stay aboard the plane during the turnround. He had anticipated this and so during his three-hour wait in the terminal had written a letter to the Captain which was accompanied by copies of press releases relating to his travels, a list of his Guinness World Record achievements and some photographs and cards.
The Captain's reply was that he could not permit this "eccentric globetrotter" to stay aboard the aircraft at Tehran because of Iranian Airport Law. However he would wait an extra 15 minutes, allowing the 'mad monk' 75 minutes to get clearance.
Michael then had to take the risk. The Head Stewardess, Gursah, said that she would ask the Pegasus Manager/Agent at IKA when they opened the door to take Brother Michael through immigration and security. Her words were: "Go for it". Michael knew he had two people supporting him. The Captain and the senior member of the cabin crew. He reminded himself of the few occasions in the past when he had lost out because of indecision. So the "skonk monk" (a title given him by another Guinness Record Holder) smiled, thanked the crew and took his seat 15c (emergency row) ready to enjoy the flight to Iran – his 125th country of travel.
A few minutes before landing Michael was taken to an empty seat in row 3 in order for him to be the first off the plane and meet the Station Manager, Amirreza Zahdi. Mr Bartlett's position was told to him with a request that he escort Michael through the necessary departments and controls. Mr Zahdi explained that it would not be possible for Michael to get through in time and that it would take a minimum of four hours. It could be anything up to 24 hours for a transit visa to be issued. He spoke good English. The monk, by now wondering if he had done the right thing, remembering something he had learned years ago – always "To say Please, Smile and accept anything", said to the six foot tall young man in front of him: "Please let me get back on the plane or come with me through immigration".
He showed him photographs and papers and stood there trying to look lost and helpless! It worked. After asking the stewardess to inform the London Office of Pegasus if he did not return, he followed Amirreza.
The first port of call was the door into the terminal used by staff and not passengers. He was introduced to the policeman guarding the gate. Following an exchange of smiles and an hand shake Michael was permitted through to the terminal passing the passport queues. He went through another gate and shook hands with another guard. His story was told again, pictures shown. He then passed to a third entrance where he was asked to wait whilst Amirreza went ahead to discuss the case with a senior official in an office. To this nervous man it appeared a long time. It was probably no more than the two minutes observed in silence around the UK on Remembrance Day each November. His carer returned with the good news that Michael would be permitted to rejoin Pegasus without the need for a visa.
The difficulty came in obtaining a Boarding Card! The Manager had to go "land side" to sort that out and left Michael at the gate. Passengers were waiting to board PC 513 to Istanbul. His Boarding Card arrived with the check-in clerk, a lady wearing traditional dress in black. He happily went through to the plane where he was met by Mr Zahdi. Each took a photograph of the other and exchanged addresses. Michael went back to the first policeman and thanked him – for it was he who could have initially said, "NO" – before stepping aboard TC-AAV to begin his homeward bound journey. He was met by the Captain and crew to which he said "Thank you." He was to enjoy two more flights with Pegasus...the flying horse… the logo being on the wing tips of the aircraft.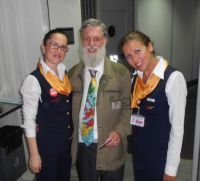 The flight to Tehran had been nearly full but the return flight half empty. Many passengers slept across three seats. There were few families on this sector and most passengers were wearing T-shirts and jeans. The majority of ladies wore western style clothing, relatively few being in traditional Middle East attire. Michael was somewhat disappointed in that, expecting to see a wider array of clothing, professional appearance and nationals. During his travels around the African continent he had always enjoyed admiring the widely differing styles of dress and headwear. He did note that, as within western Europe, the majority had mobile telephones. Many, especially the younger generation of men and women, possessed and were using laptops in the terminal whilst waiting for their flights.
NOTHING CHEAP AT PEGASUS EXCEPT THE PRICE, is the airline slogan obviously referring to their standards of safety and service. Our traveller of 250 airlines has seen and experienced a wide variety of services. Quite regardless of his hope for a trouble free visit to Tehran, from the beginning of his check-in at Stansted airport, this "Globetrotter Extraordinary" took note of the attention and attitude of each Pegasus employee. Throughout the 24 hours he was with the airline each one he met smiled thus creating the impression that they were interested in the passenger. On both occasions he passed through Istanbul the staff at the Transfer Desk were friendly and within the sphere of their responsibilities did their best to assist though maybe Michael had expected more than they had authority to perform.
The Brother's plan to try each of the four main meals offered on their website failed to materialise. First, because as reported above, his attempt to log on and book failed. The system had crashed at the local library where this traveller goes on-line. Secondly, because of other engagements he did not get near a computer in time, 36 hours before the flight. Fate was on his side, for aboard both the Istanbul – Tehran and the return flight, the meal was provided as part of the service. Michael was very happy with the chicken, pasta and carrots alongside a cake, roll and butter. What more could one want at one o'clock in the morning? Most passengers were trying to sleep. As for the return flight, the sun was rising in the East. Passengers were given scrambled egg with sausage and tomato alongside a small tray of fresh fruit (delicious), a roll with butter, honey and cheese with tea or coffee.
Whatever the moans and groans of the air passengers as read in travel magazines, newspaper supplements and heard on radio and television with regard to meals aboard aircraft, Michael's opinion is that when related to cost, time and available facilities, the standard is usually good. In his opinion this was so aboard Pegasus flights. The scrambled egg was tasty, hot and enjoyable. He would have enjoyed another sausage! Being tired Michael tried to relax on PC 501 back to London. She was full. The passengers appeared to be families and friends visiting relatives as opposed to tourists and business people.
The language on all flights appeared to be Turkish with a short English translation. He found this hard to decipher though that might have been because he was not paying attention!
One compliment made by that "mad fool" (another title earned in the past) was that Pegasus earn 5-star rating because there was no background music when boarding and to announcements. He did enjoy four QUIET flights. He says, "Thank you Pegasus."
Pegasus have set the trend or copied that of a few other airlines, by using children on screen to lead the well known safety mumble at the beginning of the flight. This reminds those seated to belt up, place their luggage where it has already been placed (in the locker above or the seat in front). They then show from where the oxygen mask will fall and how to handle it. The bored non-listening passenger is advised of the life-vest under the seat. How many passengers checked it to be there? Michael did. It was!).
Michael finished where he began. He enjoyed four safe flights with Pegasus – the Flying Horse. He enjoyed his "Day Away". NOTHING CHEAP AT PEGASUS EXCEPT THE PRICE www.flypgs.com
OUR READERS' FINEST WORDS (All times and dates are GMT)
All comments are filtered to exclude any excesses but the Editor does not have to agree with what is being said. 100 words maximum
---
No one has commented yet, why don't you start the ball rolling?
---