ABOUT BTNews - The Business Travel News
Business Travel News is a weekly review published every Monday on the web by a dedicated team and also distributed as an email newsletter.
It is a MUST for many at the start of the week. Our readers are travel suppliers, travel organisers and regular travellers, the City, media and legislators. It is award winning, respected and influential. BTNews is independent of any other publishing house.
The BTNews format is simple: Comment, 20 news stories, a feature item on some aspect of travel, and finally travel related humour. Monthly items include "On the Soapbox" with industry leaders commenting on a topic of the day, and motoring and cruising sections. (These have included in recent times Sir Howard Davies, Carolyn McCall of easyJet, Akbar Al Baker, CEO Qatar Airways and Tony Tyler, former Director General and CEO of IATA).
BTNews goes live on the worldwide web midnight London time every Sunday, backed-up by an email distribution of the news index to around 48,000 recipients, many of whom forward it to further readers. Additional distribution is made on company Intranets, on notice boards and by trade organisations. It is read by business travellers and their bookers, the travel trade, the media, city and legislators plus the airline and airport industry. It is influential. We average 75,000 hits per week. 60% of the readership is UK, 25% Europe and the rest split across the world from Australasia to the west coast of the USA. We have several enthusiastic readers in Hawaii.
Malcolm Ginsberg - Editor in Chief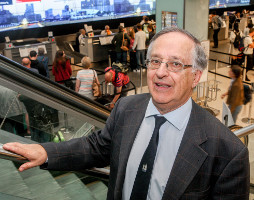 Malcolm Ginsberg, in a lengthy and very active career, has been a successful public relations practitioner, publisher and writer, specialising in transport and travel. He is one of the longest established UK specialist air and business travel journalists.
Malcolm introduced Air & Business Travel News (ABTN) as a weekly electronic publication in 1997. It was originally a tabloid fortnightly.
Starting out as a motor racing reporter, he was headhunted by Lotus Cars (at the time World Motor Racing Champions) to become press officer and later publicity manager, helping to sell the Elan, Elan+2, Europa and Lotus 7 (now Caterham 7).
In 1973 he founded Malcolm Ginsberg & Associates (MGA), public relations consultants, with Moonraker Boats (owned by Colin Chapman of Lotus), Clan Cars (essentially a Lotus spin off), Piper Aircraft and CSE - The Oxford Air Training School, as his first clients. CSE introduced Embraer to the UK and was instrumental in winning the RAF order for the Tucano trainer. HeavyLift Cargo Airlines, no longer with us although its name is now part of the vocabulary, was another decade-long client. MGA has acted for, long-term, American Airlines, All Nippon Airways, British World Airlines and for 15 years Brymon Airways, plus a number of airports and aviation associated companies. Sir Roy Watts, the former CEO of British Airways, retained MGA when he became chairman of Thames Water plc. Malcolm gained various awards for his public relations work, these mainly concerning his efforts on behalf of London City Airport in its early days.
Today Malcolm is no longer involved in PR and as well as editor in chief of BTNews acts as an aviation consultant and journalist, writing for various nationals, weeklies and magazines on travel, motoring and aviation matters and appearing world wide regularly on TV as an aviation pundit. He is a (long suffering) season ticket holder at Luton Town Football Club and a founder member of the Aviation Club of the United Kingdom. Malcolm is a member of the International Travel Writers Alliance, the Guild of Motoring Writers and the Chartered Institute of Journalists.
Richard Cawthorne - Editor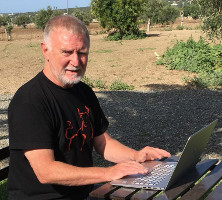 Long-time aviation and travel enthusiast Richard Cawthorne started his journalism career as a reporter for the Eastern Daily Press in Norwich and was subsequently appointed air correspondent before venturing into the world of travel. His appointments since have included deputy editor of the then BEA News; senior press officer, British Caledonian Airways; US editor, Travel Weekly, and editor, Travel GBI. He has lived and worked in New York, Jamaica, the Seychelles and Australia and is now based in Hertfordshire. He joined Business Travel News in September 2015.
Linda Press - Executive Editor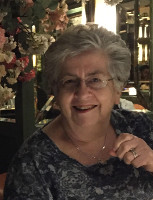 Linda has been involved in the aviation industry for over 40 years. Trained as a secretary she initially worked in the publishing trade and with Hitachi. For 20 years she edited Aviation Directories Ltd which, during that time published over 30 directories including the Directory of British Aviation, the Directory of European Aviation, the Travel Industry Directory, the Farnborough Airshow Trade Catalogue, the World Airline Directory, Airport Directory, various Business Travel World directories, part works for TTG and Travel Weekly, and the APRO (Airline Public Relations Organisation) directory.
Linda was involved with Air & Business Travel News (ABTN) from its early days as a tabloid printed airline industry fortnightly. Today she acts as Assistant Editor of BTNews responsible for the day to day management of the publication with particular emphasis on the database and distribution.
Andrew Sharp - Railway Contributor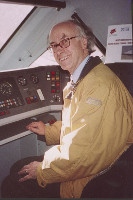 Andrew has over 30 years' experience in transportation - mainly the rail industry in the UK. For 14 years he was director-general of the International Air Rail Organisation, a world-wide group of organisations across the air and rail industry with an interest in rail links to airports. He retired in 2012 and is now their policy adviser.
He has undertaken consultancy work for a number of companies interested in airport rail connections, and has also been retained by Heathrow Express as a consultant. He is a visiting lecturer at Cranfield University and the College of Europe. He has a Masters degree in Transportation and Traffic Planning from the University of Birmingham, and is a member of the Chartered Institute of Logistics and Transport.
He is a member of the Transportation Research Board's Committees on Passenger Intermodal Facilities and Airport Terminals and Ground Access and their Aviation Sustainability Sub-Committee, and the Aviation Policy Group of the Chartered Institute of Logistics and Transport.
Alison Chambers - Executive Aviation Contributor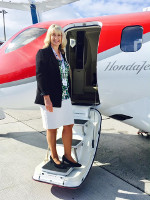 Alison started her editorial career in London with Flight International. Serving on the air transport desk she persuaded the editor to put a female captain on the front cover to illustrate her women pilots' feature in a controversial first for the then 75-year old title. She travelled extensively writing and commissioning features as editor of Shephard Press magazine Commuter World, before launching a weekly newsletter dedicated to the burgeoning regional airline market, Commuter Regional Airline International. In 1993 she, together with Kelly Murphy in the US, set up Emerald Media, a boutique aviation PR company with initial clients Crossair, BAE and Saab Aircraft.
Alison and her editorially led team have since steered many PR campaigns, including the launch of Flybe, low-cost carriers Debonair and Deutsche BA, Abu Dhabi's business aviation airport Al Bateen Executive and the world's first high street business aviation showroom, The Jet Business. Alison is on the council of the British General Aviation Association (BBGA) with whom she is PR advisor and of late has delivered a number of successful niche industry conferences, on commercial helicopter operations and the single engine turboprop market. In addition to her writing assignments for BTNews she writes a business aviation column for The Savoy magazine.