20 DECEMBER 2010
BTN DISTRIBUTION
BTN also goes out by email every Sunday night at midnight (UK time). To view this edition click here.
The Business Travel News
PO Box 758
Edgware HA8 4QF
United Kingdom
+44 (0)20 8952 8383
info@btnews.co.uk
© 2021 Business Travel News Ltd.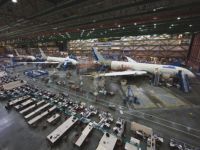 Boeing has been very quiet regarding the latest certification and delivery dates on the 787 since the nearly disastrous electrical fire on a test aircraft in November.
Jim McNerney, Chairman, President and CEO, now has been on American TV and was still not able to give a definitive answer to the question that lead customer ANA and the air travel community was waiting for.
"Over the next few weeks we'll get the production schedule better understood as we work with the FAA on the fix to the incident we had on the Dreamliner," he said in the interview. "We expect to know over the next few weeks what impact the 787 Dreamliner electrical glitch will have on the plane's production and delivery schedule." www.boeing.com/commercial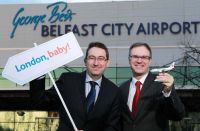 bmibaby is to introduce a George Best Belfast City Airport to Stansted service from the start of the summer season on 28 March 2011. Flights will operate three times a day from Monday to Friday, with one service on Sunday. easyJet flies four times daily between Belfast International and Stansted. Parent company British Midland (BMI) competes from Belfast City to Heathrow whilst Flybe has services into Gatwick.
Launched in 2002, as part of the bmi group, bmibaby currently flies from four UK bases: Birmingham, Cardiff, East Midlands and Manchester to 33 European destinations. It has not flown into Stansted before. The airline operates Boeing 737-300 series aircraft in a 148-seat layout. www.bmibaby.com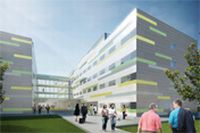 Planning permission has been given for a new hotel at Bristol Airport. The 251-room property hotel will be located close to the terminal building and is designed to be eco-friendly, minimising the consumption of energy, materials and water through the selection of construction materials and technologies that lessen site wastage and that are locally sourced wherever possible.
An internationally recognized hotel brand will be selected over the course of the next few months, in partnership with the developer, Pedersen Airport Hotels who already owns three hotels in Bristol – the Novotel on Victoria Street, the Mercure on Welsh Back and the Ibis at the Temple Quay.
Bristol Airport is currently the ninth largest airport in the UK measured by passenger numbers, but is the only one of the top 15 airports in the country without on-site hotel accommodation. However it still lacks safe dual carriageway road access. www.bristolairport.co.uk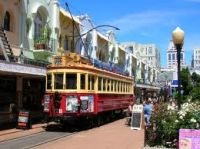 AirAsia X, the Malaysian-based long haul low fare airline, today is to introduce a route from Kuala Lumpur to Christchurch (New Zealand). Starting 1 April 2011 the airline will fly four times weekly.
Operating on the route will be a two-class Airbus A330 featuring the airline's amidships premium flat bed cabin with its 20" width, 60" pitch seats, stretching out to 77" in the full recline position. These feature universal power sockets, adjustable headrests and built-in personal utilities including tray table, drink holder, reading light and privacy screen.
This new route is the 15th destination for the airline after points in Australia, China, India, Japan, Korea, Taiwan, Tehran, UK and soon France. www.airasia.com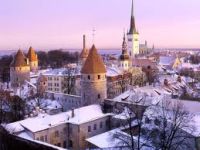 On the 1 January 1 2011 Estonia becoming the latest country to adopt the Euro. How the problems of Greece and Ireland affect its arrival remains to be seen, the change of currency planned for some time.
Coinciding with the new financial arrangements Tallinn, the capital, joins with Turku (Finland), as one of the two European Capitals of Culture next year.
To welcome the Capital of Culture year the city will host an opening ceremony and music festival, centred around Theatre Square on 31 December with fireworks at midnight, lighting up the city's coastal location, the port a popular summer cruise destination.
The event will be attended by Estonia's Prime Minister, Andrus Ansip; accompanied by his Latvian and Lithuanian counterparts, Valdis Dombrovskis and Andrius Kubilius; European Commissioner for Economic and Financial Affairs, Olli Rehn; and the former President of the Bank of Estonia, now European Commissioner for Transport, Siim Kallas. www.visitestonia.com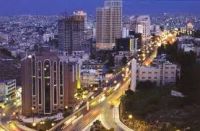 Amman (Jordan) is the notable destination in a whole host of new services to be introduced by easyJet at Gatwick next year bringing its total destinations from the South London airport to 92. The airline will boost its Gatwick-based fleet by four aircraft to 46. Overall the airline is increasing capacity by 13%. Next year easyJet will be operating 551 routes between 129 airports across 30 countries.
Already the largest operator at the airport, the airline plans to start six routes in 2011. New are Aberdeen, Bologna (Italy), Izmir (Turkey), Seville (Spain) and Verona (Italy) as well as the Jordanian capital. easyJet becomes the first ex-UK low cost operator to fly to the country. A tourist boom is likely to follow as well as attracting other budget airlines.
Under new ownership, Gatwick is targeting growth to at least 40m passengers per year by 2018 – an increase of 20% from its current 32.5m, an exceptional figure for a single runway airport. www.gatwickairport.com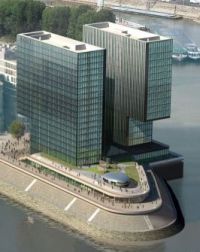 Dusseldorf has a new 5-star hotel, the Hyatt Regency, which opened last week. Situated in the heart of the trendy Media Harbour area it is located in one of two newly built 19-storey towers at the tip of the peninsula. A pedestrian bridge connects the hotel with the opposite side of the harbour. With its central location close to the international airport, and the most important exhibition and conference centres in the city, the hotel will attract business and leisure travellers.
The hotel is not quite complete but all the 290 guestrooms are available. The Dox Restaurant, including its bar and sushi bar, a fitness centre, and the hotel's meeting rooms and ballroom are also open. Additional services and amenities expected to be finished by mid-February 2011 include the Regency Club™, Rive Spa, the hotel's premier suites, and Pebble's restaurant.
Also available is Regency Club accommodation, a dedicated concierge and access to a private lounge on the 18th floor of the hotel. Complimentary continental breakfast and afternoon coffee and tea are available, as well as a selection of beverages and canapés in the evening for a minimal surcharge. www.hyatt.com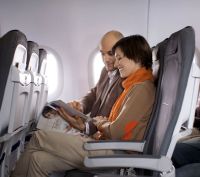 Recaro the seat manufacture is busy. Lufthansa has confirmed that it is installing some 32,000 new seats on more than 180 aircraft in its short and medium-haul fleet – within the space of just one year. Thanks to the new, ergonomically shaped seat with its slim backrest, passengers will now have more than four centimetres extra legroom and more hand luggage storage space. The airline benefits too, Lufthansa is able to increase capacity by about 2,000 additional seats, the equivalent of 12 Airbus A320s.
In all, Lufthansa is investing about €170m in the cabin upgrade as part of a comprehensive programme to revamp the airline's in-flight product. Passengers travelling in Economy Class will again be offered snacks such as muesli bars and chocolate, even on domestic routes. On cross border services of more than two hours hot meals will be available and a wide selection of beverages. www.lufthansa.com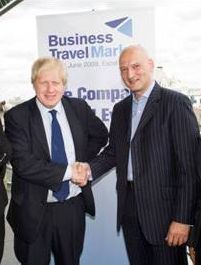 Business Travel Market (BTM), the conference and exhibition for European travel buyers at London's ExCel, has announced changes to its management team.
There are three new appointments: Neil Simpson joins as Sales Director in January from Centaur Media where he was directing their Travel Technology Show. Nikki Stimson, has already taken up the role of Marketing and Partnerships Director, expanding her short term contract involvement in BTM into a permanent role and Judit Mora has been appointed to a Sales and Administration Support position. Loraine Holdcroft continues her role as VIP Hosted Buyer Programme Director for a third year. The Operations continue to be looked after by Anna Anson of IQ Events. Mark Harris of Travel Intelligence Network has left following the completion of his contract.
Business Travel Market took place for the second time in 2010, when buyers from 20 countries with a collective travel spend of over €15bn, attended 2,500 pre-arranged meetings.
The event is now firmly established in the corporate travel calendar having garnered support from the buyer and supplier communities across Europe, culminating in a new partnership with ACTE. All the 2010 sponsors are returning for 2011. www.businesstravelmarket.co.uk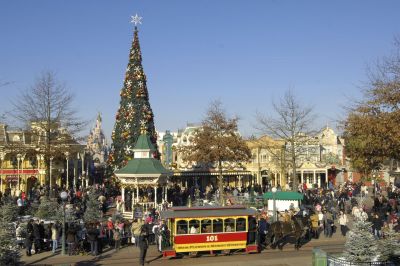 If you are thinking of a family trip next spring or summer Disneyland Paris is to be highly recommended. Yes it is in one sense very 'plastic' but it can be combined with an opportunity to use Eurostar, visit the capital of France and pick up some culture, and make the most of the chance to utilize the French being taught at school.
It is fully open over Christmas and the New Year too, with some excellent special attractions closing at one in the morning on 1 January.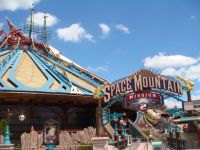 Since its opening in 1992, Disneyland Paris has established itself as the leading tourist destination in Europe, welcoming more than 215 million visits.
Disneyland does not have to be expensive and in fact the park entrance fee is good value when, for instance, compared to 90 minutes at a Premier Division soccer match. Booked well in advance Eurostar is also realistically priced and (except for the Disneyland Hotel sited at the entrance) the hotel costs are reasonable. AERBT stayed at the Radisson Blu with a courtesy bus service, a fine breakfast and internet included in the package plus an indoor swimming pool. Paris is an easy RER ride away with its attractions and can be in itself part of the trip. Visitors choosing to come by car will find countless lodging offerings at all price ranges.
Eating in the park can be very expensive. These days Disney does allow one to bring your own food and provides plenty of covered space for informal consumption. The many food outlets provide wholesome grub in quantity (and some fine dining too if you look for it).
Once you have paid for your travel, accommodation and entrance you need not spend another penny. But that will be something of a struggle.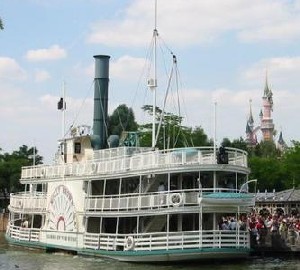 We travelled via Kings Cross/St Pancras and Eurostar direct to the park. There is a daily service (also from Ashford – Kent) except Tuesdays and Saturdays outside of school breaks, or you can tailor your journey via Lille. Station to station it is 2hrs 35mins London to Disneyland and the park itself greets you on arrival. If you don't speak French most of the staff are multi-lingual. Don't worry about your luggage. The hotels will collect it at the station and offer the same service for the return
Disney at Paris is two adjoining theme parks connected by an eating area and other leisure activities called the Disney Village. You can view the whole scenario by taking a ride in a tethered balloon. The Disneyland Park itself is recommended for a minimum of 1½ days and the Walt Disney Studio Park for a half day. Two nights minimum.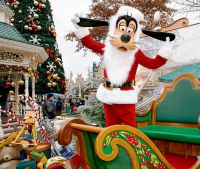 Someone a long time ago coined the expression "The Magic Kingdom" and it certainly is, for youngsters from five upwards (with the record age for a visitor of 106). It is best to keep away from the French school holidays when the queues can be horrendous. For some of the more popular rides you can sign up early in the day with "Fast Pass" and then come back at your allotted time. Patience is the one virtue that is required at Disneyland and getting your timing right. It is perfect for children. If you are really tired take the Disneyland Railroad and stay on for a second circuit. Don't try and get on at the Town Square station, the more distant stations are less busy.
Arriving at Disneyland Park wander down Main Street and get in the mood for the place. You may be lucky and there is a parade going on. Mickey, Minnie and their friends will be around to entertain you. Make your way to the Central Plaza and then decide. Your choice is Adventureland, Frontierland, Fantasyland and Discoveryland. The names more or less described what they offer.
Adventureland is just that, and is clearly for the most part designed for the more thrill engaged types and those who with some rides (Indiana Jones) should not wear toupees or indeed enjoy upside down trips.
Frontierland includes "Big Thunder Mountain" and a leisurely ride on a massive sternwheeler across the Disneyland lake.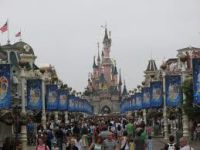 For the younger people Fantasyland includes "Peter Pan's Flight" and the ever popular "It's a Small World". "Le Theatre du Chateau" is a good place to sit down. Look in the programme for the show times. You will not have a language problem.
Finally "Discoveryland" has the ever popular "Space Mountain", a chance to drive your own car in "Autopia" and "Star Wars" a space flight simulator for an intergalactic excursion into the Star Wars galaxy.
The park normally opens at 10:00 and goes on (in the summer months) until 23:00 and sometimes later. Not so the Walt Disney Studios which closes much earlier.
Without doubt the best offering at the studios is the "Back Lot Studio Tram Tour" a fascinating trip showing just how some of the great films of the past were made in the days before digital production. It can get hot in places and it is easy to get splashed. The "Back Lot" is full of surprises.
If it is stunt driving you want to see the "Motours" spectacular is a 45-minute show in a specially built stadium. And yes you will be caught out in the way it is done.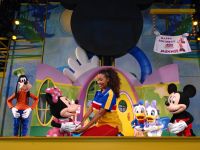 The Walt Disney Studios is once again divided into theme areas, but the walking is much less and there is plenty of time to relax in the "Animagic" show where a host of Disney characters produce a host of songs from unforgettable films since Snow White and the Seven Dwarfs of 1937. Produced today it would probably be banned as politically incorrect.
If none of this is for you but family commitments insist on a visit there is the Disney Golf Course which adjoins the Radisson Blu hotel! It is of championship standard and combines three 9-hole courses that can be combined into a serious 18-hole par 72 challenge. www.disneylandparis.co.uk
THE QUEEN ELIZABETH
A news review follows
It is going to be the social talking point amongst the cruising aficionados. Which is better? Queen Elizabeth or Queen Victoria. There is nothing like a bit of competition to keep the standards up and on 5 January they both depart Southampton for New York. Which ship arrives first? The Captains should toss a coin, and a Sterling one too.
Cunard is perhaps the only truly international brand in cruising, with nearly a half of its guests coming from the UK, a third from North America and the balance from a wide range of markets – notably including Australia, Germany and Japan. Whilst the pair will spend more half their lives working out of the UK port, the American owners insist on the Dollar as the on-board plastic currency, and 15% service charges too. Perhaps our only criticism. And to make the point British three point plugs are everywhere (and also US two pin). The ships sail under the Red Ensign too. With P&O, also under the same ownership, they would not dare!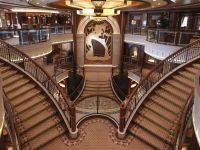 The new Queen Elizabeth is unique. It is probably the only current ocean going liner, not only to have a distinguished predecessor with the same name but its precursor too. Fortunately there are three Queens of England that we can all recall with the QE title, the lady was in charge when we defeated the Spanish Amada, the wife of King George VI, and of course the present incumbent who with her sister Margaret was on board RMS Queen Elizabeth when she did her speed trails in 1946.
With the arrival of the latest Queen Elizabeth, Cunard, now owned by the US Carnival Group, has the greatest total passenger accommodation in its 170 years of history with Queen Mary 2 (2,620 without children's berths), Queen Victoria (2,014) and now Queen Elizabeth (2,092). The original 1940s Queen Elizabeth could carry up to 2,283 and came in at 83,000 tonnes gross as against the 21st century version at 92,000 tonnes. The earlier ship was a lot quicker with a top speed of 30 knots plus. in an age when it was competing with its contemporaries for North Atlantic domination. The new liner is limited to just over a leisurely 20 knots.
The 2010 Queen Elizabeth is a sister ship of the 2007 Queen Victoria with some minor improvements brought about by the in-service experience of the earlier vessel, plus 39 more cabins (which will keep the bean counters happy). This has been achieved by giving her a larger superstructure aft with more deck space over the stern on Deck 9.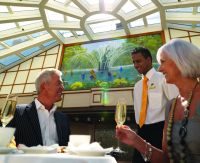 Other differences on Queen Elizabeth over Queen Victoria include the introduction of The Verandah 'fine dining' restaurant (for which there is a charge per course – probably a first on a quality cruise ship) instead of Todd English. For cruisers in the highest graded balcony cabins the Britannia Club is a separate dining area open from 18:30 until 21:00. As with her sister ship Queen Elizabeth offers The Queen's Grill (for butler suite clients) and Princess Grill (these suites do not have the butler but clients can use the Queen's Grill lounge). French-style doors open from each Grill onto the Courtyard – an exclusive patio area, where al fresco dining is offered, and steps lead up to the Grills Terrace – a secluded retreat on the ship's uppermost deck.
Other changes include a fixed glass roof over the garden lounge which also hosts occasional evening 'Supper Clubs' with musical entertainment and dancing, a new layout in the Queens Room, a larger bar area on Deck 3 at the top of the Grand Lobby and the first Fortnum and Mason at sea. On a sun deck all the way forward, Cunard has created a new sports deck with English garden bowls, paddle tennis and croquet (all on artificial grass).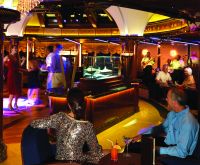 QE2 regulars will feel at home on the new ship. It is better laid out to start with and certainly in the lesser grade of cabin (the great majority) the offering is far superior, with proper windows replacing portholes and over 700 balconies available. The old ship had just 33 with balcony. Perhaps best of all, the vast majority of staff have moved across. There is nothing more re-assuring that seeing a familiar face when boarding. They will tell you, quietly, that "fings ain't wot they used to be", but you would expect that. Pressed they will agree that the new ship is superior.
On entering the ship you have to say 'wow' with a unique piece of art by David Linley (the Queen's nephew for readers who are not sure of the Who's Who in the Royal household). The 18.5ft "sculpture" is crafted from nine natural woods and depicts the port bow from the original Queen Elizabeth as seen from sea level.
The new Cunarder is very much an Art Deco ship in the tradition of the mighty "Queens" that ruled the North Atlantic before the advent of the jet airliner. There is memorabilia galore and dotted about a history of the world's oldest shipping company. Cunard Place, the space between the grand lobby and the Queens Room, is a bit of a Cunard museum paying tribute to the line's long time ties with royalty, politicians, sports people and stars of stage and screen.
Cunard has abandoned the generally unpopular (and presumably not money making any more) tradition of onboard art auctions. The art gallery – organized by London's Clarendon Fine Art – is a real gallery, focusing on shows that highlight specific artists.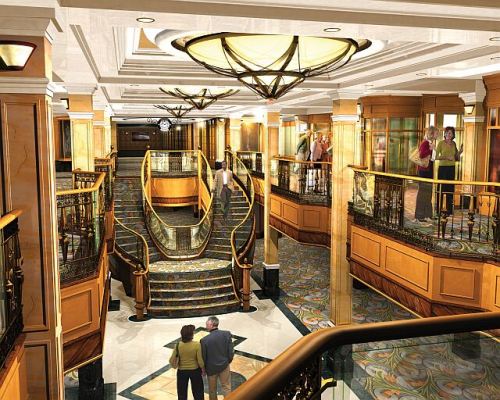 The Royal Arcade is for upmarket shopping. Besides Fortnum & Mason with its unique teas, preserves and biscuits, Hackets has men's designer wear, Harris Tweed, offers its world-renowned hand-woven Scottish woollen fabrics and Anya Hindmarch has the latest bespoke designs of handbags and accessories are for sale. There is Chopard the jewellers with the 'Chopard Queen Elizabeth watch' – a limited edition watch combining the dual branding of Chopard and Cunard and available at $18,000.
When it comes to informal food The Lido Restaurant, up on Deck 9, offers breakfast and lunch buffet style. In the evenings South American cuisine is one possibility with 'Asado', Mexican dishes in 'Aztec' whilst 'Jasmine' serves Asian fare. The extensive Café Carinthia continues the popular concept introduced on Queen Victoria with sweet pastries and fine teas and coffees. In a central position on Deck 2 overlooking The Grand Lobby, clearly this is the place to see and be seen!
The Golden Lion Pub, another Cunard tradition, offers traditional English pub food for lunch in a typical British pub setting. It's good for karaoke and watching sport, live, on TV.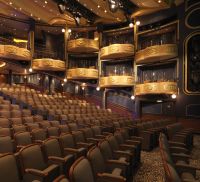 Cunard is rightly proud of the facilities on offer to children throughout the fleet and Queen Elizabeth easily meets the previous high standard. The Play Zone and The Zone feature the very latest equipment for kids from 1-17 and are open from 09:00 until midnight except for a lunchtime break where parents takeover. There are certified nannies on board to change nappies, bottle feed and entertain the youngest guests. Youngsters are extremely well cared for with arts and craft, board games, sports, movies, video games, discos and parties. All with the compliments of Cunard.
The Cunard Royal Spa and Fitness Centre features the latest spa and beauty treatments for both men and women, as well as a hydro-pool and thermal suite. Forward of the Spa is an expansive gymnasium and aerobics area with state-of-the-art cardiovascular fitness equipment including inclining treadmills and bikes complete with their own personal LCD television screens. In addition to the large hydro-pool in the Spa, there are two outdoor swimming pools on Deck 9. There is also a large aft sunbathing area where The Lido Pool is located.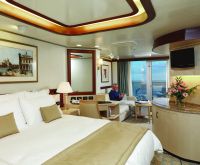 There are nine different 'types' of suites and staterooms: Grand Suites, Master Suites, Penthouses, Queens Suites, Princess Suites, Britannia Club, Balcony, Outside and Inside. Even the smallest inside cabin, of which there are just 162, start at 150 sq ft in size and have the same amenities as all guests using the Britannia restaurant including daily newspaper, a bottle of wine per couple on arrival, replenishable fruit basket, bathrobe and slippers and multi-language TV and music channels. Cunard point out that many of these facilities are chargeable on competitors. There is 24-hour room service too.
As noted Queen Elizabeth leaves Southampton on 5 January 2011 for New York (and Manhattan not Brooklyn), the first leg of a 103-day World Voyage that visits 36 ports and arrives back home on 19 April. For the rest of the year (with the exception of one US/Canada transatlantic return trip) she will undertake European cruises from five to 23 days' duration.
There will be some who will say that the Queen Elizabeth is not as good as QE2. They are wrong. The earlier ship had many (forgotten) deficiencies.
If this report seems to a sales brochure for the new ship in truth Cunard have put together the sort of package that it knows from its vast experience its regulars want, and that will also appeal to the new (and younger) breed of cruisers. A product in the British tradition (except for the dollars) without too many frills and theme park embellishments. It is a fine advertisement for the country.
Malcolm Ginsberg
OUR TEN-STORY NEWS REVEW
Berlitz Cruise Ships 2011 is now available for the iPhone, iPhone Touch and iPad. The App features in-depth searchable cruise ship reviews of Douglas Ward's authoritative and hard-hitting review book, now in its 26th year of publication. As the most extensive cruise ship information available anywhere, the App allows users to find out about each cruise ship's accommodation, cuisine, entertainment and fitness facilities, and to see images of every vessel. www.berlitzpublishing.com
Carnival Cruise Lines has been forced to cancel more Carnival Splendor sailings in order to carry out longer than expected engine room repairs after a serious fire in September. Splendor will be out of commission until 20 Feb 2011 with thousands of guests on her 16, 23 and 30 January sailings and 6 and 13 February all out of Long Beach, California. www.carnival.com
Fred Olsen Cruise Lines has announced the introduction of a new dining service – An Evening In – on its longer cruises, offering a more casual dinner, delivered to the suite or cabin. The new service will initially be launched on Balmoral and Black Watch, from 5 January 2011, and, if successful, will be rolled out to the other ships in due course. The new in-cabin dinner service will not carry any extra charge, and will be offered in addition to the existing Room Service. www.fredolsencruises.co.uk
Holland America is the latest cruise line to publish its full 2011 and winter schedule with the highlight Westerdam and Rotterdam sailing three 30-day "Circle Hawaii, Tahiti and Marquesas Islands" explorations. Westerdam's voyage sails round trip from San Diego, California ., and departs 29 September 2011. Rotterdam also sails round trip from San Diego and departs 4 January and 4 March 2012. www.hollandamerica.com
Libya wants to get into the cruising world , a country which passport holders from regimes it does not like, notably Israel, are banned. State-owned shipping company GNMTC has signed a contract with the French STX shipyard for a 139,000-tonne vessel slated for delivery in 2012 featuring 1,739 passenger cabins, and according to the company will be "similar to MSC Splendida and MSC Fantasia in design and architecture but greater in size and passenger capacity". Clearly Haifa will not figure in its itinerary. www.gnmtc.com
Norwegian Cruise Line (NCL) will base four Freestyle Cruising ships in Europe for 2012 and 2013. The 2,018-passenger Norwegian Spirit will sail in Europe for the first time from April 2012, operating a 12-day Grand Mediterranean voyage during summer and autumn and a nine-day Canary Islands itinerary during winter and spring. Norwegian Epic and Norwegian Sun will continue cruising seasonally from Barcelona and Copenhagen respectively. The ships joins Norwegian Jade which offers year-round itineraries in Europe. www.ncl.com
Princess is to operate two world cruises ex-Australia in 2012. Clients will have a choice of a 104- or 75-night voyage departing from Sydney. Sun Princess departs 16 May 2012 and visits 38 ports in 28 countries including maiden visits to Reykjavik (Iceland), Halifax (Nova Scotia, Canada) and Lerwick (Shetland Islands, Scotland). The itinerary will also feature overnight calls in New York and Venice. The shorter voyage, on Dawn Princess, will call at 28 ports in 13 countries including Northern Asia, Russia, Canada, Alaska and the Pacific islands. She departs 27 July 2012. www.princess.com
Silversea is just about to distribute its 2012 "cruise collection" brochure. The Ft Lauderdale-based company now has six ships ranging from the 192-passenger Prince Albert II exploration vessel ship, the original 1994 300 capacity Silver Cloud, and Silver Spirit which entered service just one year ago and has 258 double cabins. www.silversea.com
Southampton has unveiled plans for a new £30m cruise terminal, the fifth for the port. It is expected to be operational in late 2013 or early 2014. 300 separate ship visits would have been undertaken by the year end 2010 with an extra 60 for 2011. The purpose-built terminal will add 90 ships to the capacity. 2011 starts very well for the port with six ships departing on 5 January, including, as noted elsewhere in AERBT, both Queen Elizabeth and Queen Victoria. www.southamptonvts.co.uk
AND FINALLY does anyone want to use an aircraft carrier as a cruise ship or floating hotel (three available)? The British Ministry of Defence has listed HMS Invincible for sale on a government website in a bid to raise funds for the armed services. The biggest problem is meeting the environmental commitments but she would be ideal for holiday makers who fancy a trip in Somalia waters. Moored off Greenwich in the Thames she could help to reduce London's shortage of accommodation with helicopter connections to Heathrow but guests for the most part will find their cabins windowless, except for the Admiral's suite, which itself would need very much upgrading. www.bringinvinciblehome.co.uk