Vernon Murphy reports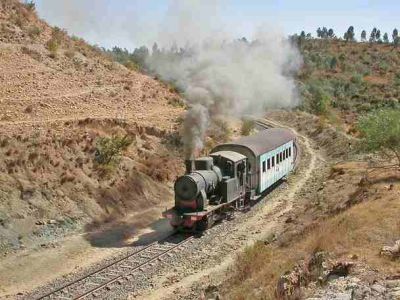 The railway folk seem to be infiltrating into air transport with Andrew Adonis (as we write) still in the Cabinet, and Andrew Haines appointment at the CAA should be in the nature of things more permanent. Vernon Murphy is one that has gone in the other direction, a BAA stalwart who completed his career as Chairman of the short lived Airport Express combining in marketing terms the Gatwick, Heathrow and Stansted branded rail links. Vernon is a rail buff. Here is his report from Eritrea in the Horn of Africa.
Seeking out the last few remaining "working" steam railways in the world (as opposed to steam engines that have been restored to run on either on preserved or tourist lines) usually involves visiting politically "difficult" countries, although China, which for many years has been the last Mecca for enthusiasts, left that category some years ago. Now the list is just Bosnia, Eritrea, Syria and Zimbabwe, of which Eritrea is in a league of its own.
Travelling to Eritrea from Europe is a simple choice between Egyptair and Lufthansa – whose thrice weekly A340 flights via Jeddah are noticeably empty on the final leg to Asmara. This is just as well since they put little strain on the small terminal where controls on passports and currency are the most protracted I have ever encountered.
Asmara the capital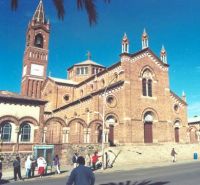 Asmara really is a pleasant city – all of 2,400m above sea level which can catch out some air travellers watching the on-board flight progress displays during landing! It has a clean, safe and well planned air about it with little road traffic and stylish churches and marvellous, if dilapidated, art deco buildings. These emphasise its history as Italy's main colonial city until World War II when the Italians were defeated after a hard fought campaign around Keren to the west of Asmara. The most surprising building for me is an almost restored Fiat Filling Station which for the last few years seems to have been out of commercial use. The excellent pizza and pasta restaurants also hark back to that colonial era although the expatriate Italian community now numbers only about a thousand.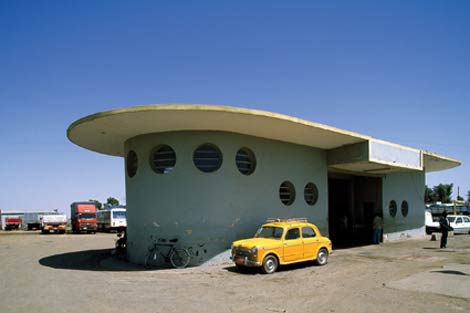 But it is the shortages that say most about the challenges facing the Eritrean economy. At least the one brewery has reopened – on my previous visit it had ceased production as the country could not afford to import barley! Still the local gin is excellent – but don't expect any tonic and the Intercontinental Hotel (which closed allegedly because it was not allowed to remit franchise payments) has also reopened under new ownership.
All these shortages can be traced back to the devastating borders war with Ethiopia which was the culmination of years of unrest whilst Eritrea was under harsh Ethiopian rule. This war eliminated Eritrea's main source of foreign earnings – transporting goods to and from Ethiopia via the port of Massawa. Government controls since the war are still very evident – all tourists need a permit to leave Asmara and indeed tourism is small numbers. Outside of Asmara there are the coral reefs around the Dahlak Archipelago and even a graveyard for Russian built tanks but it is the railway from Massawa which attracts the other main group of visitors.
Italy and Eritrea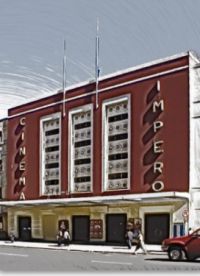 As part of the Italy's initial occupation of Eritrea it commenced building the railway to Asmara in 1889. This took over 20 years mainly because of the challenge once it leaves the coastal lowlands of climbing 2,400 metres over the 100 kms section to Asmara. But it is the 25 kms from Nefasit to the edge of Asmara which are the most dramatic with 20 tunnels and innumerable bridges/viaducts. This final section runs through the Devil's Gate, with a sheer drop of at least 300 metres to the valley below, and has engineering features which, in my view, are even more dramatic than the Darjeeling Himalayan line which is now a World Heritage site. Later the Italians extended the railway to Keren and onto Agordat, after which their expansionist ambitions towards Ethiopia curtailed plans for the line to be further extended to link up with Sudan railways.
But just as surprising is that the line to Asmara was completely rebuilt after it had been largely demolished by the Ethiopian Derg regime in the late 1970s and the subsequent war – indeed some of the remaining station buildings still show scars from bullets. This feat is all the more surprising as it was undertaken without outside help and recycling reclaimed materials from the pre-WWII track and rolling stock. The line was built to 950mm gauge (sometimes nicknamed Italian metre gauge), so all the main rolling stock is Italian including three classic Fiat railcars with Art Deco styling which with a bit of luck can be persuaded to lurch into action.
One train per week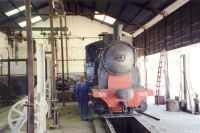 But after all that hard work reopening the line by 2004 there is normally only one train a week. If sufficient tourists book on the single coach train, it runs on Sundays from Asmara to Nefasit, a quarter of the way to Massawa, where occasional camel trains begin to compete for attention with the railway.
But five or six times a year groups of steam engine enthusiasts take over the line for up to six days at a time and recreate both passenger and freight trains using the five or six locos that can be coaxed into life. With marvellous co-operation from the railway staff these are event filled days and with the top end of the line frequently above cloud levels drifting up from the valleys some dramatic scenes are captured by the photographers.
However the Eritrean government has plans to reopen the next section to a mine near Keren where a Canadian company is hoping to extract ore containing traces of gold. Whether the railway track would stand up to moving those kinds of loads is a matter of speculation but it could certainly clip the wings of the steam fans! http://www.eritrea.be/railway.htm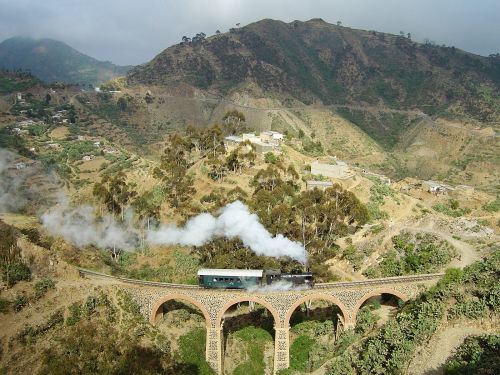 OUR READERS' FINEST WORDS (All times and dates are GMT)
All comments are filtered to exclude any excesses but the Editor does not have to agree with what is being said. 100 words maximum
---
No one has commented yet, why don't you start the ball rolling?
---