Vancouver International Airport – Gateway to an Emerging Global City

The last two decades have seen the emergence of high speed rail, cruise/ferry and rail termini, container ports and multi-lane trans-national highways as increasingly important hubs and spokes in global transport networks. They provide the connectivity for goods and passengers which is an essential pre-requisite to the effective functioning of both developed and emerging economies. Yet no other mode of transport has currently seems likely to usurp aviation's place at the apex of a modern economy's transport hierarchy. As long as people (and freight) need to move quickly across national borders and over long distances airports will continue to provide a the most high profile and recognisable of transport gateways and a public statement of the scale of ambition of a country or major city.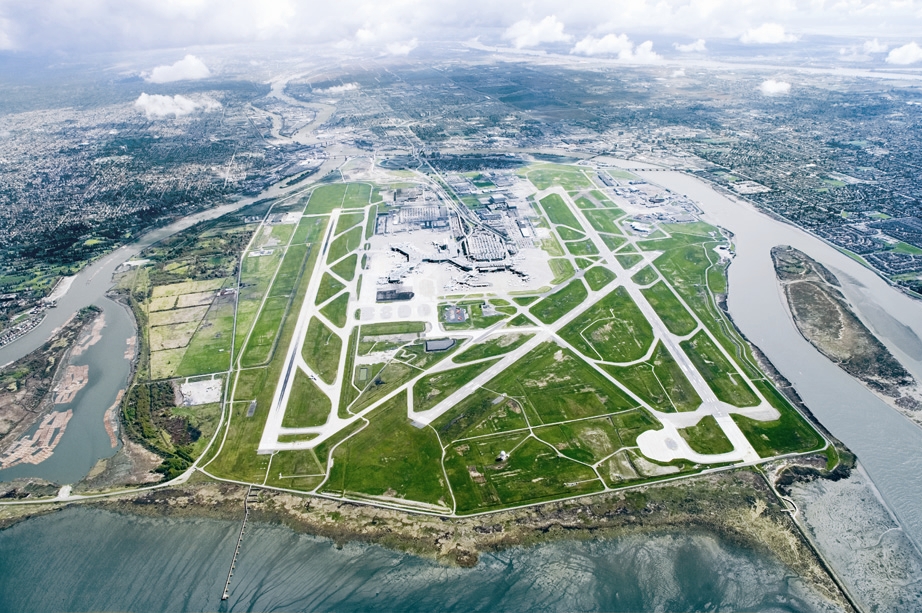 Recent investment in Vancouver International Airport (YVR) suggests that the City of Vancouver, and its host region British Columbia, are determined to position themselves firmly at the heart of one of the trans-Pacific corridors through which the growth in trade and tourism between North America and the Asian Pacific region, which is expected to be a feature of the first half of the C21st, is expected to flow. This is reinforced by the coherent and admirably far-sighted strategy set out in the Airport Authority's Masterplan. It incorporates findings from visioning work looking forward 40 years to inform its shorter 20 year horizon. In addition to identifying a distinctive Trans-Pacific and West Coast hub role and its place within the Provinces wider regional airport's system it also sets out the future capital investments required to support an anticipated doubling or tripling of passenger and freight traffic and air transport movements from the 16.5mppa, 200,000 tonnes and 258,000 ATMs respectively in 2009.
The Masterplan highlights the importance of the Airport to:
- Vancouver's leading businesses and the wider economy (it is currently estimated to be worth C$6.8bn per annum and provides 2.3% of Greater Vancouver's employment);
- its rapidly expanding tourism sector, to which the recent Winter Olympics and Canada's acquisition of 'Approved Destination' status from China, is likely to give additional impetus; and
- the ability of the city's growing and increasingly multi-ethnic population to access other parts of North America and the wider world.
And yet the Airport Authority has not chosen to achieve these strategic objectives by commissioning grand and expensive statement buildings as some other emerging global cities in have sought to do, but has instead focused on:
- high quality and commercially astute incremental development of its Sea Island site
- the export of its highly regarded management and investment expertise to a range of other airports in Canada, the Caribbean and Europe, through its sister company YVRAS dividends from which are ploughed back into improving the capacity, ground access, environment sustainability and corporate and social responsibility commitments at YVR.
The result is an airport that makes-up for what it lacks in size, high flown architectural lines and vaunted ceilings, with:
- an efficient and well designed operational functionality
- coherent and well sign-posted interior design; and
- a pleasing ambience for passengers to relax and spend time in the extensive and attractively presented airside retail facilities.
The integration of a high quality Fairmont Hotel into the footprint of the new International Terminal and plans for a Sea Island Business Park are other examples of a multi-faceted and sophisticated approach to the maximisation of non-aeronautical revenues.
In such a commercially charged environment, the attention given to the exposition of the Airport's "Earth, Sea and Sky" branding, as expressed in the use of the colour pallet in flooring, glazing and decorative features is extremely effective. However, it is the inclusion of public spaces featuring First Nations art, which demonstrates a laudably far sighted recognition by YVR's Board and management of the need to create an "sense of place". This is fundamental to their vision and to securing long term community, investor and political support.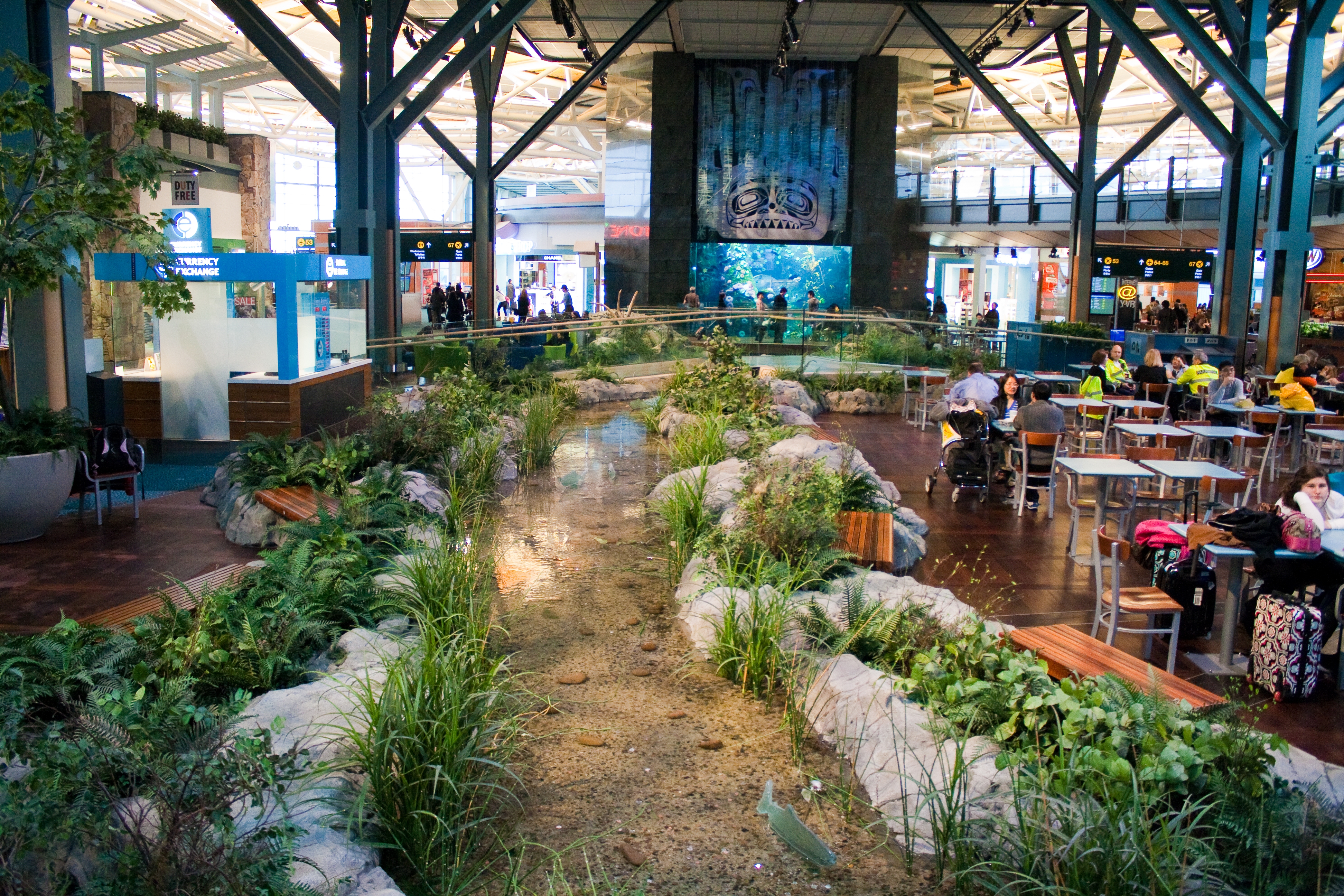 The "Green Wall", which faces arriving passengers as they head for the new Skytrain Station, the spectacular Sea Life Centre aquarium in international departures, and the striking elliptical Link Building joining the domestic and international terminals could all have been value engineered out of a more prosaic, cost-conscious design. Yet they now stand as testaments to the wisdom that investment in such assets will produce intangible long term benefits to future commercial performance. Combined with the presence of a public park within the airport boundary and an eclectic mix of aircraft, including float planes on the nearby Fraser River and a Canadian Coast Guard Hovercraft, YVR is undoubtedly a unique and distinctive airport.
Tony Gugliotta, SVP of marketing and business development at YVR, is rightly very proud of what has been achieved thus far, but also recognises that if the ambitious plans set out in the 'Your Airport 2027' plan are to be achieved, growth will have to come not solely from a rapidly growing population and tourism sector in Vancouver and an increased number of domestic, US city and Central/South American and Caribbean sun routes. The Airport's will also need to carve out a multi-functional "hub" role, combining:
- A 'gateway' for Asia-Pacific originating traffic connect to a wide range of Canada domestic and US West Coast and Mid-West destinations;
- Similarly, European originating North American West Coast bound traffic; and
- Regional local commuter services within BC and on into Alaska.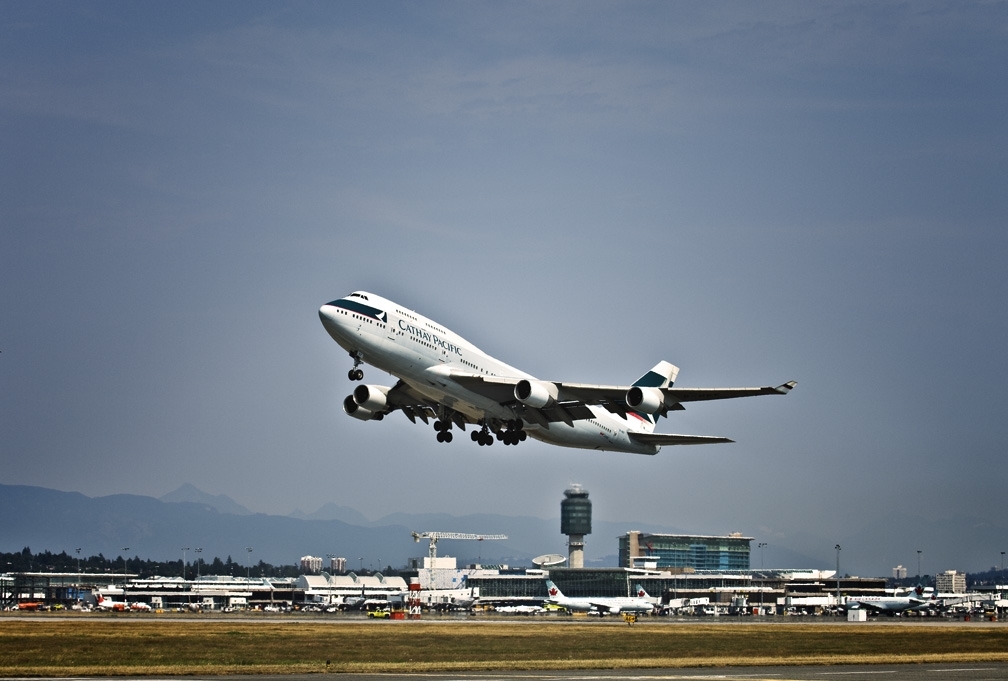 Air Canada (and its Star Alliance partners), which currently carries 50% of Vancouver's traffic is a key partner in realising this strategy. But YVR are also looking to its other major carrier WestJet's new code-share agreements with Cathay Pacific, Taiwan's China Airlines and prospectively other Asian and European independents to also make a major contribution.
BC's Premier Gordon Campbell's announcement in September of the removal of tax on aviation fuel for international routes, the Airport's own 5 year incentive scheme and the Canadian Government's 'Asia Pacific Gateway and Corridor Programme' are all signs of a joint commitment to take advantage of YVR's favourable position on Great Circle routes and its significant Asian population, to make it the premier global gateway of choice linking the Asia-Pacific Region to the Americas. But it faces significant competition in this enterprise from Los Angeles, San Francisco and Seattle and will not be helped by the fact US carriers now have improved bi-laterals allowing them to fly direct to Asia from established bases in the USA, whilst Canada has not liberalised Fifth Freedoms for such routings.
Despite its many successes, which may well attract shareholders of further airports to importing its business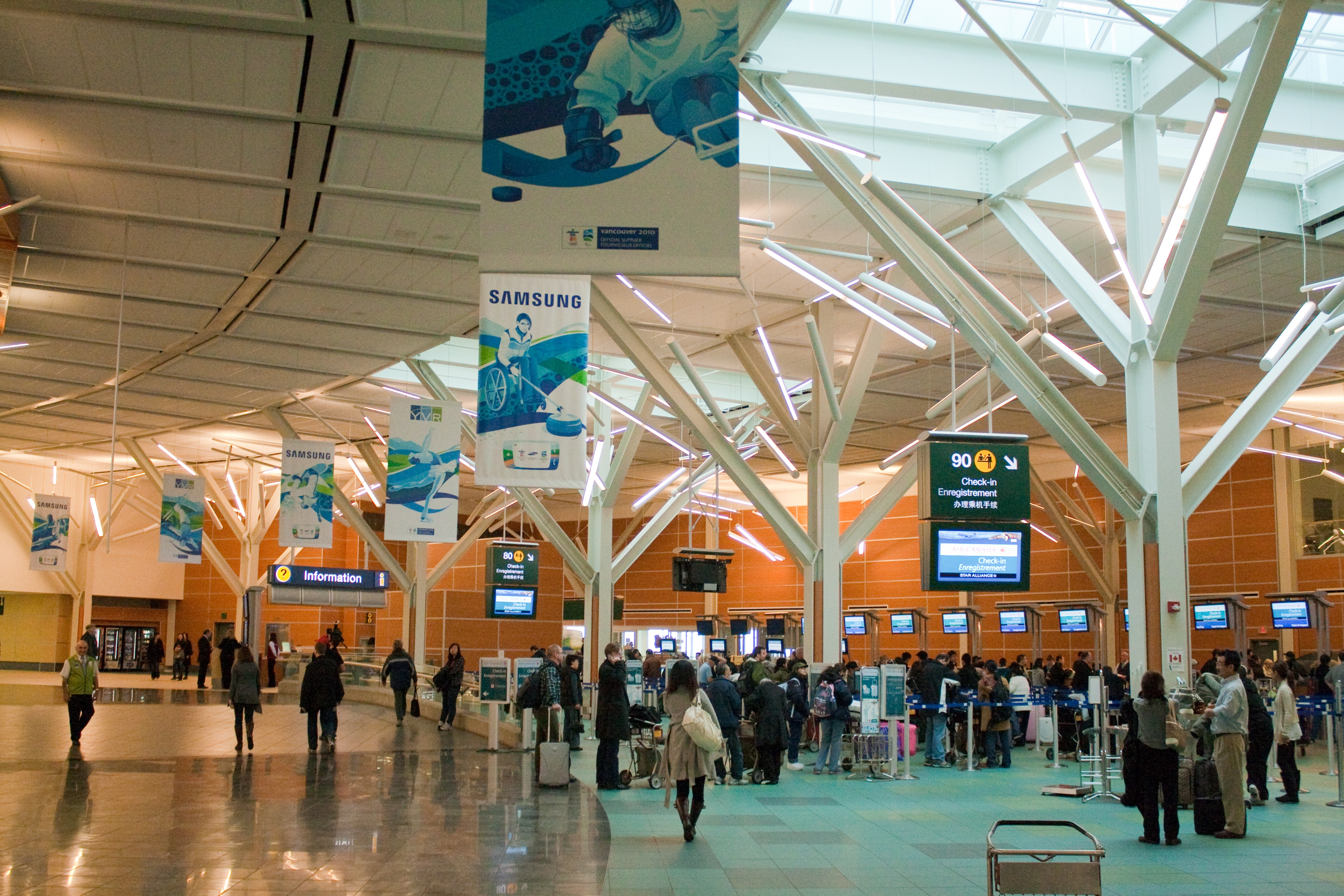 model through its YVRAS subsidiary, YVR still faces many challenges if its full potential is to be realised. In addition to developing a hub role, tax and pricing differentials which draw some of its potential passengers to SEA-TAC across the border and NEXUS restrictions means that there is currently only one routes served by a US budget carriers - Virgin America from San Francisco. A low cost terminal allowing differentiated charging structures and efficient NEXUS processing may be the way forward here. A runway extension and a North-South taxiway are prospective medium term capital investment requirements to boost movement capacity to 450,000 aircraft movements per annum. But claiming back bridge capacity over the Fraser River for Airport rather than commuting traffic and improving the 13% public transport mode split already achieved by the Skytrain are more immediate objectives. The prize is a big one, notably turning YVR not just into a major airport and leading Trans-Pacific transport gateway, but a full 'aerotropolis' and Vancouver into a fully-fledged global city.
YVR has so far risen admirably to this task and appears well equipped to address the many challenges it faces in an increasingly competitive global marketplace through a combination of far-sighted, imaginative and commercially sound management and a deep commitment to the heritage, environment, community and partners that have created a business model of shrewd investment and stewardship that many others will wish to follow.
Article by Chris Cain

OUR READERS' FINEST WORDS (All times and dates are GMT)
All comments are filtered to exclude any excesses but the Editor does not have to agree with what is being said. 100 words maximum
---
No one has commented yet, why don't you start the ball rolling?
---