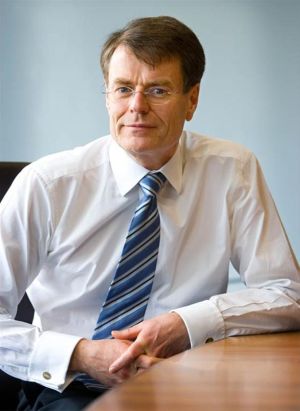 Colin Matthews, 51, joined BAA Ltd just under a year ago from water company Severn Trent where he was in a similar post. Educated at Cambridge and Paris business school, Mr Matthews has held various industrial positions including a spell at British Airways, where he was first Director of Engineering then Director of Technical Operations, responsible for all aircraft maintenance, IT and procurement.

2009 was a year of dramatic change for many people and businesses. That included us at BAA as we said farewell to friends and colleagues at Gatwick, and wished them well as part of a new company.

The sale of Gatwick is a defining moment for people at both companies. For our company I hope it comes to represent a significant turning point.

The transaction was a catalyst for a series of further positive changes at BAA. Since October, we have repaid more than £1bn of debt and refinanced a similar sum. Our shareholders injected £500m of new capital to the London airports group, reflecting a sustained commitment to our business, and our two credit rating agencies affirmed our investment-grade ratings. So we look forward to 2010 with our funding in good health.

The sale of Gatwick has changed the face of BAA for ever, and our move to sell it before any instruction from regulators to do so signalled that however much we disagreed with the Competition Commission's analysis of the UK airports market, we knew we had to change. Our airline customers, our passengers, the public at large and those powerful influences in the press and politics told us as much in clear terms.

Our change does not stop with the sale of an airport. We have brought a sharper focus on improving our airports for passengers both through short term operational improvements and massive long term investment.

Our ability to do the former directly impacts the credibility of our arguments on the latter. But so too must we respond well to external events.

On Christmas Day, a young Nigerian man attempted to bring down an airliner over Detroit. Fortunately he failed, but his actions showed how our security measures need to evolve to meet an unpredictable and changing threat.

Aviation has reacted responsibly and Transport Secretary Lord Adonis has engaged with airports to take quick and effective steps to provide visible and effective enhancements to security. The measures reassure and protect our passengers and staff alike.

At the end of this month we will introduce full body-scanners at Heathrow, adding an additional layer of security and a powerful deterrent, and airport security can be combined with other elements to constantly adapt to the mutating threat.

At Heathrow, we are training a team of people to identify and respond to unusual passenger behaviour. Having spent time observing this new programme, referred to in a statement by the Home Secretary last week, I am confident that it is a valuable weapon in the UK's collective security armoury.

However, the industry and security services, police and Government must also work better together to join up the intelligence 'dots' and use the wider picture to positive effect.

Looking further to the long-term, I am concerned that Heathrow's position as a hub – the only one in the UK – is being eroded.

The virtuous cycle of transfer business through Heathrow creates a powerful network of direct destinations from which London and UK would otherwise not benefit.

However, we are falling behind our European competitors in terms of the number of destinations served and our key network carriers are unable to provide the flights they want to operate because of the lack of slots and the uneconomic way those slots are allocated.

That, along with the need to build more resilience into the runway utilisation in the event of weather and other disruption, are the most obvious arguments for the third runway at Heathrow. Regulation needs to draw a distinction between Heathrow, the hub, and the point to point airports around the country that are no less important but which serve a different purpose.

My hope for 2010 is that we can promote a rational discussion about Heathrow's future. We should not continue to muddle through, leaving it to a future generation to pick up the pieces and put them back together in the right way.

Heathrow is resilient in many respects. During the tumultuous months of global recession, we outperformed all of our European competitors and Heathrow's traffic continues to grow. Last week, our airfield and operational teams worked tirelessly to ensure that Heathrow remained open throughout the most severe cold snap for many years.

But over the coming decade, that strength will be tested by the forces of global competition. If there was ever a time for a measured debate on the future of one of the UK's most prized economic assets, it is now.

In December, the Committee on Climate Change started that process by suggesting that aviation can grow within ambitious carbon reduction targets.

The Committee's report took many people outside this business by surprise, but for us, this authoritative report reinforced a belief in the aviation industry's ability to develop the new technologies and fuels that will reduce the overall impact of flying on the climate, and protect the UK's position as a global economic powerhouse.

These are just some of the challenges to which I and colleagues look forward this year. In your businesses, I am sure the picture is no less busy.

On behalf of all at BAA, I wish you a happy and successful new year.
COLIN MATTHEWS
OUR READERS' FINEST WORDS (All times and dates are GMT)
All comments are filtered to exclude any excesses but the Editor does not have to agree with what is being said. 100 words maximum
---