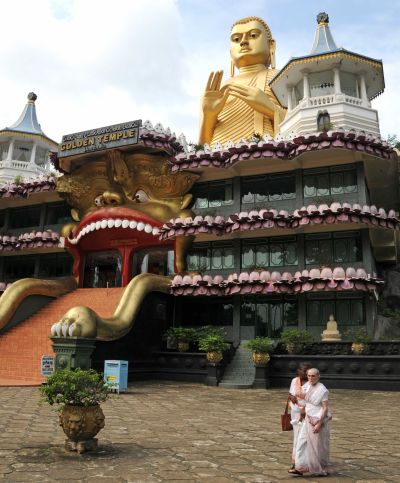 Our roving reporter Jane Stanbury has been east to a wonderful island now returning to peace.
Sri Lanka lounges resplendently in the Indian Ocean. Sadly recent times have not been tranquil but now thankfully there is peace. Sri Lanka has endured a torrid period with 25 years of internal conflict prevailing and the deadly tsunami of December 2004.
The war ended in May 2009 and post tsunami construction enabled the building of chic hotels and luxury villas whilst strengthening relations with a number of foreign countries. Much of the destroyed Southern coastal road was rebuilt by Japan. Whilst there are still reminders of the fatal wave, Unawatuna, Mirissa and Weligama bays now beckon thanks to international funds received.
Consequently Sri Lanka is becoming one of the world's most desirable destinations and is determinedly building services to attract luxury travellers. The New York Times declared it top of 2010's places to visit. Boutique companies like Sri Lanka in Style are struggling to keep up with the requests. "We offer clients a tailor-made service and particularly specialize in complex trips" says Miguel Cunat Managing Director of the thriving company, "this year we're seeing more requests than ever and literally don't have enough of our specially trained drivers and guides to keep up with demand". Undoubtedly the services of companies like Sri Lanka in Style ensure visitors maximise their time on an island brimming with places to visit yet still has transport challenges.
Getting around the island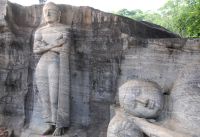 "Might is right" says driver Sunil explaining the rules of the road. Oxen, pedestrians, monkeys, bikes, three wheelers, cars, mini-vans and buses vie for right of way, hurtling buses win every time. Car hire companies are uncommon, and local government tax regulations make importing of expensive vehicles prohibitive. Alternatively a network of private aviation is developing. "Many of the military aircraft are now utilised for charter, it can be a real alternative to taking a driver," says Cunat. Yet to appreciate Sri Lanka journeying by road far outweighs any other means of travel.
The landscape is fantastic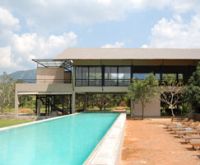 Lush landscapes of palms, bamboos, and spice gardens form the verdant landscape. Ensconced amongst the leaves are national parks, ancient cities and intriguing villages. Several hotels are beginning to offer opportunities to get more involved with local culture. Ranjit Cooray, hotel manager of Thi Lanka Resort and Spa, encourages guests to visit local schools to talk to the children, work in the hotel's mango orchard or take a cooking lesson in the middle of the hotel's paddy field. Located in Dambulla, the home of the famed rock temple where hundreds of Buddha statues carved from the rockface are located in a series of five caves, the Thi Lanka is a perfect location for exploring Sri Lanka both old and new. The mystical cities of Anuradhapura, Polonnaruwa and Sigiriya are all within an hours drive.
Ancient Cities too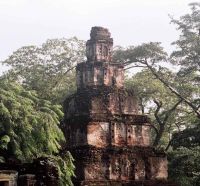 Anuradhapura city, built in 380 BC, is comparable with Angkor Wat and undoubtedly one of Sri Lanka's prime destinations. Consisting of astonishing palaces, stupas*, dagobas and Buddhist relics the city covers a vast expanse. Wandering unobstructed around the preserved remains, a living depiction of ancient Sri Lankan life develops. Instead of peace and quiet Anuradhapura is still bustling. Modern day worshippers continue to revere their gods breathing life and insight into centuries old religious tradition. Polonoruwa is equally stunning and carries significant architectural weight with World Heritage Status. The ruins are in surprisingly good repair and the high-light must be Gal Vihara, a group of four beautifully carved Buddhas in various meditation poses, carved out of one piece of stone. Rumour has it that during the 12th century Indian invasions locals buried the monument preventing it from destruction, today a thin line of rope is all there is to keep the visitors at bay.
Sigiriya – Lion Rock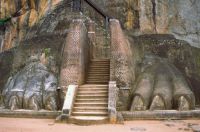 1650 steps lead through boulder gardens and irrigation systems that once pushed water up-hill to the flat-top of the awesome 200m high Sigirya rock. Colonized over 1500 years ago its purpose remains unknown with fortress, palace, and Buddhist temple as leaders in the debate. Another World Heritage Site, the ascent to the peak is in itself an experience. Narrow steps, spiral stairs and iron staircases lead to a wall of unsurpassed frescoes of celestial nymphs, continuing on to the enormous lion's feet guarding the final climb to the 1.5 acre site, complete with breathtaking views across the dry central plains.
Temple of the Tooth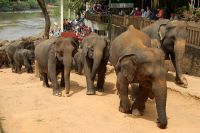 Heading south from the ancient cities the drive leads to Kandy. As Sri Lanka's Sinhalese cultural and spiritual centre, Kandy is home to The Sacred Temple of the Tooth, where a relic of Buddha's tooth is said to be housed and protected in a multi-layered stupa. For practicing Theravada Buddhists this is the equivalent of visiting Bethlehem or Mecca and visitors find themselves jostling with devotees, for a momentary glimpse of the sacred relic. From Kandy travellers explore the tea plantations and experience cooler mountain air amongst the greenest of leaves. Alternatively the Pinnewala Elephant Orphanage where over 60 orphaned elephants are cared for and enchant visitors with their bathing antics.
Galle is the gateway to the south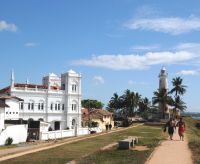 After ten days of culture the southern beaches beckon. Galle, is a fort town and gateway to the southern tropical coastline. Galle mixes Sri Lankan and colonial style resulting in an impressive fort with a notable array of restaurants, hotels and guest houses, along with beautiful galleries, art collections and antique shops. Outside the fort Galle new town offers the full gamete of Sri Lankan sights, smells and sounds. The Sun House Hotel sits above the town and provides a neo-colonial oasis. Run by flamboyant Henri Tham this is the perfect establishment for those seeking a little solace.
The Southern Coast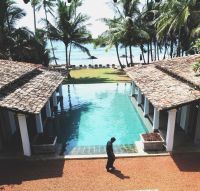 Galle extends to Unawatuna bay, the beach of sultry dreams, to bustling Matara where a new airport is under construction. Swaying palms, golden sand and lapping waves create the perfect relaxing environment. Thalpe offers guests the opportunity to stay in one of Sri Lanka's hippest new hotels, the colonially chic six bedroomed Era Beach. With ancient Jaffna columns, local Nadun wood features, and elaborate four poster beds, Era Beach epitomizes the proverbial retreat. The team are so attentive guests sonambulate through the day without lifting a finger. However for this writer the ultimate luxury is your own beach villa with someone taking care of your every need. Welcome to Kikili Beach in Dalawella Kumara the house keeper manages the cleaning, food, laundry and the client's every need. Our home for a week, this was the icing on a Sri Lankan multi-layer cake.
Undoubtedly there is still a long way for Sri Lanka to go in terms of infrastructure, yet this magical island has entered a period of calm and offers a fantastic alternative to the world's more crowded hot spots.
Getting there
Sri Lanka Airlines has direct flights from London.
www.srilankan.aero
Most of the Middle Eastern airlines go via their hub and provide a good opportunity for breaking up the flight.
www.srilankainstyle.com – artisans of travel in Sri Lanka.
*stupa/dagoba – Buddhist monument composed of a solid hemisphere often containing relics of a Buddhist saint
OUR READERS' FINEST WORDS (All times and dates are GMT)
All comments are filtered to exclude any excesses but the Editor does not have to agree with what is being said. 100 words maximum
---
No one has commented yet, why don't you start the ball rolling?
---