THE QUEEN ELIZABETH
A news review follows
It is going to be the social talking point amongst the cruising aficionados. Which is better? Queen Elizabeth or Queen Victoria. There is nothing like a bit of competition to keep the standards up and on 5 January they both depart Southampton for New York. Which ship arrives first? The Captains should toss a coin, and a Sterling one too.
Cunard is perhaps the only truly international brand in cruising, with nearly a half of its guests coming from the UK, a third from North America and the balance from a wide range of markets – notably including Australia, Germany and Japan. Whilst the pair will spend more half their lives working out of the UK port, the American owners insist on the Dollar as the on-board plastic currency, and 15% service charges too. Perhaps our only criticism. And to make the point British three point plugs are everywhere (and also US two pin). The ships sail under the Red Ensign too. With P&O, also under the same ownership, they would not dare!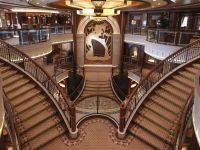 The new Queen Elizabeth is unique. It is probably the only current ocean going liner, not only to have a distinguished predecessor with the same name but its precursor too. Fortunately there are three Queens of England that we can all recall with the QE title, the lady was in charge when we defeated the Spanish Amada, the wife of King George VI, and of course the present incumbent who with her sister Margaret was on board RMS Queen Elizabeth when she did her speed trails in 1946.
With the arrival of the latest Queen Elizabeth, Cunard, now owned by the US Carnival Group, has the greatest total passenger accommodation in its 170 years of history with Queen Mary 2 (2,620 without children's berths), Queen Victoria (2,014) and now Queen Elizabeth (2,092). The original 1940s Queen Elizabeth could carry up to 2,283 and came in at 83,000 tonnes gross as against the 21st century version at 92,000 tonnes. The earlier ship was a lot quicker with a top speed of 30 knots plus. in an age when it was competing with its contemporaries for North Atlantic domination. The new liner is limited to just over a leisurely 20 knots.
The 2010 Queen Elizabeth is a sister ship of the 2007 Queen Victoria with some minor improvements brought about by the in-service experience of the earlier vessel, plus 39 more cabins (which will keep the bean counters happy). This has been achieved by giving her a larger superstructure aft with more deck space over the stern on Deck 9.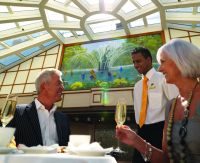 Other differences on Queen Elizabeth over Queen Victoria include the introduction of The Verandah 'fine dining' restaurant (for which there is a charge per course – probably a first on a quality cruise ship) instead of Todd English. For cruisers in the highest graded balcony cabins the Britannia Club is a separate dining area open from 18:30 until 21:00. As with her sister ship Queen Elizabeth offers The Queen's Grill (for butler suite clients) and Princess Grill (these suites do not have the butler but clients can use the Queen's Grill lounge). French-style doors open from each Grill onto the Courtyard – an exclusive patio area, where al fresco dining is offered, and steps lead up to the Grills Terrace – a secluded retreat on the ship's uppermost deck.
Other changes include a fixed glass roof over the garden lounge which also hosts occasional evening 'Supper Clubs' with musical entertainment and dancing, a new layout in the Queens Room, a larger bar area on Deck 3 at the top of the Grand Lobby and the first Fortnum and Mason at sea. On a sun deck all the way forward, Cunard has created a new sports deck with English garden bowls, paddle tennis and croquet (all on artificial grass).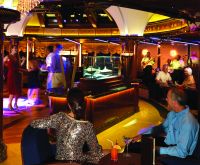 QE2 regulars will feel at home on the new ship. It is better laid out to start with and certainly in the lesser grade of cabin (the great majority) the offering is far superior, with proper windows replacing portholes and over 700 balconies available. The old ship had just 33 with balcony. Perhaps best of all, the vast majority of staff have moved across. There is nothing more re-assuring that seeing a familiar face when boarding. They will tell you, quietly, that "fings ain't wot they used to be", but you would expect that. Pressed they will agree that the new ship is superior.
On entering the ship you have to say 'wow' with a unique piece of art by David Linley (the Queen's nephew for readers who are not sure of the Who's Who in the Royal household). The 18.5ft "sculpture" is crafted from nine natural woods and depicts the port bow from the original Queen Elizabeth as seen from sea level.
The new Cunarder is very much an Art Deco ship in the tradition of the mighty "Queens" that ruled the North Atlantic before the advent of the jet airliner. There is memorabilia galore and dotted about a history of the world's oldest shipping company. Cunard Place, the space between the grand lobby and the Queens Room, is a bit of a Cunard museum paying tribute to the line's long time ties with royalty, politicians, sports people and stars of stage and screen.
Cunard has abandoned the generally unpopular (and presumably not money making any more) tradition of onboard art auctions. The art gallery – organized by London's Clarendon Fine Art – is a real gallery, focusing on shows that highlight specific artists.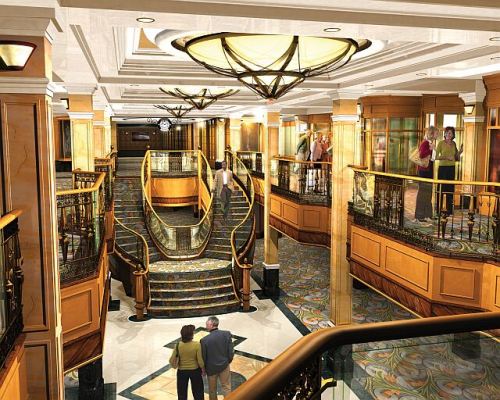 The Royal Arcade is for upmarket shopping. Besides Fortnum & Mason with its unique teas, preserves and biscuits, Hackets has men's designer wear, Harris Tweed, offers its world-renowned hand-woven Scottish woollen fabrics and Anya Hindmarch has the latest bespoke designs of handbags and accessories are for sale. There is Chopard the jewellers with the 'Chopard Queen Elizabeth watch' – a limited edition watch combining the dual branding of Chopard and Cunard and available at $18,000.
When it comes to informal food The Lido Restaurant, up on Deck 9, offers breakfast and lunch buffet style. In the evenings South American cuisine is one possibility with 'Asado', Mexican dishes in 'Aztec' whilst 'Jasmine' serves Asian fare. The extensive Café Carinthia continues the popular concept introduced on Queen Victoria with sweet pastries and fine teas and coffees. In a central position on Deck 2 overlooking The Grand Lobby, clearly this is the place to see and be seen!
The Golden Lion Pub, another Cunard tradition, offers traditional English pub food for lunch in a typical British pub setting. It's good for karaoke and watching sport, live, on TV.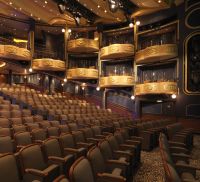 Cunard is rightly proud of the facilities on offer to children throughout the fleet and Queen Elizabeth easily meets the previous high standard. The Play Zone and The Zone feature the very latest equipment for kids from 1-17 and are open from 09:00 until midnight except for a lunchtime break where parents takeover. There are certified nannies on board to change nappies, bottle feed and entertain the youngest guests. Youngsters are extremely well cared for with arts and craft, board games, sports, movies, video games, discos and parties. All with the compliments of Cunard.
The Cunard Royal Spa and Fitness Centre features the latest spa and beauty treatments for both men and women, as well as a hydro-pool and thermal suite. Forward of the Spa is an expansive gymnasium and aerobics area with state-of-the-art cardiovascular fitness equipment including inclining treadmills and bikes complete with their own personal LCD television screens. In addition to the large hydro-pool in the Spa, there are two outdoor swimming pools on Deck 9. There is also a large aft sunbathing area where The Lido Pool is located.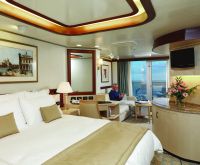 There are nine different 'types' of suites and staterooms: Grand Suites, Master Suites, Penthouses, Queens Suites, Princess Suites, Britannia Club, Balcony, Outside and Inside. Even the smallest inside cabin, of which there are just 162, start at 150 sq ft in size and have the same amenities as all guests using the Britannia restaurant including daily newspaper, a bottle of wine per couple on arrival, replenishable fruit basket, bathrobe and slippers and multi-language TV and music channels. Cunard point out that many of these facilities are chargeable on competitors. There is 24-hour room service too.
As noted Queen Elizabeth leaves Southampton on 5 January 2011 for New York (and Manhattan not Brooklyn), the first leg of a 103-day World Voyage that visits 36 ports and arrives back home on 19 April. For the rest of the year (with the exception of one US/Canada transatlantic return trip) she will undertake European cruises from five to 23 days' duration.
There will be some who will say that the Queen Elizabeth is not as good as QE2. They are wrong. The earlier ship had many (forgotten) deficiencies.
If this report seems to a sales brochure for the new ship in truth Cunard have put together the sort of package that it knows from its vast experience its regulars want, and that will also appeal to the new (and younger) breed of cruisers. A product in the British tradition (except for the dollars) without too many frills and theme park embellishments. It is a fine advertisement for the country.
Malcolm Ginsberg
OUR TEN-STORY NEWS REVEW
Berlitz Cruise Ships 2011 is now available for the iPhone, iPhone Touch and iPad. The App features in-depth searchable cruise ship reviews of Douglas Ward's authoritative and hard-hitting review book, now in its 26th year of publication. As the most extensive cruise ship information available anywhere, the App allows users to find out about each cruise ship's accommodation, cuisine, entertainment and fitness facilities, and to see images of every vessel. www.berlitzpublishing.com
Carnival Cruise Lines has been forced to cancel more Carnival Splendor sailings in order to carry out longer than expected engine room repairs after a serious fire in September. Splendor will be out of commission until 20 Feb 2011 with thousands of guests on her 16, 23 and 30 January sailings and 6 and 13 February all out of Long Beach, California. www.carnival.com
Fred Olsen Cruise Lines has announced the introduction of a new dining service – An Evening In – on its longer cruises, offering a more casual dinner, delivered to the suite or cabin. The new service will initially be launched on Balmoral and Black Watch, from 5 January 2011, and, if successful, will be rolled out to the other ships in due course. The new in-cabin dinner service will not carry any extra charge, and will be offered in addition to the existing Room Service. www.fredolsencruises.co.uk
Holland America is the latest cruise line to publish its full 2011 and winter schedule with the highlight Westerdam and Rotterdam sailing three 30-day "Circle Hawaii, Tahiti and Marquesas Islands" explorations. Westerdam's voyage sails round trip from San Diego, California ., and departs 29 September 2011. Rotterdam also sails round trip from San Diego and departs 4 January and 4 March 2012. www.hollandamerica.com
Libya wants to get into the cruising world , a country which passport holders from regimes it does not like, notably Israel, are banned. State-owned shipping company GNMTC has signed a contract with the French STX shipyard for a 139,000-tonne vessel slated for delivery in 2012 featuring 1,739 passenger cabins, and according to the company will be "similar to MSC Splendida and MSC Fantasia in design and architecture but greater in size and passenger capacity". Clearly Haifa will not figure in its itinerary. www.gnmtc.com
Norwegian Cruise Line (NCL) will base four Freestyle Cruising ships in Europe for 2012 and 2013. The 2,018-passenger Norwegian Spirit will sail in Europe for the first time from April 2012, operating a 12-day Grand Mediterranean voyage during summer and autumn and a nine-day Canary Islands itinerary during winter and spring. Norwegian Epic and Norwegian Sun will continue cruising seasonally from Barcelona and Copenhagen respectively. The ships joins Norwegian Jade which offers year-round itineraries in Europe. www.ncl.com
Princess is to operate two world cruises ex-Australia in 2012. Clients will have a choice of a 104- or 75-night voyage departing from Sydney. Sun Princess departs 16 May 2012 and visits 38 ports in 28 countries including maiden visits to Reykjavik (Iceland), Halifax (Nova Scotia, Canada) and Lerwick (Shetland Islands, Scotland). The itinerary will also feature overnight calls in New York and Venice. The shorter voyage, on Dawn Princess, will call at 28 ports in 13 countries including Northern Asia, Russia, Canada, Alaska and the Pacific islands. She departs 27 July 2012. www.princess.com
Silversea is just about to distribute its 2012 "cruise collection" brochure. The Ft Lauderdale-based company now has six ships ranging from the 192-passenger Prince Albert II exploration vessel ship, the original 1994 300 capacity Silver Cloud, and Silver Spirit which entered service just one year ago and has 258 double cabins. www.silversea.com
Southampton has unveiled plans for a new £30m cruise terminal, the fifth for the port. It is expected to be operational in late 2013 or early 2014. 300 separate ship visits would have been undertaken by the year end 2010 with an extra 60 for 2011. The purpose-built terminal will add 90 ships to the capacity. 2011 starts very well for the port with six ships departing on 5 January, including, as noted elsewhere in AERBT, both Queen Elizabeth and Queen Victoria. www.southamptonvts.co.uk
AND FINALLY does anyone want to use an aircraft carrier as a cruise ship or floating hotel (three available)? The British Ministry of Defence has listed HMS Invincible for sale on a government website in a bid to raise funds for the armed services. The biggest problem is meeting the environmental commitments but she would be ideal for holiday makers who fancy a trip in Somalia waters. Moored off Greenwich in the Thames she could help to reduce London's shortage of accommodation with helicopter connections to Heathrow but guests for the most part will find their cabins windowless, except for the Admiral's suite, which itself would need very much upgrading. www.bringinvinciblehome.co.uk
OUR READERS' FINEST WORDS (All times and dates are GMT)
All comments are filtered to exclude any excesses but the Editor does not have to agree with what is being said. 100 words maximum
---
No one has commented yet, why don't you start the ball rolling?
---