SKODA SUPERB 2.0 GREENLINE
Clean-up with this fine Skoda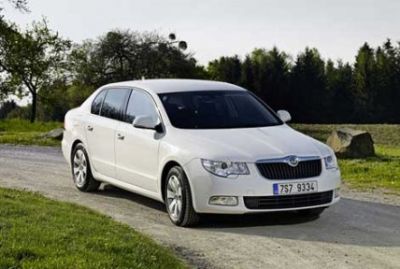 There's all sorts of car deals going on at the moment, some of them are very short term in an effort to 'shift the metal', though serious car buyers should always shop on the basis of the product's track record and then see what deals are available.
Skoda's Superb flagship model range is what I call a real deal. Not so long ago I waxed strongly on the value and merits of a near range topping 2.0-litre Elegance model which gave a good bit of change out of £25,000, now I state the case for those who really want their cake and eat it.
It comes in the form of the Skoda Superb 2.0 Greenline version that also has a 2.0-litre turbo diesel engine, though producing 105 bhp as opposed to the 170 bhp output of the Elegance and comes with a conventional 5-speed manual gearbox in place of the impressive DSG selectable automatic unit.
Here is a price saving of nearly £8,000, a lower road tax and at least another nine miles or so (a combined figure of 55.4 mpg as opposed to 46.3 mpg!) to each costly gallon of oil at a sacrifice of about 18 mph off the top speed and clearly slower acceleration. Fact is, a claimed top speed of 120 mph is hypothetical for all law abiding drivers in this, and most civilised countries, and an acceleration time to 60 mph of about 12 seconds is very acceptable considering this is a larger than average five-seat family/executive class car.
Worth also taking into consideration is the excellent flexibility and quiet refinement of the 4-cylinder diesel engine that is complemented by an accurate and light changing transmission and an impressive handling response, both through the steering and the all-disc braking system.
The ride quality is good, perhaps a little firmer than the Elegance version and that could be a result of the Greenline version having a slightly lower ride height, though it remains very competent on our noticeably deteriorating road surfaces.
I admire the imposing styling of the Superb (built on a lengthened Passat platform) and the ivory white test car certainly looked imposing even to my Jaguar driving colleague when I took him for a spin one night – he did not know anything about the Superb but once he had enjoyed the comfort and spaciousness of the interior, commented on the impressive fascia and had his attention drawn to the high standard of appointments and range of equipment he was wiser and realised this car could have helped him retain more of his hard earned cash. (But arriving in the Jag is far more impressive than in the excellent Skoda – Editor)
Yes, there is a heck of a lot to the Skoda Superb, even this Greenline version, which is just one above the S entry level version but it is certainly not lacking equipment. It builds on the excellent standard package with the addition of the now all important cruise control (all versions have a speed warning indicator system), some smart chrome trim bits, a boot spoiler, tinted rear glass and, would you believe, an umbrella in one of the rear doors!
Why the Greenline designation? One important reason is that it is the greenest version in the range with a CO2 figure of 136g/km achieved by the use of a Diesel Particulate Filter (DPF). This filter cleans the emissions before they reach the atmosphere and regenerates when longer journeys are undertaken. Every little helps!
Without considering the price or the fact that the Skoda Superb comes with a 5-star EuroNCAP safety rating, this car gives me a feel good factor, it is an honest to goodness offering, generous in the extreme, truly practical with a enormous boot that can be accessed either by opening the boot lid or the whole of the tail-gate – a saloon that is also a hatchback and above all extremely refined and utterly comfortable.
Even Ebenezer Scrooge would approve!
RIVALS INCLUDE: Citroen C5 1.6 HDI SX £18,195, Peugeot 407 1.6 HDI £19,785, VW Passat 2.0 TDI Blue Motion £18,655, Renault Laguna 1.5 DCI 110 Eco2 £17,750.
STAR RATINGS
Performance 9
Handling 8
Transmission 9
Noise 9
Economy 9
Ride and Comfort 9
Accommodation 9
Styling 9
Brakes 9
Finish 9
TOTAL: 89%
NOTES FROM TED WILKINSON'S MOTORING DIARY

ASTON MARTIN: A recent marketing service for customers seeking new and used Aston Martins of any type has been launched. www.astonfinder.com
CITROEN: The Citroen C1 hatch back VTR has been replaced by an upgraded VTR+ model featuring part leather trim and a shiny black interior finish. Prices will start from £8,495. www.citroen.co.uk
HONDA: A small concept car developed by Honda Siel Cars India has been revealed in New Delhi. Honda plans to produce a new model based on the concept for launch in 2011. www.honda.co.uk
IAM: The Institute of Advanced Motorists has highlighted the dangers of overgrown trees and bushes, citing the case of a pedestrian who was hit by a vehicle on a crossing that was partially obscured by vegetation. They call on motorists and local authorities to play a greater role in dealing with this problem. www.iam.org.uk
JAGUAR: UK sales for the year to date are up by 42.5%, a major contributor being the XJ model which was the market leader, according to Jaguar, outstripping both Mercedes-Benz s class and the BMW 7-Series. www.jaguar.com
MERCEDES-BENZ: An exciting programme of summer motoring activities are being staged at the Mercedes-Benz World Centre at Brooklands in Surrey. Examples include an opportunity to compete against 2008 World champion Lewis Hamilton, kids 4x4 driving experiences, 'hot lap' passenger rides for £15 and breathtaking driving displays. www.mercedes-benzworld.co.uk
NISSAN: A small Nissan Crossover model, called Juke, has been unveiled with sales commencing in October. It will be made in the UK. www.nissan.co.uk
SEAT: The Spanish car maker has continued to develop its range of Ecomotive low running cost models, first seen on the Ibiza with versions of the Leon hatch back and the Altea compact MPV. The Leon has a combined figure of 74.3 mpg providing a potential range of nearly 900 miles while the Altea's combined figure is equally attractive at 62.8 mpg. Leon Ecomotive is priced from £18,140, Altea Ecomotive from £18,725. www.seat.co.uk
VAUXHALL has joined the trend towards more generous car warranties in the UK market with a new form of cover, the Vauxhall Lifetime Warranty. It has no time limit but is restricted to 100,000 miles. Previously the most generous cover was provided by the Korean manufacturers Kia (seven years) and Hyundai (five years). Full details of Vauxhall Lifetime Warranty have not yet been released, but the company says it covers the powertrain, steering system, brake system and electrical equipment throughout the life of the vehicle. www.vauxhall.co.uk
OUR READERS' FINEST WORDS (All times and dates are GMT)
All comments are filtered to exclude any excesses but the Editor does not have to agree with what is being said. 100 words maximum
---
No one has commented yet, why don't you start the ball rolling?
---