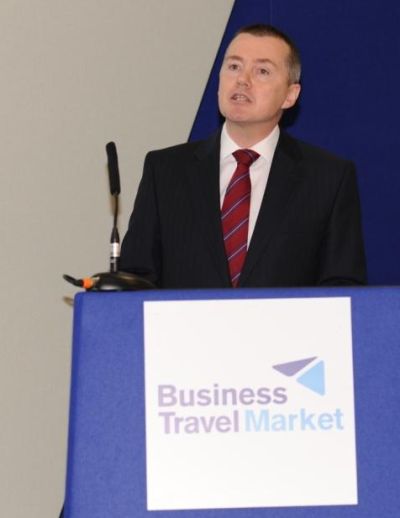 Last week's second Business Travel Market has established the June date as a must for European corporate transport buyers. The location near London City Airport helps (some 400 flew in from the Continent), with plenty of hotels nearby and easy access to Central London and all its attractions.
The importance of the two-day event was emphasised with the opening address by the airport's CEO Richard Gooding OBE on the Wednesday, and British Airways boss Willie Walsh addressing a packed conference session on the afternoon of Thursday.
With a customer base comprising 70% business travellers, Gooding spoke with authority. He reiterated that other major airport hubs such as Madrid could soon be a threat to UK trade as a whole and not just the business travel industry if the government does not invest wisely. British Airways flies to Madrid twice daily from London City.
Gooding invited the audience to join lobby groups to ensure that business travellers' voices were heard on subjects such as passenger duty, runways and economic regulation. He said: "This industry has a great record of lobbying, and it is essential that our voices keep being heard." London City Airport is investing over £7m and is working with their partners BA, Cityjet, Lufthansa group etc to ensure that they are ready when the upturn happens and are able to still provide excellent service to all of their customers.
Debate thrived in the four simultaneous conference streams
With companies diving head first into the field of mobile technology, social networking and other online areas, Christa Manning from Amex expressed concern that the big corporates need to "catch up and give access" to their employees so they are able to better connect and develop areas. She said that social networking offers a cheap and fast way to change end user and consumer behaviour.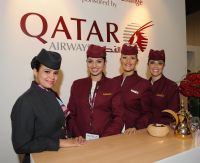 Speaking in the same session 'Nextgen Interaction' Charlie Osmond of Fresh Networks questioned whether return on investment (ROI) should be a consideration for companies when using social networks.
Justin Bovington from River's Run Red was to the point, telling companies to be cautious – "don't use technology for technology's sake", he said. Johnny Thorsen from ConTgo, who is providing the mobile meetings assistant technology at Business Travel Market agreed "it's all about focus". Addressing the delegates he said: "In the next few years, technology will become more important than service... and if your company isn't already using a mobile travel service, you are already behind the trend?"
"Is your trip really necessary?"
Moderated by Emma Harris from Eurostar this session raised a number of interesting points that travel management companies (TMC) and travellers should consider when booking travel for meetings.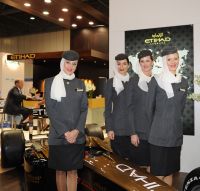 Nick Cocking from Carlson Wagonlit Travel (CWT) opened the debate describing how travel over the last five years has become wasteful and people are heavily relying on air travel as a necessity, without thinking of alternative ways of conducting the meeting, i.e. videoconferencing or getting the train. He believes by "changing customer behaviour and removing the stigma that people need to attend meetings in person" is vital in reducing frivolous travel expenditure.
Geoff Allwright of Airbus commented on the demand aspect of travel management. Many travellers book on limited information and are not given other options from their TMCs which could further reduce costs. Again, there was a call to change the culture of that status of appearing in meetings face to face. The ash cloud situation really highlighted if all of these meetings are indeed a necessity.
BCD Travel's Chris Crowley estimated that at least a third of travel spend is without planning, i.e. crisis management, and travel approximately the second largest expense in a company. Does the volume of sales qualify into business, are these travel meetings quantifiable?" Cowley said: "Especially when the economy is down, how can you quantify the ROI?"

Playing airlines at their own game
Peter Dunkin moderated this session, which included David Macdonald of Air Partner, who made the point that as the customer you were your own airline planner. "Make the aircraft fit around your needs," he said highlighting examples of the value of private aircraft charter.
French company Sidel, headquartered in Le Havre, 150 miles northwest of Paris, has for the past two years, been using an Italian charter company to regularly fly its Le Havre based workers to and from the local airport to Parma in Italy, three times a week. "Not only does this save us money, but we have happier executives," said Yann Le Goff, Sourcing Director. "They are home with their families, not overnighting. We have a great social advantage too because on our nine-seat aircraft our people get to know each other. Our aircraft is a valuable business tool. We work on board, we hold private meetings. It is discrete. But most importantly we save precious time." Significantly for Sidel, the service is supported by the Unions, and used by the staff.
The second day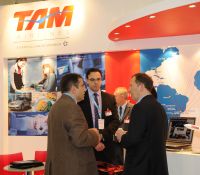 Qatar Airways' Jo Lloyd led an inspired session on the ash cloud crisis. The highly fuelled and topical discussion saw speakers from a cross section of the travel industry Ciaran Kelly from FCm Travel Solutions, BA's new General Manager UK, Richard Tams and the BBC's Jamie Hindhaugh – debated how the ash cloud had been handled and what changes would have to be implemented in case of another crisis.

Mike Carrivick (BAR UK) began the debate saying that the crisis is not over and there are plenty more volcanoes to come. With a huge loss of revenue across a multitude of industries, the fall out from the crisis is still being calculated; however, big lessons have been learned.
Richard Tams agreed saying that even BA "who has a contingency plan for everything" could not plan for this crisis. Tams reiterated the benefits of being loyal to BA saying that after compassionate cases, their "loyal and most valuable" customers were repatriated as a priority. He said: "It's not just the price of the ticket companies should consider...but the value."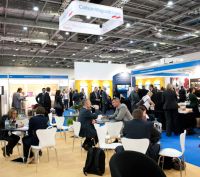 The big question on everybody's lips and succinctly put by audience member CWT's Andrew Waller was: "Who will pay for it next time?" Carrivick stated that there was a huge misapplication of rule EU261/2004 meaning that airlines had to foot the bill last time, but in the future, will it rest with individuals, government or others? FCm's Ciaran Kelly backed the TMCs saying their "creative and experienced" consultants were an asset during the crisis. Fortunate to have a volcanologist on their team, they were able to work closely with the government and Met Office to ensure their stranded clients were as up to date as possible.

The unifying problem raised by both the panel and audience members was the role of global distribution systems (GDS) such as Amadeus and Galileo, who were unable to respond to the situation with inventory being unavailable, or withdrawn on a number of occasions.
Newly appointed ITM (Institute of Travel & Meetings) Chairman Jamie Hindhaugh described how the new Phoenix group comprising the HBAA Hotel Booking Agents Association), GTMC (Guild of Travel Management Companies), BA, and other industry professionals would ensure that companies are able to work better together and ensure planning for future similar crisis.
Walsh in a relaxed mood
British Airways CEO Willie Walsh was in a most relaxed mood when he addressed delegates in the session straight after lunch on Thursday.
He outlined his commitment to short haul travel and was adamant that transatlantic business remains robust and mentioned that had it not been for the downturn, BA would have already expanded its network further in the USA and potential further routes to long haul destinations from London City Airport with Boston, Washington and Chicago mooted as possibilities.
Asked by AERBT as to the future of Gatwick he said that successful talks had taken place with the new owners and that the airline was committed to the airport and would see "some expansion."

Commenting on the Middle East carriers, Walsh praised Emirates as "a rational commercial carrier" but agreed with a comment made at last week's IATA conference that "three hubs in such a small area may be reduced to two in the future."
"An absence of a third runway at Heathrow will be good news for the Middle East airports. And Frankfurt and Paris," he noted.
Talking to what is probably BA's most important audience, the business travel buyers, Walsh said there was a "gulf between the views of Unite and those of the large majority of cabin crew." He was adamant that if there was to be further industrial action, BA would build on the success of recent weeks and aim to fly 100% of their long haul operation.
Walsh was emphatic that they "had to get the industry back on an even keel" and "whilst it will be a long hard road, it is achievable."

Future plans for BA include IAG (International Airline Group) with Iberia and Walsh also outlined plans to re-introduce apprenticeships at BA and his continued commitment to the current graduate training scheme to ensure investment in the airline's talent pipeline.
Whilst the figures are still to be officially announced Show Director Paul Robin estimated a record attendance of over 4,000 delegates to a show that attracted 35% more stand booking than the previous year. Confidence is such that the 2011 dates have already been announced, Wednesday 15 and Thursday 16 June. www.businesstravelmarket.co.uk
Malcolm Ginsberg
OUR READERS' FINEST WORDS (All times and dates are GMT)
All comments are filtered to exclude any excesses but the Editor does not have to agree with what is being said. 100 words maximum
---
No one has commented yet, why don't you start the ball rolling?
---