MSC launched their latest mid-size cruise liner, Magnifica, with an extravagant two-night party at Southampton in late February. In fact the celebration was three-pronged. Firstly to receive the new ship direct from the STX Europe shipyard at Saint Nazaire (France); secondly to promote the company's offerings for the 2010 summer season (and indeed 2011, people book that far ahead), and thirdly to announce a brand new programme for next year at Southampton, a first.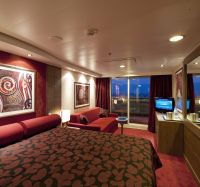 MSC really do welcome their guests in a proper manner, the smartly dressed hotel staff all lined up ready to personally escort everyone to their cabin. It is a nice touch which not everyone offers.
A sprinkling of press plus 5,000 travel agents and friends, explored the ship during its visit, for once those staying overnight not chased off the following morning with the next complement of passengers due. Regulars have come to expect getting up early on the final day of a cruise , but it is something all operators need to look into. It just spoils somewhat a terrific holiday.
Guest of honour for the weekend was Sir Christopher Lee, now an Ambassador for UNICEF, which MSC has for a long time supported.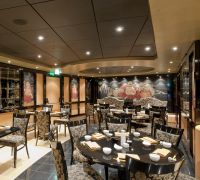 Let's say a record amount of liquor was consumed, everyone having that extra (extra) drink when it comes with the compliments of the host. Your Editor tried the excellent massage in the spa, and some keen souls used La Grotto Azzura pool with its sliding roof and two large hot tubs. For a Mediterranean winter cruise an indoor air-conditioned swimming area is essential particularly if you are travelling with children. One of MSC's most attractive marketing ploys is its family package which offers children (that is under 18) cruising for free (except for port taxes) when occupying an adult double cabin and using a sofa bed. At nearly 18 sq m for most cabins there is plenty of space for four.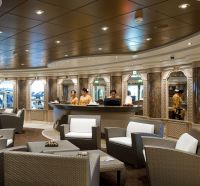 Magnifica is the fourth and final ship in the Musica class and follows Musica (2006) itself, Orchestra (2007) and Poesia (2008). At 92,000 tons, they cost around US$360m each and at 105ft width can just squeeze through the Panama Canal if needs be although not on the current schedule. With 1,250 cabins the ships have accommodation for 2,500 which can rise by 600 when children are on board during the vacation periods. In truth, and from experience on Poesia, the kids seem to be keep themselves to themselves, and certainly do not pose a threat to child-free adults.
Cruising on MSC is very multinational, which at times can be a strain particularly with the shipboard announcements (although nothing like as bad as another Italian product). Many love this European feeling.
Italian is the first language of the Magnifica and most of the public contact staff speak Spanish. English is the fall back for everyone, but be warned that the favourite word is "yes", which can mean "no", "I don't know", or even "I will ask someone who does understand".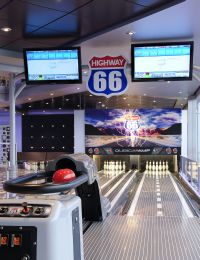 The decor and fittings on all the MSC fleet are first class and worthy of a much higher rated ship. The combination of Italian design and French shipbuilding skills have produced with Magnifica an outstanding vessel. None of the Musica class has the highly acclaimed exclusive Yacht Club private area featured on the even larger Fantasia and Splendida, which is a pity, but with this latest ship the two top decks do have 25 sq m executive suites, just that bit larger than the norm, and with tubs rather than a shower and a butler service and other Yacht Club facilities.
MSC regulars will note that the garish Zebra lounge on Poesia has been dropped in favour of the Tiger bar area, somehow much more relaxing.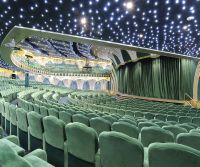 Outstanding is the 900-seat theatre, which even by the standards of sea going theatre is something special. With all the four ships the main accommodation area is contained in six decks, which means that the three lowest areas are given over to the restaurants, lounges, casino and shops. Dining is open seating for breakfast and lunch (with most people using the various catering outlets near the open decks) and two sittings for dinner, the second one at 20:45, perhaps late for the British but in keeping with the Italian style of the ship.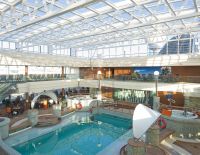 There are two alternative restaurants, one Italian and the other Chinese. With the Pound not doing well against the Euro your extras can easily mount up and MSC makes up for the competitive prices of its offerings (particularly if you have children) with London West End prices for drinks. It's swings and roundabouts! Bar bills incur a 15% service addition and the all in all service charge is €6 per day for adults and €3 per day for children (on European cruises). It is discretionary and you can deal with your own cabin staff and regular waiter if you like. Or refuse!
MSC Opera from the UK
MSC offer a number of departure points in the Mediterranean but their big effort with the UK in 2010 and 2011 is "no fly" travel. For this year Dover is the departure port, but in 2011 the line changes to Southampton. For these boardings there are no luggage limitations which make them ideal for families.
Opera is just six years old, comes in at 60,000 tons, 1,750 plus passengers. If you want a balcony cabin get in early. There are just 200, with a small number of slightly larger suites on the top deck. The ex-UK cruises offer afternoon tea and try to be more British.
Opera is offering a number of themed dance and hobby cruises with specialist lecturers. MSC has dispensed with port lectures. You just pick out what time you want to hear the talk on your flat screen TV in the cabin. There are bridge, food and wine, culture and wellness cruises.
North Cape
11-night cruises departing on 3, 14 and 25 June 2010. Departing Dover and sailing to Bergen (Norway), Hellesylt (Norway), Honningsvag (Norway), Alesund (Norway) and Amsterdam (Holland).
Baltic Capitals
The Baltic capitals could have been built for cruise visitors! Cities like Amsterdam, Copenhagen, Helsinki, Stockholm and Tallinn are easy to walk around and full of fascination. 11-night cruises depart from Dover on 23 May, 17 July, 8 and 30 August 2010 and call at Rostock (Germany), Stockholm (Sweden), Helsinki (Finland), St. Petersburg (Russia), Copenhagen (Denmark) and Amsterdam (Holland).
Norwegian Fjords
A Norwegian fjords cruise is guaranteed to appeal to those looking for something a little different from their cruise. 11-night cruises departing on 6 July, 28 July and 19 August 2010 from Dover, calling at Oslo (Norway), Stavanger (Norway), Flam (Norway), Molde (Norway), Hellesylt (Norway), Bergen (Norway), Kristiansand (Norway), Amsterdam (Holland) and Dover (UK).
Parking is free at Dover, as is transfer to and from Gatwick and Heathrow airports (for those that do come by air – and it will be the same next year with Southampton's local airport added), and coach travel from various points.
Facilities on board MSC Opera include two swimming pools, a Spa, gymnasium, mini-golf, theatre and shopping area. Kids clubs (three clubs tailored to specific age groups between three and 18), children's playroom and video arcade.
2011 and Southampton
MSC Opera will call at Southampton Port for a total of 13 cruises with a choice of 8 and 10-night itineraries in 2011 from May until September. Passengers can follow the routes taken by Vikings, discover the unique atmosphere of Scandinavia's finest cities or sail through the Strait of Gibraltar into the Mediterranean. Full details are expected to be announced in the next few weeks.
OUR READERS' FINEST WORDS (All times and dates are GMT)
All comments are filtered to exclude any excesses but the Editor does not have to agree with what is being said. 100 words maximum
---
No one has commented yet, why don't you start the ball rolling?
---