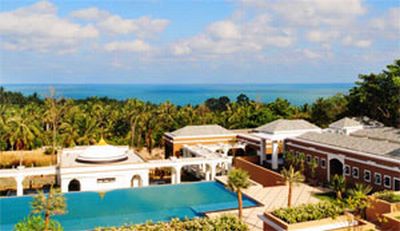 Your Editor-in-Chief is on his way to Bangkok even as this issue of AERBT hits cyberspace and therefore if Thailand gains exceptional visibility in the next few issues you will know why.
One place not on the itinerary is Absolute Sanctuary, totally something different. Nina Dabiralai, travel writer and holistic health expert, reports.
I have just turned 30 and despite the myriad of happy memories of the hectic wining/dining activities of my twenties, it feels like my unscrupulous living has taken its toll on my health and wellbeing. Plagued with poor skin condition, bad circulation, sluggish digestion, general lethargy and dare I say it – the dreaded cellulite – I have decided I need a complete body detox.
Where better to carry out this experiment than the Thai resort of Koh Samui. Often misconstrued as simply a party island, Koh Samui is actually home to many of Asia's top holistic detox retreats and spas. With over 50 spa resorts to choose from, I opt for Absolute Sanctuary after being mesmerised by its promise to "give me the gift of well-being!"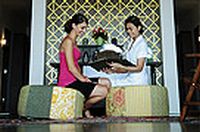 Absolute Sanctuary's Moroccan-style architecture is mystically uncharacteristic for a Thai retreat. It boasts 38 rooms featuring modern amenities including free wireless internet and other facilities include a Hot Yoga Centre, a Massage Spa, and a vegetarian restaurant affectionately called the "Love Kitchen."
After scouring the delicious menu options and debating the Living Foods package which focuses on the health benefits of a raw food diet, I eventually opt for the "no pain, no gain" philosophy and sign up for a seven-day fast.
Also known as the Ultimate Detox package, this is a structured fasting and colon hydrotherapy course. This means that for seven whole days, not a morsel of food will pass my lips. No chewing is allowed (chewing gum is banned) and certainly no alcohol. Instead, I will be having four Detox drinks a day washed down with about 30 supplements and as much water and clear vegetable broth as I wish.
On the plus side, I will be having daily massages and will no doubt have plenty of time for a spot of sunbathing.
After an arduous ten-hour flight from London and a subsequent one hour internal flight, I arrive at Samui airport which appears to be a large tropical hut. I am greeted by a silver van with "Absolute Sanctuary" emblazoned on its doors.
On arrival, I am rewarded with a Ginger Tea in an open reception area with a modern Moroccan twist. My room is on the top floor of the open-air establishment and I momentarily question how on earth I will have the energy to manage these never-ending stairs after not eating for several days. My tummy is already rumbling and I am given a "Liver Flush" drink. This has to be drunk the night before the fast and is a concoction of raw garlic, olive oil and orange juice. As I wince in disgust, I mentally curse myself for not treating myself to a holiday consisting of exotic cocktails and tantalising food!
Day 1 of the fast is suitably bearable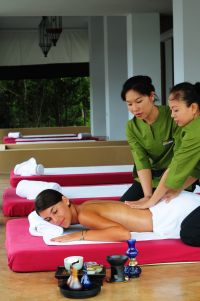 Despite jet-lag, I am on-time for my 07:00 Detox drink….pineapple juice with psyllium husk and bentonite clay. It is surprisingly filling and curbs my undeniable hunger pangs. An hour later, I swallow six different supplements designed to detoxify my gut before a consultation with resident Health Practitioner Alister Bredee.
An interesting fact that he told me was never to have fruit for dessert as it is hard to digest after a meal. Bang goes my beloved Strawberries and Cream then! Fasting can disrupt your metabolism slightly, so it is advisable to reintroduce foods slowly and avoid all carbohydrates for 56 days. That is a painfully long duration of three months! I question him on a subject that many people are intrigued by: "Why should people have colonic hydrotherapy?" Alister explains that during any kind of body detox, it is imperative to expel the toxins from the body. One way to do this is through perspiration via exercise and saunas or steam rooms.
Colonic "flushing" is the most effective way of ridding the intestines of toxic waste. The Detox drinks play a vital role too as the Bentonite Clay acts as a brush by scraping away toxins in the gut walls. All of this bowel talk is making my poor tummy feel slightly quivery and my imminent Lymphatic Drainage massage is a welcome treat. This massage aids the detox process by stimulating the lymph nodes, thus carrying the toxins to the waste-producing body organs. It is extremely relaxing and I find myself daydreaming. I pull myself back into reality and after my massage, I am transported into a Colonic Hydrotherapy room (there are eight of these within the Detox Centre) and an infectiously smiley Thai lady called Mai senses my apprehension. Colonic therapy was to be a daily part of life for me and Mai and I developed a jovial friendship that I suppose is inevitable when a stranger has to wipe your 30 year old bottom every day!
Days 2 and 3 are a completely different ball-game.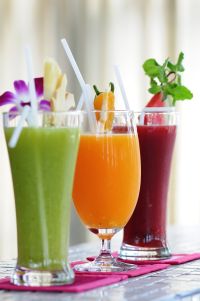 The hunger pangs are constant and my energy levels dip massively. I have a headache and have developed horrendous acne all over my face, yet am assured these are normal side-effects of the detox process. I even have bouts of emotional outbursts which is synonymous with a body detox – as the body clears of negativity, so does the mind.
As the week carries on, my energy levels are optimum and on Day 6 I bounce out of bed at 07:00 to participate in a 90-minute Hot Yoga class. Just when I think I have never sweated so much in my life, I dive straight into the Infra-red Sauna which claims to burn 600 calories in a half hour sitting – definitely my kind of exercise! Fellow guests comment on how bright the whites of my eyes are and that my skin is glowing and I even notice a few less orange peel dimples on my legs.
And finally day 7
By Day 7, I have lost a total of six pounds and I am feeling revitalised and seem to have more concentration and mental clarity. I break my fast with a bowl of fresh papaya dressed with freshly squeezed lime which is salivatingly sublime. This kind of Detox is not for the faint-hearted – you have to be motivated and focused and it is important to carry it out in a controlled environment with limited temptations and sweat-inducing activities.
Absolute Sanctuary provides the perfect idyllic setting to regenerate and discover your new rejuvenated self. I don't know if I will manage 56 days with no carbs, but I feel re-educated about the vitality of food and will definitely be altering my diet and lifestyle when I return to English shores. www.absolutesanctuary.com
Nina Dabiralai nina@detoxity.co.uk
Internal flights from Bangkok to Koh Samui are available at www.bangkokair.com and www.airasia.com
OUR READERS' FINEST WORDS (All times and dates are GMT)
All comments are filtered to exclude any excesses but the Editor does not have to agree with what is being said. 100 words maximum
---
No one has commented yet, why don't you start the ball rolling?
---