Mercedes-Benz C180 CGI Sport Blue Efficiency

Ultra Modern and Prestigious Too!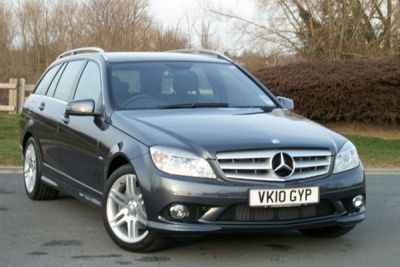 Pioneering, class leading, best in class, bench mark…I hear all these superlatives during numerous new car launches as manufacturers strive to convince journalists and potential buyers that their latest product is stronger in every aspect, including brand image, than the earlier models.

Such is the pace of technological developments, driven on not only to garner greater sales but by a quest to save the planet and save the lives of all who have anything to do with motor cars, that a new car does not remain new for long, the quest to remain ahead of the game is eternal.

In among all this automotive activity is an obvious intent to create product creditability and there is no better exponent than Mercedes-Benz, who has been at practicing the art for over 100 years.

These thoughts went through my mind when testing the latest Mercedes-Benz C-Class Estate that, in company with the saloon version, has remained a top seller in the company's extensive model array for donkey's ages.

Clearly Mercedes-Benz has an established pedigree and continues to maintain the status by continually improving on all aspects of its activities without being unduly upbeat.

What is evident is that this model (C-class goes back to 1993) has grown in stature, for size proving to be a more than acceptable 5-seat compact executive car and for the ever increasing range of variants on offer.

Opt for a C-Class and then work out whether you want a more than competent small capacity diesel or petrol engine, something in between or a super car version delivering 272 bhp and bristling with performance enhancing technology.

The common denominator is a finely honed platform, body shell, suspension and running gear that has an abundance of ability to complement any chosen power unit. Here is an effortless form of driving satisfaction that is synonymous with this company's products.

I understood Mercedes' reasoning in providing a petrol powered test car rather than the commonly accepted turbo diesel engine when applied to an estate car as the exercise proved that great advances have been achieved in the efficiency of the petrol unit, this car being an example of the company's Blue Efficiency technology, a programme embracing both types of popular fuel, hybrid technology, electric power and stop+start systems.

Thus this smallest capacity 4-cylinder 1.8 litre Blue Efficiency engine delivers a highly competitive 156 bhp at 5,000 rpm in a manner that suggest a much larger power unit with at least six cylinders.

Complement this delightful engine with a state of the art 5-speed automatic transmission and the result proved to be a more than satisfying turn of performance with a claimed top speed of 132 mph, more than brisk acceleration to 62 mph in 9.2 seconds and, wait for it, a combined fuel consumption of 38.2 mpg.

Mercedes-Benz has never believed in feeble performing cars and with this test car the performance is all the more creditable when appreciating this an executive class estate car capable of carrying five, at least average sized, adults and as much or possible more luggage than any similar sized estate car.

This prestigious though far from overbearing Mercedes-Benz model provides both a driving character that masterfully combines mechanical refinement with impressive ride and handling qualities plus comfort levels that are hard to beat, especially the driver's 'workstation' that employs both powered and manual seat adjust systems to tailor it to a fine fit.

Of course, there are some established Mercedes-Benz features that have been familiar for years, including the foot operated parking brake and the single stalk for operating both windscreen wipers and headlamp dipping that caused strong comment not so many years ago but have clearly been accepted/appreciated by droves of discerning owners.

I miss not seeing the familiar three-pointed star mascot on top of the bonnet (health and safety, you know!) as it gave a certain air of breeding though cast an eye around the interior and admire the appointments, the quality of material, the tasteful yet logical design and I suggest this is undoubtedly close to a work of art.

For equipment, driver aids, safety aids, lifestyle enhancement, this SE version has a breathtakingly extensive equipment list. I can fully understand why so many owners or potential owners make the pilgrimage to Mercedes-Benz World situated on the old Brooklands race track in Weybridge, Surrey to find out what the car is all about – there's no new car demonstration quite like it! www.mercedes-benz.co.uk/world

This C-Class Mercedes-Benz estate is a worthy example of a car brand that has kept pace with a changing world, combining a priceless reputation with down to earth involvement to provide an extensive and desirable car range. Easy to understand why customer loyalty is strong, as one owner said to me: "Get bitten by the Mercedes-Benz bug , and it never lets go."

Rivals include: BMW 3 Series Touring, Alfa
Romeo 159 Estate, Volvo V70,Audi A4 Avant.

STAR RATINGS (out of 10)

Performance 9
Handling 9
Transmission 9
Noise 9
Economy 9
Ride and Comfort 9
Accommodation 8
Styling 9
Brakes 9
Finish 9

TOTAL: 89

Price from: £26,215 on the road – as tested £32,200

NOTES FROM TED WILKINSON'S MOTORING DIARY

VOLKSWAGEN: An insight into future economy models from Volkswagen has revealed that a Golf Blue-e-motion electric model will go into production in 2011, powered by a 110 bhp electric motor good for 86 mph and a range of 90 miles. Between 2012 and 2013 a range of hybrid powered models will be available, including the Touareg 4x4, Jetta saloon, Golf and Passat.

AUDI: An ultra potent version of the Audi R8 has been revealed. Powered by a 553 bhp V10 engine it is claimed to be the fastest production Audi at 199 mph. UK allocation is limited the 33 cars, priced at £142,585 on the road.

TRACKER: Motor cycle thieves were caught out when they attempted to steal a £10,000 Suzuki motorcycle from an office parking space in London. Not only caught on CCTV when loading the machine into their van they were then apprehended by police when the TRACKER device activated.

MITSUBISHI: A new compact cross-over model, the Mitsubishi ASX has been launched. Competing in the C-segment against VW Golf and Ford Focus the new model is powered by two high efficiency Euro 5 compatible engines, a 116 bhp
1.6 petrol and a 147 bhp 1.8 DiD turbo diesel. The latter unit is claimed to be the first diesel engine to feature variable valve technology – both 2 and 4-W-D versions are available.
OUR READERS' FINEST WORDS (All times and dates are GMT)
All comments are filtered to exclude any excesses but the Editor does not have to agree with what is being said. 100 words maximum
---