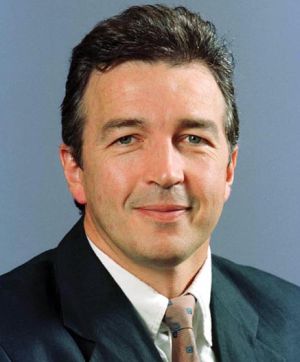 John McCulloch has been Managing Partner oneworld alliance since 2003 and was previously Vice-President Marketing. He is based in Vancouver (Canada) where global headquarters was established when the alliance was created in June 2000. He began his airline career with Cathay Pacific, covering roles in marketing, sales, country management, distribution, yield management, operations and technology, living and working in most countries in Asia in a five-year period. Before joining oneworld, he worked for HSBC, one of the world's largest financial institutions. As its Head of Group Marketing, based in London, he was responsible for implementing its re-branding in 1999/2000. He speaks intermediate Japanese and basic Bahasa Indonesia and is an active sportsman and lover of the outdoors. He is married to Yuko, a Japanese national, and has three children.
"Someone once said a week is a long time in politics. Today, a year in the airline alliance business seems like an era.
This time 12 months ago, oneworld was celebrating its 10th birthday. As the Chief Executives of our member airlines gathered on a chilly Madrid spring morning to mark our first decade, none of us could have imagined the pace of change we would face in the year ahead.
Since then, we have added one more leading airline, signed two more significant recruits, progressed membership negotiations with further key candidate carriers, fought a fiercesome defence to retain one of our lynchpin members and seen the biggest progress in our history in deepening links between our existing partners.
We've also completed our biggest yet airport co-location project, bringing all our on-line airlines from across all five passenger terminals at our largest European hub, London Heathrow, into just two. We have increased our lead too in offering the widest range of alliance consumer fares and taken other important steps in broadening our customer offering.
We've watched as our competitors too have undergone key developments also, including the addition – and loss – of major members.
Meantime, our industry has confronted the worst recession any of us have experienced in our lifetimes.
As if all that was not enough, our oneworld's members have rallied round as one of them, LAN, has had an earthquake close its main hub, Santiago, for several days, another, British Airways, has faced its first strike in something like 15 years and the alliance has seen its first carrier enter court-supervised restructuring, in JAL.
Momentous times then for oneworld, its member airlines and the airline alliance sector in general.
When oneworld first took off in 1999, our line-up featured American Airlines, British Airways, Cathay Pacific and Qantas. In the next decade, we added Finnair, Iberia, Japan Airlines, LAN, Malév Hungarian Airlines and Royal Jordanian, along with some important affiliates, like Dragonair, LAN Argentina, LAN Ecuador and LAN Peru.
We believe oneworld today features the leading quality carriers from each region. And quality of complementary networks is the main driver behind our membership expansion.
We already offer the world's most global network as the only alliance with member airlines from every continent bar Antarctica and the only alliance with partners based in the Americas south of Mexico, in Australia or in Asia's Middle East.
But as the world – and our main target market, the frequent international business traveller – become increasingly global and as emerging economies gain in importance, there are some key strategic regions where we have wanted to increase our network presence.
So in November we welcomed Mexico and Central America's leading carrier Mexicana on board as our 11th member, along with its regional affiliates MexicanaClick and MexicanaLink.
Later this year, we will add Russia's leading domestic operator S7 Airlines to our fold. We have also just signed Kingfisher Airlines, India's biggest airline – and the country's only five-star carrier, as rated by the SkyTrax quality research organization.
As I write, we are in a three-way tussle with our competitors to recruit the only major China Mainland airline not currently part of an alliance, China Eastern, based in the country's commercial capital, Shanghai.
We are also in membership talks with other leading airlines based in a number of other parts of the world.
In February, oneworld was successful in retaining Japan Airlines, still Asia-Pacific's leading carrier despite the financial turmoil it has been undergoing. JAL had been reviewing its alliance strategy as part of its overall restructuring programme – with SkyTeam mounting an aggressive play to lure it away from oneworld.
Within days of it reaffirming its oneworld membership, it had filed with American Airlines for anti-trust immunity for a joint business agreement across the Pacific. Similar plans are afoot with British Airways between Japan and Europe.
Elsewhere in Asia-Pacific, the Australian competition authorities have given a tentative go ahead for BA and Qantas to continue with their joint business agreement on the kangaroo route between Australia and Europe.
And finally, after almost 15 years of trying, American Airlines and British Airways look set to gain regulatory approval on both sides of the Atlantic, with Iberia and their other oneworld transatlantic partners, for anti-trust immunity (ATI), enabling them to compete on more equal terms with their competitors in SkyTeam and Star who have enjoyed ATI for many years despite having a far bigger presence at their own European hubs than their oneworld counterparts have at theirs.
For us, the key aim of all this membership activity is simple – to establish oneworld firmly as the premier airline alliance, delivering both our customers and members with services and benefits beyond the reach of any individual airline and making it easier and more rewarding to reach more places more easily on a quality network of some of the best brands in the business.
From a standing start a decade ago, the three global airline alliances now account for two-thirds of airline industry's total capacity. Alliances are now a critical element of virtually every network carrier's strategic armoury.
Against that background, we do not necessarily aspire for oneworld to be the biggest – but to be the best".
John McCulloch
OUR READERS' FINEST WORDS (All times and dates are GMT)
All comments are filtered to exclude any excesses but the Editor does not have to agree with what is being said. 100 words maximum
---