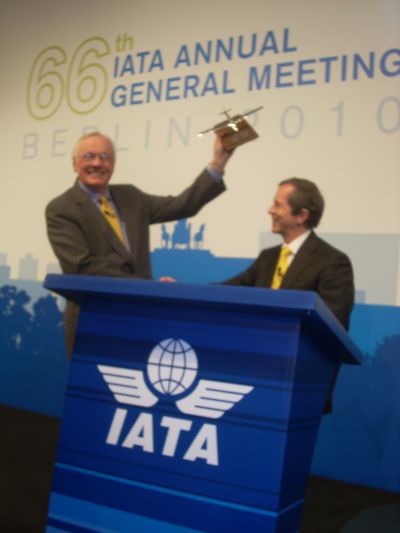 The presence of one individual dominated the annual gathering of world air transport leaders in Berlin last week at IATA, a surprise appearance of Neil Armstrong, the first man on the moon, and not so much a recluse, but in an era dominated by the personality cult, an essentially private man. He received the highest honour that IATA can bestow, its rarely offered Global Leadership award.
In his short but fascinating acceptance speech Armstrong (80 later this year) noted that in space one can circle the globe in 85 minutes. It has not always been that way. The first round the world flight was by a team of US Army aviators in 1924, which eventually took 175 days. The maiden commercial service was by BOAC, hosted on a Bristol Britannia in March 1959.
IATA is a busy gathering
The modern IATA gatherings are packed into 48 hours, always what we now call a "networking" occasion, where the leaders of the world's civil aviation community intermingle with their contemporaries, with the suppliers to the industry, and with the press. For the most part it is relaxed and even Willie Walsh, under immense pressure, able to have a quiet beer late in the evening, and talk about other things.
Whilst Armstrong was the star turn of the proceedings Giovanni Bisignani, the outgoing IATA Director General and CEO (he announced his June 2011 retirement during the event) was the ringmeister. He dominating the whole proceedings, a bundle of energy, rushing from meeting to presentation, but never too busy to stop and shake you by your hand even if not sure who you were.

Vision 2050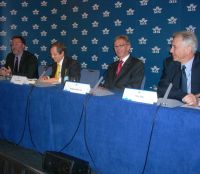 "The questions about our future are endless. And we will not find the answers in isolation," said Bisignani launching Vision 2050 – Shaping Aviation's Future. Vision 2050 is a ground breaking initiative to lay the foundations for a sustainable and profitable industry by looking ahead strategically with a four-decade time frame.
The launch of Vision 2050 comes in the wake of six days without aviation in large parts of the European continent as a result of the ash plume from an Icelandic volcano. "April gave us a vivid picture of life without aviation. Ten million people were stranded. Hotels and convention centres were empty. Seafood and flowers rotted. And just-in-time production was delayed."
"It reminded us that without air connectivity, modern life is not possible," said Bisignani. "We must seize the moment to bring governments and partners on board in building our future. Together we will build a resilient industry based on our four cornerstones of change. We will protect ourselves from cycles and shock with sustainable profitability. We will exceed our customers' expectations. And we will be an industry that is even safer, greener, and more successful," he said opening the proceedings on Monday morning.
Even before the formal opening the Intercontinental Hotel was busy, the evening before Boeing hosting their traditional reception, the delightful event let down a little by awful acoustics. AERBT believes that there were two speakers including at least one from Seattle but what they said was lost in the throng. What was learnt, after a couple of glasses of Riesling, was that number three 787 prototype was scheduled for Farnborough, complete with a passenger interior.
oneworld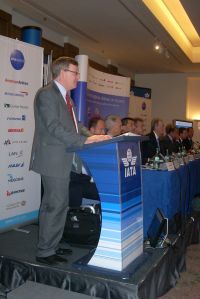 As has now become something of a tradition the proceedings were kicked off (the World Cup was probably number one on the informal discussion list) by oneworld with a 07:45 media briefing attended by virtually all the individual airline Chief Executives with the main purpose to formerly accept India's Kingfisher Airlines into the 12-carrier club.
Russia's leading domestic airline S7 is on track to join oneworld later this year.
With the formal proceedings over Willie Walsh. British Airways' chief (and sponsor of Kingfisher), did a manful job in standing up to what was really a press maul by friends (rather than the sometimes over reacting London media). oneworld was forgotten. Journalists like to make the best of opportunities. Nothing was really learnt except his resolution to stand firm.
The Chief Executive Forum
From the BBC's World Service Nik Gowing, he himself a regular air traveller, hosted a lively debate with again BA's Walsh out regarding his airline labour views, this time from the floor. "We have rewarded trade unions for doing the wrong things and haven't been brave enough in the past to stand up and say no," he said on being pressed by Gowing. "During the current stage of the BA cabin crew strike we are flying 80% of our long haul schedules. We're going to hold out for as long as it takes. We cannot ignore the inefficiencies we see in our industry."
Another speaker from the large audience, and in the front row, was Qatar Airways CEO Akbar Al Baker, claiming not to be controversial. "There will be two dominant carriers in the Gulf region," he said. "You can guess which ones!"
Emirates boss Tim Clark refused to comment (and at this point the massive Emirates A380 order was still top secret), whilst Etihad Airways CEO James Hogan, absent elsewhere in the building, was quick to return, the point made that Abu Dhabi does not have debt problems. Royal Jordanian Chairman and CEO Hussein Dabbas is of the view that if consolidation is to happen it will be in the same vein as Air France-KLM, British Airways-Iberia, and Lufthansa-Swiss. The national identities of the carrier will be retained."
Tempelhof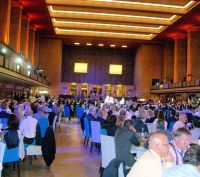 The Monday night dinner for the 600 airline and industry guests, and over 200 press, was hosted by Airbus in the terminal concourse of Berlin's former Tempelhof Airport. On a balmy evening we all stood under the massive apron canopy as co-host Lufthansa made a flypast with their Junkers 52. Once again the speeches were less than audible, but the splendid fashion parade by LH cabin staff made up for everything. From 1926 to 2010. Nostalgic to A380.
Tuesday
Delegates assembled, some bleary eyed, on the Tuesday morning as IATA reacted sharply to the announcement made by the German government of a €1bn annual burden on air travel with a new departure tax. It is branded as an environmental initiative.
Bisignani was enraged and said so to a press conference originally convened to summarize the whole IATA gathering. Lufthansa's Wolfgang Mayrhuber looked aghast. "This is the worst kind of short-sighted policy irresponsibility. It's a cash-grab by a cash-strapped government. Painting it green adds insult to injury. There will be no environmental benefit from the economic damage caused," said Bisignani.
And then it was straight into a session entitled "Government and Industry partnership" hosted by popular Australian BBC World business presenter Aeron Heslehurst, a regular at these events.
The good news, the way the Chilean authorities dealt with their volcano disaster, and the bad news, with particular reference to the British response, were dealt with, the elegant General Jose Hueppe Perez, Minister of Aviation, explaining Santiago's reaction, compared with Europe and both Pierre-Henri Gourgon, CEO of Air France, and Joachim Hunold, his counterpart at Air Berlin, critical of the authorities. Indonesia has a volcano problem too but once again the airlines are allowed to deal with the matter themselves rather than deal with government interference said Emisyah Satar, President and CEO of the reinvigorated Garuda Indonesia. He also somehow managed to mention the airline's new route into Amsterdam via Dubai.
Finally it was on to the final media session with once again the tireless Mr Bisignani leading from the front.
He announced Cairo for the 2011 event, and whether he is there as the leader, or mere spectator remains to be seen. Head hunters have been authorised. The diminutive Italian will be a hard act to follow!
OUR READERS' FINEST WORDS (All times and dates are GMT)
All comments are filtered to exclude any excesses but the Editor does not have to agree with what is being said. 100 words maximum
---
No one has commented yet, why don't you start the ball rolling?
---