On Test with Ted Wilkinson of The Guild of Motoring

Bullish New All-Drive SEAT Throws down Gauntlet!
BTN has added an ARCHIVE of road tests going back to April 2009 at the end of this report. You can also find the reviews via the Motoring Index.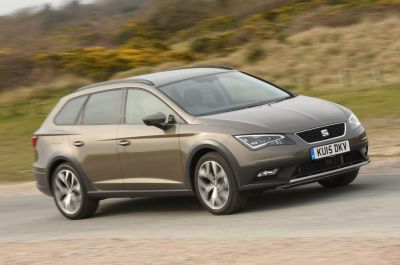 Don't rock the boat, don't upset the apple cart. Well Spain's SEAT VW car brand has done just that! This burgeoning car maker has come out with a new model, the SEAT Leon X-PERIENCE 4x4 that is based on the still very fresh Leon ST compact estate that had me thinking all manner of expletives to summarise exactly what has arrived on the car market.

From the outset of becoming part of the Volkswagen's super progressive car creating empire, SEAT made it clear that it was creating its own character, reflecting its nationality and in recent years that has become obvious with some very attractive looking models but this latest arrival from the state-of-the-art factory outside of Barcelona may come as a bit of shock. That shock I suggest will be felt by rival manufacturers who have been plugging away mainly at the 4x4 SUV and Crossover type of cars that you either love or is not on your horizon when looking for a new car.

Yes, SEAT has stolen a march with the X-PERIENCE that is a stylish and exceptionally practical compact estate. For a car originating from Spain it is a bit bullish in appearance, especially when it has sporting lifestyle equipment loaded onto the roof rails or on a rear mounted bike rack.

The 4x4 transmission system is a clever arrangement when most of the time the car drives in front wheel drive mode but if grip becomes challenging successive doses of power is passed to the rear wheels to maintain traction.

The effect is a positive driving vehicle that is light and responsive on the controls, very stable though a touch on the firm side for ride and with impressive grip and braking with the Goodyear road tyres fitted to the test car.

Two examples are offered, the entry level version, said to be the strong seller, powered by a 150 ps/148 bhp 2.0 TDI turbo diesel engine and running through a 6-speed manual gearbox or the flagship version, as I drove, pushing out massive 184 ps/82 bhp in a refined manner and driving through the highly rated 6-speed DSG gearbox.

With this sort of power the performance, I suggest, is just what the discerning driver seeks. Whether one simply lets the gears chop and change automatically, select gears via the lever or do racing type changes with the paddle shift, the driving characteristic is not only easy but with an accuracy that can be appreciated.

It is quick, with a claimed top speed of 139 mph and 62 mph (100 kph) reached in an astonishing 7.1 seconds –that's the figures but the real satisfaction that this is a completely developed product, not just an adoption of an existing model, and as such has a high level of refinement, both in performance and in the ambience of driver lifestyle and overall finish that smacks of the premium brand – as a certain Audi model is produced in the same factory perhaps the premium bug is contagious?

What purpose can this 4x4 slightly sporty estate car serve? Driver delight is uppermost but there is also assured ability to cope with sudden changes of surface grip without drama and, as a result of slightly increased ground clearance, tackle some more natural surfaces with impunity. Not exactly designated for a Safari but, if fitted with all-weather tyres, a logical form of transport for those who have to venture out into the cold or living in farm track areas.

The engine is the latest Euro 6 rated for emissions, includes stop+start system and energy recovery under braking/slowing and thus gets a combined consumption figure of 57.6 mpg, but realistically nearer the 40 mpg mark.

It is cleverly planned with a good size luggage capacity featuring double boot floor and a ski hatch in the back of the 60/40% folding rear seats, automatic post collision braking system, LED daytime running lights (experience a daylight blizzard and it helps if the other guy can see you!), a drive profile offering your own individual style, or Eco, Normal or Sport, hill hold control, electrically folding mirrors with reversing adjustment, and easy satellite navigation system, full connectivity, a space saver spare wheel and so much more that suggests impressive value.

In summary SEAT has really jumped the gun with this new X-PERIENCE model, an achievement that should see the brand further improving on the 18% uplift in UK sales it posted in 2014.

MAIN RIVALS: Renault Scenic X-Mod, Audi A4 Avant Quattro, Subaru Impreza, Suzuki Swift 4x4, Skoda Yeti Outdoor, Vauxhall Insignia Country Tourer, Volvo V40 Cross Country

STAR RATINGS (out of 10)

Performance 9
Handling 9
Transmission 9
Noise 9
Economy 9
Ride and Comfort 8
Accommodation 9
Styling 9
Brakes 9
Finish 9
TOTAL: 89 %

Price from £28,870 – as tested £30,615.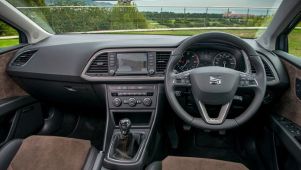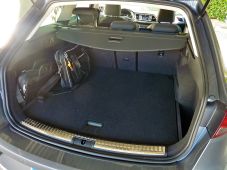 A MOTORING ARCHIVE

Geneva Motor Show (more) published 2015-03-07
Jaguar v Lotus (more) published 2014-12-12
Jaguar Classic sports cars (more) published 2013-12-11
Ted Wilkinson's Motoring Milestones 2010 (more) published 2010-12-19
Alf to VW

Alfa Romeo Giulietta 1.4 TB Lusso (more) published 2011-08-14
Alfa Romeo Mito 1.4 TB Veloce (more) published 2010-01-17
Audi A3 Cabriolet 2.0 TDI (more) published 2014-06-06
Audi A4 Avant 3.0 Quattro (AWD) (more) published 2014-01-11
Audi A6 Avant 2.0 TDI S Line (more) published 2013-01-11
Audi A7 Sportback 2.8 T FSI Quattro SE S Tronic (more) published 2010-12-08
Audi A8 (more) published 2010-06-11
AUDI Q3 (petrol) (more) published 2013-02-04
Audi Q3 2.0 TDI SE Quattro (more) published 2012-03-08
Audi Q3 2.0 TDI SE Quattro (more) published 2013-05-12
Audi TT Coupe 2.0 TDI Quattro Diesel (more)published 2009-04-13
Audi's New R8 V10 (more) published 2009-06-05
BMW 328i Saloon (more) published 2012-09-03
Chrysler Delta 1.4 Multiair SE (more) published 2011-11-12
Fiat Punto Sporting 1.4 (more) published 2014-09-04
Ford Focus Titanium 1.6 EcoBoost (more) published 2011-06-07
Honda Accord 2.2 I-DTEC EX (more) published 2010-03-07
Honda Insight ES-T 1.3 IMA CVT (more) published 2010-09-12
Infiniti FX30d Premium (more) published 2011-05-08
Infiniti G37S Coupe (more) published 2010-07-11
Jaguar XF 2.2 Diesel Premium (more) published 2011-10-09
Kia Optima 1.7 CRDi 2 Luxe (more) published 2012-08-11
Kia Sportage MY 10 1.7 CRDi Eco Sat (more) published 2011-03-13
Lexus Hybrid IS 300h SE (more) published 2014-10-08
Lexus IS 300h F SportFuel (more) published 2014-05-11
Lexus IS-F 5.0 V8 (more) published 2009-12-12
Lexus RX 450H SE-L Hybrid (more) published 2010-11-06
Lotus Evora (more) published 2009-10-09
Lotus Evora S (more) published 2013-05-12
Mazda 6 2.2DTourer Sport Nav (more) published 2014-11-06
Mazda CX5 (more) published 2012-07-07
Mazda CX-7 2.2 D Sport Tech (more) published 2011-12-05
Mazda6 2.2D 5-door Sport (more) published 2010-09-29
Mercedes-Benz C 220 CDI (more) published 2013-04-03
Mercedes-Benz C180 CGI Sport Blue Efficiency (more) published 2010-05-08
Mercedes-Benz CLA 180 Sport (more) published 2014-07-13
Mitsubishi i MiEV (more) published 2011-09-10
Mitsubishi Outlander Juro 2.2 DI-D Automatic (more) published 2011-02-11
Nissan Infiniti (more) published 2009-12-14
Nissan X Trail (more) published 2015-02-08
Nissan X-Trail 2.0 dCi Sport 150 (more) published 2009-05-09
Peugeot 308CCBCA (more) published 2009-09-10
Peugeot 5008 1.6 Hdi (more) published 2010-02-05
Peugeot 508 RXH Diesel (more) published 2013-10-27
Peugeot 508 RXH SW Hybrid (more) published 2012-11-11
Renault Fluence ZE Dynamique (more) published 2012-06-09
Renault Megane Coupe Cabriolet (more) published 2012-04-06
Renault Wind Roadster 1.6 Dynamique (more) published 2011-07-10
SAAB 9-3 Saloon 1.9 TTiD Aero (more) published 2010-04-06
SEAT Exeo 2.0TDI CR SE (more) published 2009-08-07
SEAT Leon FR 1.4 TSI 140 (more) published 2013-06-09
SEAT Leon X-PERIENCE 4x4 (more) published 2015-05-07
Skoda Superb 2.0 Greenline (more) published 2010-08-07
Subaru Outback 2.0D (more) published 2014-08-09
Suzuki Kizashi (more) published 2012-10-06
Toya Prius + TSpirit 1.8 (more) published 2013-11-23
Toyota GT86 2.0 (more) published 2013-09-29
Toyota RAV4 SR 2.2D (more) published 2012-02-12
Vauxhall Cascada 1.4 16V VVT (more) published 2013-08-10
Vauxhall Insignia 2.0 CDTI SE Nav Sports Tourer (more) published 2009-07-11
Vauxhall Victor Super (more) published 2012-12-15
Volkswagen California Beach BlueMotion (more) published 2013-03-08
Volkswagen Sharan Plus brief test of Peugeot RCZ (more) published 2011-04-10
Volkswagen Up! 1.0 (more) published 2012-12-08
Volvo C30 1.6D SE Stop + Start (more) published 2009-11-08
Volvo V40 D2 (Powershift R-Design Nav) (more) published 2015-01-11
Volvo V40 D4 R-Design Lux Nav (more) published 2013-07-06
Volvo XC60 (more) published 2015-04-10
VW Golf Cabriolet SE Blue Motion 1.6 (more) published 2012-01-14
VW Golf Estate SE Blue Motion Stop+Start (more) published 2011-01-14
OUR READERS' FINEST WORDS (All times and dates are GMT)
All comments are filtered to exclude any excesses but the Editor does not have to agree with what is being said. 100 words maximum
---