On Test with Ted Wilkinson of The Guild of Motoring Writers
Peugeot 508 RXH SW Hybrid
Fuel sipping tax man's nightmare!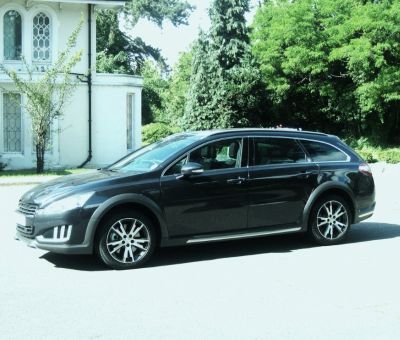 I have experienced a lot of cars that have given me a feel good factor, no more so than when I first encountered Peugeot's executive class 508 saloon and Sport Wagon models, suggesting than that Peugeot had arrived in the premium class with this car.
This subsequent encounter with a hybrid powered version finds me guilty of a great degree of smugness for this version proves that you can have your cake and eat it!
Here is bags of refined performance produced in a refined manner from a fuel sipping power unit with a carbon footprint that gives the tax man a mere £20 after the first year's use and, according to Peugeot achieved fuel costs of around £1,200 for 12,000 miles. Yes, this Peugeot is getting close to returning a four-figure mileage from one tank of fuel…surely a nightmare for Chancellor George Osborne?
Of course, the price tag and the opulence of this big Peugeot, tested in the longer Sport Wagon variant, makes it a car for those with deeper pockets, many of whom doubtless achieved their financial well being by the Dickensian method of looking after the pennies.
This hybrid powered model has been created by combining one of Peugeot's excellent turbo diesel engines, in this case a 163 bhp 2.0-litre with a rear mounted 37 bhp electric motor, the set-up also involving a second generation stop+start system and energy harvesting as employed on current Grand Prix cars.
A six speed selectable automatic gearbox is used that has an easy selection between Sport and Economy modes and also a switch selection to change to all wheel drive when the electric motor powers the rear wheels. This latter situation is really intended for tricky condition such as moving away on a slippery surface or that extra bit of grip on a loose track.
The driving performance is rewarding, the road holding and ride is to the high standard demanded in this class, the steering response feels almost direct though the turning action is light, the brakes powerful with minimal muscle effort and the automatic transmission, despite a very slightly sticky manual action on the test car (probably due to newness), seamlessly compliant in automatic mode under all conditions.
There is easy driving docility though the Peugeot 'lion' has plenty of bite when performance is necessary, Peugeot claiming a top- speed of 132 mph with 62 mph (100 kph) reached in 95 seconds. In practice it feels both lively and a refined mile-eating cruiser.
Now for the ultimate smugness. The official fuel consumption figures are as follows: Urban 70.6 mpg - Extra-urban 67.3 mpg - Combined 68.9 mpg. Negotiate around the 60 mpg mark by fully optimising all the systems and that 15.8 gallon fuel tank should be getting close to 948 miles before visiting the pumps again.
This is all exciting stuff but to make any headway in winning sales from the most discerning of owners the entire package has to be to an exceptionally high standard and I feel that Peugeot has effectively addressed the task building on that astounding performance with a stylish looking vehicle that is capacious but not clumsy, exceptionally comfortable for five adults and a mass of luggage and all wrapped in a quality product that is hard to criticise. For quality it really stacks up.
There is plenty of the executive kit such as memory powered driver's seat, a user friendly satellite navigation system, a head up display for both speed and route directions, self-folding mirrors when remote locked, heated front seats, SOS system, leather upholstery, a rear console with separate air conditioning controls, cruise control, and heated front seats etc.
Peugeot has knocked on the door of the 'big boys' class on a number of occasions but with this remarkable car I think they have kicked the door wide open. Can you afford to ignore this one?
MAIN RIVAL: Citroen DS5 Hybrid.
STAR RATINGS (out of 10)
Performance 9
Handling 9
Transmission 8
Noise 9
Economy 9
Ride and Comfort 9
Accommodation 9
Styling 8
Brakes 9
Finish 9
TOTAL: 88 %
Price from £32,979
NOTES FROM TED WILKINSON'S MOTORING DIARY
LOTUS has won its first Formula One GP since the 1987 Detroit Grand Prix when the legendary Ayrton Senna took the victory rostrum. At Abu Dhabi Sunday 4 November 2012 former World Champion Kimi Raikkonen joined an illustrious list of F1 supremos who have mastered cars originally created by Colin Chapman (died December 1982) including Stirling Moss, and World Champions Jim Clark, Graham Hill, Jochen Rindt, Emerson Fittipaldi, Mario Andretti, Nigel Mansell, Ayrton Senna, and Mika Häkkinen. Lotus F1 Team is today the official brand of Group Lotus based at Hethel. Classic Team Lotus, was founded by Colin's son Clive in 1992, and is seen at many track events and continues to maintain and operate Lotus F1 cars for owners around the world. Your Editor in Chief was Lotus Press Officer in the 1970s. www.classicteamlotus.co.uk www.lotuscars.com lotusf1team.com/
MASERATI: New Macerate Quatroporte model is due for launch at the 2013 Detroit Motor Show. Macerate is targeting 50,000 sales per year by 2015. www.maserati.co.uk
MICHELIN: the immensely useful Michelin Eating Out in Pubs 2013 is now on sale in bookshops at £13.99. Some 550 pubs are described and there are two more Michelin star - Heston Blumenthal's Hind's Head in Bray and Guy and Brit Manning's Red Lion Free House at East Chisenbury. Pub of the Year is the Gunton Arms at Thorpe Market, Burr. that is set in an acre of deer park. www.michelinonline.co.uk/travel
QOROS: A new Chinese car brand is reported to be launching at next year's Geneva Motor show. The first Qoros model will be a four-door saloon and will be followed with new model launches every six months. www.qorosauto.com/en
SSANGYONG: The importers of the Korean Ssangyon range of 4x4 models is offering 0% finance over 5-years on its Korando and Rodus model with approximately a 50% deposit. www.ssangyonggb.co.uk
TOYOTA: The Japanese car maker is celebrating its 75th anniversary. The company started up from money received in selling its patented auto loom system to Platt Bros of Oldham in 1929. www.toyota.co.uk
VOLKSWAGEN: A free winter check-up is being offered to all Volkswagen van owners through VW Van Centres. The 30-point check includes battery, wipers/washers lights and tyres etc. www.volkswagen.co.uk
OUR READERS' FINEST WORDS (All times and dates are GMT)
All comments are filtered to exclude any excesses but the Editor does not have to agree with what is being said. 100 words maximum
---