On Test with Ted Wilkinson of The Guild of Motoring Writers

Peugeot 508 RXH Diesel Hybrid

Is Peugeot Nudging Towards 1,000 Mile Range?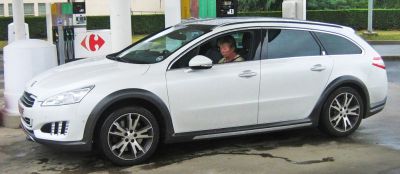 Imagine not having to visit a filling station for more than a month. That could be a reality as cars become more frugal though, in hand with that reality it seems that there is a move towards smaller fuel tanks to save weight both on the actual tank and the amount of fuel being carried, so the goal posts will probably keep moving!

There are already plenty of cars that can achieve a genuine 600-mile range and if some of these were fitted with the larger capacity fuel tanks of their predecessors than clearly the range would increase at a slight detriment to fuel economy.

Within these parameters there is the potential target for a car to close in on a four-figure range, obviously by achieving improved fuel economy and it is under these circumstances that I have carried out a 2,749-mile long distance road test of Peugeot's diesel hybrid powered 508 RXH model that is based on the stylish and generously appointed SW version – quite a big car though fitted with a compact 71-litre/15.6 gallon fuel tank.

Hybrid technology follows roughly the energy harvesting system of the KERS units currently used on Formula One Grand Prix cars, charging up the battery when slowing down and using it to power an electric motor to boost performance when required.

The Peugeot system is also set up to start in electric mode and to running silently on that power up to about 25 mph providing one employs a soft throttle foot.

During countless discussions with motorists I have come to the conclusion that the hybrid system is viewed with a mixture of scepticism and ignorance or just considered lacking in image and street credibility.

Certainly the image of the Peugeot 508 SW is that of a stylish, elegant and substantial executive class car and to power it is a state-of-the-art 2-litre turbo diesel engine delivering a refined 163 bhp and latched on is a 37 bhp electric motor to give an available 200 bhp if the chips are down.

A six-speed selectable automatic transmission, offering Sport and Economy modes is used to provide virtually seamless yet responsive changes in fully automatic modes – this being my chosen situation for most of the test distance.

There is the option of using fingertip paddle controls in the manual mode for those adventurous drivers less concerned about economy.

To a great extent the cockpit area of this model apes that of the conventional version though there is one major change – in place of a rev counter there is a circular economy dial with segments showing if the battery motor is being charged, whether one is driving in the green tinted economy section or how much power is being extracted from the diesel engine.

Additionally, there is a versatile on-board computer system that shows average speed/consumption for a given trip or an immediate consumption figure.

It is these two instruments that are essential reading for the driver seriously intent on optimising the car's economy potential.

The driver's lot is also made less demanding by the provision of a face-up speed indicator as well as the conventional instrument.

On start-up there is an absence of any mechanical noise and providing there is 'banked' battery power it is possible to slip away without a sound and cruise around town at slow speed, keeping a careful eye on any pedestrians as they cannot hear the car approaching.

Out on the motorway the real story unfolds as the 70 or 80 mph permitted speeds (depending in which country) are reached and then the art of the light foot really comes into play.

Yes, motorway cruising speeds can be achieved at quite different throttle openings and I found that I could feather back the throttle and still see around the 80 mph mark but with 74 mpg on the computer, some 10/15 mpg better than on a more advanced throttle angle at the same speed.

When inclines are approached a slight pressure on the throttle and then a slight lift off maintains the pace with very little drop in consumption.

During this long test I got the feel of the car and experienced the best economy situations and also the worst when I had to accelerate hard to avoid an incident and glimpsed consumption down the 19 mpg as that 200 bhp delivered salvation.

Compensation came when entering a busy town and with a smidgen of diesel power but mainly on the battery the reading went up to 999 mpg.

This long distance test across France and Spain, using mainly motorways but some country roads and around town, extensively using the air conditioning but not the cruise control and with an average load on board, saw an overall consumption of 52.60 mpg with minimal driver effort involved.

That gives a range of 713 .782 miles although a colleague who carries out accurate fuel consumption tests for a leading consumer organisation points out that most cars can achieve around another 100 miles when the fuel gauge is indicating empty before running dry.

As I did not have the 'fail safe' equipment used in his testing I sensibly avoided the potential mechanical damage of running the car dry.

So perhaps there was another 100 miles lurking in that tank but whatever the result I am convinced that Peugeot has created a near luxury class car, claimed to be good for 132 mph, that significantly uses about the same amount or less fuel than a much smaller vehicle.

There are some other bonuses with this car, like the free road tax, the improved braking control provided by the energy harvesting system that should also contribute to reduced brake wear and the option of switching to just the electric motor to create an all wheel drive situation if grip is seriously challenged.

Whether one spends a high percentage of motoring miles around town or on long distance journeys I am convinced that a driver only requires to develop the habit of a lighter throttle action and to plan a little bit more ahead on the road to maintain motion rather than wasting power on braking to achieve both safety and economy benefits.

That there's a lot more hybrid powered cars coming onto the market surely strengthens the hybrid cause.

MAIN RIVALS: Lexus G450H, Audi A6 2.0 TDI, BMW 5 Series Activ Hybrid

STAR RATINGS (out of 10)

Performance 9
Handling 9
Transmission 9
Noise 9
Economy 9
Ride and Comfort 9
Accommodation 9
Styling 9
Brakes 9
Finish 9
TOTAL: 90%

Price from £34,145. www.peugeot.co.uk

NOTES FROM TED WILKINSON'S MOTORING DIARY

Daimler Fleet Management has been launched, delivering greater choice and flexibility to both new and existing Mercedes-Benz fleet customers. The news comes as Mercedes-Benz in the UK announces its best ever month, with a 28% rise in registrations in September supported by the strongest quarterly figures yet recorded by the brand. Supported by Leasedrive and Mercedes-Benz Financial Services, Daimler Fleet Management allows customers the choice of managing not only their Mercedes-Benz and smart vehicle requirements but other brands as well – leading to greater convenience and an attractive one-stop-shop option. www.daimler-fleetmanagement.com

Morgan may be a family company 103 years old, or is it? Charles Morgan, grandson of founder HFS Morgan, was sacked from the board of Britain's oldest car company last week leaving no family representation at executive working level. It is all a bit messy and things may unravel over the coming weeks but even Morgan, who once claimed a three-year waiting list, is finding that the 21st century sporting motorist wants a car that is somewhat quicker and offering more creature comforts. Charles released a statement last week expressing his sadness at being sacked and saying he would appeal the decision. "I remain a major shareholder in Morgan", said the statement. "I'm proud to say I leave with the company's annual production volumes double what they were at the start of my tenure, with new export markets such as China opened to the company. Morgan remains a small but successful family firm". www.morgan-motor.co.uk

Nissan is leading a consortium which aims to establish a network of rapid chargers for electric vehicles running the full length and breadth of the United Kingdom and Ireland. When complete, a total of 74 rapid chargers will have been installed, covering more than 750 miles of major trunk routes and providing EV-friendly links to five seaports and five international airports. www.nissan.co.uk

Parking is an everyday problem which Parliament is now looking into. Launching a report from a recent inquiry looking at Local Authority Parking Enforcement in England, Louise Ellman MP, Chair of Transport Select Committee said: "Parking enforcement is necessary for managing demand on the roads, however, the use of parking charges and fines specifically to raise revenue by local authorities is neither acceptable nor legal. Yet there is a deep-rooted public perception that parking enforcement is used as a cash cow, so it's essential that local authorities apply stringent transparency. Common sense also suggests the DfT's statutory guidance should stipulate that local authorities implement a 'grace period' of 5 minutes after the expiry of paid-for time on any paid parking before enforcement officers issue a Penalty Charge Notice (PCN). www.parliament.uk

UK car output continues to rise with 140,888 units built in September, 9.9% ahead of 2012 and with a rolling output of 1.5m for the last 12 months the best since October 2008. About 75% of production goes abroad. www.smmt.co.uk
OUR READERS' FINEST WORDS (All times and dates are GMT)
All comments are filtered to exclude any excesses but the Editor does not have to agree with what is being said. 100 words maximum
---
No one has commented yet, why don't you start the ball rolling?
---