FIRST IMPRESSIONS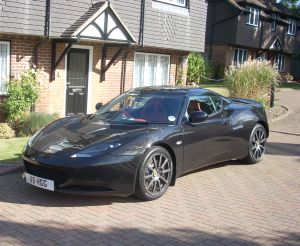 Forget anything you have read about the new Lotus Evora being a four seater. Yes it is possible to sit a midget in the back, or a pair of short children provided the front seats are fully forward, but it is less of a 2+2 than the old stretched Elan of fond memories. The Evora is a true grand touring car, a product with a quality feel about it, and the sort of high speed cross country express that Colin Chapman (ACBC), founder of the company, would have been very proud of.

Yet it is docile, not perhaps a true town car, but fully capable of a comfortable ride down London's Oxford Street.

The Evora is also a fine tribute to Mike Kimberly, Chief Engineer under ACBC, just retired and the man who brought the car to production.

Your Editor (who admits to being the Lotus Press Officer in years gone by) has finally got his hands on this most elusive of 2009 products courtesy Hadley Wood Garage at Barnet, more noted as Bentley and Jaguar experts but currently the only Lotus dealer north of the Thames. A longer evaluation is required, and extra writing space, and therefore this review is no more than first impressions, but first impressions count.

And the first impression was of sheer quality, the car turned out in black, reminiscent of the JPS Formula One Lotus of old. Leather seating too.

Getting in is in fact easy if you know the technique. All the toys are available. Full air conditioning, reversing camera, excellent radio by Alpine, powered folding mirrors, Bluetooth and GPS navigation. A six speed manual gearbox is the norm although we are assured by next year the superb ZF paddle change system will be available.

The car is easy to drive, feels taught, and as one would expect with a Lotus, handles like a dream. It is very quick. There is room in the boot for a golf bag and plenty of space for putting soft cases in the rear accommodation. It seems to be built to last and whilst the superficial body is reinforced fibreglass you are in fact sat within an extremely strong bonded aluminium tub.

Where Lotus do really score is the price. With just about everything on it the Evora is yours for a shade over £62,000. Porsche 911 prices start at that point, although of course there is the less ambitious and cheaper Boxer range. Aston's begin at £83k, TVR has gone out of business, and the much larger Maserati coupe comes in at around the same cash outlay as the basic Aston.

And it looks absolutely stunning. 2,000 are expected to be built in the first year with plenty going abroad. If the Lotus F1 car works it will do the company no harm.

Malcolm Ginsberg
Editor in Chief
IN BRIEF followed by this month's road test, the Land Rover Discovery 3

AUDI: Now on sale is an ultra-economical version of the Audi A4 based on 2.0-litre turbo diesel engine developing 134 bhp and claimed to provide a combined consumption of 61 mpg and 120 kg Co2 emissions. Features include stop-start and energy recuperating systems. Price is from £23,340.

FORD: Over 500,000 Ford Ka models have been sold in the UK since the funky 3-door car was launched in 1996; 90% to private buyers. The total includes 11,000 of the Fiat 500-based second generation model, introduced in January of this year.

MICHELIN: The 2010 edition of Michelin's Eating Out in Pubs guide is now in bookshops, priced at £14.99.

PEUGEOT: The new Peugeot 5008 compact MPV model will go on sale in January priced from £16,895.

TOYOTA: Upgrades but not price hikes have been announced to the Yaris compact hatch back range which also includes the introduction of a new TR version using the top T Spirit specification 8-spoke alloy wheels and featuring an extensive specification. Price is from £10,280 for the 1.0 VVTi petrol 3-door version. A £715 safety package has also been introduced for the Yaris range, includes knee and curtain air bags and Traction and Stability Control systems.

VAUXHALL: New simplified extended warranty packages have been introduced. Cover is purchasable for cars up to ten years old and up to 100,000 miles. Also introduced is a 25-point winter safety check and top-up service through the Vauxhall dealer network at £35. The package includes a free Winter Car Pack valued at £12.

VOLKSWAGEN: Hard on the heels of the sales launch of the 5-door VW Polo range, comes the announcement of a 3-door version aimed at a wider customer audience with prices starting from £9,435 on the road – a saving of £600.



LAND ROVER DISCOVERY 3 - 2.8 TDV6 HSE
"SHEER COMPETENCE AND CIVILITY"

What an eye-opener! That's my verdict on the latest Land Rover Discovery, currently in its third generation form since late 2004 and convincing me that its is probably the best large 4x4 Sports Utility Vehicle that money can buy.

My surprise has been a result of extensive experience with earlier Discovery models which clearly prioritised off-road capabilities but disappointed me in various aspects including comfort and on road refinement.

In the boom times I can appreciate that a lot of emphasis was on the flagship Range Rover products which remains the jewel in Land Rover's crown though I suspect that there are not so many customers able or willing to run to the price of that particular jewel and this is where the Discovery 3 comes to the fore.

I can dismiss memories of the rather spartan and workmanlike interior of the earlier cars, the discomfort of the short cushioned and upright rear seats and the energy sapping effort it took to cruise at motorway paces. A price a lot of customers were willing to pay to obtain one of the best off-roaders in the world regardless of whether their off-roading was little more than a bit of kerb-bashing in the quest of a city parking space!

Here is a totally different product, much more purposeful and sophisticated than its predecessors in external looks, impressively appointed inside and oh so civilised on the road!

Major contributors to this amazing machine are the super refined V6 turbo diesel that delivers a highly flexible 190 bhp in such a silent manner that it is hard to realise that it is a diesel unit, plus the immensely competent and so easy to use ZF 6-speed selectable automatic gearbox (a manual unit is also available), the fully independent smooth riding suspension and the positive yet light acting steering system.

Controllability is the word I would choose when using this Discovery on the road (yes, I have experienced some serious off-roading in Spain last year where the terrain including boulder-strewn river beds, the vehicle taking it in its stride) whether that is driving around town or cruising on the motorways. So easy, so civilised, so comfortable.

What I think is important is the tidy way this Discovery conducts itself, the view from the ergonomically efficient driving position is more than reasonable for this type of vehicle, the main obstruction being the rear headrests. Nothing cumbersome about this 4x4!

I did not take more than a moment to appreciate the quality and functionality of the interior trim and equipment, a little longer to realise that this particular version came with the optional and very easy to operate third row of seats. Here is a genuinely comfortable 7-seat vehicle with reasonable access to all passenger seats.

By locating the full-size spare wheel under the rear floor the designers have been able to incorporate a split tailgate that ensures easy use of the generous luggage capacity (as a 5-seater) rendering this one of the most practical and user friendly SUV's to come my way.

Driving performance is the name of the game with this type of car and a claimed top speed of 112 mph and 60 mph reached in an acceptable 11.7 pretty good when allied to a fuel consumption around the 30 mpg mark.

When it comes to equipment and appointments this Discovery has moved from the executive class into the premium class, the excellent build quality being complemented by a high protective safety package, smart trim materials (including on the test car leather upholstery), an idiot-proof navigation system, a versatile air conditioning system that treats all occupants as equals, a powered sunroof and an audio system that should satisfy the purists.

To cap it all, my wife enjoyed reclining in the well cushioned rear seat and watching one of her favourite television programmes!

I suggest anyone seeking this sort of vehicle, who is sagely intent of a sound deal should experience the Discovery 3, it opened my eyes!

Main Rival: Audi Q7 3.0 V6 Clean diesel TDI £44,495.

STAR RATINGS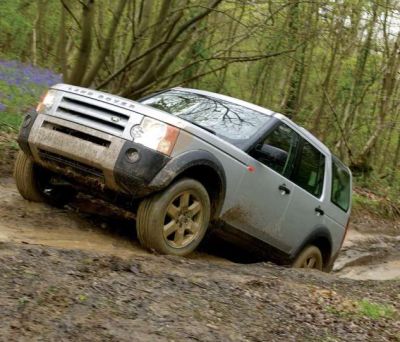 Performance 9
Handling 9
Transmission 9
Noise 9
Economy 9
Ride and Comfort 9
Accommodation 9
Styling 8
Brakes 9
Finish 9

TOTAL: 89%
Price: from £45,725
OUR READERS' FINEST WORDS (All times and dates are GMT)
All comments are filtered to exclude any excesses but the Editor does not have to agree with what is being said. 100 words maximum
---