23 APRIL 2012
BTN DISTRIBUTION
BTN also goes out by email every Sunday night at midnight (UK time). To view this edition click here.
The Business Travel News
PO Box 758
Edgware HA8 4QF
United Kingdom
+44 (0)20 8952 8383
info@btnews.co.uk
© 2021 Business Travel News Ltd.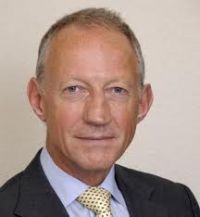 Mike Carrivick, Chief Executive of the Board of Airline Representatives in the UK (BAR UK), has announced his planned retirement from the organisation which represents over 80 airlines.

Carrivick, who has set a date at the end of October, commenced his aviation career in 1965 on a general apprenticeship with British European Airways. A 20-year progression with Qantas Airways was followed by roles with Brymon European Airways, Maersk DFDS Travel and IATA. He joined BAR UK in 2004 where he has since led the organisation through a challenging period for the aviation industry and come into contact with a large number of government ministers, departments and industry stakeholders.

Commenting on his retirement, Carrivick said: "The role at BAR UK has been the most diverse of my career, with many challenges and achievements along the way. It has been a huge pleasure to serve and I wish to express my thanks to the board and all members, past and present, and a great number of industry, governmental and media friends who have provided so much support. I will miss the contact with them all and wish the airline industry the recognition and success it deserves."

BAR UK has commenced the search for a new Chief Executive. www.bar-uk.org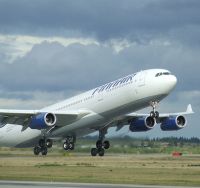 Finnair will introduce a direct route to Chongqing, the largest and fastest-growing city in China, on 9 May. Such is Chinese politics and sensibilities, journalists from Western Europe (but not the Nordic countries) are being refused entry visas via the city. This follows the murder of British businessman Neil Haywood. Finnair is the first airline to open a direct flight route from Europe to Chongqing.

Situated on the edge of the Tibetan plateau, Greater Chongqing has a population of 32m.

"China is a key part of our Europe-Asia strategy. Western China is an important growth area, and the new route will strengthen our market share in the growing Asian markets. In addition to Chongqing, Finnair flies to Beijing, Shanghai and to Hong Kong with a total of 26 weekly flights," said Mika Vehviläinen, President and CEO of Finnair. Helsinki serves as a hub from many parts of Europe with frequent flights including, from the UK, Heathrow and Manchester.

In addition to Chinese companies many Western businesses, especially in the electronics, automotive and chemical industries, are currently expanding their operations in the city, so business travel is booming. Also cargo growth prospects are promising due to industrial growth. www.finnair.com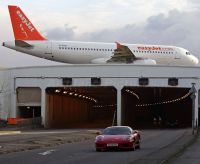 With the success of its Luton operation (as reported by AERBT – ten a week from October), and much to the chagrin of incumbent Jet2.com, easyJet is to introduce an Airbus A319 Manchester – Tel Aviv service from 1 November, flown on a Thursday and on a day to be confirmed. Jet2 operates on a Monday and Thursday with a 5hrs 15mins flight using a larger Boeing 757.
With Birmingham, the inaugural service will take off from Belfast International Airport on 22 October – initially a daily flight, and from 29 October will increase to two a day on weekdays, and one on Saturdays and Sundays. The new route between Belfast and Birmingham reinforces its commitment to Northern Ireland," the airline says. www.esyjet.com www.jet2.com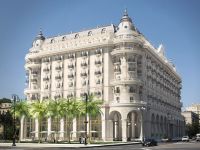 Due to open on 15 June is the Four Seasons Hotel Baku. The city is the capital of Azerbaijan, as well as the largest metropolis on the Caspian Sea and of the Caucasus region. The new-build, to classical design, offers 171 guest rooms – including 29 luxury suites – almost all opening onto a balcony. On the ninth floor is a spa with the pool on the fourth floor of a spectacular atrium which rises to a glass roof in the top of the building.

Ideally located on the Baku waterfront promenade, the hotel will place guests in the city's most sought-after location just steps from Old City and offer strong competition to other internationally recognised brands in the city, including Hilton, Hyatt and Radisson Blu. In July the JW Marriott Absheron Baku opens. www.fourseasons.com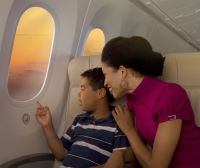 News from Boeing that its 787 Dreamliner is visiting the North West has got Manchester Airport's Runway Visitor Park bosses busy with thousands of people expected to descend on the facility to witness the historic flight.

The historic day is thanks to Thomson Airways who have jumped in front of British Airways as the first UK customer for the aircraft, and are using the visit as an excuse to give some of its staff an opportunity to get up close to what is the first large commercial plane to be entirely developed this century.

Boeing's own development aircraft will be make a visit to the region arriving this evening (Monday 23 April) as part of the sixth leg of the Boeing Dream World Tour. Tomorrow the aircraft will depart for a short demo flight around mid-morning returning at lunchtime.

Andrew Harrison, Chief Operating Officer for the Manchester Airports Group (MAG), said: "The Runway Visitor Park is used to historic flights that attract large crowds. In 2003, over 25,000 people came to see the final arrival of Concorde and more recently in 2010 when Manchester became the first regional airport to get daily A380 flights, over 10,000 people flocked to the park for its inaugural flight. www.manchesterairport.co.uk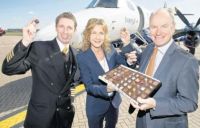 Eastern Airways has now restarted its Southampton to Brussels operation after the service was axed by Flybe. Previously Eastern had operated flights to the EU capital until the Exeter-based carrier had muscled its way in using larger aircraft and offering cheaper fares. That lasted until mid-February.

Weekday flights leave Southampton at 11:10 on Mondays and Tuesdays, 13:00 on Wednesdays and 10:55 on Thursdays and Fridays. Operating the route is a 29-seat BAe J41.

Southampton Airport Managing Director Dave Lees, who joined the maiden flight, said: "We're delighted to welcome Eastern Airways back to this route today. It's a highly requested route by both our business and leisure passengers, who are looking for convenient flights to this, a major European centre." www.easternairways.com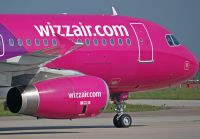 With the UEFA European soccer cup starting 8 June, Warsaw Modlin Airport (WMI) is rushing towards opening as a civilian enterprise. The former military airport has been converted to a low cost operation with Ryanair and Wizz expected to be the first operators. Located 35km north of the city centre it will have the benefit of a rail link, which the very modern main international airport, called Frederick Chopin (WAW), still awaits.

The airport has a single 2,500m long runway, easily able to accommodate the 737s and A320s that the two airlines will use. The big problem is whether it will be completed on time. Many of the major infrastructure projects due to be completed in time for the soccer tournament have fallen behind schedule although the new national stadium, on a prominent site besides the Vistula River, is very much complete. www.modlinairport.pl