18 JULY 2011
BTN DISTRIBUTION
BTN also goes out by email every Sunday night at midnight (UK time). To view this edition click here.
The Business Travel News
PO Box 758
Edgware HA8 4QF
United Kingdom
+44 (0)20 8952 8383
info@btnews.co.uk
© 2021 Business Travel News Ltd.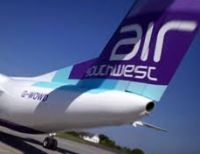 Plymouth-based Air Southwest is to cease flying by the end of September and with it air links to Plymouth, the largest city in Cornwall and Devon.
Plymouth Airport itself will close at the end of December, the property owned by Sutton Harbour Plc who also owned the airline until last year when the carrier became part of Eastern Airways. Known locally as Roborough, the airport was opened by the then Prince of Wales in 1931. In its heyday in the 1980s, under Brymon Airways, the airport boomed with four flights a day to Heathrow, the same to Gatwick, and also routes to the Channel Islands, France, the north of England and Scotland. The city of Plymouth also gained dramatically.
When British Airways took over Brymon in 1994 it also acquired its valuable Heathrow slots and set the airline on the route to oblivion. The final nail in the coffin was the airline/airport's sale to Sutton Harbour, an ambitious and aggressive local property company whose sights were clearly set on housing development within the site. Lip service was paid to the airline and the secondary runway was closed.
The BAe 146s of the Royal Squadron, and the Royal Navy, have been regular users of the aerodrome. www.airsouthwest.com
Lufthansa has become the first airline worldwide to use biosynthetic kerosene in scheduled flight operations. It has launched a six-month trail on the Hamburg – Frankfurt route with an Airbus A321 registered D-AIDG. With a one-hour flight time and 35mins minimum turnaround the aircraft could make up to four return trips a day. Lufthansa says that during the test run period, the use of biofuel will reduce CO2 emissions by up to 1,500 tonnes.
The biosynthetic kerosene used by Lufthansa is derived from pure biomass (biomass to liquids – BtL) and consists of jatropha, camelina and animal fats.
Suppliers must provide proof of the sustainability of their processes and meet the criteria stipulated by the European Parliament and the Council in the Renewable Energy Directive. The airline guarantees that the production of its biofuel is not in direct competition with food production and that no rainforests are destroyed.
The fuel used by Lufthansa is produced by Neste Oil, a Finnish oil company. Neste has extensive experience in the production of biofuels and has been a successful partner of Lufthansa for many years. www.lufthansa.com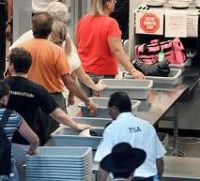 The Government's South East Airports Taskforce published its final report last week, proposing that when Heathrow has problems both runways should be used to try and reduce delays. In other words take-offs (and landings) could be accommodated simultaneously.
Trials of the new measures will be run over the autumn and next summer.
Plans were also announced for consultation with a view to switching to smarter, more effective and passenger-friendly airport security regimes for all UK airports.
This involves not only on how each individual airport deals with its passengers in respect of the physical side of the security system, for instance whether belts and shoes need be removed, but also the technical/equipment aspect. Does a relatively low volume operation such as Liverpool need to invest in the same very expensive security equipment as used at Heathrow with its far higher throughput?
The consultation is due to close on 7 November 2011.
www.dft.gov.uk/consultations/dft-2011-21
www.dft.gov.uk/publications/south-east-airports-taskforce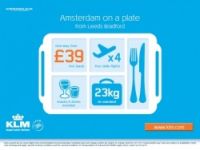 With a campaign reminiscent of the "London's Fourth Airport" promotion more than two decades back, KLM Royal Dutch Airlines has unveiled a new above-the-line creativity to support a series of one-way fare advertisements. The concept is a UK territory initiative which will be trialled throughout the Leeds Bradford International Airport catchment area before being rolled out nationally across KLM's 15 British departure points. It all started last week.
A senior member of the UK airline industry has pointed out that the enterprise could be construed as another way by a continental airline in benefiting from what was described as the British Government dithering in respect of Heathrow (LHR) capacity and the growing number of flights from Amsterdam (AMS) to China. AMS now serves six Chinese cities as against LHR with just two.
The simple visual is designed to reflect the simple one-way all-inclusive fare offer including snacks and drinks, hold baggage and a high frequency schedule. www.klm.com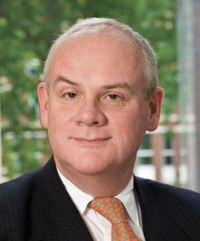 Last week the top floor of City Hall was the setting for an air transport briefing sponsored by the Mayor and hosted by the Deputy Chairman of Transport for London, Daniel Moylan. A distinguished panel also included Richard Hadfield, Director General – International Networks and Environment DfT and Dr Michele Dix, an expert in urban planning representing the Greater London Authority.
Mr Hadfield encouraged all attendees to make sure that their voice was heard in response to the Government's scoping document with a September deadline. The consultation results are made public next March.
Michele Dix gave a fascinating review emphasising that four out of every five trips to and from the UK are made by air, showed how London was losing out to Continental gateways in terms of air routes and that "A New Airport for London Part 2" would be published in the autumn.
Tim Clark, President Emirates Airline, attended and spoke in a positive manner regarding London's future on the international aviation map regardless of what happens. He promoted his Heathrow services and those at Gatwick, Birmingham, Manchester, Newcastle and Glasgow. Mike Carrivick, Chief Executive, BAR-UK (Board of Airline Representatives in the UK) representing the airlines is against the Thames Estuary project. www.tfl.gov.uk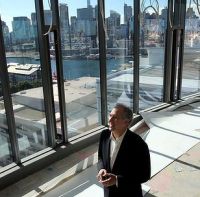 The Darling, Sydney's newest hotel, will open in October 2011. The boutique accommodation will boast panoramic views of the city skyline, Harbour Bridge and out to the Blue Mountains.
The 12-storey new property offers 171 rooms and suites, with the top floors dedicated to the ultimate in luxury, featuring two-bedroom penthouse suites. The suites, uniquely designed by renowned LA designer, Lawrence Lee, feature floor-to-ceiling Sydney harbour views, bespoke furniture, fireplaces, media rooms, butler service and a private VIP arrival.
The Darling has been designed as a stand-alone hotel, with its own arrival experience, amenities and alluring personality. It is the first 5-star new build hotel in Sydney since the 2000 Olympic Games and is the key feature in the £500m refurbishment and extension of The Star, Pycroft and Darling Harbour, transforming it into a one-of-a-kind entertainment destination and a strong addition to Sydney's overall leisure landscape. www.thedarling.com.au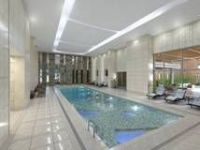 It started life 84 years ago and has enjoyed a vibrant past with guests including glamorous Hollywood stars, music legends and British Royalty. Last week Vancouver's Rosewood Hotel Georgia re-opened its doors to welcome the first guests since a dramatic restoration, returning this historic hotel to its position as the social, business and cultural hub of the city.
The hotel has been lovingly restored and counts one of the country's largest private collections of Canadian art among its unique draws. The re-born property features 155 rooms including two exceptional penthouse suites; the Lord Stanley Suite and the hotel's signature Rosewood Suite both feature a private rooftop terrace complete with stunning city skyline views, outdoor bath and fireplace. Whether clients decide to use the facility during the Canadian winter the hotel has yet to find out. www.rosewoodhotelgeorgia.com