12 MARCH 2012
BTN DISTRIBUTION
BTN also goes out by email every Sunday night at midnight (UK time). To view this edition click here.
The Business Travel News
PO Box 758
Edgware HA8 4QF
United Kingdom
+44 (0)20 8952 8383
info@btnews.co.uk
© 2021 Business Travel News Ltd.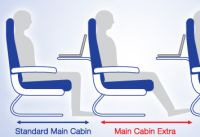 It may be trading in Chapter 11, and is by far not the last US airline to do so, but American Airlines is pushing ahead with a major upgrade of its passenger services.
Last week the Dallas Fort Worth-based airline, a member of oneworld and partner to British Airways across the North Atlantic, announced plans to outfit its entire mainline fleet with what it calls 'Main Cabin Extra'. Essentially what is on offer is more legroom and priority boarding, recognised by business travellers as their main concern with flying.
American plans to begin installations this year, and over time will update all of its existing aircraft. New Boeing 737-800 aircraft being delivered will come equipped with Main Cabin Extra seating beginning this fall. Anticipated future aircraft, including Airbus A321s, A319s, Boeing 777-300ERs and 787s, will also offer Main Cabin Extra.
Members of the airline's elite schemes who purchase a full-fare Economy Class ticket will receive complimentary access to Main Cabin Extra, subject to availability. For other customers who wish to purchase Main Cabin Extra, prices will range between US$8 and US$108 per segment, depending on the length of the flight. www.aa.com/maincabinextra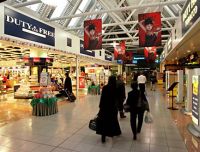 UK airports handled 219m passengers during 2011 according to figures published by the Civil Aviation Authority (CAA), an increase of 4.1% (8.6m) on 2010.
The recovery comes on the back of three consecutive years of falling passenger numbers, and left 2011 at the same level as 2004. During months where 2010 was unaffected by disruptive events, 2011 saw passenger numbers increase by 0.6% compared to those carried during 2010, suggesting that underlying growth was still relatively weak.
AERBT brings you the individual airport without any real comment except to say that for 2012 Southend, which moved 42,439 passengers last year, a big rise from 3,583 the previous 12 months, will be into six figures. With easyJet as a tenant it should in 2103 make the one million plus cut off point. www.caa.co.uk/airportstatistics
| | | |
| --- | --- | --- |
| Airport | Passengers (000s) | % increase |
| Heathrow | 69,433,230 | 5 |
| Gatwick | 33,674,264 | 7 |
| Manchester | 18,892,756 | 6 |
| Stansted | 18,052,843 | -2.8 |
| Luton | 9,513,704 | 9 |
| Edinburgh | 9,385,245 | 9 |
| Birmingham | 8,616,296 | 1 |
| Glasgow | 6,880,217 | 5 |
| Bristol | 5,780,746 | 1 |
| Liverpool | 5,251,161 | 5 |
| Newcastle | 4,356,130 | 0 |
| East Midlands | 4,215,192 | 2 |
| Belfast Int | 4,103,620 | 2 |
| Aberdeen | 3,082,816 | 12 |
| London City | 2,992,848 | 8 |
| Leeds Bradford | 2,976,881 | 8 |
| Belfast City | 2,397,312 | 13 |
| Southampton | 1,762,500 | 1.6 |
| Cardiff | 1,222,715 | -1 |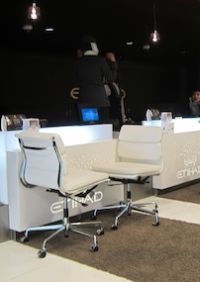 Premium class passengers on Etihad Airways are to benefit from an additional 10kg baggage allowance, meaning Business Class clients can now travel with up to 40kg of luggage, before incurring an overweight charge.
The airline points out that this is 8kg more than the equivalent services offered by both British Airways and Virgin Atlantic at 32kg per person. Etihad Guest Gold Members will be offered up to 65kgs. Economy Class remains the same at 20kgs per customer, 3kg less than the other two carriers.
Etihad Airways Chief Commercial Officer, Peter Baumgartner. said: "We are delighted to be able to reward our premium guests and loyalty programme members with an additional luggage allowance. At Etihad Airways, we are always looking to make the experience of flying as simple, convenient and rewarding as possible. We believe this increased allowance will prove very popular with our guests." www.etihad.com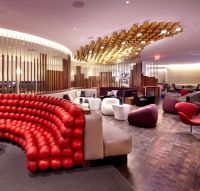 Virgin Atlantic has unveiled a brand new US$7m Clubhouse at New York JFK International Airport. At 10,000sq ft the new facility is more than double the space of the existing Clubhouse. There are wide windows on both sides enabling Upper Class travellers to see a landmark of an earlier era, the former TWA Flight Centre, one of the world's greatest examples of airport architecture.
Highlight of the new Clubhouse is the Central Park Lounge with, at its heart, a chic cocktail bar where, according to Virgin, passionate resident mixologists will tempt passengers to try the delicious selection of well-constructed signature cocktails. They are also experts at mixing the classics. Also available is the Entertainment Zone, The Den and JFK boasts the first Clubhouse Spa outside of London.
Take a right at the entrance of the Clubhouse and enter the Talking Lounge which boasts a VIP area. With its large windows offering glimpses of the Saarinen terminal, the Talking Lounge is really a place to kick back and relax after a hard day's work. Finally there is the Brassiere. Food can be ordered from anywhere in the Clubhouse, but for passengers preferring a slightly more formal dining experience this restaurant area is provided. www.virginatlantic.com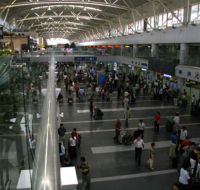 Beijing will begin construction this year of an airport that is likely to replace Atlanta Airport in the United States as the world's busiest, local media has said. The existing Beijing Capital International Airport (PEK) dates from 1958 although it was extensively re-built for the 2008 Olympics to a design by Norman Foster and Partners.
China Radio International said that the new airport, with nine runways, will handle more than 130m passengers and 5.5m tonnes of cargo annually.
The airport, yet to be named, will cover an area of 2,680 hectares (6,620 acres), the online edition of Beijing Youth Daily said, quoting an unidentified airline executive.
Located in Daxing, 46 km (28 miles) south of Tiananmen Square, Beijing's political centre, construction is due to be completed in October 2017. What is very clear is that with astonishing growth rates Beijing's two existing airports have reached their maximum handling capacities. Last year PEK became the world's number two with a 75m throughput. It is about 20 miles to the northeast of the city centre. Beijing Nanyuan Airport, the even older small domestic airport 10 miles south of the city, is expected to close when the new operation is up and running. http://en.bcia.com.cn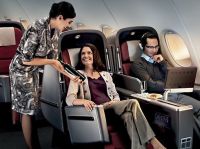 Trans-Pacific routes have been chosen by Qantas for in-flight connectivity trials offering passengers access to the internet and emails throughout the flight.
The assessment has commenced aboard six Qantas A380s, equipped with internet technology, for flights between Sydney and Los Angeles and Melbourne and Los Angeles and will last for eight weeks. Customers will be able to access the internet via their wi-fi enabled laptops and personal electronic devices, such as iPhones, iPads and BlackBerrys.
The connectivity service, provided by OnAir, uses Inmarsat's SwiftBroadband and global satellite based connections to transfer data between the passengers in the aircraft to the ground.
The trial will initially be available to customers travelling in the First and Business cabins and will form part of Qantas ongoing strategic evaluation of connectivity options, including the review of next generation technology platforms. www.qantas.com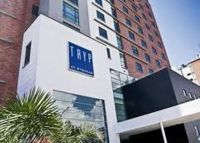 Marking a key milestone in its plans to introduce the TRYP by Wyndham brand in major cities throughout the Americas, Wyndham Hotel Group has confirmed the opening of the 173-room TRYP New York City Times Square South. It is the first TRYP by Wyndham hotel in the United States. It is located in the heart of Manhattan at 345 West 35th Street between Eighth and Ninth Avenues.
Distinguishing features and amenities include a spacious lobby called Plaza Central; on-site tapas-style dining at The Gastro Bar at 35th; the LobbyFriend, a temporary online social network; and signature Fitness, Family and what is termed "Samsung Experience" rooms.
TRYP by Wyndham represents over 90 hotels and over 13,000 rooms across Europe and the Americas. The mid-priced brand currently caters to business and leisure travellers in cosmopolitan cities including Barcelona, Berlin, Frankfurt, Lisbon, Madrid and Paris in Europe. In South America these are situated in Buenos Aires, Montevideo and Sao Paulo. TRYP recently added the 242-room TRYP Quebec Hotel PUR in Quebec City (Canada), and the 98-room TRYP San Jose Sabana in San Jose (Costa Rica). www.tryphotels.com
You've got to give UK Transport Minister Justine Greening her due. The lady really entered into the spirit of the evening. Guest of Honour at last week's AOA annual dinner she was aware that Southend Airport, or the Stobart Group if you like, has offered Ed Anderson, AOA Chairman, £200 each time the speaker mentioned the airport, the money going to the night's chosen charity, the Orbis flying eye hospital.
"Yes I was at Southend Airport this morning to open the new terminal," she said. "I took the train to Southend." She noted that Southend made her welcome, and that there was a new air route from Southend to Dublin. Ed thanked her for her support of Southend and she said that Southend was a fine airport. No mention of the pier.
The evening raised £12,234, including £2,200 from Southend Airport, towards the costing of fitting out the new Orbis DC10, which, it was pointed out, would not be based at Southend.