30 JANUARY 2012
BTN DISTRIBUTION
BTN also goes out by email every Sunday night at midnight (UK time). To view this edition click here.
The Business Travel News
PO Box 758
Edgware HA8 4QF
United Kingdom
+44 (0)20 8952 8383
info@btnews.co.uk
© 2022 Business Travel News Ltd.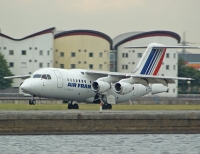 CityJet is to launch services to the port city of Brest in Brittany from the start of the summer season. The Dublin-based airline, part of the Air France KLM Group, will at that time serve eight destinations across France headed by Paris Orly, plus Avignon, Brive, Deauville, Nantes, Pau, Toulon and Toulouse.
Initially the flights will operate on a Friday and Sunday, flown by one of the airline's 14-strong fleet of Fokker F50s. The twice-weekly schedule is thought best for business people commuting to and from London, and for weekend holidaymakers.
In total CityJet will offer 18 destinations next summer from London City Airport, with Amsterdam the busiest route offering eight flights in each direction in direct competition with British Airways. The longer routes are all flown by Avro RJ85 aircraft of which the airline has 22. www.cityjet.com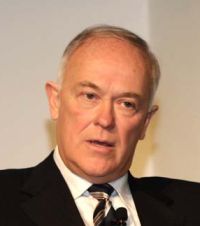 Barcelona is to become Emirates second passenger gateway into Spain from 3 July, after doubling frequencies to Madrid from the first of the month.
The 30th European destination for the airline will be served with a 360-seat Boeing 777-300ER, in a three-class arrangement. This includes eight First Class Private Suites and the award winning 'ice' entertainment system throughout all cabin classes.
Just two days before, on 1 July, in a further sign of commitment to Spain, Emirates will launch a second daily service to Madrid. This will also be operated with a three-class Boeing 777-300ER.
"Emirates is making a very significant investment in Spain. To announce a new destination and a doubling of services to an existing gateway at the same time demonstrates our belief in the market and our commitment to the country," said Tim Clark, President, Emirates Airline. "Madrid has been a strong performer and the demand is there for a second frequency, while we need a second point serving the dynamic Catalonia region."
Catalonia receives approximately 25% of annual foreign investment in Spain and more than half of the Japanese, French, German, American, Italian and Dutch companies in Spain are located in the region, according to Barcelona City Council. www.emirates.com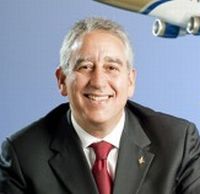 Bahrain's struggling national carrier Gulf Air, hit by falling passenger numbers as anti-government protests continue in the tiny island kingdom, will shrink operations and seek cash from government funds, its Chief Executive said last week.
The move is in contrast to Middle East competitors such as Etihad, Qatar Airways and Dubai-based Emirates which have been expanding their networks.
"The downsizing will affect the network and affect the fleet," CEO Samer Majali said. "Staff numbers would not be affected." The airline could tap Bahrain's sovereign wealth fund Mumtalakat, which has a stake in the carrier.
"This is currently being debated," Majali said when asked if the airline expects to get any assistance from the government or Mumtalakat.
Bahraini newspaper Gulf Daily News reported on Wednesday that the government is considering options including dissolving or shrinking the airline, or selling it and creating a new carrier at a cost of 460 million dinars (US$1.22bn).
Majali said the sale of the carrier or its dissolution was unlikely. "The country needs an airline... they will retain the airline but at an affordable level," he said. www.gulfair.com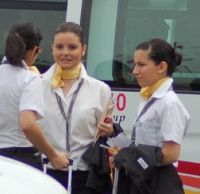 IAG member airline Iberia has sorted out its problems with its flight attendants union, severely disrupting flights. It has reached an agreement on a two-year extension of employment guarantees and the transformation of some temporary hires into permanent ones, allaying employees' concerns over the impact on their jobs of the new Iberia Express airline unit.
Union representatives praised the accord, which must be submitted to workers' assemblies for ratification this week.
Under the arrangement Iberia will extend its employment guarantees until 31 December 2014, and pledges to extend them for an additional year on condition that a new collective bargaining agreement is signed before the end of 2014. The employment guarantees apply to permanent cabin staff and to 108 temporary staff who are to be made permanent in 2012. Previously the airline had announced that Iberia Express would begin operations at the start of the summer season 2012 using four Airbus A320s, with a two-class Business and Economy configuration. The number of aircraft is due to rise to 13 by the end of 2012. www.iberia.com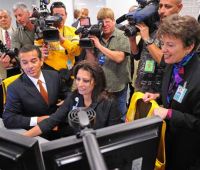 Last week, media were invited for a behind-the-scenes tour of the New Tom Bradley International Terminal at Los Angeles (LAX). As construction approaches the halfway mark, the press were invited to join Los Angeles Mayor Antonio R. Villaraigosa and Los Angeles World Airports (LAWA) officials LAWA Executive Director Gina Marie Lindsey and LAWA Deputy Executive Director for Airports Development Roger Johnson on a "hard-hat tour" of the US$1.45bn construction site including the north concourse and the massive core area where the terminal's Great Hall will be located.
Presently 34 airlines, including British Airways and the oneworld group, serve the Tom Bradley International Terminal and it handles 10m passengers per year. All three major alliances offer a lounge. www.lawa.org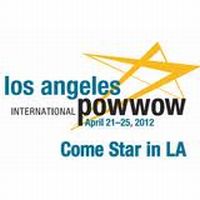 International Pow Wow 2012 takes place in Los Angeles from 21-25 April. This will be the US Travel Association's 44th International Pow Wow, the premier USA Travel Marketplace. In many ways it is the equivalent of ITB in Berlin, and WTM in London, but a little smaller. What it might lack in size it makes up by razzmatazz, in typical American fashion.
Over 5,000 travel industry professionals are expected to attend, representing international leisure and meetings/incentive buyers, domestic buyers, press and US travel suppliers who will be networking, negotiating and conducting business. It is anticipated that this will generate more than US$3.5bn in future travel to the US.
The event offers five days of intensive business appointments, specialised sightseeing tours and three exciting evening events. Over 1,000 US companies will be exhibiting. Every state, major city, destination, hotel chain and CVB will be expected to participate. Highlights will be the all-new Transformers attraction at Universal Studios Hollywood and IRIS from Cirque du Soleil at the Kodak Theatre at Hollywood and Highland Centre. Registration closes 26 March. www.powwowonline.com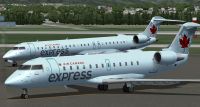 Air Canada is to launch triple-daily, non-stop flights between Toronto Pearson and New York JFK beginning 3 May 2012 and increase to hourly its flights to LaGuardia Airport. It will be the only carrier that operates to all three major New York City area airports: John F. Kennedy International Airport, LaGuardia Airport and Newark Liberty International Airport. Air Canada has been flying between the two cities for 71 years.
In a dig at Porter Airlines, who operate from Toronto City Airport to Newark, Air Canada points out it is the only Canadian airline offering Business Class service between the two cities.
Beginning 1 May Air Canada will add an additional daily return flight between Toronto and LaGuardia, providing an hourly service each business day.
The new Toronto – JFK flights will be operated by Air Canada Express using a 50-seat CRJ regional jet. The JFK service will have early morning, afternoon and evening arrivals and departures. With the new schedule Air Canada will operate a total of up to 38 return flights a day this summer to the New York metropolitan area from Calgary, Montreal, Ottawa, Toronto and Vancouver. www.aircanada.ca
Radio controlled camels
If you live in the wider world you may have missed it, but in Qatar the local 'health and safety' brigade have made camel jockeys redundant. It seems the little fellows kept falling off.
The racetrack animals are now remotely controlled from their trainers' cars. Little whips are mounted on the camels to act as jockeys, the experts travelling by car on a road that follows the 8km course. It gets quite exciting. And dangerous too. With 20 racers you have 20 cars/trainers. They tend to crash into each other.
Will it catch on at Ascot? Hardly likely. Ruby Walsh don't get worried.