Jane Stanbury has been on her travels again, flying down from Heathrow to Bilbao, and thence by road to San Sebastian.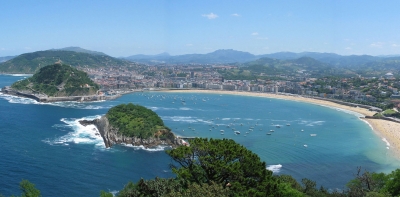 It is said there are more Michelin stars per capita in the Basque seaside town of San Sebastian than anywhere else in the world. The city boasts three 3-star establishments complemented by a host of other fabulous 2- and 1-stars. Not bad for a place supporting just 183,000 people.
According to Juan Mari Arzak the fourth generation owner of Arzak, 3-starred since 1989, "the source of great Basque cuisine is in the DNA of those from the region." Yet in reality Arzak is scientific in its approach to menu creation. A spice room containing over 1,600 flavours from around the globe demonstrates the dedication to flavours, taste and texture. Unimaginable dusts and grains such as Yucca powder, Hawaiian Sunset, Yoghurt dust and the inconceivable Werther's Originals line the shelves and are intriguingly blended to create a unique dining experience. Each container is carefully labelled and the fascinating space feels more like an experimental laboratory than the source of sublime dishes rooted in Basque flavours.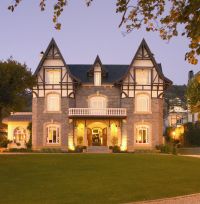 The sTcientific approach to food is not limited to Arzak. Perched dramatically above the torrid Bay of Biscay 3-star Akelarre's chefs demonstrate their uncompromisingly scientific approach to food. The workshop is a playroom for Borga and Enrique, head chef's Pedro Subijana's developmental team. Subijana, along with Arzak and others were responsible for developing the "Nuevo cocina vasca", the influential new Basque cookery style in the 1970s. Akelarre means witchcraft and there is much trickery in the food. A selection of hotel amenities on a plate was welcomed with mild bemusement until it became apparent the hand soap was in fact basil and tomato gel which was to be eaten with the onion "sponge". The moisturiser was in fact Zabal, a smooth but sharp tasting local cheese made from ewe's milk, and the mouthwash was champagne with pomegranate. This fun approach to haute cuisine informed the meal with unexpected combinations such as prawns cooked in flaming firewater "Orujo" on volcanic stones, lamb served on wine lees, and a personal favourite the beef dressed in copper which was carefully crafted potato.
Akelarre's relaxed but serious approach mirrors the Basque approach to gastronomy and underpins much of the local culture.
It has even been suggested that anthropologists should study the unique nature of Basque socialising.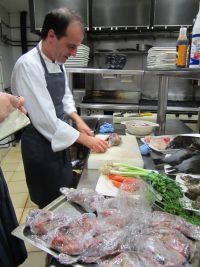 The Txikiteo (chi-qui-teo) exemplifies perfectly the sociable nature of the Basques. Groups of friends gather before dinner to enjoy a tour of the old quarter's cobbled streets to sample an eclectic mix of pintxos (pin-chos). Bars dedicated to serving these local delights display counters strewn with brightly coloured plates offering an infinite variety of the San Sebasitan version of a tapa. In support of this style of eating Juan Marti Arzak says that the pintxo is "high cuisine in miniature form." Clients point to their preferred options which may include grilled prawns, king and spider crab beignets, stuffed mussels, sweet piquillo peppers stuffed with cod; or shout above the din for freshly braised veal cheeks, pigs ears and trotters, or succulent cubes of aged beef. Plates are accompanied by Txakoli (cha-ko-li), a local slightly effervescent wine or local sidra a light cider. Both are served, in modest amount, s in straight-sided pint glasses, and poured from a great height. Friends spend no longer than 10 to 15 minutes in each venue and as time passes the voices get louder and the drinking gets quicker. Bars range in style from the basic such as La Mejillonera which serves mussel based dishes and where you liberatingly throw your rubbish on the floor, to Cuchero de San Telmo which puts a modern spin on traditional dishes and provides forks to eat with, to contemporary Zeruko Bar, where the counter conjures memories of Willy Wonka's factory as the ultimate in designer pintxos are displayed.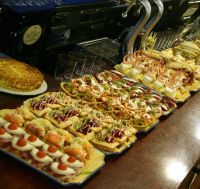 San Sebastian is a foodie delight and there is no better way to discover all its joys than with San Sebastian Food run by Brit Jon Warren. He was so charmed by the city he has developed a business tailoring gourmet breaks to enable clients to discover the edible delights on offer. Many pintxos, sidras and txakolis later he has forged strong relationships with local culinary experts. Warren and his team will get you through doors otherwise closed. A fine example of this was his introduction to Alex Barcinella, a chef with fine gastronomic pedigree, who runs Ziaboga situated at the water's edge of the Bahía de Pasajes. Alex led me through La Breitxa market, explaining the myriad of fish, meats and cheeses before leading the way up a narrow staircase. A locked, slightly ramshackle door revealed the hallowed venue of a txoko (cho-ko). Originating out of sports or hunting clubs, this phenomenon sees groups of male friends renting a designated kitchen and dining space to create private banquets.
The rules at these closed dining clubs are simple, no women allowed (although there are a few forward thinking groups that now allow women to lunch), no political or religious discussions, but most importantly create great food. Male camaraderie is paramount as the men debate, discuss and elaborate the next lengthy menu. This is way more than a drinking club, the food is central to the txoko experience.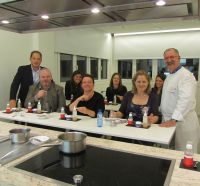 Warren can also arrange for budding chefs to spend time with Alex in his restaurant kitchen to discover more about the Basque cooking philosophy. Song thrushes are laboriously plucked, enormous hake are de-scaled, pigeons are dressed, and squid are prepared by a small inquisitive group soaking up the techniques to create perfect Basque dishes. Simplicity, focus and fresh ingredients are the base for most recipes. A morning's preparation is rewarded with a seven-course meal that leaves clients more than satisfied and slightly smug knowing the secrets behind the fabulous flavours.
A hotel that provides an oasis of calm after a hard days eating is essential for any visitor and Villa Soro offers just this. Not only does it offer a restored 19th century mansion providing commodious rooms, impeccable styling and individually designed room, delightful General Manager Jaione Gastañares is well connected, and can arrange tables at even the busiest restaurants.
Bilbao is the closest airport with Vueling a key airline. To serve the growing demand for the city and its environs the airline is now twice daily to Heathrow.
www.sansebastianfood.com
OUR READERS' FINEST WORDS (All times and dates are GMT)
All comments are filtered to exclude any excesses but the Editor does not have to agree with what is being said. 100 words maximum
---
No one has commented yet, why don't you start the ball rolling?
---