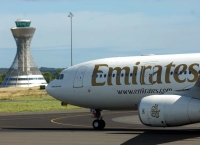 With the announcement of a second Glasgow service to Dubai from June onwards Emirates Airlines will by mid-summer be offering just over 6,500 seats daily from the United Kingdom to its hub. Add the new Dublin service and the figures are really impressive.
By early July the airline will have eight London departures daily (five from Heathrow, all Airbus A380s bar one), and three Boeing 777s from Gatwick); Birmingham will be two Boeing flights, whilst Manchester has a single A380 and two 777s. There is a single Newcastle non-stop Newcastle flight, serviced with an Airbus A330. Glasgow will be flown by a fuel frugal Boeing 777-300ER, the airline now operating an astonishing 64 in total, and a A340-300.
In the last financial year (until March) Emirates carried 31.4m passengers, making it the world's seventh largest airline. It currently operates 20 A380s on flights from Dubai (in order of launch date) to Heathrow, Sydney, Auckland (via Sydney) Bangkok, Toronto, Paris, Seoul, Jeddah, Beijing, Manchester, Hong Kong, New York, Shanghai, Johannesburg, Munich, Rome and Kuala Lumpur. The Dubai to Jeddah route currently is the shortest route flown by the Airbus A380, taking approximately three hours. Melbourne, Moscow and Tokyo are expected to come on later this year. www.emirates.com
This is the third in our series REFLECTIONS FROM YOUR AVIATION LAWYER sponsored by London headquartered practitioners Gates & Partners. Jeremy Robinson discusses, as he puts it "Between rhetoric and regulation". The timing could not be better with the Government announcing plans for consultation on a new airport for London. His discourse is fascinating and demonstrates that Government is for the most part political and in no way commercial.
The main opponents of air transport are easy to spot because they say what they think: they espouse "fair" taxation (i.e. more taxes); less airport expansion; inclusion in the EU Emissions Trading Scheme, and more. Covert opponents tend to prevaricate, and use the twin weapons of double-speak and platitude. Amongst covert opponents of aviation we may count Government (in the UK, and in the EU). The problem with covert opposition is that it leads to bad regulation, either too extensive (in most cases), or too weak (in others).
Some legislation was introduced to serve one purpose (apparently) but has been converted into something very different, for example, APD (Air Passenger Duty), ETS (Emission trading scheme) and EU 261 (see below). Regulation frequently occupies more than its allotted territory, creating obligations and costs where none were thought to exist before. The clearest example has been how the European Commission and Court of Justice have interpreted and widened the scope of EU 261.
By contrast, the much-needed creation of a Europe-wide accident investigation system is still awaited. Equally, regulation operates stealthily, law by law, without considering how rules in one area create regulatory barriers to entry elsewhere, damaging the competitiveness of industry and consumer welfare.
This article focuses on the use and abuse of language: George Orwell argued that the English language was becoming "ugly and inaccurate because our thoughts are foolish, but the slovenliness of our language makes it easier for us to have foolish thoughts." How true is that of aviation policy?
Championing consumer rights
EU 261 was introduced primarily to deal with overbooking practices by airlines. It has been transformed through legal interpretation into a general exercise in extending consumers' rights in air transport. Other industries are not burdened in like degree. This broad regulation has created a false opposition between airlines' and consumers' interests, when in fact their interests are more often aligned: the extra cost of unintended (or at least, not openly intended) regulation is found in the higher cost of air transport, to the disadvantage of both consumers and airlines. Fares rise: those consumers who still fly must pay higher prices in return for their extra consumer rights (so there is a loss of consumer welfare, scarcely balanced by their extra rights); airlines face falling demand and run fewer services (so there is a loss of producer welfare). The only winners are those who oppose mass air transport.
When the EU 261 review began, the Commission warned industry that consumer rights, once granted, could not lightly be removed. Consider the language used by British politicians to describe consumers: they are "hard-working families" (a variation is the "hard-pressed" family: presumably they are related); the consumer must be "put first" in the regulatory hierarchy of values. But how do we reconcile the "right" of the "hard-pressed family" to their summer holiday with the fact that aviation regulation and taxes make them yet more hard-pressed to take those holidays? How can politicians then say that the aviation industry holds the "keys to economic growth"? Surely, in large measure, industry and the consumer will stand and fall together?
"I'm not anti-aviation. Far from it"
Overcrowding at airports (particularly in the South East of England) can be managed through reducing the demand for air travel, through efficient use of capacity, or through building more runways.
Opponents of air transport are clear that demand for air travel must be "managed" (i.e. reduced) and therefore, new runway or airport development should be stopped. Demand management tools (i.e. mechanisms to increase air fares for consumers) include taxation and, although not admitted to, increasing the regulatory costs for airlines. Opponents rely in part on concerns that mass aviation may harm our environment. The UK Government asserts that aviation growth and environmental protection can be reconciled, but do not say how.
Former Secretary of State Phillip Hammond said in June 2011:
"We…must work together to define a growth strategy for aviation that will support UK economic growth, but which will also support the delivery of our decarbonisation commitments."
And:
"Ensuring we can lead the global debate and shape a low-emission aviation sector of the future, without disadvantaging UK airlines or UK airports."
He then argues that, in promoting economic growth, whilst protecting the environment, it is necessary to ensure that other countries do not take advantage:
"We will continue to work with ICAO and the UN Framework Convention on Climate Change to push for international agreement on aviation emissions, ensuring that the playing field is level as quickly as possible."
And:
"Our policy framework must support economic growth and protect Heathrow's status as a global hub. But it must also address aviation's effects on climate change and its impact on local communities. A tall order you might think."
So, just in case we missed it last time:
"We will ensure the outcome is a positive and enduring policy framework that will deliver the benefits of a flourishing air transport sector, while also meeting our environmental goals."
Mr Hammond acknowledged that the scrapping of the third runway was perceived by many as "loaded with hostile symbolism" but he assured us that "It was not" and that:
"I made clear at the earliest opportunity – and I want to do so again today – that this Government is not and at least, so long as I am Transport Secretary, will not be, 'anti-aviation'. Far from it."
His successor, Justine Greening, said on 19 October 2011:
"Willie [Walsh] and I have been on different sides of the aviation fence on this one, we both inhabit the same world of political reality.
And the political reality is that the runway decision has been made, it's done. But let me also say this. The decision we took on the third runway does not make this Government anti-aviation.
And it certainly doesn't make me anti-aviation. Far from it."
And:
"I am certain we can improve and reform airport regulation and we can develop a new Aviation Strategy for the long term – one that supports economic growth while addressing the environmental impacts of airports and flying."
"Because, when you have an economic engine as powerful as London's then, for the sake of the entire national economy, you need to make sure it can fire on all cylinders. And that's exactly what our policies are doing."
On 31 October, Ms Greening noted that:
"The decision we took does not mean we are anti-aviation. This Transport Secretary and this Government are anything but."
Finally, Ms Greening invites us to join together to devise:
"A better way to do strategy. One that empowers us to develop real world solutions to the real world challenges facing aviation."
Is it possible to reconcile aviation and the environment? Ms Greening admits that this is:
"Incredibly hard."
But:
"It's possible…I believe it can be done."
The UK Government pretends that this is a question of balance, but it is not. If mass air transport emits a high volume of polluting gases, then "balancing" aviation and the environment means that aviation and the environment are not in balance now, because environmental concerns are inadequately addressed. To be clear, the environmental objection to aviation is not merely that pollution will increase if the industry grows; it is that pollution still exists while the industry exists.
If one accepts this premise, then it is easier to justify existing taxes such as APD, devised originally (so we are told) as an "environmental" tax, as well as including aviation in the EU ETS. These must reduce the demand for air travel (not merely incentivise the operation of cleaner aircraft) if they are to be effective. So to reconcile aviation and the environment means (at a given level of technology) to reduce the amount of flying we do.
"Does that make me anti-aviation? Far from it" is at best wishful thinking; at worst, disingenuous.
The real obstacles
Proper regulation must address problems proportionately and adequately. If the EU's approach to consumer rights is disproportionate, its approach to accident investigation is inadequate. Regulation 996/2010 concerns the investigation and prevention of accidents in civil aviation: plainly nothing is more important in civil aviation. The initial proposal was to create a European Civil Aviation Safety Authority. This was dropped in the final version.
Instead, Member States will continue to operate distinct systems, loosely woven together in a "Network" of Civil Aviation Safety Investigation Authorities.
This obscures the very different levels of sophistication, maturity and level of skill of the national Accident Investigation Boards. The Network itself has a role in "promoting the sharing of information useful for the improvement of aviation safety and actively promoting structured cooperation" between the various authorities. They must also promote best safety investigation practices "with a view to" developing a common Union safety investigation methodology and drawing up an inventory of such practices.
The phrase "with a view to" means that much remains to be done. It is true that the Regulation imposes onerous obligations on operators: for example, to assist victims of air accidents and their relatives; to have appropriate plans in place to include the psychological support of victims and their relatives; and to provide a validated passenger list within two hours of an incident. This is still not enough.
There is no standardisation of qualifications for accident investigators internationally nor adequate means to ensure proper continuing competence.
It is unclear whether the provisions of Regulation 996/2010 are adequately enforceable. In this area at least, further harmonisation, carefully prepared, and this time following full consultation with the industry, is urgently required.
Conclusion
Low-cost travel, affordable holidays to far-off destinations, intense competition between carriers: the consumer in Europe has benefitted enormously from liberalisation in the last 20 years.
This is all at risk.
The aviation sector has always operated on the margins of profitability, and this problem is exacerbated by the increasing regulatory burden. To begin to solve the problem, we need three things: a clear and objective basis for comparing the environmental merits of different forms of transport, to inform a balanced environmental policy. We need regulation that takes the industry as a whole, not in parts. Above all, we need honesty and clarity from governments about their aviation policies.
Jeremy Robinson
www.gatesandpartners.com