18 MAY 2009
BTN DISTRIBUTION
BTN also goes out by email every Sunday night at midnight (UK time). To view this edition click here.
The Business Travel News
PO Box 758
Edgware HA8 4QF
United Kingdom
+44 (0)20 8952 8383
info@btnews.co.uk
© 2021 Business Travel News Ltd.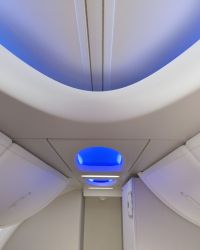 BOEING has unveiled a whole series of performance and comfort changes to the Next-Generation 737. Due to be introduced on aircraft delivered from towards the end of next year, and using lessons learnt with the 787 Dreamliner, passengers will quickly notice what the airline calls "the Boeing Sky Interior". Amongst many small detail improvements Boeing has redesigned reading-light switches so passengers can find them more easily and avoid accidentally pressing the flight-attendant call button. A new design offers larger, pivoting overhead stowage bins that add to the openness of the cabin. The bins give more passengers room to store a carry-on item near their own seat, adding both extra convenience and legroom. Various technical improvements will add 2% to fuel economy. www.boeing.com/commercial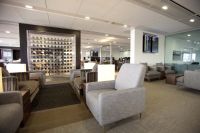 BRITISH AIRWAYS has opened a luxurious new lounge for premium passengers and top tier oneworld members at Heathrow T3. The 300-seat Galleries Club Lounge is for eligible customers travelling to Barcelona, Helsinki, Lisbon, Madrid, Malaga and Vienna. I can also be used for passengers with the appropiate clearance and flying with fellow oneword members Finnair, Iberia and Qantas. Work and entertainment zones are available with free wi-fi. There is also a dedicated 'Kidzone' room for younger passengers with interactive furnishings, a magnetic wall and toys. A second dedicated 250-seat lounge for customers travelling in First will open later in the year when, at the same time, long haul flights to Bangkok, Singapore and Sydney transfer from Terminal 4. All flights to and from China, including Hong Kong, are in T5. www.britishairways.com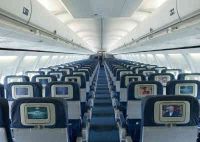 DELTA AIR LINES says that it has installed wi-fi on nearly half of its domestic aircraft. All the carrier's MD-88s have been completed and the MD-90s should be finished by the end of May with the balance of domestic fleet scheduled for completion by September. In addition to the McDonnell Douglas aircraft wi-fi is available on some Boeing 757-200s. The service is offered in both First and Economy classes on a pay-per-flight basis and ranges from USD7.95 to USD12.95 depending on the length of the flight. On the ground, Delta has expanded free wi-fi access to include all visitors to Delta Sky Club lounges within the United States. Delta prices are the same as American Airlines. (see AERBT 4 May 2009) www.delta.com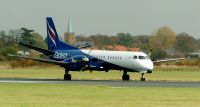 EASTERN AIRWAYS, the UK's largest domestic air carrier in terms of routes, is to introduce two new Liverpool services on Monday 6 July with three flights every weekday to both Aberdeen and Southampton. Depending on the time of day the sectors will be flown by either Saab 2000 or BAe J41. All passengers can use the 'Fast Track' services at the airports and Eastern offers complimentary drinks and snacks. The flights are timed to allow business people a same day return service. At the same time the airline will be increasing the number of flights from Aberdeen to Southampton from two to five each way week daily. www.easternairways.com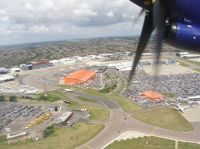 LUTON AIRPORT seems to have backed down on its threat to charge 'drop off' passengers (see AERBT 22 April 2009). The official line is that a previous announcement has not been implemented, a clear response to media outrage regarding not only this issue but also the hidden charges being employed by many airlines and airports. On a more positive front El Al has now arrived at the airport with daily flights (except Saturday) to Tel Aviv, the first national carrier to offer long haul services from Luton. Over the next few weeks easyJet is to introduce flights to Mahon (6 July – Mondau, Wednesday, Friday), Milan Malpensa (also 6 July – every day except Saturday) and Montpellier (7 July – Tuesday, Thursday, Saturday). www.london-luton.co.uk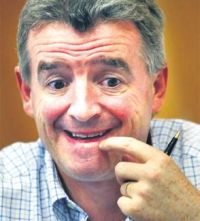 RYANAIR, which is possibly the world's most socially unaware airline, is to charge all new bookings a UKP10 return journey per person on-line check-in fee (other than promotional fares such as "Free", "E1" and "E5"). This has been suggested as rather like getting on a bus and being told you pay to board, and on top of that there is the fare. The airline plans to phase out check-in desks and will also impose a UKP40 per person boarding card re-issue fee if for some reason you arrive at the airport without paperwork. This could work out very expensive for a family of four, UKP360 for the return journey. The carrier will no longer accept bookings for unaccompanied minors. This is a major gamble for the airline that carried 58m passengers last year. Ryanair charges UKP10 for the first item of hold baggage under 15kl (an average case weighs 5kl), UKP20 for babies in arms, and a UKP1 wheelchair fee regardless of any disability. The airline has never paid investors a dividend. www.ryanair.com
TEL AVIV seems to be the flavour of the month with bmi upping services and Jet2 introducing Manchester. Now comes the re-launch of Munich, Lufthansa saying there was ample demand despite the slowing economy. It will operate the flights four times a week with Airbus A340-300 'planes, adding to the two services a day it already offers between Tel Aviv and Frankfurt. Partner SWISS flies twice daily from Zurich but not from Geneva, which is served by El Al. www.lufthansa.com
Air New Zealand has announced the world's first matchmaking flight.
The target audience is American singles looking to find a date amongst soft spoken Kiwis.
On 13 October 2009, a 'plane load of the non-attached will be invited to come on down from Los Angeles and get amongst it with single New Zealanders. Flight passengers will enjoy a pre-flight gate party at LAX and then themed food, drink, entertainment and games throughout the trip. Waiting for them at the other end will be a fabulous, singles-only party and accommodation at the five-star Skycity Grand Hotel right in the centre of Auckland.
The mind boggles. Virgin must be kicking themselves that they did not come up with the idea first. To Australia of course!