On the third Monday of every month AERBT carries news of cruising and ferries. In April we featured "Cruising – an introduction". Likewise with ferries it seemed obvious to introduce this subject with a preface. In this respect we are most fortunate that the Passenger Shipping Association (PSA), the umbrella organisation covering virtually every ferry company (and cruise line), has introduced National Ferry Fortnight with the following discourse on ferries and their background.
The MAY cruising update follows below.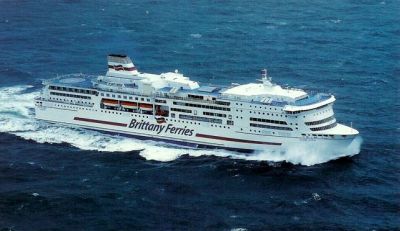 Fifteen facts you should know about ferries

1. Over 70 destinations can be reached by ferries departing from UK ports as far reaching as Santander and Bilbao in Spain, Lerwick on the Shetland Islands and Esbjerg in Denmark.

2. People have been using ferries as a mode of transport for hundreds of years, the first recorded Isle of Wight ferry service dates back to 1420.

3. Ferries let you take unlimited luggage at no extra charge, and it won't get lost. A recent survey conducted by the PSA showed that over three quarters of respondents (76%) saw ferries as the preferred choice of transport, over planes and trains when questioned on baggage restrictions.

4. Ferry travel is glamorous! Robbie Williams charted a Wightlink ferry to shoot his video Road to Mandalay, playing golf on the car deck, whilst travelling on board P&O Ferries from Hull to Rotterdam inspired The Beautiful South's hit single Rotterdam back in 1996.

5. At the turn of the last century ferries were also transporting performers. Both Wightlink and Stena Line have transported circuses, including elephants from England to the Isle of Wight and Ireland respectively.

6. P&O Ferries launched the government's Pet Passport scheme after it carried the first pet into the UK in 2000. Thanks to this scheme you can now take your pet dog, cat or ferret on holiday by ferry. But some ferries have carried some more unusual wildlife. SeaFrance recently carried a King Vulture, Tatin, who was en route to Arnhem Zoo via Calais, in the hope that she'll produce lots of baby vultures. Condor Ferries came to the aid of the Born Free Foundation transporting lion cubs from Guernsey to the UK (en route to South Africa).

7. Ferry travel is not just for holiday makers. Caledonian MacBrayne's ferries offer a lifeline service to the islands off Scotland's west coast, where for many islands the only way to get there is by sea. The services supply islanders with everything from delivering their post and milk to transporting the children to school and essential medicines to the hospitals.

8. Ferry travel also means seeing nature in the wild. The routes across the Channel, Bay of Biscay and the Irish Sea are an ideal place to spot whales, dolphins and other marine life. DFDS Seaways runs wildlife watching mini cruise with wildlife officers from whale and dolphin charity ORCA.

9. You can also have a cultural fix on board a ferry. Brittany Ferries is behind a programme commissioning contemporary art and there are over 200 works of art on board their flagship, Pont Aven. The operator even provides an audio commentary to help passengers understand the background to each piece.

10. Dining on board ferries has improved dramatically over the last decade. There is fine dining at Langan's Brassiere on board P&O Ferries and DFDS Seaways offers the finest North American beef at their Explorers Steakhouse. It comes from a breed of cattle that are descended from the work oxen shipped to the Americas by Christopher Columbus!

11. Due to the large numbers of ferry passengers (over 40 million of us travelled by ferry last year), ferry companies have to produce meals on a major scale. Condor Ferries who travel to France and the Channel Islands used over 320,000 slices of bacon a year. That's more than enough to provide the entire population of Jersey, Guernsey, Alderney, Herm and Sark with a bacon buttie.

12. Longer routes mean you can overnight on board and in much more comfort than in an airline seat. Stena Line's overnight cabins have DUX beds, which are hand-crafted by a generations old Swedish family firm and are also used in luxury hotels such as the Burj al Arab in Dubai, and the Setai in Miami. They use the strongest Swedish pine and fine luxurious cotton.

13. Ferries can be chartered just like cruise ships. Last November DFDS Seaways took more than 900 rave fans on a 2-night dance weekender event to Amsterdam from Newcastle. With top Rave DJs and MCs including Breeze, Ramos and Rude, time in Amsterdam and dinner and breakfast on board included for all passengers.

14. The world's largest car ferry is Irish Ferries Ulysses which weighs in at over 50,000 tonnes and is 167 feet from the bottom of the keel to the top of the mast. And whilst the distance between Southampton and East Cowes (Isle of Wight) is only 9.9 miles a Red Funnel vehicle ferry can travel up to 137,039 nautical miles per annum, making an average of 13,842 crossings per year. (In cruising terms that is the size of Crystal Symphony. ED)

15. Ferry travel is cutting edge! LD Lines is soon to introduce a high speed wave piercing catamaran to cross-Channel routes, which will be the world's largest diesel powered catamaran, operating at a speed of 40 knots. This means the journey from Dover to Boulogne is just one hour.
For more details visit www.sailanddrive.com, the home of PSA ferry members operating between the UK, Europe and islands around Britain.
CRUISE NEWS

Celebrity Millennium, nicknamed 'Millie', a breakthrough in its time with a gas turbine 'pod' propulsion system, is of this week in the middle of a USD10m upgrade programme in Victoria, British Columbia. Delivered at the very beginning of the decade, the 2,000-passenger, 90,000-ton liner Millennium will emerge from the refresh with new carpeting, upholstery, drapes, bed skirts and bed throw throughout the entire ship. The Celebrity Theatre gets a makeover as does the main dining room. Bolidt synthetic flooring is being installed across the pool deck, outdoor stage, dance floor and jogging track. It is said to be better than traditional teak.
Cystal received an unannounced visit last week when officers from Health Canada descended on Crystal Serenity when it docked at Victoria at the end of the world cruise. Maybe the Captain and officers were a little concerned but they did not show it. The ship received a "perfect" score of 100 from the authorities. A ship's level of sanitation is satisfactory if its inspection score is 86% or higher. Health Canada's inspection was very thorough. Crystal was the first cruise line to introduce sanitary controls as you boarded, many years back. Most ships limit this inspection to the dining rooms where it is sometimes not well policed.
Europe still seems to be in the ascendency as far as cruising is concerned. Last year a record 4.4m took to the water for their holidays, up 22% on 2007. In all, a record-breaking 4.4m Europeans cruised in 2008 and 8m cruise passengers visited north European ports. European shipyards are busy with new builds – 17 cruise ships are on order for the European market between now and 2012 – as well as refurbishments and makeovers. Germany leads the way in the super yacht building sector, with four of the top five biggest privately-owned yachts coming from German yards, including the world's largest to be delivered later this year.
Golden Princess, the ship that set the standard for Princess Cruises' large liners, has emerged from a three-week makeover. In comes a piazza-style atrium, an adults-only Sanctuary, a Movies Under the Stars poolside movie screen, and a new Crown Grill steak and seafood restaurant. The ship also now features a relocated casino on deck 7, a new sports court, an internet café and library, and a refurbished fitness centre.
London Zoo may seem an odd place to launch cruise packages but All Leisure Holidays, ultimate owner of Voyages of Discovery, Minerva and now Hebridean, chose the Komodo Dragon House to introduce their programmes for 2010. In fact it was quite appropriate with Discovery off to Indonesia, home of the Komodo, Minerva going deep south to Antarctica, and Hebridean offering the wild life of the north of Scotland. Star of the evening however were the penguins who entertained one and all.
MSC is getting excited with the launch in July of Splendida, second in the Fantasia class of super liners. Whilst a massive ship (135,000 tons and 3,000+ passengers) the Italian company is putting much emphasis on its 99 Yacht Club Suites. These come with butler service, 24-hour concierge, and are mainly grouped around a private club area which has its own pool and spa. For everyone on board, both Fantasia and Splendida feature a sliding sun roof, a first for MSC and ideal for the ship's year around operations in the Mediterranean out of Genoa.
OUR READERS' FINEST WORDS (All times and dates are GMT)
All comments are filtered to exclude any excesses but the Editor does not have to agree with what is being said. 100 words maximum
---