30 APRIL 2012
BTN DISTRIBUTION
BTN also goes out by email every Sunday night at midnight (UK time). To view this edition click here.
The Business Travel News
PO Box 758
Edgware HA8 4QF
United Kingdom
+44 (0)20 8952 8383
info@btnews.co.uk
© 2021 Business Travel News Ltd.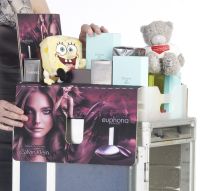 Don't be alarmed if on your next flight you see a somewhat re-modelled airline trolley-cart staring at you. Eyelevel, a UK-based supplier of luxury products to private jets and luxury airlines, is now focussing on the commercial airline market and has launched Cartmax as an attractive point of sale proposition. It is provided as a flat packed, fold-out, recycled, cardboard unit that sits within the deep tray compartment of the trolley.

Matthew Delamere, Managing Director of Eyelevel explains, "People buy with their eyes and retail in general has always provided strong points of sales for their goods. You'd never see a supermarket display products without graphics to attract attention, and Cartmax simply takes this proposition and puts it on aircraft."

A number of airlines are already considering trials and Matthew is aiming for initial on-board tests to begin in May. UK airline Flybe has already seen the product and is currently reviewing the potential. Raymond Kiersey, General Manager of Inflight Sales at Flybe commented: "Airlines are always looking at means of developing ancillary revenue and it seems that Cartmax could offer great potential for increased revenues which is why we're reviewing trials." www.eyelevelmedia.com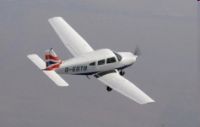 For the first time for more than a decade British Airways' is to sponsor cadet pilot training. The announcement has met with the expected unprecedented response, just 90 places available for the 18 months' course. Those winning a placement will be of university graduate standard and will undertake basic training with flying academies at Oxford, Southampton and Jerez in Spain. The final piece of the pilot licence jigsaw is undertaken at the airline's Cranebank training establishment near Heathrow.

Whilst they will have flown initially single piston-engined aircraft, and later twin-engined machines during the course, the young pilots will join the airline's flight deck team without having actually flown a commercial jet. All the final training is done on a full motion simulator. BA presently employs about 3,500 pilots, of which 5% are women. In order to privately qualify as a professional pilot it could easily cost £100,000. www.ba.com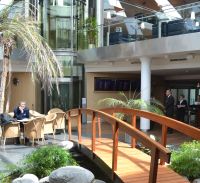 The Swiss Lounge at Basel-Mulhouse EuroAirport, has been named best in the world by members of Priority Pass, the world's largest independent airport lounge access programme.

Announcing the results, Jonathan French, Head of Brand, Priority Pass, said: "As we celebrate over 20 years of offering Priority Pass to global travellers, we are delighted to present this award to the Swiss Lounge and congratulate them on this excellent achievement. They have consistently delivered an outstanding experience and have distinguished themselves ahead of over 600 worthy competitors in the eyes of our members."

The spacious Swiss Lounge was nominated for its size, design and exclusive atmosphere. With a vast glass dome allowing natural light to flood in, the ambience is designed specifically with relaxation in mind. There are 200 seats and 40 places at the bar spread over 1,700sqm. The lounge also has showers available. There is a Business Centre. Hot and cold buffet snacks are offered with an extensive selection of drinks. www.prioritypass.com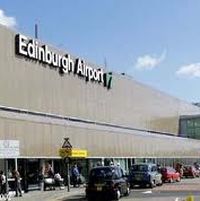 Global Infrastructure Partners (GIP), who own both Gatwick and London City airports, has won the race to take over Edinburgh after the current owner BAA was forced to sell by the Competition Commission. GIP say they hope to complete the £807.2m deal by the end of May. With Stansted due to be sold (although still subject to appeals) BAA will finish up with a single London airport and two in Scotland, Aberdeen and Glasgow, whilst rival GIP will have two operations at the nation's capital (City and Gatwick), plus just Edinburgh in Scotland. Glasgow's other airport, Prestwick, is up for sale.

Adebayo Ogunlesi, Chairman and Managing Partner of GIP, said: "Edinburgh Airport is a high-quality infrastructure asset. Its acquisition is a landmark deal for GIP.
"We see significant opportunity to apply our tested and successful operational expertise and our knowledge of the global airports sector to develop and enhance the performance of Edinburgh Airport in years to come."

For many years Edinburgh and Glasgow vied with each other as Scotland's top airport but with the establishment of the Scottish Parliament, Edinburgh has outperformed its rival in recent times. Last year the figures were EDI 9.3m (+9%) and GLA 6.8m (+5%). www.baa.com www.global-infra.com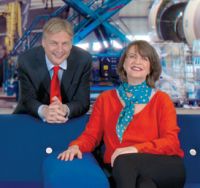 Whilst details have yet to be revealed KLM Royal Dutch Airlines, sister company of Air France, has embarked on a re-design of its World Business Class on the long haul fleet. Due first to get the treatment will be the airline's 22 Boeing 747-400s but the actual work, which will initially take up to one month for each aircraft, will not start until June 2013.

Chosen to head the creative team is leading Dutch designer Hella Jongerius, briefed to modernise the WBC product, uniting international allure with emphasis on the airline's Dutch heritage.

Erik Varwijk, Managing Director, KLM said: "By choosing to work with Hella Jongerius, KLM is opting to engage a top Dutch designer to help make our Business Class passengers feel at home on board. As a designer, Hella has broad experience which she can apply to the needs of KLM and its customers, in accordance with the specific requirements for cabin interiors in the airline industry.

Her previous projects demonstrate her ability to process such criteria into top-quality designs such as the 'polder sofa', which is both comfortable and beautiful. With her expertise and focus on quality, she is keenly aware of what makes a brand unique. An outstanding match!" www.klm.com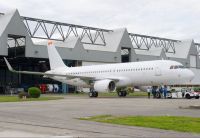 Airbus has produced the first new-build A320 with Sharklets. Depicted here at its roll-out in Toulouse, MSN 5098 will be one of several A320 Family aircraft in the certification flight-test campaign starting in May this year and lasting around 600 flight hours. These Sharklet tests follow the successful 'early flight-test' campaign with Airbus A320 MSN 001 test aircraft (see AERBT 26 March).

In total, seven new-build A320 Family aircraft fitted with both CFM56 and V2500 engine types will test the production-standard Sharklets. The results of the tests will lead up to the certification of these fuel-saving devices on each combination of aircraft model and engine selection. The first member of the family to enter service with Sharklets will be the CFM56-powered A320, from the fourth quarter of 2012.

Sharklets, which have been specially designed for the Airbus A320 Family, will reduce fuel burn by up to 3.5%, giving an annual CO2 reduction of around 700 tonnes per aircraft. This is equivalent to the CO2 produced by around 200 cars annually. Sharklets are now offered as an option on new-build aircraft, and are standard on the A320neo Family. www.airbus.com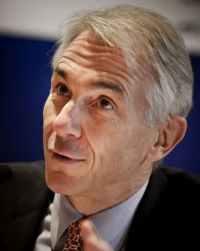 Formerly CEO of Cathay Pacific, IATA's new Director-General Tony Tyler, pulled no punches in confronting the UK government on aviation policy and taking a side-swipe at the European Commission when addressing the Aviation Club last week.

"As the UK's de facto current policy is to constrain capacity and milk the industry for taxes, there is plenty of scope for improvement…..things are going badly wrong and it would be disappointing if we did not seize the opportunity of a policy review to make them better and capture fully the positive impact that aviation can have economically and socially," he said.

The national aviation policy discussion was a great opportunity to replace the "tax, regulate and restrict" policy of today with one that supported connectivity, jobs and economic prosperity with sustainable growth.

Tyler went on to criticise the European Commission on issues including the slot trading rules, emission tax and the lack of progress on the Single European Sky. "The modus operandi of the European Commission seems to be to set rules and regulate – whether it is needed or not – and never mind about any intended consequences," he commented. Heathrow came in for criticism too. He called for a re-think on a "political cul-de-sac." www.iata.org

Claimed to be the largest low fare airline in Central and Eastern Europe, and now effectively based in Geneva, Wizz Air has confirmed that it will move its entire Warsaw-based operations to the civilianised Modlin Airport on 18 July (See last week's AERBT).

Wizz Air took the decision to move its Warsaw operational base from Chopin to Modlin for commercial reasons. The new airport will operate on a 24/7 basis and will allow the carrier to fly its schedule more efficiently without the operational constraints that exist in the main airport. Most importantly it notes, costs associated with Modlin Airport will be significantly lower, enabling the airline to slash fares for the travelling public.

The airline flies to Luton 25 times per week; and to Barcelona (3 times weekly), Bourgas (3 – seasonal), Brussels Charleroi (7), Cork (2), Doncaster Sheffield (2), Forli Bologna (2), Glasgow Prestwick (2), Gothenburg (3), Malmo (3), Milan Bergamo (4), Oslo Sandefjord Torp (5), Paris Beauvais (4), Rome Fiumicino (5), Stavanger (3) and Stockholm Skavsta (7).

Ryanair is also moving its Warsaw operations to Modlin and on 28 October introduces a three times per week Liverpool service. www.wizzair.com
The latest 'in' way to select your repast in Hong Kong is the use of a tablet computer.

Upon arrival at The Peninsular Hotel's top floor avant-garde Felix Restaurant each patron is presented with a sleek iPad. Carefully you browse through the menu, replete with crisp photos of every dish, with tasting notes and characteristics for wine choices and pairings. It's magnificent food!

For guests looking for the surprise novelty factor, the interactive iPad menu also features a spinning "bottle" colour wheel, where the digital sommelier chooses the best wine to suit guests' moods and tastes.

The problem is that one's dining companion gets completely taken in by the gadgetry and finishes up computer drunk.

Is this the way to spend an evening?