9 APRIL 2012
BTN DISTRIBUTION
BTN also goes out by email every Sunday night at midnight (UK time). To view this edition click here.
The Business Travel News
PO Box 758
Edgware HA8 4QF
United Kingdom
+44 (0)20 8952 8383
info@btnews.co.uk
© 2021 Business Travel News Ltd.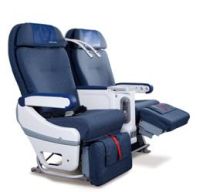 Japan's largest airline group, ANA, is introducing further improvements to its Premium Economy service on long haul international routes. From 1 June routes where Premium Economy is already available will see an enhanced level of service, and from September, it will be extended to a number of international destinations on which it was not previously available. Whilst the normal Economy Class meal is served an extra course and sparking wine will be added to the menu.
Premium Economy is currently available on the four routes between Narita and Chicago, Washington DC and Munich, and between Haneda and Los Angeles, to passengers who have purchased Economy Class tickets at regular rates. From Friday 1 June, the Premium Economy service will be further enhanced to provide sparkling wine and soup in addition to regular Economy Class meals.
From September, the Premium Economy service will also be introduced sequentially on routes between Narita and New York, London, Frankfurt, San Francisco, Los Angeles and Paris, where a new and vastly improved seat will make its debut. On Boeing 777 the Economy layout is nine abreast. In the premium product this is reduced to eight. www.ana.co.jp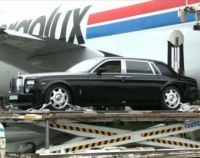 Around now for over 40 years but still coming down the production line Boeing is beating about the drum for the 747. Last week Heathrow Airport became the 200th airport to receive regulatory approval for 747-8 operations.
In what is clearly a dig at rival Airbus, Boeing says that the (all) new 747-8 is the only aircraft above 400 seats approved to serve as many airports.
The freighter variant entered service in October 2011 with launch customer Cargolux. Boeing now has delivered 14 to five airlines (Cargolux, Cathay Pacific, Atlas, AirBridgeCargo and Korean Airlines). To date, 63 airports around the world are supporting revenue flights from these aircraft. The intial passenger variant, with 398 seats, is expected to be delivered later this month to Lufthansa. Hopefully this will be without the embarrassment of the first aircraft which Cargolux turned down, Boeing citing "unresolved issues" with the airline. All now seems fine with the airline. Qatar Airways has a 35% shareholding making it the second largest shareholder after Luxair (43.4%). www.boeing.com/commercial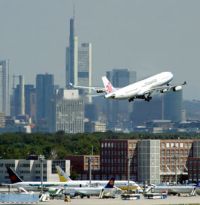 A Leipzig court on Wednesday ruled in favour of a night flight ban at Frankfurt Airport, Europe's third busiest, dealing a blow to German flagship airline Lufthansa and airport operator Fraport. The airline says that night flights are crucial for its cargo operations and to compete with fast-growing Gulf airports.
"This is a good day for our rivals in Paris, London, Amsterdam and Dubai," airport Chief Executive Christoph Franz told the German media noting that the ban would affect Lufthansa investment decisions.
Lufthansa's cargo arm, which had a 2011 operating profit of €249m, had switched flights to Cologne during the winter but that had not worked out due to the lack of belly space in Lufthansa passenger aircraft. Along with a total ban from 23:00 to 05:00, the Leipzig court also reduced the number of flights permitted in the period covering the so-called shoulder hours from 20:00 to 06:00 to 133 from 150. Frankfurt will be at a distinct disadvantage to rival airports, such as London's Heathrow where 17 flights are allowed between 23:00 and 06:00, with restrictions on the type of aircraft permitted. www.fraport.de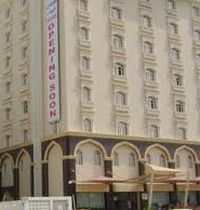 Just opened is the 4-star Waves International Hotel in Muscat, the capital of Oman. It is located in Al Khuwai, within short distance from the ministries and embassies area. It is about halfway from the Central Business District and Muscat International Airport. Ice Skating, Oman Bowling Alley and a major shopping mall are in close proximity. Within very easy walking distance is the Khuwair Souk.
The hotel has 120 rooms including standard, deluxe and Amwaj Suites. Shisha Restaurant serves the hubbly bubbly in various flavours along with light snacks until the early hours. It offers 24-hour room service and has a complimentary late check-out service, most useful with the evening departures to London. www.wavesinternationalhotel.com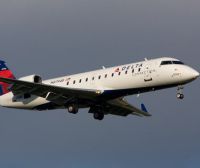 The latest US air carrier to find itself in Chapter 11 bankruptcy protection is Pinnacle Airlines which says it is re-organising. Founded as Express Airways in 1985 (and operating as Pinnacle since 2002) the airline is based in Memphis, Tennessee, and has more than 7,500 employees and operates around 1,540 daily flights to 188 cities for United Airlines, Delta Air Lines and US Airways. Passengers booked on regional services with any of these carriers should check their flights on the airlines' websites.
About 80% of Pinnacle's flying is under the Delta Connection brand. Pinnacle plans to wind down operations for US Airways by June and United by 30 November. The airline currently flies around 140 of the Bombardier CRJ 200 series 50-seat aircraft and 50 plus of the larger CRJ 900s, two-class and a 76 seater. In 2007 and 2010 it purchased two rivals, Colgan Air and Mesaba Aviation in an effort of consolidation within the US regional airline industry. Since 1980 around 50 North American airlines have filed for Chapter 11. Only a handful still operate today. www.flypinnacle.com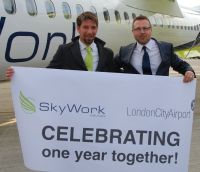 Speaking at a reception in the Swiss Embassy, Marylebone, London, Tomislav Lang, SkyWork Airlines CEO, said that the twice daily service from London City, now 12 months old, could get a third rotation. He also strongly hinted that the airline is looking at the Embraer E series for future expansion.
"The London City – Bern service has become our star performer," he said. "Over 11,160 passengers have flown the route in the first year and a further 13,745 are booked to fly on future departures aboard SkyWork's business turboprops." The airline operates three Bombardier Q400s and four Dornier 328 turboprops.
Mr Lang was keen to emphasise connections through what he called the Bern mini-hub. A transfer time of just 20 minutes is possible, the airline serving 25 points including a number in Croatia, Greece and Serbia with either non-existent or poor services to the United Kingdom. He noted that with its convenient location Bern Airport is fast being recognised as providing short transfer times to some of Switzerland's finest ski resorts, including Interlaken, Adelboden, Grindelwald, Chateau-d'Oex, Kandersteg, Lenk, Murren and Wengen. www.flyskywork.com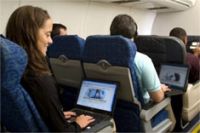 US Airways is the latest American domestic operator to offer wi-fi with the majority of its fleet and says it has 90% coverage on mainline Airbus A320 series and Embraer 190 fleet. It plans to expand the service to cover US Airways Express Embraer 170 and 175 aircraft operated by Republic Airlines. In addition to extending in-flight wi-fi on more flights, the airline announced that it will launch Gogo Vision, a streaming video product that will allow passengers to watch movies and television shows on their own enabled devices.
Gogo Vision will be available through a new multimedia platform that will give passengers access to movies, TV shows, games, destination content, news and exclusive shopping deals. Movies and TV shows will remain accessible for viewing even after the customer has landed – movies for 24 hours and TV shows for 72 hours. Unexpired rentals will be available for playback on the ground using the same device and browser used onboard. Gogo Vision entertainment will range from US$0.99 to US$5.99, separate from the cost of wi-fi service.
US Airways will operate this summer daily services from Philadelphia to Dublin, Glasgow, Heathrow and Manchester. Charlotte is served from Dublin and Gatwick. www.usairways.com
Time for a smile and a laugh.
With the recent announcement by airlines of their new charges for checked luggage on flights to various destinations, this video from the past could be what air travellers will experience in the near future. Carol Burnett, Harvey Korman and Tim Conway were ahead of their time!
Happy flying!
www.youtube.com/v/QCz8he36hsk&hl=en%22