10 OCTOBER 2011
BTN DISTRIBUTION
BTN also goes out by email every Sunday night at midnight (UK time). To view this edition click here.
The Business Travel News
PO Box 758
Edgware HA8 4QF
United Kingdom
+44 (0)20 8952 8383
info@btnews.co.uk
© 2021 Business Travel News Ltd.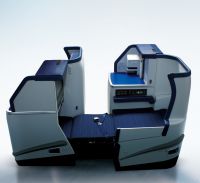 Frankfurt is to become the first European airport to receive the brand new Boeing 787 with ANA non-stop flights beginning from Haneda Tokyo on 21 January 2012.
A new route will complement ANA's four existing European services from Narita to Charles de Gaulle, Frankfurt, Heathrow and Munich. This is likely to be popular with regular (and inquisitive) travellers wishing to sample the most advanced airline now flying.
Larger than the 767, the most obvious difference to its predecessor will be the large windows and innovative interiors. Not so apparent is the overhead compartments, the largest in the industry. They are approximately 30% larger than the compartments on the Boeing 777 and have enough space to hold four large-size carry-on bags. Also worthwhile mentioning discreetly are the washrooms which are equipped with Washlet seats equipped with a hot water washer designed for in-cabin use. These seats were jointly developed by Toto Ltd, Jamco Corporation and Boeing.
Flight time will be around eight hours. The seat layout is expected to provide 46 Business Class and 112 Economy. www.ana.co.jp
The Aviation Foundation has been created by BAA, British Airways, Manchester Airports Group and Virgin Atlantic as a specific, fit-for-purpose campaign group. Flying Matters, which attempted to do much the same job, was considered too cumbersome to be effective, and was wound up in April.
The Aviation Foundation has been kept small to ensure a tight, flexible and timely campaign approach. Its role is advocacy, not industry representation, and its structure has been developed with this in mind. Appointed as Director is Rob Gray (38) former Deputy Chief Executive of The Countryside Alliance and previously Editor of both Shooting Times and Shooting Gazette.
A briefing note states that "the Aviation Foundation needs to be focused and targeted in our communications with the public and politicians. The Aviation Foundation will raise awareness of the contribution of aviation to the British economy and its role in the private sector-driven recovery. One of our objectives is to reach out and build alliances and coalitions with others in the sector wherever it helps the campaign.
The Aviation Foundation is not intending to promote itself for its own sake but to rebalance the debate about aviation to reflect properly and positively aviation's contribution to the United Kingdom. As yet no website.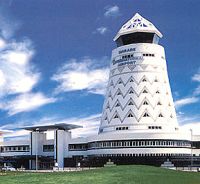 Emirates extensive African network is to be boosted again with the launch of two new destinations – Lusaka, the capital of Zambia, and Harare, the capital city of Zimbabwe. Zambia and Zimbabwe, which share a border with the Victoria Falls, one of the natural wonders of the world, will now be linked with a five times weekly flight from Dubai, starting from 1 February 2012.
The Dubai – Lusaka – Harare service will be operated by an A330-200 aircraft in a three-class configuration that offers 12 luxurious First Class seats, 42 seats in Business Class and generous space for 183 passengers in Economy Class.
The new route should work very well for Emirates feeding into its hub at Dubai. From the UK, Emirates operates 105 flights per week to Dubai, where passengers can take a convenient onward connection to Zambia and Zimbabwe. The airline flies five times a day from Heathrow, three times daily from Gatwick and Manchester, double daily from Birmingham and daily from Newcastle and Glasgow. www.emirates.com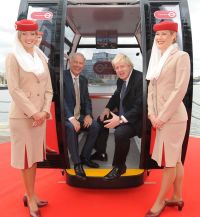 Emirates is the sponsor for the new cable car across the Thames linking the Greenwich Peninsula and the Royal Docks. To be known as the Emirates Air Line, and worth £36m in a 10-year deal, the system should be up and running well before the start of next year's London Olympics.
With a capacity to carry up to 2,500 people per hour in each direction in the peak, equivalent to the capacity of 30 buses per hour, it is anticipated the Emirates Air Line will transport two million passengers per year.
Creating a direct link between the O2, Europe's biggest entertainment venue, and ExCeL, the UK's largest exhibition centre, the Emirates Air Line will also provide an additional interchange between the DLR and Jubilee line.
The Mayor of London Boris Johnson was joined by Tim Clark, President, Emirates Airline to announce the sponsorship deal. The Emirates Air Line will feature on the iconic Tube map and be included in Transport for London's (TfL) travel information. As title sponsor, Emirates will receive a range of naming and branding rights, including the right to name the scheme, its stations and the creation of a joint logo. www.emirates.com www.tfl.gov.uk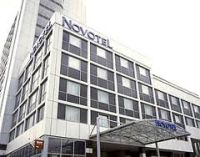 Accor, the Paris-based hotelier, has confirmed that it is rebranding the Novotel in London's Euston Road as its first UK Pullman. Work will start shortly at the 312-room property to bring it up to the higher standard required for a Pullman. Completion has been targeted for well in advance of the London 2012 Olympics.
Ideally situated about half way between St Pancras/Kings Cross and Euston stations the property also features the 450-seat Shaw Theatre, part of London's West End, but also integrated into the hotel for conventions and gatherings.
Pullman is an up-market brand which, by the end of 2011, will include 70 hotels across Europe, Africa, Middle East, Asia-Pacific and Latin America. www.pullmanhotels.com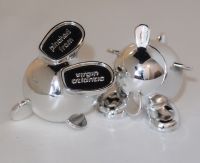 Virgin Atlantic is phasing out its "highly collectable" salt and pepper sets. Thousands of the coveted condiments have disappeared since they were introduced over 12 years ago (The Editor denies that the pair that adorns his dining room table were stolen – Richard Branson on a press trip said "take them").
So sought after have they become that there is even a thriving trade on eBay with individual pieces selling for up to £20 each. However, those days are coming to an end. Next month, Virgin Atlantic is replacing all of the cutlery and dining ware sets across their entire Upper Class fleet – and the old salt and pepper pots are going to disappear.
Said Virgin Atlantic spokeswoman Janine Doy:
"Who could have guessed that salt and pepper pots designed for our aircraft would one day be found in homes all over the world and we are thankful to our Upper Class passengers for spreading the message around the globe.
"Having so many people pinching our salt and pepper pots is, I suppose, a back handed tribute to how well these items have been designed.
"We're expecting a last minute rush when fans realise that their supply is coming to an end." www.virginatlantic.com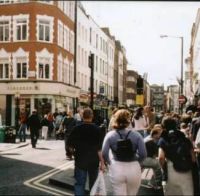 Said to be the UK's newest hotel group, Z Hotels, will launch today (10 October) a flagship property in the heart of London's Soho.
With room rates starting from just £85, Z Hotels Soho is the first hotel to be designed with what the property calls the "Urbanite Stay", short stay accommodation offering high quality at an affordable price in prime city centre locations. All rooms feature the latest 40" LED High Definition TVs with all Sky Sports and Sky Movies available at no extra cost, power showers, i-docking stations, and free wi-fi throughout the hotel. This first hotel is situated in Soho just off Cambridge Circus, essentially in the heart of the capital's entertainment area.
The 85-room property is a conversion of 12 Georgian townhouses. The Z Café will provide a pleasant oasis at any time of the day or night.
A number of further Z hotels are due to launch in central London this year and next. www.thezhotels.com
As the officer makes out the second ticket for the illegal radar detector unit, the man glowers at his wife and says through clenched teeth,
'Woman, can't you keep your mouth shut?"
The officer frowns and says, "And I notice that you're not wearing your seat belt, sir. That's an automatic £75 fine."
The driver says, "Yeah, well, you see, officer, I had it on, but I took it off when you pulled me over so that I could get my licence out of my back pocket."
The wife says, "Now, dear, you know very well that you didn't have your seat belt on. You never wear your seat belt when you're driving."
And as the police officer is writing out the third ticket, the driver turns to his wife and barks, "WILL YOU PLEASE SHUT UP?"
The officer looks over at the woman and asks, "Does your husband always talk to you this way, Ma'am?"
I love this part.
"Only when he's been drinking."