LONDON'S AVIATION CLUB will host Andrew Haines, Chief Executive, Civil Aviation Authority, next Thursday 18 March. Based at the Institute of Directors, Pall Mall, the (essentially networking) gathering of the civil aviation industry, has a busy summer programme of speakers including Hussein Dabbas, Chief Executive, Royal Jordanian Airlines (28 April); Paul Griffiths, CEO, Dubai Airports (9 June); and Willie Walsh, CEO, British Airways (8 July). www.aviationclub.org.uk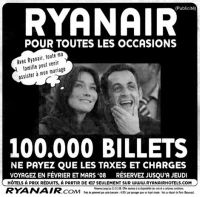 AIR FRANCE has accused Ryanair of receiving "financial aid" from French regional airports. It has issued a press release stating "Ryanair's agreement to serve these airports is conditional on the airport authorities' granting aid to it. Such measures, taking the form of reduced airport taxes, preferential ground handling rates at certain airports or marketing aid, have been implemented by at least 25 French regional airports. In addition to the fact that they were never officially announced before they were implemented, these measures are contrary to European regulations." The complaint has gone to Brussels, Ryanair has denied the charges. It is within the airports' rights to offer initiatives in order to attract airlines. But for how much and for how long is the question? Ryanair has in the past been successful in battling these kind of allegations, Charleroi for example, but this time it is the French national airline complaining about French nationals! www.ryanair.com www.airfrance.com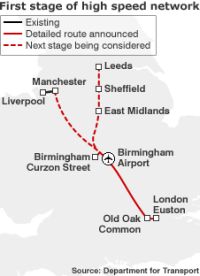 250 MPH TRAINS are one of the main features of new rail plans announced by Transport Secretary Lord Adonis. The government is recommending a route for a new line between London and Birmingham with a future extension to northern England and Scotland. The public will be consulted on the proposed route, with work unlikely to start until 2017 at the earliest. The Conservatives largely agree but say the project should start in 2015. The London terminus would be a re-built Euston and Curzon Street is expected to be the Birmingham city centre station. There would be interchange stations with Crossrail west of Paddington and near Birmingham airport. The preferred route will run out through north-west London, skirting to the south-west of Aylesbury, then to the west of Buckingham and the east of Brackley and Banbury, before passing between Leamington Spa and Coventry and the eastern side of Birmingham. A future extension is being considered to northern England, which would be developed as a Y shape with one branch to Sheffield and Leeds and the other to Liverpool and Manchester. www.trains.co.uk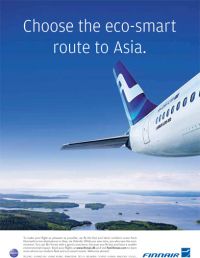 FINNAIR is heavily promoting its connections to the Far East from Manchester via Helsinki with its twice daily service. From Heathrow it is four times daily. Last week the airline hosted a gathering at Manchester's Radisson Edwardian hotel essentially to enlighten north west enterprises on the swiftly developing Asian economies. Christer Haglund, Senior Vice-President of Communications of Finnair, unveiled the airline's new "Local Hero" campaign which features Imran Hakim, the highly successful Dragons' Den entrepreneur and adviser to the UK government. Other speakers at the working breakfast included Philomena Chen, Head of Asia-Pacific Development at UKTI NW and Andrew Harrison, Commercial Director of Manchester Airport. Finnair calls itself "Manchester's Fast Airline to Asia" offering some of the best transit and flight times to nine cities in China, India, Japan, South Korea and Thailand. The airline points out that there is just time for a quick sauna in Helsinki's new executive facility, in either direction. After all it is Finland's most famous export. www.finnairgroup.com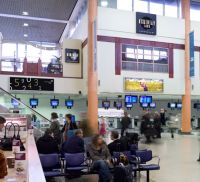 LONDON CITY AIRPORT has opened up a new security zone, closing the existing restaurant area within the terminal to make way for the facility. Two new search lanes effectively add 50% to the airport's throughput capacity. This new facility is part of a £7m revamp of the complete terminal building with the introduction of a mezzanine floor above the existing check-in and airline desks and the removal of not just the restaurant but the kitchen area serving it. Whilst the current security area will be retained for overflow purposes, for the most part future passengers will take the escalator to the first floor and then turn right into a completely new zone, emerging behind the main retail area. The enhancement work will all take place during the airport's closure times to ensure there is no disruption to passengers. The project, which is subject to certain approvals, is scheduled to be completed by the end of 2010. This follows a number of complaints that the airport's much publicised ten-minute check-in was not working, causing substantial queues. Sadly, with all the new rules in place, no airport anywhere is the world can offer a ten-minute check-in.
www.londoncityairport.com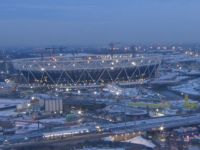 PREMIER INN has acquired a site for a new 267-room hotel adjacent to the Olympic Stadium, right at the heart of the 2012 London Olympic Park. The new property will be within walking distance Stratford International station, which in fact is somewhat of a misnomer as it only offers services to St Pancras and Kent. It is also near the new huge Westfield retail site presently under construction. Close at hand is Stratford Regional, served by Overground, Underground and the DLR. By the time the Olympics come around in two years' time Premier will have 59 hotels and 8,374 rooms in London. www.premierinn.com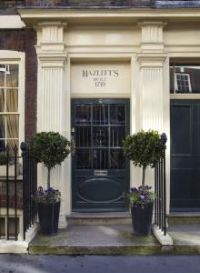 LONDON (and Soho's) historic Hazlitt's Hotel is to go one better than any other of its competitors by introducing a suite featuring a private roof terrace with retractable glass roof – get your booking in quick. Said to be Soho's first boutique hotel, and with each bedroom named after an historically famous local resident, Hazlitt's has recently been extended by eight rooms. One, the distinctive Duke of Monmouth suite, boasts a private roof garden and the sliding roof. In Frith Street, off Soho Square, and dating back to 1718, Hazlitt's has been meticulously restored and crafted to offer guests an overnight stay seen by London's 18th century aristocracy. Quaint staircases, exquisite antiques and oil colours are subtly married with today's technology; all rooms benefit from air-conditioning, complimentary wi-fi, flat screen television, blu-ray player, stereo, mini bar, safe, antique desk and REN toiletries. www.hazlittshotel.com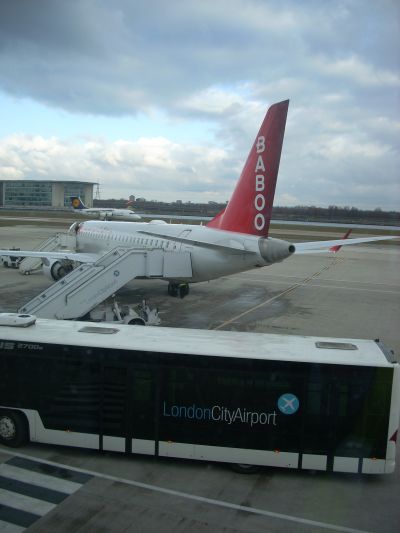 Is the name of an airline (or indeed any other product) that important?
One of the most successful British carriers in the nineteen sixties and seventies was Dan Air, not named after a certain cartoon character, the UK version of Superman, but the abbreviation of Davies and Newman, a shipping company. The name Etihad is an ethnic term. It has not stopped it becoming one of the most powerful and influential of Middle East airlines. It was only created in 2003.
And now we have Baboo, an airline that has been in existence, also since 2003, and landed in the UK in October last year with its first routes Geneva to London City, and a weekly skiing flight from Oxford Airport. Oxford is hardly the centre of air travel (except for executive jets), and according to Chief Executive Jacques Bankir, whilst it could have done better he says that they were late into the market last year. He has confirmed that the route will again be operated next winter.
London City Airport (LCY)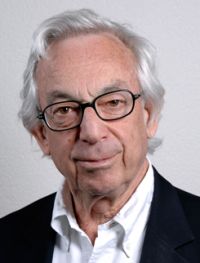 As for London City the route has surpassed expectations and is currently running at a 60% load factor. A twice daily operation, the service is currently flown with a 74-seat Bombardier Q400 in a code share with Air France, its CityJet subsidiary now the largest operator at the East London airport.
Baboo is unique in that it offers (hot) soup on its evening sectors. The Q400 is a one class operation with the timings ideal for a day visit from Geneva. In the other direction it works out well too as the Swiss city is tiny compared with London and 15 minutes is all that is required to get to most places in town. Baboo says that the originating traffic is split 50/50.
On the cards is a plan to replace the Bombardier with an Embraer 190 at busy times. Quicker, larger, and even more quieter. Details will be announced once the steep approach paperwork is complete, the aircraft already having completed the necessary test landing with a full passenger load at LCY.
London City was chosen as Bankir felt that there was room for another carrier in the London – Geneva market (BA having pulled out of City to Geneva), the competition being British Airways, Swiss, and in a different market sector easyJet. He is also a fan of the airport as the CEO of CityJet when it was taken over by Air France in 1999. His long industry career includes CEO of the French airline Régional, and for many years at Air France where he was head of the CDG Project, Deputy VP Cargo, VP North America, VP Airport, VP In-flight Services and VP Planning.
A quality airline

The name Baboo has Indian origins. The original founder of the airline, Julian Cook, now Chairman but very much non-executive, could trace his ancestry to the sub-continent. There are several interpretations according to Wikipedia none on them over sensational. However Dan Air worked for that airline.
From its very inception Baboo has meant a quality airline with great emphasis on passenger/staff relationship, and with both the Q400 and Embraer very comfortable aircraft, a quantum step from the alternative budget carrier competing on some of its routes. There is little doubt that loading and flying 72+ people on a 34" seat pitch 2+2 aircraft is a far less exhausting experience than 150 with 29" and 3+3. With the same Q400 Flybe manages 78 passengers with a 31" space between the seats.
The Baboo lounge at Geneva Airport is not for passengers but for staff. It is a carrier which places much emphasis in keeping its employees happy. Eligible passengers can use the Horizon Lounge on the mezzanine floor of the airport.
With the Geneva – Zurich route losing money the airline was in serious financial trouble by 2007, to be rescued by M1 Group of Beirut, with a substantial cash injection of €9.2m. This enabled plans for the acquisition of the Embraer aircraft to go ahead, and later the appointment of Jacques Bankir. Zurich was dropped.
Baboo now has 200 staff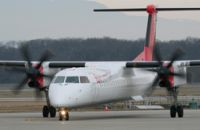 Baboo has grown consistently. From 20 employees in its early days, it numbers 200 today. It currently serves 18 destinations (charters excluded) from Geneva (and connections from London City, Marseille, Milan, Nice, Naples and Rome) which breaks down into permanent and seasonal destinations. The airline has not published its summer timetable yet (from 28 March) but this is expected to be much in line with the previous year, plus the UK routes. Rome (Fuminchino) is the number one destination but London City is catching up fast. Connection business is developing at London City on the Dublin and Edinburgh routes and Plymouth with Air South West is another possibility.
Last year the airline carried 406,000 passengers, expects to beat a half million target in 2010. Revue was €50m. The current fleet comprises of two Bombardier Q400 and three Embraer 190. There are no plans for an expansion at this stage although the airline is carefully looking at proposals for 2011. It is in partnership with both Alitalia and Air France on a number of key routes. www.flybaboo.com
Malcolm Ginsberg