2 NOVEMBER 2009
BTN DISTRIBUTION
BTN also goes out by email every Sunday night at midnight (UK time). To view this edition click here.
The Business Travel News
PO Box 758
Edgware HA8 4QF
United Kingdom
+44 (0)20 8952 8383
info@btnews.co.uk
© 2021 Business Travel News Ltd.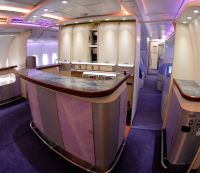 THALES, the French electronic company, has used the introduction of the first Air France A380 to highlight the significant role it is playing regarding the aircraft both at the front end and for the passengers. Its technology can be found throughout the aircraft's avionics system, covering navigation, flight controls, electrical power and utilities such as braking and door management systems. Within the cabin, the company provides state-of-the-art lighting and the in-flight entertainment. This includes 100 on-demand movies, 300 audio CDs, 26 games, live camera, flight information map, in-seat chat and a customised menu option for children. Every seat has a USB socket, enabling passengers to download flight schedules, destinations guides and games for children. www.thalesgroup.com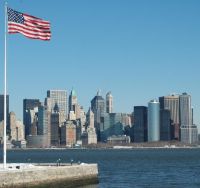 US DEPARTMENT OF COMMERCE says that international travel to the United States will regain its footing by 2010 following its first forecasted year of decline (2009) since 2003. Reflective of the current global economic environment, visitors to the US are set to decline by 8% this year followed by a 3% increase in 2010 and 5% through 2013. In 2009 22 of the top 25 arrival markets will post declines. The largest is from Taiwan (-17%), Ireland (-14%), Sweden (-13%), Mexico (-12%), and Netherlands (-10%). These declines come after the United States hosted a record 58m international visitors in 2008. The UK is projected to post a 12% decline in 2009. Germany, France and Italy are the next largest arrivals markets within the region with declines of 8%, 1% and 6% respectively. www.tinet.ita.doc.gov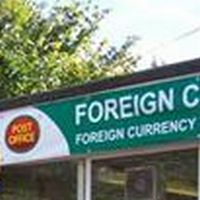 THE BRITISH POST OFFICE (PO), a major supplier of overseas currency to the consumer, says that currently sterling stretches furthest in Thailand, which tops its conversion list, followed by Bali and Malaysia. According to the PO cost barometer the pound will not go far in Europe or the bottom-ranked destination, Australia. However, demand for Indonesian foreign currency shot up by 54% during the summer, good news for both business people and tourists. Thailand and Malaysia also offered good deals. The foreign currency exchange rate in Mexico will get 12% more pesos for the pound than at the beginning of 2009. The PO points out (naturally) that changing money at the airport or in overseas ATMs means wasting hard-earned cash through costly commission and withdrawal fees. www.postoffice.co.uk/travel_money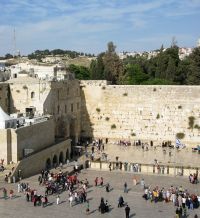 EASYJET today (Monday 2 November) introduces a six days per week service between Luton and Tel Aviv in direct competition with El Al, who also fly from the north London airport. It is the longest route ever operated from the UK by a budget airline with a flight time of around five hours, right on the limit with regard to crew hours. A 55-minute turnaround is planned as against the 30-minute norm for the airline but Ben Gurion regulars still think that it will prove tight. easyJet will use the old refurbished Terminal 1 (T1) at Ben Gurion, rather than the splendid, and now five years old, Terminal 3 (T3). However, T1 does have domestic services to Eilat. It is linked to T3 by a free shuttle. www.easyjet.com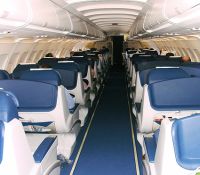 LUFTHANSA'S winter programme has been introduced offering 191 destinations in 78 countries including a spectacular 40% increase in capacity on routes to Nigeria. Although the carrier has reduced the number of flights for the winter, in view of weaker demand, it has already confirmed the re-introduction of a seasonal service between Inverness, in the heart of the Scottish Highlands, and Düsseldorf next summer and a new service from Munich to Tashkent from 28 March 2010. The three times a week service to the Uzbek capital will be operated by the Swiss carrier, PrivatAir using a Boeing 737-800, seating 24 passengers in Business Class and 84 in Economy Class providing the first direct connection from Lufthansa's Munich hub to Central Asia. The airline has also announced an operating profit of E226 for the first nine months of 2009. www.lufthansa.com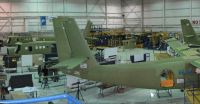 VIKING SERIES 400 TWIN OTTER certification work has entered the final phase towards the goal of achieving Transport Canada and European Aviation Safety Agency (EASA) certification, expected in the next 90 days. While this work continues, production is well advanced with seven aircraft in various stages of final assembly at Viking's Calgary, Alberta facility. In Victoria, major sub-assembly components are in work for the next set of six aircraft, in line with the projected build rate of 12 aircraft scheduled for 2010. Vityaz Avia Corporation of Moscow is the newest Twin Otter Series 400 customer, purchasing two of the commuter configured aircraft. The first flight of the Series 400 technical demonstrator took place on 1 October 2008 and the order book now stands at around 40. www.vikingair.com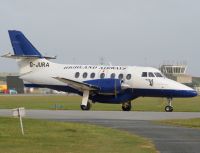 HIGHLAND AIRWAYS twice daily air link between Cardiff and Anglesey is to be extended for a further four years. Called a PSO (public service obligation) route it is subsidised by the Welsh Assembly Government. Currently flown by a Jetstream 31 it is required to be put out to tender with the incumbent operator a clear favourite to retain the operation although a larger (29 minimum seats against 18) will be mandatory. Deputy First Minister and Minister for the Economy and Transport, Ieuan Wyn Jones said: "Demand for this service has far exceeded our expectations and clearly demonstrates that it provides a valuable new way of linking up Wales." In the first two years of operation over 28,900 passengers used the service with many flights fully booked. In a survey around one-third of the passengers questioned had experienced difficulties in booking seats due to the lack of capacity. www.highlandairways.co.uk
Cindy was a very experienced front line agent at Heathrow but was getting upset that after a number of years friends working for actual airlines were getting many perks , whilst she, employed by a handling agency, gained none.

She was sure she'd have no trouble finding a new position and wired every station manager. Two weeks later she was dismayed and bewildered that she had not received even one request for an interview. Finally she received a message from a prospective employer.

It read: "Your resume was not attached as stated. I do, however, want to thank you for the vegetable lasagne recipe."