5 MARCH 2012
BTN DISTRIBUTION
BTN also goes out by email every Sunday night at midnight (UK time). To view this edition click here.
The Business Travel News
PO Box 758
Edgware HA8 4QF
United Kingdom
+44 (0)20 8952 8383
info@btnews.co.uk
© 2021 Business Travel News Ltd.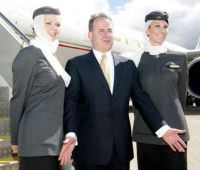 Etihad Airways, the national airline of the United Arab Emirates (UAE), has commenced scheduled flights between its hub in Abu Dhabi and Shanghai (China).
The airline will initially operate five weekly Airbus A330-300 services to Shanghai's main international airport – Pudong (PVG) – with commitments to a daily schedule from 15 April.
The President and Chief Executive Officer of Etihad Airways, James Hogan, said that the new route had special significance as the first non-stop commercial passenger flight between Abu Dhabi and Shanghai.
"The new Shanghai route adds much more than just another destination to the Etihad Airways global network.
It brings the capital of the UAE and the commercial and financial centre of mainland China closer together and creates new opportunities for government, trade, tourism and cultural exchange."
Flight time is around eight hours. The airline will compete with Emirates, whose home base is at Dubai, just 70 miles, or less than two hours, along the coastal highway. Emirates is established and is daily with an Airbus A380 on the route.
Mr Hogan also noted that the Abu Dhabi – Shanghai route was the only one in Etihad's China network to offer a three-class aircraft with First, Business and Economy cabins. www.etihad.com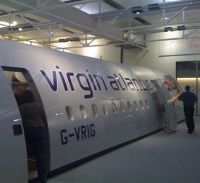 Virgin Atlantic has appointed its first ever 'whispering coach' to ensure that all passengers using the airline's new Upper Class Dream Suite enjoy the most relaxing night's sleep possible.
The new training, which takes an extra day to master, has been added to the existing service training which Virgin Atlantic's Upper Class cabin crew go though. Crew learn the best ways to engage with passengers – ensuring they experience unrivalled hospitality at 35,000ft. Cabin crew training already includes master classes based on a 'Brilliant Basics, Magic Touches' ethos and includes tips on how to read passengers, being tactile and how to wake people comfortably.
Virgin Atlantic's Richard Fitzgerald has taken on the role of Virgin Atlantic's Whispering Coach to train the crew for the launch of the new Suite in spring 2012 – and will be providing invaluable training to cabin crew tending to passengers in the airline's new Upper Class Dream Suite. Yet to be unveiled it is claimed to offer the largest and most comfortable beds in the sky. The crew are now trained to whisper at tones between 20 and 30 decibels due to its calming effect and the fact that it will not disturb other passengers whilst lights are out. www.virgin-atlantic.com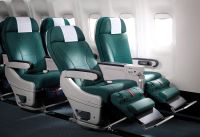 Hong Kong has seen the arrival of Cathay Pacific's first Boeing 777-300ER featuring its new Premium Economy Class product and long haul Economy Class seats.
Speaking at the delivery ceremony at the Boeing factory in Seattle, Cathay Pacific Chief Operating Officer Ivan Chu said: "This is an important development for Cathay Pacific – another big step in our commitment to provide outstanding products and services to our passengers. We're confident that both these new products will be winners, especially when combined with the famous Cathay Pacific service."
The new Premium Economy experience features a quieter, more spacious cabin than the traditional Economy Class with between 26 and 34 seats per aircraft. The seat pitch is 38 inches – six inches more than Economy Class – and the seat itself is wider and has a bigger recline. It has a large meal table, cocktail table, footrest, a 10.6-inch personal television, an in-seat power outlet, a multi-port connector for personal devices and extra personal stowage space. There is an enhanced catering service too. www.cathaypacific.com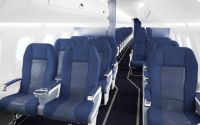 Virgin Australia is to introduce a Business Class on its Embraer E190 fleet later this year. The re-designed layout is 2+1 with new luxury leather seating creating a superior experience of privacy and comfort for guests. The cabin will offer just six seats at a 38" pitch with a fixed divider from Economy Class.
Virgin Australia Group Executive of Product and Service, Martin Daley, said that the new layout of the E190 fleet will enable Virgin Australia to cater to market demand for Business Class travel between key cities and regional destinations.
"The upgrade of the Business Class cabin in the E190 fleet will offer both privacy and comfort, whilst maintaining the service and product offering already in place across the network."
Other features include a personalised service from a dedicated cabin crew member along with one class washroom facilities, Newspapers until noon daily, exclusive Luke Mangan gourmet service, premium Australian wine, beer, and spirit selection. Priority security screening, boarding and baggage service where available, complimentary access to Virgin Australia airport lounges. At Sydney Airport there is direct kerbside access into the lounge. www.virginaustralia.com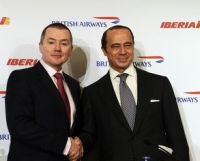 British Airways and Iberia's parent company, IAG, has reported an increase in annual profits. The company made a pre-tax profit of £426 in 2011, the figure for the previous year was £70m.
IAG's Chief Executive, Willie Walsh, used this announcement to once again criticise Government policy regarding APD (Airline Passenger Duty).
"The impact of these very high taxes – the highest in the world – is very negative on the UK economy and is destroying jobs," he said. Mr Walsh noted that BA was cutting recruitment by 500.
The airline also said it had reduced non-fuel costs by 5.6% last year and increased revenue per passenger by 3.6%.
Regarding Iberia strikes by pilots in response to plans to launch Iberia Express, a new low-cost carrier, Mr Walsh said they were costing the company about €2m during each day of industrial unrest.
Mr Walsh noted British Airways traffic this summer may be impacted by the Olympic games. While the Olympics will be positive for the long-term position of London as a global destination, past experience in other host cities suggests that demand could be dampened.
IAG will not be paying a dividend. www.iairgroup.com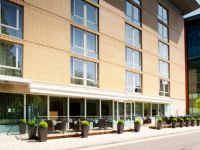 Hilton is getting on very quickly with rebranding the raft of Mint Hotels recently acquired as Garden Inns with Bristol the latest opening. The Hilton Garden Inn Bristol City Centre is near Temple Meads station and opposite the main business district. Close by is the Cabot Circus shopping area as well as the city's historic harbour side. It is part of a wider Hilton Garden Inn portfolio expansion which also includes new openings in Glasgow and Birmingham.
Simon Vincent, Area President, Europe, Hilton Worldwide, said: "Across Europe our Hilton Garden Inn brand is represented in more than 20 locations in six countries. We are delighted to now be welcoming guests to Hilton Garden Inn in Bristol, which joins the mid-market brand's UK hotels open in Aberdeen and Luton. We have now more than doubled the number of Hilton Garden Inn hotels in the UK, providing guests with greater Hilton Worldwide mid-market choice."
Hilton Garden Inn Bristol City Centre features 167 rooms with spectacular city views and excellent facilities for business and leisure guests. Complimentary wi-fi access is provided. The hotel offers a fitness studio, meeting space for up to 60 people, a unique butler service button and an Apple iMac in each room. http://hiltongardeninn1.hilton.com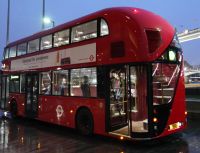 London's iconic double deck red bus Routemaster is making a comeback. The first of a new fleet of 21st century models was introduced last week on route 38 between Victoria Station and Hackney in East London. It replaces the unpopular Bendy Bus.
The current Mayor of London, Boris Johnson, first announced his intention to create a new bus in the run up to the 2008 Mayoral election which he won. Another election is due 3 May this year.
A competition was launched in July 2008 that sought to harvest design ideas for a new bus for London that drew inspiration from the iconic Routemaster but was fit for the 21st century. This would be the first time a bus had been designed specifically for the streets of London in more than 50 years. The competition was a huge success with more than 700 entries received from professionals and non-professionals of all ages from five continents.
The new bus has a host of exciting and innovative features including three entrances and two staircases to enable fast boarding and alighting of passengers; the reintroduction of an open rear platform; LED lighting; new seating moquette and wireless bell pushes. www.tfl.gov.uk/buses