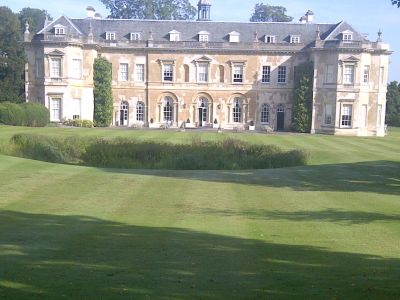 Let's face it, if you are stuck at Heathrow for some reason for 24/48 hours nearby there is the world's greatest selection of 'what to do'. You can go into London or take advantage of some of the most absorbing countryside anywhere in the world. The choice is simply enormous.
Here is a suggestion. It is somewhat Victorian regarding venues, but as you will learn some of our forebears lived very well.
Make for Aylesbury less than one hour away by road. You can gamble that the M25 is clear and onto the A41M or take the pretty and much shorter cross country route via Great Missenden and Amersham.
Your base for one or two nights is Hartwell House on the Oxford Road just outside the town. It is owned by the National Trust and was once the residency of Louis XVIII, never crowned as King of France, who lived there with his Court for five years.
Situated in 90 acres of landscaped parkland, Hartwell House offers a splendid country house setting. It provides for a long (or short) walk, country pursuits, and a fine spa with an exquisite swimming pool that opens out onto a private veranda. For an 'away from it all' company conference, within easy access of London and Heathrow, it is ideal.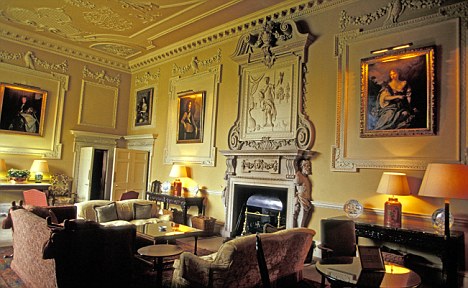 The impressive Grade I listed house, which has both Jacobean and Georgian facades, contains a host of most beautiful rooms with rococo ceilings, antique furniture and paintings, yet with every imaginable contemporary comfort. The bedrooms follow the same style, but internet is provided too. Dine is style in the restaurant or take tea in one of the large and historic public rooms with friends. In a classic style is the Hartwell House spa with a first class gym, the indoor pool and small café. The grounds are extensive, laid out by Capability Brown, one of Britain's finest ever landscape artists.
Hartwell House is central for two fascinating yet completely different late Victorian properties. Both the owners were very powerful men whose backgrounds were not that far apart, but clearly had completely different views on what a home should be.
Waddesdon Manor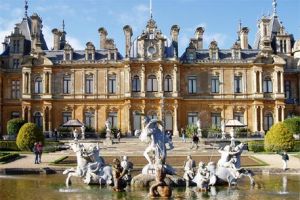 The residence of Baron Ferdinand de Rothschild (1839-1898), Waddesdon Manor is one of the great country houses of England. It was built by the Baron in the Neo-Renaissance style of a French château between 1874 and 1889. In 1957 James de Rothschild bequeathed the house and its contents to the National Trust. Today it is as immaculate as ever, a living tribute to the family (who still take a great interest) and the Trust who run it on a day to day basis.
In its time Waddesdon was one of the fashionable social centres of the country famed for its entertainment and art collection.
The Waddesdon Collection is astonishing and comes from all over Europe. The Musical Automaton actually works and is priceless. As you explore the three floors of the main house open to the public one begins to appreciate that the mega rich of today certainly had their contemporaries in an earlier era. One extravagant piece of furniture after another. Paintings by the great Dutch artists and also modern works. The collection does not stand still.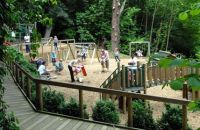 Waddesdon Manor can claim to be one of the first buildings of any size to have electricity. In 1890 Queen Victoria was most impressed by the invention she had not seen before. She was reported to have spent ten minutes switching a newly electrified 18th century chandelier on and off.
You really need a whole day to get around the park, aviary and stables. A courtesy passenger tractor ride is available and the eating arrangements range from the Manor Restaurant in the Old Kitchen and Servants' Hall, to the very pleasant Stables Café. There is a continuous programme of events and free guided tours of the house for visitors.
Cut into the side of a hill is the amazing Woodland playground. It winds through the trees making use of the natural environment to create a fun and magical area to play. Rope swings, see saws, bird's nest swing and contour slide let children run and climb, swing and slide. Different areas are set out for varying ages, suitable up to 14 years.
Hughenden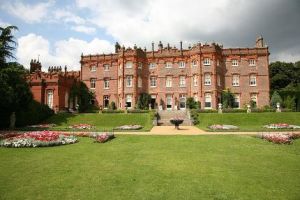 Hughenden Manor, just outside High Wycombe, is something else. As the home of a British Prime Minister (Benjamin Disraeli) it can be compared to Chartwell in Kent, Churchill's residence. Its connection with Waddesdon is interesting. Queen Victoria visited each of the Buckinghamshire residences. She seems to have been amused with both. It is again owned by the National Trust, like Waddesdon bequeathed through a family trust. Neither Rothschild nor Disraeli had children. Like its contemporary 20 miles to the north west the house and grounds are kept immaculate.
Born in 1804 Disraeli died in 1881. He was Prime Minster for two periods as leader of the Conservative Party. Charismatic, he was well known as a literary and social figure famous for charming his Queen. As a writer his best known novel is Sybil which traces the plight of the working classes of England.
Whilst Hughenden as a 19th century country house is interesting it cannot be compared with size and grandeur to Waddesdon Manor. There is a lovely formal garden, some pleasant walks and both Disraeli and his wife Mary Anne (who predeceased him) are buried in the nearby St Michaels and All Angels Church.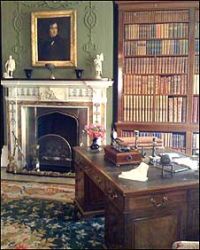 The present house was built towards the end of the 18th century and was of a stuccoed and of unassuming design. In 1848 the Disraelis purchased the property but it was not until 1862 that they had it remodelled by the architect Edward Buckton Lamb. Today it is set out in much the same style as it would have been in the later 19th century with Disraeli's study intact.
There is further connection with Waddesdon Manor. It was to another Rothschild, Baron David, that Disraeli turned to in 1874 for a short-term loan to purchase 44% of the Suez Canal. Britain's route to its Eastern Empire was secure.
During the WWII, Hughenden Manor was used as a secret intelligence base code-named "Hillside". The UK Air Ministry staff at the manor analysed aerial photography of Germany and created maps for bombing missions, including the famous "Dambusters" raid. There is a small museum in the basement of the house.
http://www.hartwell-house.com www.waddesdon.org.uk www.nationaltrust.org.uk/hughenden
OUR READERS' FINEST WORDS (All times and dates are GMT)
All comments are filtered to exclude any excesses but the Editor does not have to agree with what is being said. 100 words maximum
---
No one has commented yet, why don't you start the ball rolling?
---