14 NOVEMBER 2011
BTN DISTRIBUTION
BTN also goes out by email every Sunday night at midnight (UK time). To view this edition click here.
The Business Travel News
PO Box 758
Edgware HA8 4QF
United Kingdom
+44 (0)20 8952 8383
info@btnews.co.uk
© 2021 Business Travel News Ltd.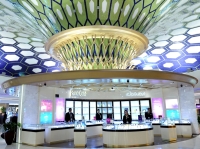 Often seen as an easy alternative to Dubai for the western extremities of that city state, Abu Dhabi International Airport has completed the renovation of Terminal 1 including new duty free and food and beverage outlets.
Terminal 1 is used by airlines except the national carrier Etihad whose home is the adjoining and nearly new Terminal 3. A few minutes from the main complex, Terminal 2 is for charter and budget carriers.
The project included an increase in the number of check-in and immigration counters. Carried out over 10 months it is part of a programme to expand the airport capacity and meet the anticipated traffic growth, whilst completing the longer-term expansion plans of the capital's airport through building new terminals and facilities.
The completed project was also designed to deliver a high quality facility and upgraded services in Terminal 1 in line with the Terminal 3 offerings. The timing is ideal just before the busy Formula One weekend. www.abudhabiairport.ae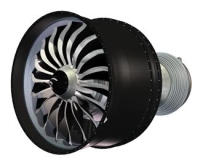 With the order book now standing at more than 600 aircraft from eight airlines, Boeing has released details of 737 MAX programme, the plane having a 68-inch fan diameter for the optimized engine design.
"The 737 is a more efficient, lighter design and requires less thrust than other airplanes in this class, which is important because weight and thrust have a significant effect on fuel efficiency and operating costs," said John Hamilton, 737 Chief Programme Engineer. "With airlines facing rising fuel costs and weight-based costs equating to nearly 30% of an airline's operating costs, this optimized 68-inch fan design will offer a smaller, lighter and more fuel-efficient engine to ensure we maintain the current advantage we have over the competition."
The new 737 family will be powered by CFM International LEAP-1B engines. The new-engine variant will have 10-12% lower fuel burn than current 737s and a 7% operating cost advantage over the competition says Boeing. With increased fuel efficiency the operating range of the aircraft will improve too. When announced last August Boeing suggested a 2017 first delivery. www.boeing.com/commercial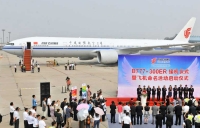 The much rumoured Chinese airline into Gatwick is Air China. Chinese officials had been seen around the airport in recent weeks but were described as "inscrutable". Which airline they belonged to was not available.
Beijing – Gatwick will begin during summer 2012 with a two-class Airbus A330 currently on Heathrow. The plan is to upgrade to a three-class Boeing 777-300ER.
Speaking at World Travel Market (WTM) in London last week, Dr Zhihang Chi, Vice President and General Manager North America for Air China, said: "We fully intend to expand in the UK and increase our presence here but unfortunately we can't do it at Heathrow. Our daily Beijing flight to Heathrow has load factors of over 90% – it's ridiculously full. But adding capacity at Heathrow is out of the question and we have actually been agonising over this issue for a long time," said Dr Chi.
Air China is not the first airline to announce plans to follow this option. Korean Air is understood to be planning a three times weekly Seoul Incheon – Gatwick connection from April next year, complementing its existing Heathrow operation. www.airchina.co.uk
British Airways customers around the world will benefit from a new level of customer service thanks to thousands of iPads being issued to the airline's senior cabin crew from next week. The move comes after a highly successful trial, involving 100 senior crew members, who are responsible for delivering service to customers onboard the airline's 226 aircraft and reported by AERBT 22 August.
Specially developed software and apps enable cabin crew to tap into data giving them customer preferences and their previous travel arrangements, allowing them to offer a uniquely personalised service.
The three-month-long trial has been judged such a fly away success that British Airways has given the go-ahead for the specially equipped iPad 2 to be issued to 2,000 senior cabin crew across the entire British Airways long and short haul fleet.
Bill Francis, British Airways Head of Inflight Customer Experience, said: "The benefit of the iPads has been felt right from the beginning, with fantastic feedback from both customers and cabin crew alike." One particular benefit is destination guides. Passengers often ask the cabin crew on points regarding destinations. Answers can now be given with confidence. www.ba.com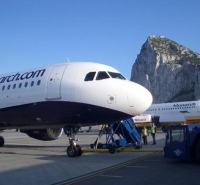 Manchester to Dubrovnik, Milan, Venice and Verona; Birmingham to Dubrovnik, Heraklion, Milan, Rome and Venice; Gatwick to Dubrovnik, Heraklion, Milan and Venice and Luton to Rome, are 14 new routes added to Monarch Airlines scheduled operation for summer 2012. Joining the airline are two further 174-seat Airbus A320s bringing the total up to five. The airline also operates 16 Airbus A321s in a 214-seat configuration, four Airbus A300-600Rs (352 seats), two A330s (374 seats), and three Boeing 757s (229 seats). An order for six Boeing 787 Dreamliners was recently cancelled, the airline saying it was due to delivery delays.
Commenting on the expansion plans Managing Director of Monarch Airlines, Kevin George, said: "The strategy for Monarch Airlines is now firmly focused on its scheduled operations and we are delighted to be adding these new routes to our already extensive network of leisure destinations across Europe.
"Adding Italy to our network will further reinforce our position as the leading leisure focused airline serving the Mediterranean and the Canaries. The addition of two new aircraft to the fleet is great news, and marks the start of our fleet expansion plans, which will see the fleet grow from 30 to around 40 aircraft in the medium term." www.monarch.co.uk
Titan Airways, the Stansted-based VIP charter specialist, is bolstering its fleet with the introduction of two additional Boeing 757s, taking the total number in the fleet to three.
Scheduled for delivery in spring 2012, the aircraft will be painted in Titan Airways distinctive livery with the interiors finished to a very high standard. It is anticipated they will be ready for service by May 2012.
"The new 757s have been purchased as part of our ongoing fleet renewal programme and our strategy for owning our own aircraft," said Alastair Kiernan, Titan Airways Commercial Director. "The versatility of the 757, particularly given its size, range, payload and the flexibility of seating configurations, makes it a firm favourite with our clients and we are delighted to now offer these aircraft for short, medium or long-term lease and ad-hoc charter."
With new aircraft Titan has also taken the decision to change the interior of its existing Boeing 757 and refurbish it with new slim-line seats. These are to a much more modern design and offer increased flexibility with the three-seat configuration now able to transform into two seats with a central table that flips down at the press of a button and armrests that move centrally. www.titan-airways.co.uk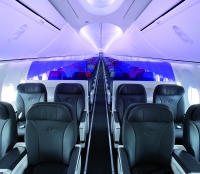 Sales of its new Business Class have been launched by Virgin Australia. Flights with the new product officially begin on 18 January 2012. Various versions will be introduced to match the airline's fleet of Airbus A330; Boeing 737 NG series and Embraer aircraft.
The new product will offer luxury leather seating with 38" seat pitch on the Boeing 737 and 62" seat pitch on the Airbus A330 Premium Australian wines and beers, and spirit selection. With all aircraft types hot meals created by renowned Chef Luke Mangan are available for breakfast, lunch and dinner.
Virgin Australia has also confirmed that economy class guests travelling will also receive complimentary tea; coffee and water from 18 January on all domestic flights. Those travelling between Adelaide, Brisbane, Canberra, Melbourne, Perth and Sydney Monday to Friday will be offered complimentary beer and wine between 4:00pm and 7:00pm (which according the AERBT's Australian representative "is a recipe for disaster".
"I can just wonder what will happen when the seven o'clock bleeper goes!" www.virginaustralia.com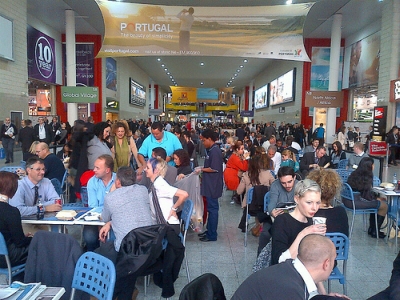 There is still room for improvement (Paris hosted a very well organised opening day via a City Cruises Thames voyage to the show from Waterloo, only to be defeated by petty bureaucracy at Excel itself. It took 30 minutes to actually open the walkway from the boat!) but 2011 is likely to go down as the best World Travel Market (WTM) yet.
Whilst the full attendance figures are not out yet there was a tremendous buzz about the place the whole week. There were 183 new exhibitors. What is not obvious to the casual visitor is the events programme. On the first day visitor invitations were up by a massive 14%. At any one time there can be up to eight well-attended presentations going on at various venues dotted around the 100,000sq m of Excel. Plus press conferences. Exhibitors competed within the halls with networking parties and also at the many hotels that have sprung up within a few minutes walk of both the east and west entrances. The DLR, now with extended trains, just about took the strain, and if you know your way around the system, it is reasonably civilised.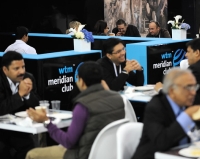 WTM is not a business travel show, although a number of major carriers once again were exhibiting. These included United Airlines without Continental for the very first time. During the opening day news filtered out (via AERBT amongst others) that Business Travel Market (BTM), the dedicated June gathering at the same venue, had joined the WTM stable, universally accepted as a good move.
UK Air Passenger Duty (APD) affects the travel trade severely, as does emissions trading. Martin Craigs, who took over as PATA (Pacific Asia Travel Association) – vital for incoming business – accused the UK and European Union of "hypocrisy" and denounced the UK Government's recent appointment of MP Justine Greening as Transport Secretary. His view was simple "Moving Greening to the Department for Transport is like asking [Real Madrid Football Club Manager] Jose Mourinho to referee the game." Greening has led opposition in Parliament to expanding Heathrow and was previously Economic Secretary to the Treasury where she was responsible for APD.
He accused the UK airline and travel industry of poor lobbying. There are indications that travel organisers are emphasising to clients the need to make the UK the initial destination visiting Europe, and then leaving by Eurostar/ferry, saving APD
World Responsible Tourism was the theme of the show this year.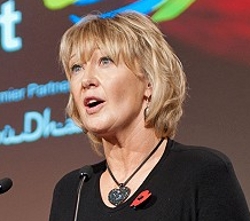 Fiona Jeffery, Reed Travel Exhibitions Director World Travel Market, told the 500 senior travel executives attending the Official Opening: "Travel and tourism, supported by governments, must strengthen their efforts; more need to actively get involved, not just pay lip service to something which is now deemed fashionable."

But she also acknowledged that "companies need to balance profit against the values and principles of prudent corporate social responsibility."
The World Travel and Tourism Council (WTTC) downgraded its previous forecasts for the sector by about one third, predicting growth of 3.2% in the value of travel this year and 3.3% next year.
The WTTC had previously forecast growth of 4.5% for this year and 5.1% for 2012.
The United States has its first-ever unified international consumer promotion. An initiative of Brand USA Inc – formerly the Corporation for Travel Promotion – the new identity represents the first phase of a promotional campaign aimed at increasing visitor numbers to the country by 40% to 300m by 2020.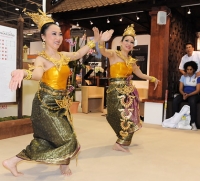 Whilst in last week's AERBT we reported that the European Tour Operators Association (ETOA) was very negative regarding the London 2012 Olympics, they will have no significant impact on UK travellers' holiday plans next summer according to the World Travel Market Industry Report 2011 which was released during the show. More than 1,000 holidaymakers who had taken at least one seven-days-or-more holiday during the past year were asked about the effect of 2012 Olympics would have on their holiday choices.

Only 8% of the UK population have Olympics fever and plan to incorporate the Games into their 2012 summer holiday. While 6% plan to leave the UK to avoid the Olympics.

Half said they would holiday abroad as usual, with 36% holidaying in the UK but not visiting the Olympics as part of their holiday.

Nonetheless, Brits are overwhelmingly positive about the UK's hosting of the Games. 60% agreed that tourists will be encouraged to visit London with more than half recognising the marketing opportunity for London (56%) and the rest of the UK (47%).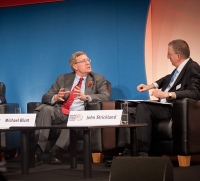 With many Olympic events, from sailing to soccer, taking place outside London, more than one-third (34%) also agreed the Games will drive visitors to other parts of the UK.
Fiona Jeffery said: "The British travelling public believes that the Olympics will be good for London and regional tourism, without necessarily wanting to attend themselves.

"It is also reassuring the Olympic bodies' messaging that the Games is not just about London seems to be getting through."
ExCeL London, home of World Travel Market, is also hosting a number of events at London 2012, with the boxing, fencing, judo, taekwondo, table tennis, weightlifting and wrestling competitions taking place under its roof.
It is easy to remember World Travel Market 2012. Monday 5 November. www.wtmlondon.com