26 May has been set by Virgin Blue, Australia's second largest airline, for the introduction of a full two-class wide-bodied operation on its domestic services.
The airline will shortly take delivery of the first of four Airbus A330 aircraft that will be used on the five-hour sector between Perth and Sydney featuring a 27-seat dedicated 2+3+2 Business Class with a fully reclining seat offing 62 inches of pitch. The airline's "The Lounge" pay as you go facility is part of the Business Class product. Passengers throughout the aircraft will be offered the latest IFE (in-flight entertainment) system with films, TV and audio. The airline's 737s and Embraers operate with Economy and Premium Economy to differentiate with the superior A330. Virgin Blue competes against Qantas with Boeing 767s.
Virgin Blue was launched with typical Richard Branson flamboyance in August 2000. The Virgin Group now holds 25% interest and Air New Zealand 14.7%. The airline serves 28 cities in Australia, with Brisbane Airport as its hub, using a current fleet of 75 Boeing 737 and Embraer e-series aircraft. www.virginblue.com.au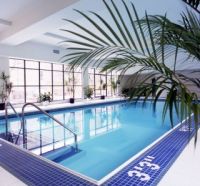 Toronto continues with a surge of planned and actual hotel openings (see last week's AERBT) with the Holiday Inn Toronto Downtown Centre now welcoming visitors.
The new hotel is Canada's largest Holiday Inn property with 513 rooms over 23 floors and features 9,000sq ft of modern, multi-functional event space. The project is part of the US$1bn Holiday Inn global brand re-launch.
Located at 30 Carlton Street in the Downtown Yonge neighbourhood, the hotel is steps away from Toronto's historic landmark Maple Leaf Gardens and within walking distance of the Eaton Centre, Ryerson University and hundreds of restaurants and businesses. The hotel is three miles from the Billy Bishop waterfront airport and 16 miles from Pearson International. www.holiday-inn.com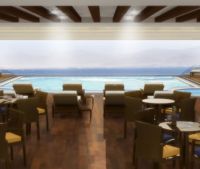 Hilton Worldwide has made its debut in Jordan with the opening of the DoubleTree by Hilton Aqaba. With views over the Red Sea it is located in the central business district of Jordan's southernmost city and only port, within walking distance of popular seashore attractions and all major shopping areas. The newly built 173-room hotel has been designed to welcome guests with contemporary style, an array of upscale amenities and warm Arabian hospitality.
Named by the Arab Tourism Ministers' Council as the Arab Tourism Capital for 2011, Aqaba is particularly well known for its resort lifestyle amongst intra-regional travellers, as well as European holidaymakers, who often stay while also visiting cultural and eco-adventure destinations such as Wadi Rum, Petra and the Red Sea.
The DoubleTree by Hilton Aqaba is located just 15 minutes from King Hussein International Airport (AQJ). More than 220m² of exclusive meeting and event space is available for business meetings, conferences or social receptions of up to 130 people. The hotel features a semi-covered, infinity-style swimming pool and fitness centre. http://doubletree1.hilton.com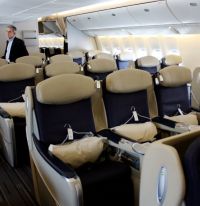 Capetown is to become Air France's 12th new destination launched in 2011. From 3 November the French national airline will operate three weekly frequencies to Africa's most southerly city. It is the country's legislative capital and the seat of the South African Parliament. Flights will be serviced by a Boeing 777-200 with 35 seats in the Business Premier, 24 in Premium Voyageur and 250 in the Voyageur cabin.
Air France introduced the Airbus A380 on the daily Johannesburg route in February 2010.
This new route launch is part of Air France/KLM Group's expansion policy on the African continent, with four new destinations in 2011: Bata (Equatorial Guinea), Cape Town (South Africa), Freetown (Sierra Leone) and Monrovia (Liberia). These new destinations bring the number of cities in Africa served in winter 2011 to 38. www.airfrance.com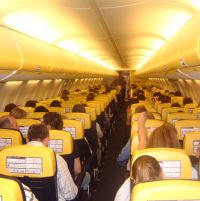 Ryanair, which some people call "the most annoying airline in the world", seems to be on the expansion trail again out of Stansted, albeit in a small way.
Starting from July this year the airline will introduce a twice weekly service from Stansted to Corfu. The airline now offers four Greek connections - Stansted to/from Corfu, Rhodes and Thessaloniki and Liverpool to/from Kos.

Corfu is currently served with daily flights from Luton by easyJet, and also by Monarch from Gatwick. Flight time is around 3hr 20 minutes.
Corfu is the most westerly island of Greece with Brindisi and the Italian mainland opposite across the Ionian Sea. It has a population of just 33,000 and was once controlled by the Venetians, and later, the British. www.ryanair.com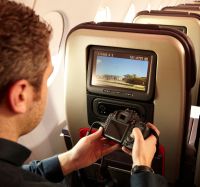 Panasonic and Virgin Atlantic have released more details of the in-flight entertainment system (IFE) that went into service last week with the introduction of the airline's new Airbus A330 aircraft (www.aerbt.co.uk/#3279). Passengers in all classes will be able to plug in a USB to view their own content. Destination videos are also available amongst many other features. For those that do not want to use the touch screen the handset is in the seatback and not in the traditional airline position using the armrest. An email system using travellers own Blackberries and PDAs will be introduced later.
For the business traveller one of the innovations is "Live News from Sky". You can browse as if on the ground. In addition to this, Sky News Radio and Sky Sports Radio bulletins are available hourly.
With the new system Virgin have introduced what is claimed to be a world's first, allowing passengers to "rate" movies, music and other features with a simple thumbs up/down option. Travellers can provide real feedback on what they like and do not like, which will allow the airline to tailor its entertainment to better suit their needs. www.virgin-atlantic.com
Sharan Sets New Standards
Plus a brief test of the Peugeot RCZ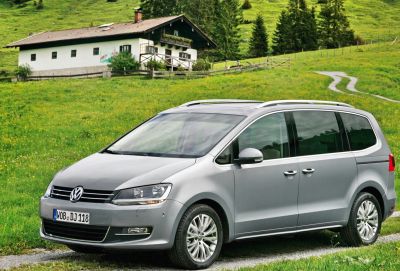 More generously proportioned, more user-friendly, more practical, more efficient (lighter in weight than its predecessor) and mechanically vastly advanced.
That's the new Volkswagen Sharan Multi Purpose Vehicle.
Just when Crossover vehicles seemed to be grabbing all the attention Volkswagen has come up trumps with a most sensible product. I feel it is stylish without any suggestion of being cumbersome. It is a sensible package.
The Sharan's technology is based on Volkswagen's highly acclaimed Bluemotion efficiency technology and currently for the UK market there is a choice of two petrol and two diesel engines, the less potent being partnered by a well ratioed, easy changing 6-speed gearbox as standard with the top 198 bhp 2.0-litre petrol version equipped with the selectable DSG automatic transmission. The latter unit can also be specified as a cost-extra option of some other versions.
Four trim versions are offered, S, SE, SEL and Executive, the first three come with a seven-seat format as standard, the latter, designed for the business market, provides six leather upholstered seats.
Initially the most obvious change over the previous Sharan which shared its DNA with the Ford Galaxy and SEAT Alhambra, is the provision of easy operating sliding rear doors that makes for an easier life in tight car parks, more safety when unloading younger occupants and relatively easy access to both rear rows of seats.
My first encounter with this new Sharan certainly raised my eye-brows when I realised it was powered by a mere 1.4-litre engine, an engine size that not so many years ago would not pull the skin off the proverbial rice pudding, let alone provide sufficient urge for a car loaded up with seven people and accompanying luggage!
Here is a clear demonstration of how far engine technology has advanced in the face of seriously challenging environmental and economic challenges.
No kidding, this turbo-charged petrol engine pushes out 150ps (148 bhp) in an amazingly civilised and flexible manner, endowing the Sharan with a claimed top speed of 122 mph (where the law permits, VW hastens to add) and with an acceleration time to 62 mph (100 kph) from rest in a commendable 10.7 seconds – slightly quickly if the DSG transmission is fitted. Notably, power delivery is smooth, flexible, lively and without the surge factor common with some earlier turbo-charged petrol engines.
Work a small engine hard and it gets thirsty. Well, that used to be the case but not with this amazing engine, the official combined consumption figure is a sensible 37.2 mpg. Clearly load it up, work it hard and that figure should obviously decline but the fact is that a lot of the time the normal use would be less demanding and that is where the economy gain is very important.
In developing the Sharan, Volkswagen has optimised the 'Purpose' part of the vehicle's designation to a major degree. The rear seating arrangement is based on three individual seats in the middle row, and a pair of generously proportioned seats at the very rear. Importantly there is a slide facility for the three middle seats thus enabling leg space to be apportioned as occupant demand dictates plus there is a good size foot well depth for the two rear seats thus enabling at least moderately proportioned adults to travel in relative comfort.
Luggage capacity is also an object lesson for most rivals. With all seven seats in use there is a useful 300 litres of load space and with all seats flat folded (an easy task) there is a massive 2,297 litres and obviously other seat/load permutations.
Another major advance is the ride and handling qualities of the new Sharan. Some MPVs tend to float when driven with a light load, not so the Sharan, the suspension is a successful combination of firm ride but with good bump insulation that is generally not affected by varying loads. Steering response is positive through a nicely balanced steering wheel action, the brakes progressive rather than sharp and the six speed gearbox light and positive in operation. Straight line stability is also a strong point.
The driver's lot is also a good one with easy access (there are grab handles above all the doors to help access, the generous range of seat and steering wheel adjustment ensures a bespoke fit for all shapes and sizes of operative. The all round vision is very good and importantly the fascia presentation is uncompromisingly benchmark Volkswagen which means clear no-nonsense instrument and easy switch gear that is housed in a stylish and well finished fascia. Don't be fazed by the electronic parking brake, it soon inspires confidence.
Other important factors in favour of the Sharan is a 5-star Euro NCAP safety rating, airbag protection throughout the whole vehicle, optional integrated child seats, optional rear view camera with satellite navigation, Stop+Start fuel/emissions saving system and the option of Volkswagen's highly rated Park Assist.
The new Sharan makes a very strong case for those looking for an MPV that has clear cut driving character and so many other qualities. A lot of rivals seriously need to play catch-up!
Rivals include: Kia Sedona Peugeot 3008, Citroen Grand C4 Picasso, Mazda5, Renault Grand Scenic.
STAR RATINGS (out of 10)
Performance 9
Handling 9
Transmission 9
Noise 9
Economy 9
Ride and Comfort 9
Accommodation 9
Styling 8
Brakes 9
Finish 9
TOTAL: 89%
Price from £23,470 on the road.
Peugeot RCZ Sports Coupe

There's no better way for a car manufacturer to launch a refreshed brand image than by introducing a new class of model, one perhaps it has not previously offered in the past.
This is no cosmetic exercise based on a main stream model though there is a lot of the excellent drive quality pedigree of the impressive range that has been proving sales winners for Peugeot. The RCZ is a stand alone special car that has plenty of spice, plenty of zest yet a certain coolness about its presence.
This is a coupe, though the slightly dishing crease of the central roof panel suggests a folding top which might add more fun but perhaps would confuse the issue with the admirable 207 and 308 CC models. The rear seat accommodation is a token offering
Accessing the front seats is more of a slide in operation and seat comfort (enhanced by a heated system on the test car) is a 'fit like a glove' experience that not cramped but supportive in all the right places to ensure that the performance can be enjoyed while the driver and front seat passenger are well secured to cope with the acceleration and cornering forces that could be experienced under really discerning driving.
The cockpit presentation is no let down, there are drilled metal pedals, conventional clear faced circular instrumentation, honest to goodness fumble free minor controls and switchgear with the overall effect emphasised by the high quality trim materials and excellent build quality that Peugeot has established across it latest model line-up.
The drive is no disappointment, the RCZ delivers superbly responsive handling albeit with a firm ride, responsive controls, especially the new generation short throw six speed gearbox.
The engine is a gem, smooth, potent with also a satisfying engine note, plenty of rapid pick-up and notable urge under acceleration. Peugeot claim a top speed of 133 mph with 62 mph (100 kph) reached from rest in a creditable 8.3 seconds while a combined fuel consumption figure of 42.1 mpg suggests to me a good score on an index of performance rating.
I am not surprised that Peugeot has come up with this iconic product as the company has been successfully demonstrating a range of attractive yet individualistic products and I suspect the RCZ is just the kick-start of an exciting era for Peugeot.
Price From: £23,245.