21 FEBRUARY 2011
BTN DISTRIBUTION
BTN also goes out by email every Sunday night at midnight (UK time). To view this edition click here.
The Business Travel News
PO Box 758
Edgware HA8 4QF
United Kingdom
+44 (0)20 8952 8383
info@btnews.co.uk
© 2021 Business Travel News Ltd.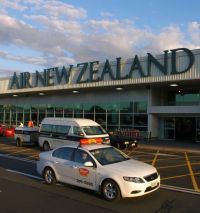 As electronic consumer technology gets more and more involved with airline passenger assistance Air New Zealand (ANZ) has come up with an innovation that is bound to catch on.
ANZ travellers to and from Auckland, Christchurch, Queenstown and Wellington airports are now being offered a fixed price cab ride with the guarantee of the lowest available rate from the participating transport provider.
In practice this means travellers no longer have to pay extra to travel at peak times. Air New Zealand GM Australasia Bruce Parton says: "It's one low fixed price, booked and paid for in advance, regardless of what time of day you're travelling. So if you travel at peak time you don't end up paying extra to sit in traffic.
"Along with the lowest available rate, there's also an on-time guarantee. If you've booked transport to the airport and it's not at the specified pick up point within 15 minutes of the booked time the whole trip is free." www.airnz.co.nz/taxi
Rome is to be connected with direct flights to the two main Chinese cities, Beijing, the political capital and Shanghai, the economic centre. Whilst codeshares are nothing new, this arrangement between Alitalia and China Eastern, is somewhat unique with one airline operating one city pair, and its partner carrier the other. Alitalia is a member of Skyteam and it is planned that China Eastern will join this year.
During summer 2011, China Eastern will introduce flights between Shanghai and Rome. There will be four weekly services operated with an Airbus A340 in a three-class configuration.
On 1 June Alitalia will start a four times weekly schedule (five starting in October) between Rome and Beijing. This will be flown by an Airbus A330 in a similar layout.
Thanks to these new services, Alitalia will strengthen its operations in the Far East (where the company today is the only carrier offering a direct service between Italy and Japan) and China Eastern will launch its operations on the Italian market. www.chinaeastern.co.uk www.alitalia.com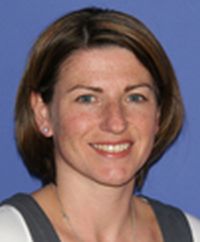 Jill Brady, Director of HR & External Affairs at Virgin Atlantic and Chairman of Sustainable Aviation will launch its third progress report at an Aviation Club lunch on Thursday 24 March.
Sustainable Aviation is a unique UK industry coalition of engine and airframe manufacturers, airlines, airports and air traffic control. It was set up five years ago to determine the roadmap for growth of aviation.
The Government goes to consultation in March on a scoping document for a new aviation policy framework. It is expected to cover noise, air quality, CO2 and other emissions, biofuels and technology. There is a renewed environmental emphasis on all sides – and continued pressure from groups concerned about both the global and local impacts of our industry.
Jill will make the point that it has never been more important for aviation to demonstrate it is serious – and united – in addressing the environmental impact. Equally it must not allow policy makers to lose sight of the importance of air travel as a key driver of economic growth. Aviation is central to the global economy in a globalised world. She will emphasise it has shaped the world we live in today and cannot be replaced either by high-speed rail or video conferencing. www.aviationclub.org.uk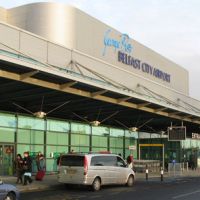 In 2010 the UK's 57 scheduled service airports moved 214m people, a drop of 3.4%. Heathrow with 66m passengers virtually held its own against the previous year, the only one of the major operations to do so. The CAA figures were published last Friday. In 2007 the record figure was 240m.
Of the significant regional operations of interest to business travellers George Best at Belfast was the only airport to increase business with numbers up by 4.5% to 2.7m nearly the same as London City, which was down only 0.6%. Belfast International again was a major loser with 4m passengers passing through, down 11.6%. In 2007 5.3m used the airport.
Gatwick was down 3.1% to 31.3m (but still the world's busiest single runway airport), Stansted -7% at 18.5m, Manchester -4.2% at 17.6m and Luton (8.73m), Edinburgh (8.59m), Birmingham (8.56m), all down and jockeying for position. www.caa.co.uk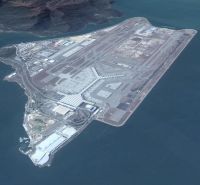 Virtually straight from London, where he criticised the UK Government, IATA Director Giovanni Bisignani, was raising much the same topic at the Aerospace Forum Asia in Hong Kong last week. This time his target was the authorities governing the special administrative zone of China. He called on them to move forward with plans for a third runway at Hong Kong International Airport.
"Hong Kong outperforms its population size on the world stage because of its connectivity. That drives the economy and creates jobs. The current two runways are near saturation."
Hong Kong International Airport was planned in 1992 to handle 87m passengers and 9m tonnes of cargo. Growth has been faster than anyone could have predicted. At the same time, the 60 movements per hour cap limits capacity to much less than this. Even raising runway movements to 68 per hour as proposed by the Civil Aviation Department, capacity will only be 55m passengers. In 2010, the airport handled 51m passengers so it is already operating at about 90% of capacity.‬
"If Hong Kong wants to continue to gain the economic benefits of a growing aviation industry a third runway will be needed," said Bisignani. www.hongkongairport.com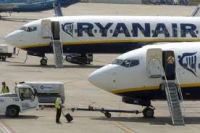 Barcelona is what Ryanair would like the public to call Girona Airport, 50 miles to the North East, and a good hour's drive away. At the end of February it is to make a major retraction of services at Barcelona (Girona), reducing its fleet by five and closing 18 routes and reducing frequencies on a further 17. Five aircraft will be re-located.
Ryanair is blaming the new government of Catalonia in failing to honour the five-year extension agreement it says it reached with the outgoing administration in December. As often is the case Ryanair has put out a most preposterous claim saying that 1.7m passengers and 1,700 jobs would be lost. At five operational crews per aircraft and six flying personnel Ryanair will reduce its base staff by about 150.
Besides Girona, Ryanair also operates from Reus, which it also calls Barcelona and is 70 miles south west of the city, and since September El Prat Barcelona's main airport. Its future plans in the region remain to be unfurled. www.ryanair.com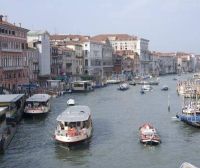 Qatar Airways is to fly to Venice on a daily basis from 15 June. It is the airline's third Italian destination after Milan and Rome to where the airline also operates seven days per week. At Venice International Airport passengers are able to arrive by water from the heart of the historic city.
Venice becomes the Doha-based airline's 26th European destination in a remarkable period of growth which has seen seven new routes introduced on the Continent over the past 12 months. Qatar Airways has launched flights to Ankara, Copenhagen, Barcelona, Nice, Bucharest, Budapest, Brussels – the latter three in January alone – taking its European portfolio to 24 cities. From 6 March, scheduled services begin to the German automobile manufacturing city of Stuttgart.
The new route, non-stop from Qatar Airways' Doha hub, will be operated with the airline's newest Airbus A320 aircraft, featuring seat-back TV screens offering a choice of over 700 interactive audio and video entertainment programming. The aircraft has 12 seats in Business Class and 132 in Economy.
Passengers travelling from Venice can connect to a range of business and leisure destinations served by Qatar Airways across the Middle East, Africa and Asia Pacific, via Doha. www.qatarairways.com