SHIP REVIEW: Star Flyer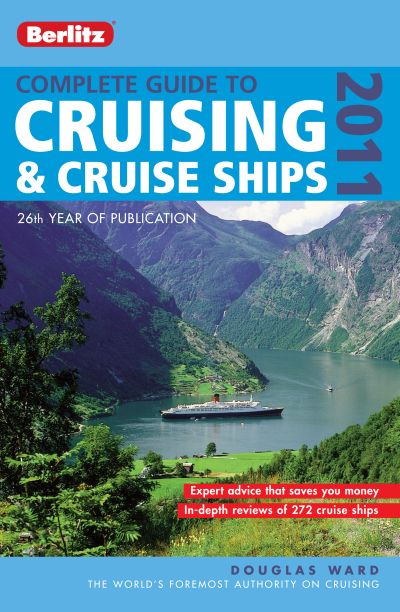 National Cruise Week, now in its third year, is offering an exciting range of deals, great savings and incentives from adventure cruises, to cultural river cruises and getaways by sea for the whole family (until 26 September). Your local travel agent will have a great many special deals this week. Or you can contact an operator direct, but they will be more biased.
Cruising is now the fastest growing part of the holiday industry with the numbers doubling over the last ten years to an estimated 1.65m, young and old, 1n 2010.
Figures, released by the European Cruise Council (ECC) at their annual conference in Brussels, show that passengers made 23.8m visits to European ports in 2009, an increase of more than 9% over 2008, with 4.9m European residents booking a cruise holiday last year, a rise of 50% in five years, and representing nearly 30% of the world's cruise passengers.

OUR TEN STORY NEW ROUNDUP
The 2011 Berlitz cruise guide has been published, the 26th issue. It's an outspoken edition with cruise guru Douglas Ward highlighting the "extras" now being added by operators, ones that are difficult to escape.
"Be prepared for rip-offs," says Mr Ward, and he lists six of the ones to watch out for.
• Extra Gratuities – Be careful here. Watch out for signable receipts for such things as spa treatments or extra-cost coffees and bar charges, despite a 15% gratuity having already been added to the actual charge of the item.
• Transfer Buses – The cost of airport transfer buses in some ports, such as Athens, Barcelona and Civitavecchia (the port for Rome) is unacceptably high. He sights Royal Caribbean International's Independence of the Seas US$6 one way charge for the shuttle bus in some ports on its ex-UK Western Mediterranean cruises.
• Currency Conversion – Check the rate. Passengers often only learn what they have paid when they receive their credit card statements at home weeks after their cruise.
• Mineral Water – The cost of bottled mineral water for shore excursions has rocketed. For example Celebrity Cruises charges US$4.50 and then adds another 15% gratuity "for your convenience."
• Navigation Bridge Tours – Cruise-goers like to see the view from the bridge, but access is restricted and costs are sky high. For example, Princess Cruises charges passengers US$150 per person to be entered into a "raffle" to compete for a dozen available tickets per cruise to do 'The Ultimate Ship's Tour' which takes in the bridge, among other 'backstage' areas.
• Bingo Cards – The cost of cards for a game of Bingo is rising dramatically. NCL, for example now charges US$40 for a block of four cards.
Ward also advises readers on how cruise lines cut costs to stay afloat. Among the 15 strategies employed by cruise lines are reducing food portions, providing cheaper cuts of meat, reducing the strength of 'free' coffee, removing trays from self-service buffets so that passengers can't help themselves to so much food, reducing service levels and providing minimal staff training.
Every ship is listed and all you get with a sister ship is a reproduction of what was written before. Carnival Conquest is virtually identical to Carnival Destiny and five other sister ships. Each gets a matching assessment spread over two pages. Mr Ward's volume is now of a record 720 pages. He needs to think seriously of cutting down the size of the volume, and helping with ecology.
The fully revised and updated edition of the Guide includes not only in-depth reviews of 285 cruise ships but also previews the 20 new ships set to debut between 2011 and 2014. But why put QE2 on the from cover? It's history.
The Complete Guide to Cruising & Cruise Ships 2011 (£16.99) will be available from all good bookshops from 4 October 2010. www.berlitzpublishing.com
An online guide to ferry services for foot passengers has been launched by greentraveller.co.uk. It features over 80 ferry journeys passengers can take between the UK, Ireland and continental Europe. Included is detailed information on public transport transfers to and from the ports, prices, sample itineraries, as well as direct links to book tickets.
The 80 passenger ferry routes include:
• Train and Ferry from Manchester to Dublin (from £24 one way);
• Edinburgh to Belfast (from £29 one way);
• London to Dublin (from £27 one way);
• Train and Ferry from National Express East Anglia train stations via Harwich to the Hook of Holland (Netherlands) (from £35 one way).
Richard Hammond, Chief Executive and Founder of greentraveller.co.uk,
says:
"Travelling as a foot passenger on a traditional ferry service is one of the greenest ways to travel between the UK, Ireland and the continent, yet it is often difficult to find information on how public transport links in with the vast network of ferry services at home and overseas.
"Our new online ferry journey planner shows how easy it can be to take the train or bus to a ferry port then hop across to Ireland or Continental Europe and continue the journey overland." www.greentraveller.co.uk

Azamara Club Cruises is to offer Dublin for the first time in summer 2011 opening up a new market for the line, Royal Caribbean's boutique operator.
The intimate 694-guest Azamara Journey will sail on a 12-night Iceland and Norwegian Fjords voyage on 17 August. Departing from Copenhagen (Denmark), the ship will feature an overnight in Reykjavik, and include calls at Bergen and Geiranger (Norway), Lerwick/Shetland (Scotland), Akureyri (Iceland), and Torshavn (Faroe Islands) before arriving in Dublin on 29 August.
Azamara Journey will also offer a ten-night voyage departing Dublin Port on 29 August 2011. The ship will feature two days in Bordeaux (France), as well as calls at Holyhead (Wales), Cork/Cobh (Ireland), and Bilbao, Gijon and Vigo (Spain), before finishing with another overnight in Lisbon (Portugal) on 8 September 2011. www.azamaraclubcruises.co.uk

Celebrity and Royal Caribbean have come up with a luggage collection provision that removes one of the real struggles when going on holiday.
The new service will allow travellers to have their holiday luggage collected from their home, delivered directly to their stateroom on-board their chosen ship and delivered back to their home after their cruise. No hassle and no problems.
A collection time is arranged directly with the guest and once picked-up; the safe and secure luggage service is track-able allowing guests to monitor the location of their luggage. Luggage is collected between 24 and 96 hours prior to the cruise departure depending on the address location in mainland UK.

The new luggage collection service costs £35 per luggage item each way, and is available for cruises on-board the UK-based Royal Caribbean International ships Independence of the Seas for cruises from Southampton, Jewel of the Seas for cruises from Harwich, Celebrity Eclipse cruises from Southampton. www.celebritycruises.co.uk www.royalcaribbean.co.uk

Cruise Birmingham is a new venture at the National Exhibition Centre Birmingham 16-17 October. In fact it is not really an original undertaking at all but is a Midlands version of the London Cruise Show at Olympia, and again sponsored by the Daily Telegraph.
The Cruise Show claims to be the one stop shop for anyone booking a cruise, packed with free talks, panel discussions and Q&A sessions to help plan a first cruise, or to find out more about family and adventure cruises, for example.
Most of the major cruise operators are taking part. Whilst your High Street travel retailer can tell you of the ships they have experienced here you will find the actual operators ready to answer your questions. And if you are not happy there is always the stand next door.
Visitors can find out about everything from the world's biggest cruise ship, Allure of the Seas, right down to boutique ships such as the Hebridean Princess, which caters for as few as 50 guests and played host to the Queen this summer. Other exciting options include polar expeditions, wildlife discovery cruises, exploring inland waterways on a river cruise, as well as ultra high end luxury vessels. Opening times: Saturday 10:00-17:00, Sunday 10:00-1600. Go to the web site and book your ticket at half price. www.cruisingshow.co.uk

Crystal Cruises, who have always welcomed children, but is somewhat up-market, is going overboard (clearly not the right expression for a seaborne holiday) to welcome the younger elements aboard Crystal Serenity this coming Christmas. Crystal is offering young patrons a free holiday (when accompanied by two full paying adults).
Departing 21 December 2010, the round-trip cruise from Miami will take guests on an unforgettable festive cruise around the Caribbean.
While parents enjoy some much-needed relaxation, Junior Activities Directors will be on board to host complimentary supervised behind-the-scenes efforts to keep the children entertained. These include for the little ones scavenger hunts, mini-Olympics, water polo, galley tours and much more. Fantasia, the ship's dedicated children's playroom which features games, craft materials, Sony Playstation video games and personal computers with entertainment and education software. For teenagers, late night pool-parties, pizza parties and karaoke are among the entertainment activities on offer. www.crystalcruises.com

Paul Gauguin, the specialist South Seas islands cruise ship, is to venture south to New Zealand later this year.
The 20,000 ton 300-passenger luxury ship will offer two sailings in 2010 to New Zealand departing 6 November and 21 November 2010.
She embarks from Papeete, Tahiti, sailing through the South Pacific, quickly reaching the lush vegetation, exotic fruits and flowers and breathtaking mountain peaks of Moorea. Guests will have the opportunity to experience Motu Mahana, Paul Gauguin Cruises private island. Next is Bora Bora, famous for its colourful villages and unsurpassed beauty.
Then on to the Cook Islands, home to large and beautiful lagoons perfect for snorkelling, then pass through the quiet beauty of Tonga, the only island nation in the South Pacific never to have been colonised. When the ship arrives in New Zealand, guests will immediately experience the Bay of Islands, an area on the northeast tip of New Zealand steeped in culture and history. After exploring the city of Tauranga, a fascinating geothermal region protected by Matakana Island, guests will finish their journey of the South Pacific in Auckland.

Seatrade Med is coming to France for the first time this year, taking place from 30 November to 2 December in Cannes on the French Riviera. It is effectively a trade show.
With ten of the new cruise ships being delivered this year calling at Mediterranean ports, major opportunities for the region abound. More ships mean the search for new ports of call and homeports is stepped up as some cruise lines go year-round. A session on Itinerary Expansion will examine winter cruising in the Med as well as the potential of North African destinations, with the Greek cabotage issue and connectivity between the Med and the Black Sea also on the agenda.
The event is essentially a major exhibition with a wide-ranging conference programme attached. Also incorporated is an intensive travel agent training course. Networking is also the order of the day and, even in December, Cannes is expected to be warm. Visiting the exhibition is free – click here for advance registration
www.seatrade-med.com
Stuart Perl, sometime Cunard Marketing Director and more recently UK Director of German operator Peter Deilmann, has formed Perl River Cruises Ltd aimed at expanding river cruise market across the world.
Perl will focus on group and charter business, offering 13 bilingual-designated ships (including eight ex-Deilmann ships) on a variety of rivers including the Douro, Rhine and tributaries, Rhone & Saône, Seine, Elbe, Danube, Volga & Dnepr (Russia/Ukraine), Nile and Yangtze.
Perl River Cruises is launching onto the UK market, the three unique and authentic ships of Mekong River Cruises operating on the upper Mekong, through Laos and Thailand, and also includes within its portfolio the first river cruise build of Far Horizon Tours' new eco-ship on Northern India's Brahmaputra River. www.perlrivercruises.com

The Northwest Passage, one of the legendary sea routes, has been successfully navigated by the Hapag-Lloyd Cruise ship Hanseatic.
The passage took in total 26 days starting on 16 August in Kangerlussuaq ( (Greenland) and completing in Nome, Alaska. Besides numerous animal encounters and excursions with the manoeuvrable Zodiacs, the highlight of the voyage was a meeting with the sister ship Bremen.
Only a very limited number of passenger ships accept the challenge of sailing through the entire Northwest Passage from east to west. The two Hapag-Lloyd Cruises expedition ships Bremen and Hanseatic are among the very few ships worldwide capable of tackling these routes thanks to their special design.
With the success of this year's programme Hapag-Lloyd will be offering a similar programme in 2011 following in the steps of such famous explorers as Amundsen and Franklin. www.hl-cruises.com

SHIP REVIEW: Star Flyer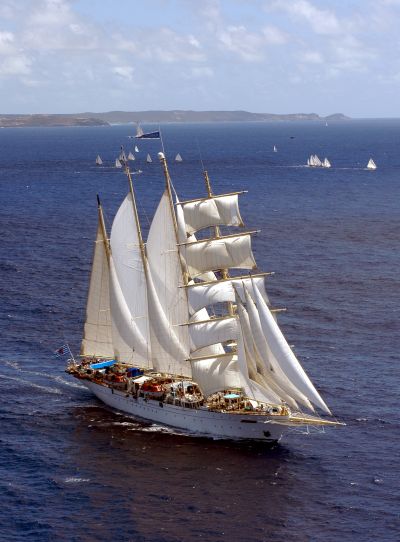 "I must down to the seas again, to the lonely sea and the sky. And all I ask is a tall ship and a star to steer her by".
John Masefield 1878-1967
The sea has a glory and pure energy about it that Masefield and others have gloriously described. Even on a mighty 21st century cruise liner there is something special to explain.
Masefield spoke of a tall ship, probably a four master. There is something romantic and mystic about such a vessel.
In the 21st century you can cruise on a ship that would not put the Cutty Sark out of place. Star Flyer.
If you have visited the Great Britain in Bristol Star Flyer seems much the same in respect of the polished woodwork and massive masts
Star Clippers was founded in 1989 by Swedish entrepreneur and classic boat connoisseur, Mikael Krafft, initially operating two identical barquentines, Star Flyer, which set sail in 1991 and her twin, Star Clipper, launched in 1992.
The ships were the first passenger sailing clippers to be built for over 100 years, joined in 2000 by Royal Clipper, a 400ft long (as against 360ft for the two earlier ships) fully square-rigged vessel with 42 sails, the largest sailing vessel of its kind in the world. On the drawing board is a further Star sail ship bigger still and incorporating even more technology.
Star Cruises should not be compared with other cruise ships with sails. Those have sails but that is as far as it goes. Everything is electrically driven from the bridge. Not so Flyer and Clipper. The on-deck crew work hard, sometimes assisted by enthusiastic guests.
All three Star ships would not be out place if returned to the 19th century. Yes they do have air conditioning, GPS and a small engine to help keep them on the cruise schedule and for manoeuvring in small ports, but seafarers of old would have no difficulty in dealing with all the ropes and pulleys that are on deck. Forget 'health and safety'. Just be careful. And if you want to climb up the mast that can be arranged too. The rearmost one doubles up as a funnel for the engine. You would never know it.
Star Clippers is now based in Monaco and in the United Kingdom is represented by Fred Olsen. It fits in well with their portfolio offering something entirely different from the usual cruise experience and appeals to a clientele who are happy to 'muck in' when required, want a high quality holiday, and whilst nominally "changing" for dinner in the evening, are certainly not the jacket and tie brigade.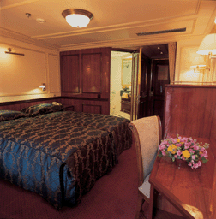 Accommodation: The standard cabins are rosewood trimmed and have wall to wall carpeting and offer enough clothes space for the limited amount you will need on a two-week cruise. They are either on what is termed the Clipper Deck (which includes the dining room) with a large picture window, or by the waterline, Commodore Deck with just a porthole. The inside cabins are much the same.
The cabins are smaller than on the newer ocean going cruise ships but is well thought out and comfortable. The only drawback is if your stateroom is organised as a double, one party will require to sleep by the wall with access either by climbing over a body, or via the bed's foot. The shower/toilet unit has a 'wet' floor, three mirrors with shelf space behind, and a hair dryer and 220v shaver point.
The Main Deck cabins are slightly larger and you can get into the King Size bed from either side. On offer is a flat screen rather than analogue TV. Also a whirlpool tub and a mini bar.
There is also a Owner's Suite on board which stretches right across the stern and is reminiscent of such accommodation on large private yachts.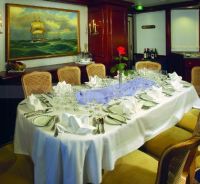 Dining: You might expect that with a small ship and equally small kitchen that the cuisine might suffer. This is not the case at all and dining is certainly up to the standard to the mid-range/5-star cruise ships with a varied selection of mainly European style menus and vegetarian offerings. It is very much "go as you please" the restaurant open from 07:30 until 10:00. You can sit with the same people every night, or move around.
Breakfast is even more casual from 08:00 until 10:00 with variations of an extensive menu every day and an omelette point. Just tell the chef of your requirements as you stroll in and it will be delivered hot to your table.
Lunch also offers a carvery. If that is not to your choice the buffet offers hot and cold with a generous selection.
One aspect of the dining is not novel, but is so as far as a boat is concerned. The main courses of the evening are on display as you enter the restaurant. It is a good idea and offered elsewhere, usually in photographic form.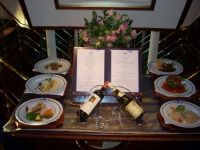 There is a continental breakfast available from 06:30 until 10:30, an hor d'oeuvre hour at 17:00, and midnight snacks from 23:00
The ship offers an excellent wine list ranging from a delightful house wine list through a range of popular and well thought out international wines, with nothing too expensive. Champagne is of course carried.
The dining room itself is but on a single deck but it seems bigger due to the clever design. A staircase leads to the piano bar lounge. An actual piano is perched on a landing half way between the two with let into the ceiling above the central swimming pool. This has large portholes giving natural light. It may sound somewhat odd but actually works out rather well.
Entertainment: Forget the large cruise ships with professional entertainment. Star Clipper offers a pianist/singer who doubles as the DJ and general entertainer. At some ports local support is provided, and they too have to use the tender where neccessary. Every evening there is some kind of entertainment/social activity led by the cruise director who doubles as the off-ship tours lecturer. When it comes to the ship's technical operation, for those who are interested, the ship's officers give a most interesting briefing. They dine with you as well. Get the Captain in the right mood and tales of the seas come out galore.
Children: Let's face it Star Flyer and her sister ships are not really designed for the younger elements but all the same once they reach a certain age, perhaps about ten they are normally sufficiently cautious enough to be allowed on deck and join in with the sports staff in all manner of activities.

On board service: The crew is made of 12 nationalities with the Captain from the Ukraine, who still have a large sail training fleet, Europeans making up most of the hotel staff, and Indians and Philippines domination below decks and in the dining room. Out of 72 crew only two were women. The sports instructors are Scandinavian, young and enthusiastic and seemingly just as expert on land as in the water. Snorkelling and scuba diving is available for those keen on sea activities.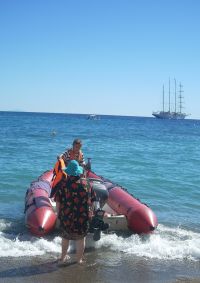 What Else: There are no lifts (elevators) on the ship but seemingly stairs and gangways galore. These come in very useful with the early morning one mile walk at a good pace taking 30 minutes, a really up/down and along session around the whole rabbit warren of the ship.
On a typical Mediterranean summer cruise about 25% of the just over 100 passengers were from North America, Germans next up, followed by the British and colonial types, plus a sprinkling of French, Russians, Scandinavians, Spanish and Swiss. A very cosmopolitan group. Most languages offered but English is the norm.
There is no gym, nor is a hair stylist offered, but plenty of water sport offerings to choose from. Also no doctor but the ship does have a resident nurse and also on offer is a traditional Asian therapeutic massage service. At many of the ports tenders are used and somehow the ships manage to moor within 15 minutes of the quay. The always on-time boat service departs the ship on the hour and 30 minutes, and from the land at 15 and 45 minutes. It works very well and queing is not ever required.
Tipping and the like is standard cruise ship working out at €8 per day and 12.5% is added to the very fair bar charges.

In Conclusion: Smokers will be delighted with Star Flyer. They are not looked upon as aliens from another planet, but as fellow travellers with the Tropical Bar, on the open deck and covered with an awning, seemingly their home on the voyage. Smoking is banned below decks.
Price-wise a quality product with 70 staff and at a maximum of around 160 guests, plus what is a small fleet, Star Cruises is never going to be that cheap. However bargains can be picked up during the shoulder periods and overall it represents good value.
Star concentrates on the Caribbean during the winter and the Mediterranean in the summer.
In a later AERBT we will be offering an ON TOUR of Star Flyer and a delightful seven-day exploration of the western coast of Italy.
OUR READERS' FINEST WORDS (All times and dates are GMT)
All comments are filtered to exclude any excesses but the Editor does not have to agree with what is being said. 100 words maximum
---