7 JUNE 2010
BTN DISTRIBUTION
BTN also goes out by email every Sunday night at midnight (UK time). To view this edition click here.
The Business Travel News
PO Box 758
Edgware HA8 4QF
United Kingdom
+44 (0)20 8952 8383
info@btnews.co.uk
© 2021 Business Travel News Ltd.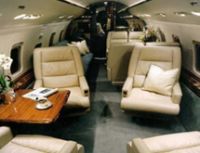 AIR PARTNER has launched an "empty sectors" consumer website, enabling potential private jet users to book flights on aircraft that would otherwise operate without passengers. The website locates real-time availability on private jets worldwide, by sector and aircraft, at prices up to 75% lower than conventional charter rates. For example, a six-seat private jet flight from London to Cannes, for the French Riviera, for £3,000. An empty sector (or empty leg) occurs when a pre-booked revenue charter has been reserved for a one-way flight only, either outbound or return. The operator will need to either position the aircraft to collect the passengers for a return or bring the aircraft back to its original location having flown the passengers to their chosen destination (leaving an empty sector on the return flight). www.emptysectors.com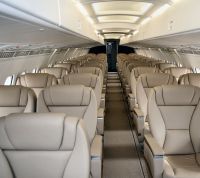 CELLO AVIATION is the name of a new upmarket large executive jet operation based at Birmingham Airport. Initially the airline will offer a 46-seat Avro ABJ (BAe 146-200), with about half the number of seats offered in a normal airline service. Cello says Birmingham has been chosen for the base due to its central location. The company expects that most of its business will come from sports teams, the entertainment industry and corporate hospitality. The aircraft has enough range to cover most destinations across Europe. The BAe/Avro 146 series has an exceptional short field performance as well as a low noise footprint enabling it to access environmentally-sensitive airports. www.flycello.com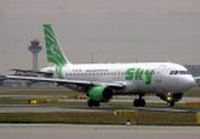 SKY AIRLINE, Chile's second largest carrier, has taken delivery of two A320-200s, its first ever Airbus aircraft. Based in Santiago (Chile), Sky Airline flies to many of the country's top destinations, including Antofagasta, Arica, Balmaceda, Calama, Concepción, Copiapó, El Salvador, Iquique, Puerto Montt, Punta Arenas and Temuco. Sky Airline also has international flights to Arequipa (Peru) and La Paz (Bolivia). Established in 2002 the airline flies passenger, postal and cargo air transport services. It also operates 11 Boeing 737-200s. www.skyairline.cl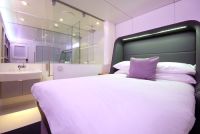 DELTA AIRLINES has teamed up with Yotel to offer premium passengers landside benefits from the courtesy use of a Yotel cabin on arrival at Heathrow T4. The facilities include a working area, shower, bed, and free wi-fi access. The Yotel capsule hotel concept launched in 2007 at Gatwick Airport, and has since opened properties at Heathrow and Amsterdam Schiphol. The Yotel Heathrow Airport is located on the mezzanine level of T4, accessed by the escalators next to Boots in the departures hall, or the lifts by WHSmith in Arrivals. Delta flies into Heathrow from Atlanta, Detroit, Minneapolis and New York-JFK. www.yocompany.biz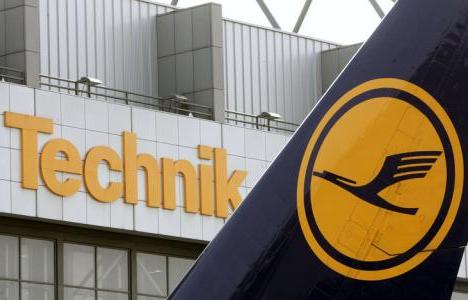 "AEROSIGHT" has been demonstrated by Lufthansa Technik, a concept that enables pilots to monitor cockpit access, and cabin and cargo areas, both during the day and at night. "aerosight" can simultaneously handle up to 16 viewing cameras in the pressurised area of an aircraft. The camera system automatically switches between a coloured day view mode and an infrared night view mode. Lufthansa Technik has developed "aerosight" for an undisclosed launch customer and will start to offer the system for other clients in the first quarter of 2011. www.lufthansa-technik.com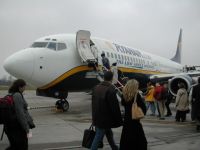 RYANAIR is to pay a dividend to its shareholders in October using funds previously allocated for the purchase of new aircraft from Boeing. Floated in 1997, the shares, in common with other airlines, have been spectacular with their ups and downs peaking over €6 (Spring 2007) and dropping towards €2 by the autumn of last year. Ryanair reported a profit of €319m after tax for its fiscal year ended 31 March, as against €105 for the previous 12 months. Scheduled services revenue grew less than 1% as average fares fell 13% and ancillary revenue jumped 10.9% to €663.6m. 51 new aircraft arrived but Ryanair's statement did not give details of departures nor of routes dropped. It is now the world's most expensive airline for anyone carrying more than 15kg of luggage. Ryanair is forecasting 73.5m passengers in the current financial year.
www.ryanair.com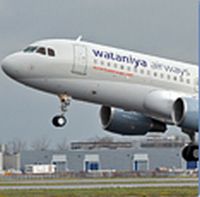 KUWAIT'S WATANIYA AIRWAYS has announced the launch of a new route to the Austrian capital, Vienna. The carrier will operate three times per week with an Airbus A320 in a First Class and Premium Economy layout. This is the airline's second European destination after Rome. Wataniya is listed on the Kuwait Stock Exchange and made its inaugural flight in January 2009. It now flies from Kuwait to most of the capitals in the Middle East. Rather than the main international facility at Kuwait, Wataniya uses the exclusive Sheikh Saad Terminal, essentially an executive aviation facility boasting Fast Track immigration, valet and concierge services, and what is essentially a private lounge. www.wataniyaairways.com
(Part 2)
Since we took Ryanair to task last week we think it only fair to point out that a British Airways press release was equally misleading, although in this case it was a pure mistake, one that the press office should have picked up themselves.
BRITISH AIRWAYS IS TAKING MORE THAN 2.5 MILLION CUSTOMERS TO SOUTH AFRICA DURING THE WORLD CUP.
As far as we can see the 2.5m refers to the number of people British Airways will fly on its own systems in July (if the strike threat is lifted).
British Airways now say that they will fly 70,000 people to the World Cup, but AERBT thinks that this figure too is misleading.
With 19 flights per week from Heathrow to South Africa, and say 350 passengers per flight, that comes to 6,650. Spread over five weeks the figure is 35,000.
Do not believe what you read. The BA revised figure of passengers flying to South Africa is in fact passengers flying to South Africa and coming back.
What BA does not know is just how many will want an earlier return journey if England are knocked out?
And in any event the team flew down on Virgin Atlantic!