15 FEBRUARY 2010
BTN DISTRIBUTION
BTN also goes out by email every Sunday night at midnight (UK time). To view this edition click here.
The Business Travel News
PO Box 758
Edgware HA8 4QF
United Kingdom
+44 (0)20 8952 8383
info@btnews.co.uk
© 2021 Business Travel News Ltd.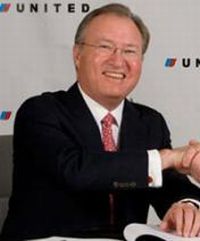 UNITED AIRLINES Chairman, President and CEO Glen Tilton was an outstanding speaker at the London Aviation Club last week. In front of a very full house (he would have been proud of the load factor) he gave a robust and potent speech, personifying perhaps his airline which has come through difficult times to once again being a leading US carrier. He renewed his call for overseas investment in US airlines as part of deregulation worldwide to boost industry profitability. "Capital is global, it is global and doesn't have sovereign inhibitions," he said. A second round of "Open Skies" is due following the new bilateral agreement between the US and Europe. (SEE COMMENT ABOVE) American law now prohibits non-citizens from controlling airlines or owning more than 25% of voting stock. "I support the EU view that in phase two, foreign ownership should be on the table," said Tilton, who has urged looser rules for such investments. www.united.com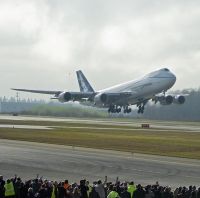 BOEING'S 747-8 freighter took to the air for the first time last Monday (8 February) just one day short of the 40th anniversary of the 747-100's maiden flight. AERBT readers were able to watch on a worldwide webcast. Amongst the guests was Joe Sutter, Chief Engineer of the original 747 project. "It's amazing to me that this programme has lasted all these years. The basic design was right then and it's still right now." Using much Boeing 787 Dreamliner technology (including similar engines) Boeing launched the 747-8 in November 2005 and to date has secured 108 orders, mainly for the cargo aircraft, with Lufthansa and Korean Air taking the passenger version. www.boeing.com/commercial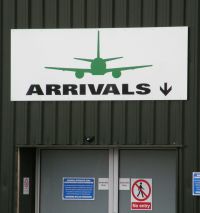 COVENTRY AIRPORT is no nearer re-opening as a licensed operation than it was when operator West Midlands International Airport Ltd collapsed at the beginning of December. After making all the right noises Switzerland-based ADP has pulled out from a deal with the freehold owner Coventry City Council. It is thought that another serious party has been monitoring the situation and might now be in a position to open up discussions. Resident airline West Atlantic, a major freight operator, says it has been inconvenienced, the airport in the main more of a maintenance and management operation rather than a key operational hub. However the continued closure of the airport is causing a strain for the flying clubs and other aviation interests based at the airport. www.coventryairport.co.uk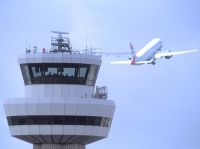 GATWICK'S new owners appear to have ruled out plans to build a second runway. At a meeting with conservationists, Gatwick Chairman Sir David Rowlands said there was "not a shred of interest" in a second runway. Rowlands met with members of the Gatwick Area Conservation Campaign (GACC) to talk about future plans for the airport under its new owner, US-based investment fund Global Infrastructure Partners. Back in 1979 an agreement was reached with West Sussex County Council not to build a second runway before 2019. Sir David noted that it would cost £100m to £200m on a planning application with an uncertain decision. In October 2009, then owner BAA submitted planning applications for Gatwick to handle an extra six million passengers annually by 2018 and for an extension to the North Terminal. The local planning authority decision to approve these plans was upheld in November 2009 by the Government. www.gatwickairport.com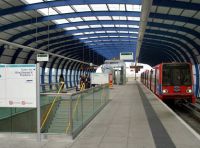 LONDON CITY AIRPORT is to add a further two security checking lanes, effectively doubling the throughput, with six sets of agents and machines expected in operation by the end of the month. Whilst the work is in process the airport is asking passengers to allow extra time for this necessary evil. Regulars (and not so regulars) to the airport are also advised that for the next 18 months extensive work at Bank Station will curtail access from connecting Underground lines (but not for passengers inbound from the airport). Transport for London is advising that connections would be better made at alternative stations such as Canary Wharf and Tower Hill (for the Circle and District lines). www.londoncityairport.com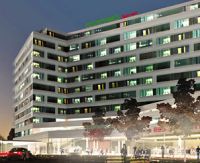 COURTYARD BY MARRIOTT has opened its first hotel in Scandinavia, the Courtyard Stockholm Kungsholmen. With 278 guest rooms and more than 1,000sq metres of meeting space, the hotel is the largest Courtyard by Marriott hotel in Europe. The property is within walking distance of the city centre and adjoins one of the main metro stations. With more than 860 locations in 30 countries, Courtyard is Marriott's largest brand; 200 additional Courtyard by Marriott hotels will open around the world over the next three years. Amenities include complementary high-speed internet access, large well-lit work desks, ergonomic chairs and coffee makers. For recreation, the hotel offers guests access to an on-site fitness centre. www.gocourtyard.com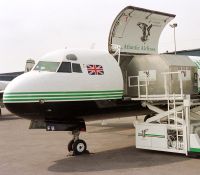 WEST ATLANTIC has sold one of its Lockheed Electra (L188) turboprop fleet to the Canadian operator Conair. Now Europe's largest regional freight airline the Coventry (UK) and Gothenburg (Sweden) based company currently has an operational fleet of five Electras (15-tonne capacity) and 43 BAe ATPs (8.5-tonne), two 7-tonne capacity Bombardier CRJ200PFs and single versions of the ATR 72 (8-tonne) and Boeing 737-300 (15-tonne). "There is little doubt that the Electra is one of the finest turboprop aircraft of all time, its sister aircraft the Lockheed Hercules owing much to its systems and innovations," said Tony Auld, West Atlantic's Managing Director. "The aircraft (G-LOFD) has already been delivered and I am sure will do sterling work in Western Canada. With the current fleet West Atlantic is ideally placed for the upturn which seems to be developing in the air cargo market." Mr Auld was able to confirm that a price of around US$2m was achieved for the aircraft including a spares package. See REGIONAL AIRCRAFT ABOVE. www.atlanticairlines.co.uk
We are not going to reveal to readers at which British airport your Editor in Chief had his comb thoroughly inspected by a slow and completely over-zealous security officer last week but AERBT will give you a clue. The Managing Director of the airport does not suffer such ignominy. The healthy looking soul has no hair to comb.