7 DECEMBER 2009
BTN DISTRIBUTION
BTN also goes out by email every Sunday night at midnight (UK time). To view this edition click here.
The Business Travel News
PO Box 758
Edgware HA8 4QF
United Kingdom
+44 (0)20 8952 8383
info@btnews.co.uk
© 2021 Business Travel News Ltd.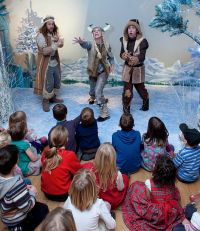 AERBT has got into the holiday spirit by attending the lighting up of Norway's traditional Christmas tree gift in London's Trafalgar Square. On the same theme of the holidays, Transport for London (TfL) has published details of services over the festive period. ING Direct will sponsor free travel on New Year's Eve. The Festive Travel Guide has full details of Tube, London Buses, Docklands Light Railway (DLR), Tramlink, London Overground and Riverboat services as well as the suspension of the Congestion Charge throughout the entire festive period, from Thursday 24 December 2009 to Friday 1 January 2010. And as noted above AERBT takes a two week break. www.tfl.gov.uk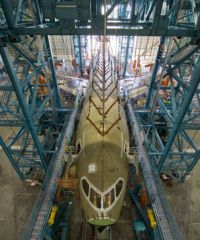 BOEING is counting down the days for the 787 Dreamliner's maiden flight with the whole of the (aviation) world watching. We are told that the static test aircraft has completed the validation of the side-of-body modification that was required and that the results should be known by the end of the week. If all is OK a reasonably firm target date can then be made for the first flight. The aircraft manufacturer has also announced the establishment of a second assembly facility at North Charleston, South Carolina. www.boeing.com/commercial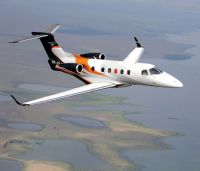 EMBRAER has received both type and production certificates from Brazil's National Civil Aviation Authority for the Phenom 300 Very Light Jet. This milestone comes only 12 months after the first delivery of its smaller sister the Phenom 100. Embraer says that the new aircraft has either met or succeeded its design targets. The Phenom 300's maximum range, originally designed to be 1,800nm (3,334km), has been extended to 1,971nm (3,650km) with six occupants and full reserves. Runway requirement has been reduced dramatically and the aircraft now only requires a maximum runway length of 3,138ft (as against 3,700 previously), and 2,621ft for landing. Operations at London City Airport are now a distinct possibility. AERBT hopes to offer an impression of the Phenom 100 in an early 2010 edition. www.embraer.com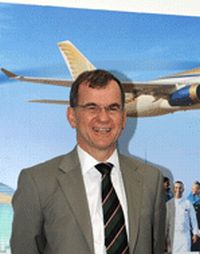 GULF AIR'S Chief Commercial Officer, Willy Boulter, has reaffirmed the airline's commitment to Europe following the announcement of its new strategic direction as reported in AERBT Monday 30 November. Essentially the plan is to make Gulf Air a sustainable and profitable business by 2012 with a more focussed international network and a simplified, modern fleet. Mr Boulter explains: "Questions have been raised as to Gulf Air's commitment to Europe under the new strategy. Gulf Air fully intends to continue flying to all our strategic European points including London, Frankfurt, Paris, Istanbul, Athens and Larnaca. In the not too distant future we plan to strengthen our presence in Europe, leveraging Bahrain's position as the financial hub of the Gulf and connecting it with leading financial centres in Europe. Expansion into Europe becomes more viable, under the new strategy, not less." www.gulfair.com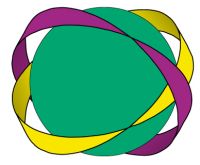 THE GUILD OF TRAVEL AND TOURISM, the travel industry lobbying organisation, is to establish its first International chapter in Hong Kong with the official launch in March 2010. The Guild was established in 1994 as a travel trade association open to membership from both individuals and corporates in the industry. It acts as a networking resource, as well as a high-powered lobbying force for the industry and has representation in both the House of Commons and the House of Lords. The Guild says that it plans to ensure a presence at key industry trade shows including WTM (London), ITB (Germany and Asia), ILTM (Cannes) and also at PATA. www.traveltourismguild.com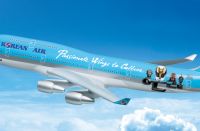 KOREAN AIR has become the sponsor of a new handheld multimedia guide system introduced by the British Museum. Airline President Yang Ho Cho said his own experience as a student back packing around Europe was a major reason why he said yes to the deal. "Strangely enough I could not find Korean spoken anywhere. The new guides cover Korean of course, and ten other languages." There is also children's and British sign language multimedia as well as an audio for the visually impaired. A brief trial showed that the machines were easy to use and most informative. Entrance to the museum is free but the guides are £4.50 to hire. Korean will finally receive its first Airbus A380 in 12 months' time but in a surprise announcement has also announced a five-aircraft order for the all new Boeing 747-8 becoming only the second airline, after Lufthansa, to add the advanced aircraft to its fleet. www.koreanair.com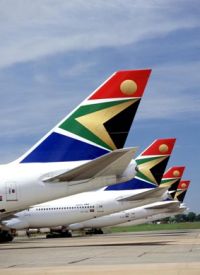 SOUTH AFRICAN AIRWAYS (SAA) has introduced a new international to domestic transfer facility at O R Tambo International Airport Johannesburg. It is situated on the ground level of the arrivals terminal just after customs and before the exit into the atrium. With this service SAA passengers can easily re-check baggage, making progress much easier. Also new is a much enlarged departure section of the Central Building at Cape Town Airport which triples the effective size offering now 74 shopping outlets. www.flysaa.com
Monarch Managing Director Tim Jeans was the guest of honour of the Aviation Club at London's Institute of Directors last week. Tim is a football fan and originates from Newcastle,

"We live in the age of soccer clubs owning television channels," he said.

"Manchester United has MU TV".

"Chelsea has Chelsea TV".

"Newcastle United has the History Channel".